The actor talks to StarWars.com about her mysterious Imperial scientist and the game-changing reveal to close out Season 2.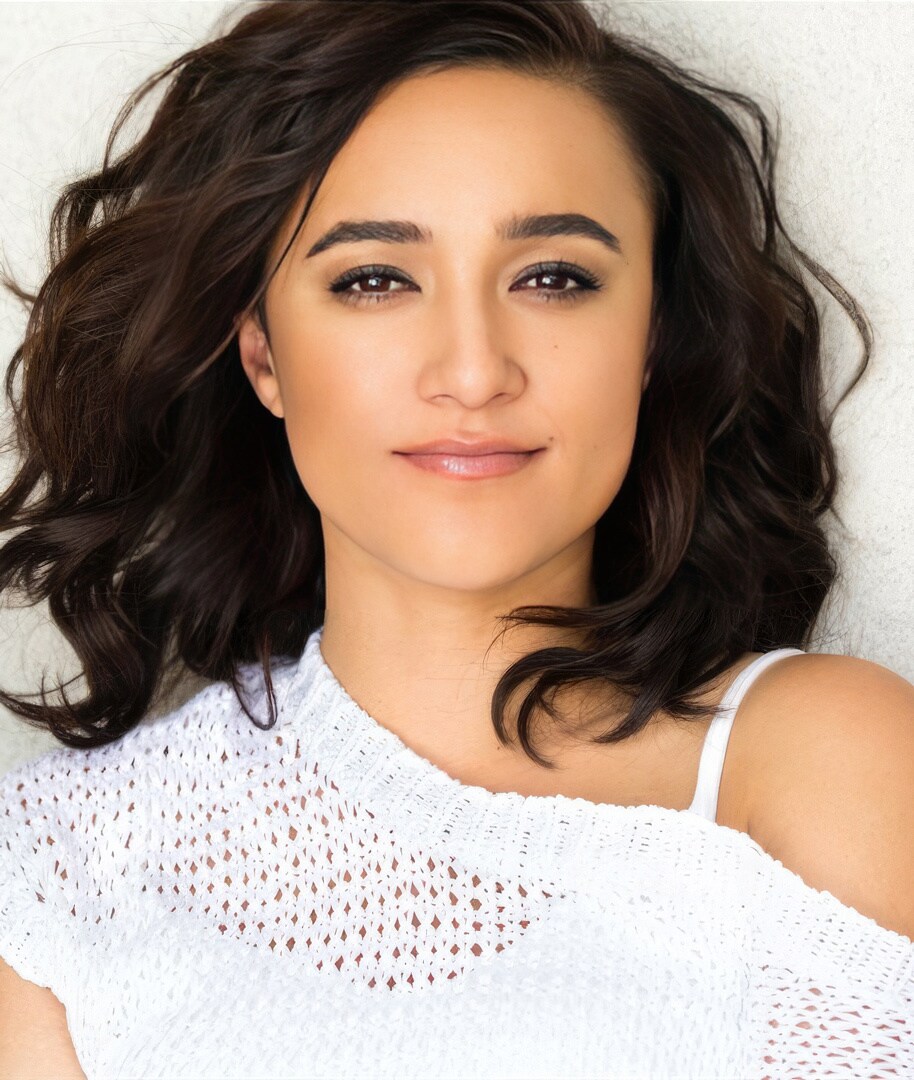 Spoiler warning: This article contains plot details from the two-episode Season 2 finale of Star Wars: The Bad Batch, "The Summit" and "Plan 99."
When Keisha Castle-Hughes landed the role of Doctor Emerie Karr, an Imperial scientist introduced in the second season of Star Wars: The Bad Batch, she was told very little about the character. But one piece of direction hinted that there was a deeper significance to the part.
"I mean, the big giveaway for me was that they had asked me to use my natural accent, and Michelle Ang as Omega uses her natural accent, as well," the New Zealand-native tells StarWars.com. "And so I immediately was like, 'Okay, so we can assume that these people are from the same place and we are going to reveal some kind of history there.'"
The Disney+ show's creators, however, still weren't telling. "They'd say, 'Oh, maybe that could be exciting if you thought about it that way,'" Castle-Hughes adds, laughing.
Of course, what Castle-Hughes would come to know — as would all Bad Batch viewers in the final moment of the Season 2 finale — is that Emerie is, like Omega, a clone. Or as she puts it, "We're sisters, Omega." It was a shocking scene capping an already shocking episode. "I think I learned it, maybe an episode before we recorded the episode where there was the reveal that they were sisters. Which was a huge shift, as well, especially for Emerie Karr. You know, it was like, 'Oh, wow.' I've been playing this character who comes from a really practical place, in a clone-like way, and then to all of a sudden kind of be like, 'Oh, well, she has family here,' which raises the stakes all of a sudden. It was really exciting when I learned about that new storyline."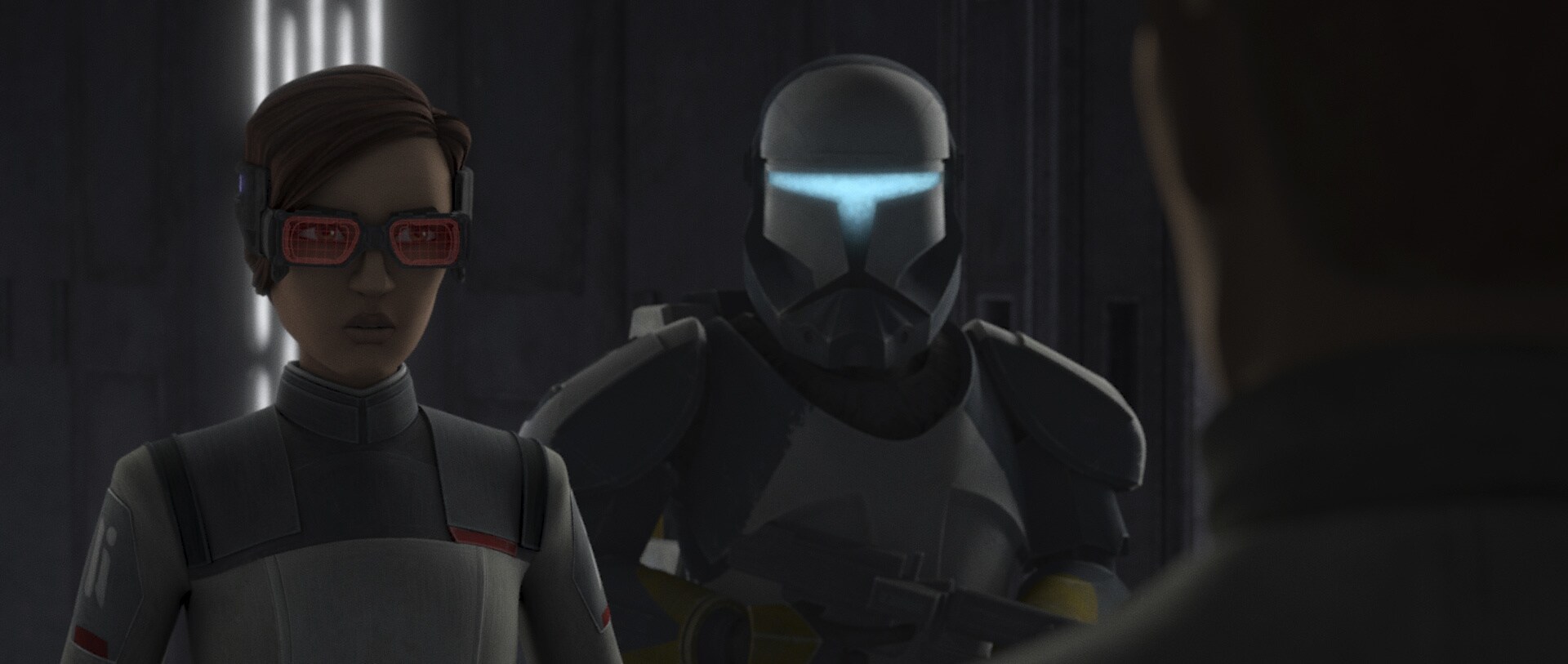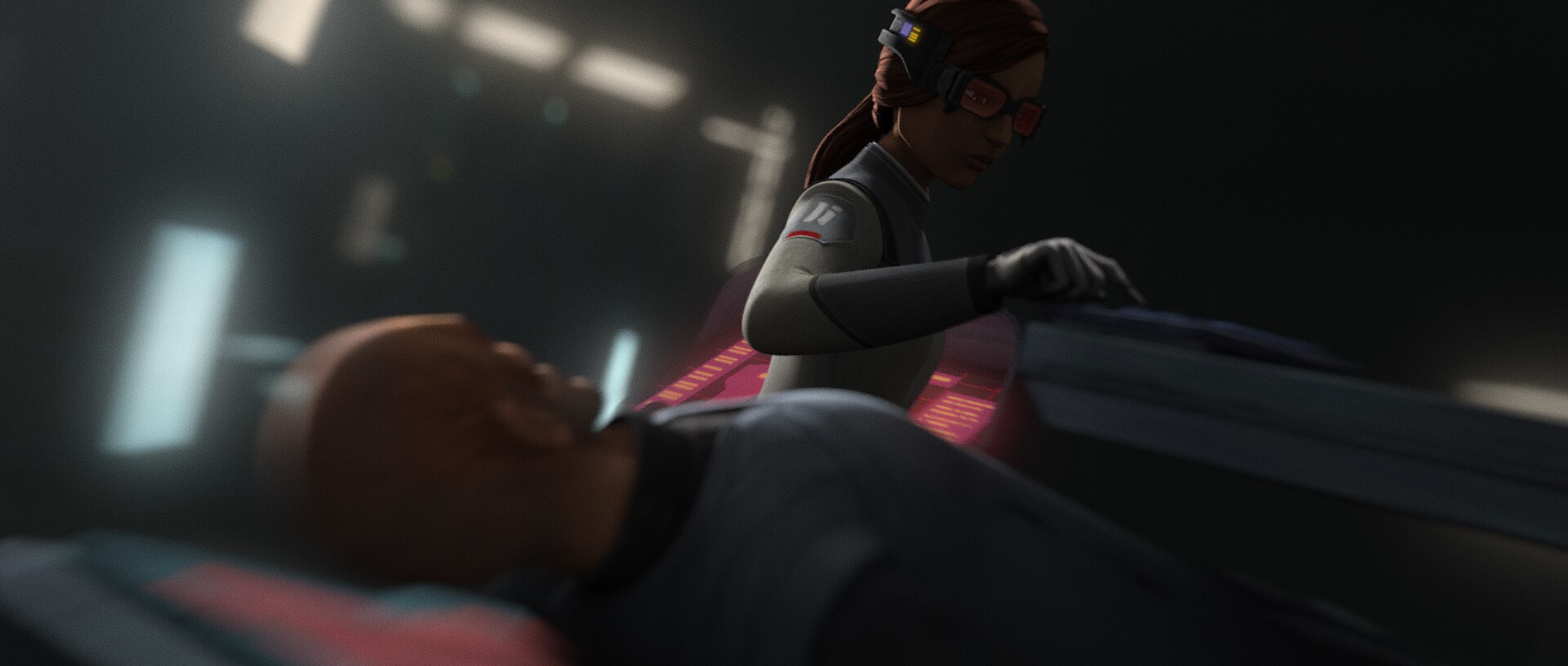 Emerie didn't appear until the latter half of the season, debuting in episode 11, "Metamorphosis." She works under the ruthless Doctor Royce Hemlock, head of the Empire's Advanced Science Division, who has a particular interest in cloning. Throughout, Castle-Hughes plays Emerie as stoic, if not emotionless; it's a smart performance that leaves the audience wondering what her motivations might be. "The great thing that The Bad Batch does is, it doesn't just give you outright who people are. Even if they work in certain sectors, in certain worlds, we are still not clear what people's intentions are. It's ever-changing and that's what keeps the show so exciting," Castle-Hughes says. "I think that was the thing with Emerie. For a long time, I was playing her not necessarily like a villain, but probably more on that side of the fence. Not that her intentions were bad, but that maybe she was quite apathetic about the world around her. I think we've seen that with a lot of characters over the season, as well — all of a sudden, they take these huge shifts and the stakes completely change."

When it came time to record the fateful line, Castle-Hughes — no stranger to Star Wars, as she played Naboo Queen Apailana in Revenge of the Sith — tried several takes, playing with her delivery. In the end, both the act of reaching out to Omega and Castle-Hughes' performance convey a sense of longing. "It was the first time that it was really tricky to find the right tone for Emerie," Castle-Hughes says. "The big thing that I was trying to discover is like, what is Emery's understanding of family? We had to come from a truthful place, and I think that it's much more intellectual space that she understands that being sisters means something, but probably hasn't had that emotional experience yet, and hasn't really had the emotional experience of family."
Did Emerie know that she had a sister all along, or was it something she discovered with the arrival of Omega?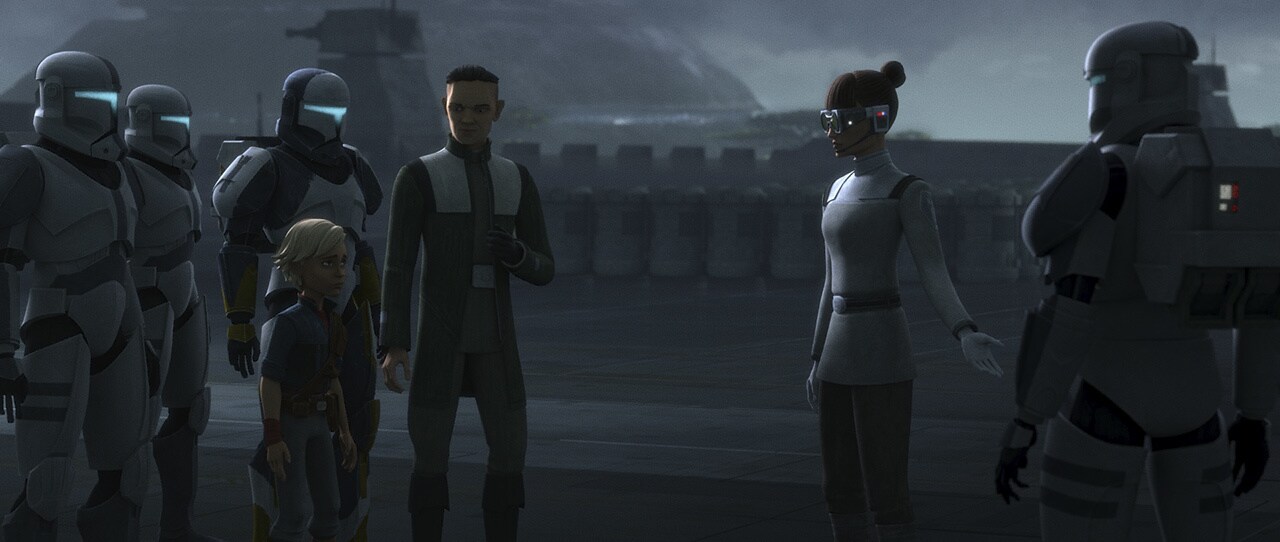 "I don't know if she thought she was a sister, but I do believe that there was always something within Emerie, that she felt something just slightly different than everyone around her," Castle-Hughes says. "It was almost like a feeling of arriving home when she comes to Omega, and not really understanding why."

As for where the story of Emerie and Omega goes from here, Castle-Hughes isn't saying. But she's excited about the journey and for fans to see the story play out. "First and foremost, I'm a huge fan myself, and so it's a privilege to be a part of the world. I know how incredibly intelligent and switched-on the Star Wars fans and people who love this universe are," Castle-Hughes says. "It's such a huge, huge world behind the scenes and especially in the animation. So it's exciting to bring Emerie Karr to everyone and be a part of it."