StarWars.com finds out what Victor can expect in his return to Jedi school, from surprises to "Stargram."
We know what happens when the Force awakens. But what happens when the Force hits the snooze button on the alarm clock one too many times? The Force oversleeps! And this hilarious situation just might happen to Victor Starspeeder and his fellow Jedi Academy students as they return for another year of learning, friendship, and mischief in Jedi Academy: The Force Oversleeps, by Jarrett J. Krosoczka, coming out July 25 from Scholastic, Inc. Continuing the New York Times Bestselling series of Jedi Academy books originally started by Jeffrey Brown, Jarrett J. Krosoczka introduced aspiring Jedi hero and teacher tormentor Victor Starspeeder in last summer's Jedi Academy: A New Class, and now StarWars.com and The Star Wars Show are proud to reveal the cover for the upcoming book chronicling Victor's second-year adventures, Jedi Academy: The Force Oversleeps. Plus, we gave a pop quiz to the writer and illustrator, Jarrett J. Krosoczka, via e-mail to get the scoop on what to look for in The Force Oversleeps.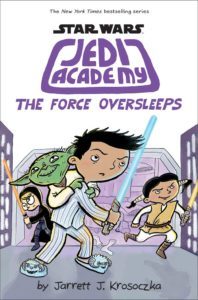 StarWars.com: By the end of his first year at Jedi Academy, Victor Starspeeder finally found where he fit in at his new school -- making good friendships, joining the Drama Club, managing to turn his grades around and saving the day with his older sister, Christina. What do you think is on his mind now that he's got his first year under his belt?
Jarrett J. Krosoczka: Victor lives in his mind, so he definitely has expectations on how his second year will go. He has his friends and he knows his way around the Jedi Academy campus, so he's feeling pretty confident -- almost justifiably so. But reality often stands in contradiction to expectations, and Victor is confronted with several surprises in his second year.
StarWars.com: Even though Jedi Academy is about training young people of the galaxy far, far away in the ways of the Force to eventually become Jedi, the school is very much like a regular secondary school in real life -- with lockers, homework assignments, PE, and trying to be cool. How do you balance this dynamic, and how does that play into the humor of the series?
Jarrett J. Krosoczka: I start with relatable problems -- friends, aspirations for the future, and finding your place in your world. Once I have a sense of what these characters will go through emotionally, I layer the Jedi adventure on top of that. I try to bring in some high-stakes problems for Victor and his friends to overcome. I mean, as fun as it is to read about awesome lightsaber duels, it is even more fun to draw them! I think that the humor comes from seeing these everyday, relatable issues through the lens of the Star Wars universe. If you were Force-sensitive and you were playing Truth or Dare, how would using the Force play into that?
StarWars.com: One of the key lessons that Victor learned in his first year was that first impressions aren't always right. For instance, his black-cloak-wearing-asthmatic-roommate, Artemis, turned out to be not a Sith-in-training, but a good friend and positive influence, while the cool upperclassman that befriended Victor ended up being a huge jerk just using him. What types of lessons might Victor be facing in his second year at Jedi Academy?
Jarrett J. Krosoczka: Victor enters his second year at Jedi Academy feeling very secure about his group of friends. But like any school year, new students are thrown into the mix. New kids get a lot of attention, and Victor feels uneasy about that. He's supposed to be the class artist, not the new kid! Again, Victor learns to dig below the surface of individuals. That seemingly perfect kid who appears to have everything going for them? They may be dealing with a whole bunch of issues -- and you'll never know that unless you get to know them better.
StarWars.com: Despite all going back to their homeworlds, Victor and his classmates had hoped to spend their summer break together via a virtual book club. Will we find out how that went -- or any other summer (mis)adventures?
Jarrett J. Krosoczka: We'll certainly find out how it didn't go.... While The Force Oversleeps opens again with the Starspeeder family racing out the door to catch the shuttle to Jedi Academy, the reader will get a glimpse of what Victor and his friends were up to via a new feature called Stargram. Victor fires up his datapad to scroll through holos that his friends posted. Just like kids here on Earth, sometimes it's hard not to feel left out when you see what your friends are posting...
StarWars.com: Your storytelling style in your first Jedi Academy book, A New Class, included comics of Victor's activities, plus his own journal entries and sketches as well as the school paper and galactic newsfeeds, complete with sensational clickbait headlines. What are six things we don't know about Jarrett J. Krosoczka and The Force Oversleeps? Will #3 leave us speechless?
Jarrett J. Krosoczka: It is possible that #3 will leave you a bit squeamish...
#1: Victor works on the sets for the school musicals and eventually gets the courage to perform on stage. I took a similar path, painting sets and then through the encouragement of the director, performed on stage.
#2: Victor and his friends travel to a planet called Wutooine where they visit factories that produce T-16 Skyhoppers. I grew up in Worcester, Massachusetts, and my first job was on the assembly line at my grandfather's factory.
#3: When I was in the third grade, I got my hand caught in the railing of an escalator at the mall. There was no automatic shutoff back in those days, and it took two adults to pull me to safety as my right hand was getting sucked into the escalator railing. Fortunately, I didn't lose my hand a la Luke Skywalker. I still have a scar on the inside of my finger to remind me of that fateful day.
#4: I became a reader through the comics section of the newspaper. I pay tribute to that with the comic-strip spoofs that Victor reads in the school newspaper.
#5: Victor is being raised by his stepfather and I was raised by my grandfather.
#6: I used to work at this amazing place called the Hole in the Wall Gang Camp. You may know it as that camp that Paul Newman founded. It's such a powerful place, creating a camp experience, free of charge, for children dealing with a number of serious health issues -- like cancer, sickle cell anemia, or hemophilia. My experience working at that camp had a profound impact on my life. The first cabin I ever worked in was Purple 10. Or, for short, P-10!
James Floyd is a writer, photographer, and organizer of puzzle adventures. He's a bit tall for a Jawa. His current project is Wear Star Wars Every Day, a fundraising effort for a refugee aid organization. You can follow him on Twitter at @jamesjawa or check out his articles on Club Jade and Big Shiny Robot.