StarWars.com speaks with producer Kanako Shirasaki for insight into the mechanical beings of the upcoming Disney+ anime anthology series.
Star Wars is going to a new galaxy of storytelling. Star Wars: Visions, an anime anthology featuring nine shorts from some of the world's best anime creators, is set to debut September 22 on Disney+. With Inside Star Wars: Visions, StarWars.com will pull back the curtain on the series for exclusive early insights into what might await us. In this installment, StarWars.com finds out about some of the starring heroes.
Star Wars wouldn't be the same without droids. From Artoo to Kaytoo, they've turned the tide of battle, saved our heroes, and become fan favorites. In Star Wars: Visions, we'll meet more of these mechanical beings, but many unlike those we've seen thus far -- including a droid that can play guitar solos with the best of 'em. StarWars.com caught up with Visions producer Kanako Shirasaki to get a little more data on some of the series' new droids.
Spoiler warning: This article discusses characters and story details from Star Wars: Visions.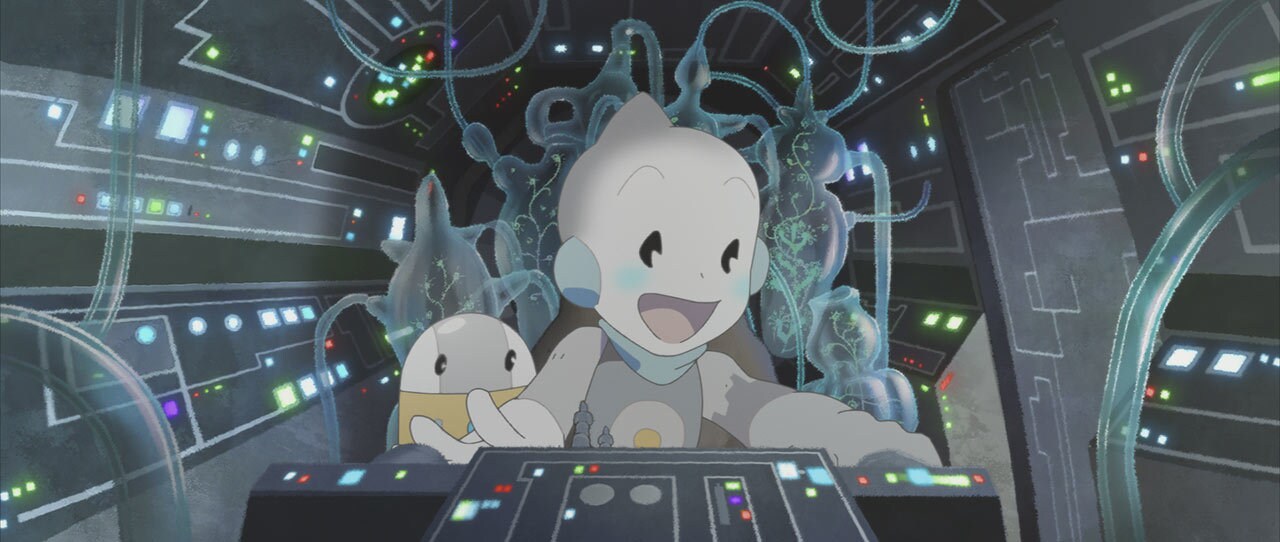 T0-B1 (and friends), "T0-B1"
As we've seen since Star Wars: A New Hope, droids can be heroes in their own right. In Science Saru's "T0-B1," we'll get to know one that dreams even bigger. "T0-B1 is a humanoid droid, full of curiosity, who dreams to be a Jedi Knight," Shirasaki tells StarWars.com. "He's an assistant to Professor Mitaka in his quest to bring life back to a barren land."
Inherent in T0-B1's desire to become a Jedi is an endearing childlike quality. 
"T0-B1 acts like a little kid, whose attention doesn't last long. He wants to play Jedi rather than help Professor Mitaka complete his research, which is quite unique compared to what we have seen thus far in the Star Wars universe," Shirasaki says. "Most droids have been programmed to fulfill their duties right away. Instead, T0-B1 is still learning and has the potential to grow, mature, and change." And T0-B1's design reflects his personality and programming.
T0-B1 has an expressive face with more gently robotic features, like buttons on his cheeks and a pointy head. It's a design reminiscent of some classic anime characters, but also has a Pinocchio-esque quality.  
"How can you not love T0-B1?" asks Shirasaki. "He's just so adorable! His round cheeks and his cute friends are just screaming to be made into chibi plush toys."
Cuteness factor aside, T0-B1's journey looks to be one to remember.
"T0-B1 matures from a mischievous kid into an experienced character during just this one episode," Shirasaki says. "Will he realize his dream of becoming a Jedi knight? Watch and you'll find out." 
K-344, "Tatooine Rhapsody"
Move over, Figrin D'an and the Modal Nodes.
Twin Engine's "Tatooine Rhapsody" tells the story of The Star Waver, a rock band with dreams of making it big. And on guitar is someone destined, or programmed, to make great music. 
"K-344 is a guitarist of the band and plays a phenomenal dual neck guitar," Shirasaki says. "She was once abandoned but found her purpose in rock and roll." 
K-344 lets her playing doing the talking most of the time, exuding rock-star cool.
"She really stands out from other droids," Shirasaki says. "Her calm demeanor contrasts with the excitable C-3PO and R2-D2, while her authoritative tone makes you feel that she's capable of handling any dangerous situation."
A rock opera, "Tatooine Rhapsody" promises to celebrate the power of music just as much as it does Star Wars. K-344 epitomizes that theme.
"Like other members of The Star Waver, music is the only thing she has," Shirasaki says. "She appears cryptic at first, but her affinity for rock and roll shines through when her band members face the ultimate choice." 
B-20N and R-DUO, "The Twins"
"The Twins" from Studio Trigger puts a subversive spin on the story of Luke and Leia, with siblings Am and Karre created through the power of the dark side. Similarly, the duo's droids take inspiration from an iconic droid team, but have some definite differences.
"B-2ON is a loyal servant to Am and Karre. He is clearly inspired by C-3PO, but jet black instead of (mostly) gold because he serves the twins of the dark side," Shirasaki says. "Studio Trigger also had some fun with his name, which I think will delight many Star Wars fans if they can figure out the reference." 
"The way B-2ON carries himself and the way he talks reminds you of an old butler. He's experienced and usually reserved," continues Shirasaki. "Yet sometimes he shows a surprisingly emotional side that comes from devotion and dedication, leading to an unwavering determination to protect Am and his masters' mission at any cost."  
B-2ON's counterpart is equally devoted to his masters…but maybe a little more devious. And much like Artoo is to Luke, R-DUO moves beyond the role of droid servant to his master. He's Karre's friend.

"Karre knows that R-DUO is a perfect partner if he needs to win a big battle. And R-DUO knows that he's indispensable to Karre, too, which he proves again and again throughout the episode."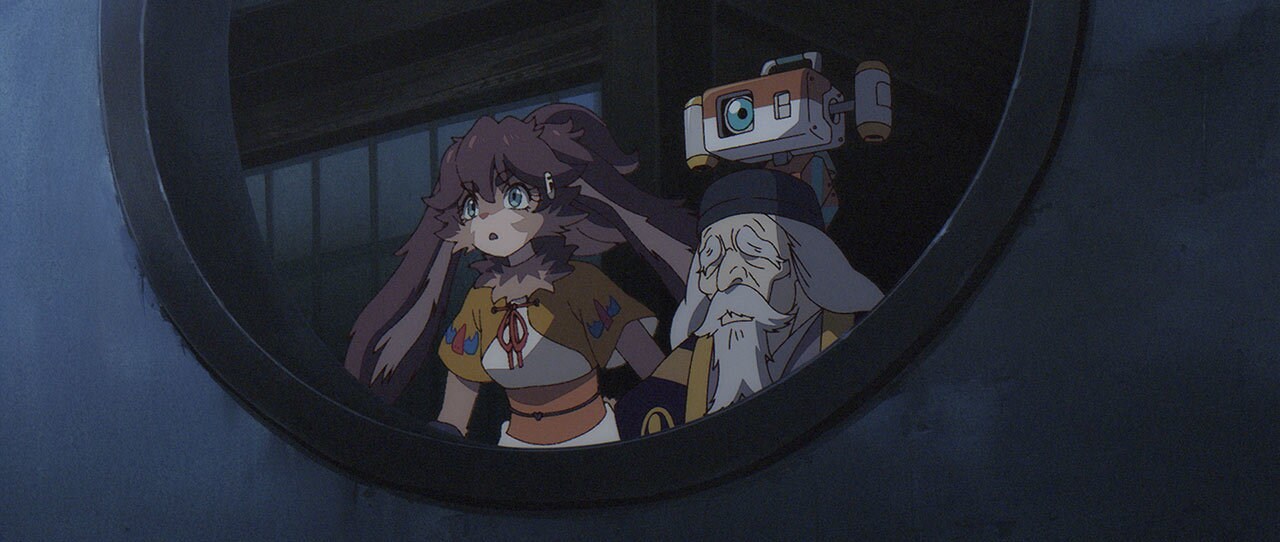 TD-4, "Lop and Ochō"
Accompanying Lop on her journey in Geno Studio's "Lop and Ochō" is TD-4, a droid that Shirasaki thinks will capture fans' hearts. "TD-4 is more like a loyal dog to Lop -- always by her side," she says.
Like many droids, TD-4 has various abilities and gadgets. But one is especially important.
"TD-4 takes the recording functionality we saw originally with R2-D2 in A New Hope to a new level by independently capturing the important moments of Lop's journey, from surviving as an orphan on Planet Tao to becoming part of a family," Shirasaki says. "I see this feature almost like what we might envision in our own lives as a diary or blog, and it plays a key role in this episode." 
Of all the droids in Visions, TD-4 may have the most unique look. With a rectangular head featuring two ear-like cylinders, TD-4's design is filled with personality. "I love TD-4's tininess, its color, and chibi design!" Shirasaki says. "Lop and TD-4 are just so endearing together. Despite its small size, the creators have imagined so many cool traits that set it apart. I hope someday that TD-4 can show us more than what has been revealed in the episode, as it always supports Lop and leads them to a fateful destiny."
Steward Droid, "The Ninth Jedi"
In Production I.G's short, masterless Jedi come to the Aerial Temple under strange circumstances. The mysterious steward droid greets them, but does little to assure these guardians of peace and justice. "Steward droid is an enigmatic character serving Margrave Juro," Shirasaki says. "He waits at the Aerial Temple where he puzzles the Jedi by uncharacteristically withholding answers to their burning questions."
Shirasaki will reveal little else about this droid, but points out that its design rejects the friendly, shinier look of fan favorites.  
"He is a surprisingly large droid, perhaps even taller than Chewie!" Shirasaki says. "And while most droids like C-3PO or BB-8 are known by their metallic tones or bright colors, this one is oddly dark, which adds to his mysterious aura. Will the Jedi uncover his secrets?"
Star Wars: Visions arrives September 22, exclusively on Disney+.