StarWars.com speaks to writer Tom Veitch and cover artist Dave Dorman about their landmark miniseries.
Believe it or not, we just celebrated the 25th anniversary of Dark Empire -- the iconic comic series that, in a very real sense, kickstarted Star Wars back from near oblivion. During 1991 and 1992, an entirely new Star Wars story made its way to store shelves. The six issues of Dark Empire featured familiar characters, but the setting was brand new. The characters we thought we knew were a bit older, wiser, darker, and charting a course not even hinted at in the movies.
For fans who have grown up or come to the franchise in the years since Dark Empire, this might not seem surprising or revolutionary. But in 1991, we were at the tail end of a Star Wars drought. Timothy Zahn's Heir to the Empire had come out a few months before, but it had been years since Star Wars was truly a growing, thriving universe.
Dark Empire changed all that. Tom Veitch, Cam Kennedy, and Dave Dorman (along with countless others who helped bring the books to life) bestowed on Star Wars fandom an incredibly visual, cinematic story that felt like a true successor to the original trilogy. And in so doing, they effectively set precedent and laid the foundation for nearly three decades of Star Wars stories -- both narratively and visually.
To celebrate the 25th anniversary of the series (the final issue released in October 1992), StarWars.com sat down with Tom Veitch (writer) and Dave Dorman (cover artist) to look back at the series, how it came to be, and why its influence continues to echo today. Here are seven insights we learned.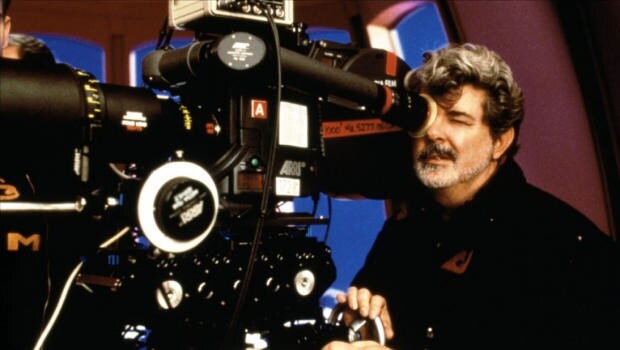 1. It all began with a letter to George Lucas. Despite the dearth of new Star Wars content in the late '80s, Tom Veitch, Cam Kennedy, and editor Archie Goodwin had a feeling that the franchise "was just taking a nap, waiting for a fresh injection of imagination." With that in mind, they took a leap of faith and wrote a letter to Lucas, who subsequently asked to see samples of their work. The rest is history.
2. The odds were against it. Veitch recalls, "I remember a comics pro saying to me at the time, 'What do you want to do Star Wars for? Star Wars is dead!'" Indeed, as Dorman points out, "There was a huge vacuum of products for the Star Wars fandom, from the early '80s until 1990, [Kenner] had stopped creating new Star Wars toys, Marvel was no longer doing comics. There were no novels released to bookstores." With no new stories being told and no merchandise in the stores, it was a financial risk. What if the audience had disappeared?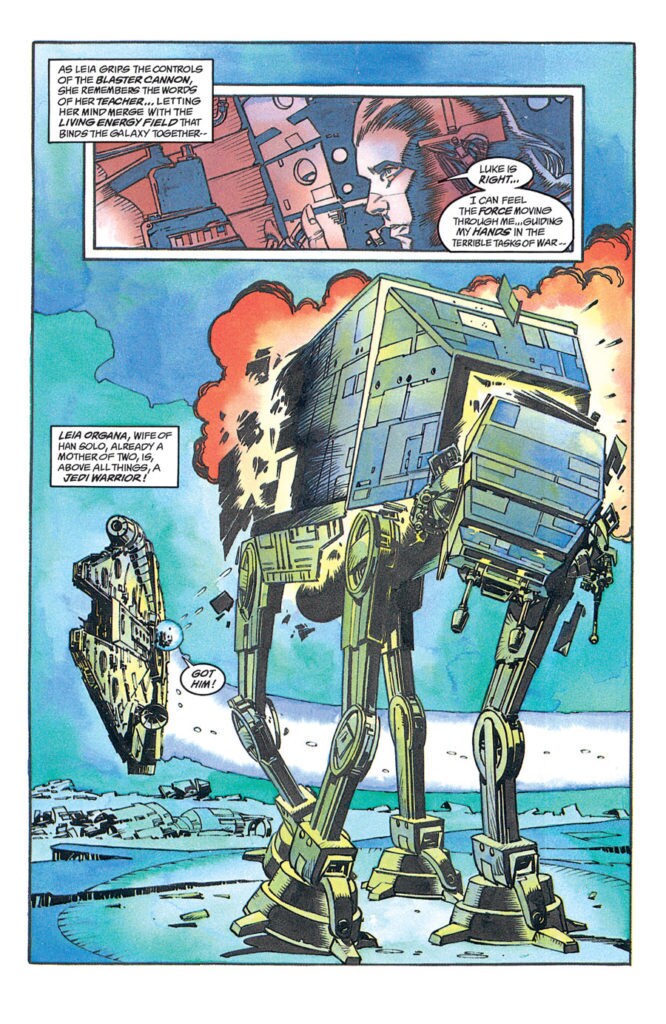 3. In 1988, the original idea for the story was something quite different. According to Veitch, "My initial idea was to create a whole group of new Jedi characters, all of whom would die under the reign of Vader. I intended to balance the tragic nature of those events by exploring the lives and characters of these wise and powerful Jedi. They would be celebrated like folk heroes, and their deaths would be portrayed as heroic. They would be mourned by the good people of the galaxy." However, that story took place during the period that would later be explored by the prequels, which was off limits at the time. Given a bit more freedom in the post-Return of the Jedi period, a new story emerged.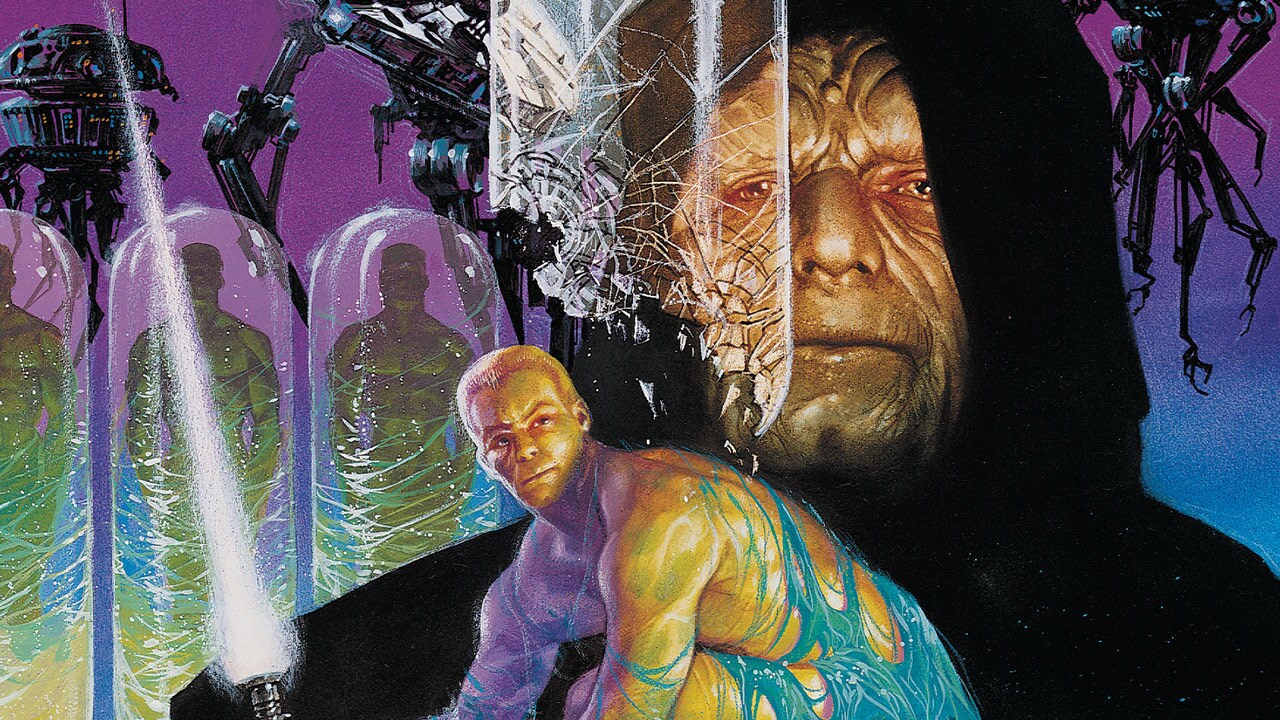 4. Darth Vader was off the table, creatively. Referencing his notes from 1988, Veitch shares that Lucasfilm "rejected bringing back Darth Vader in any form…So this is where Palpatine reentered the picture. If we could figure out a way to bring back the Emperor, we could do that. Well, the obvious idea was that Emperor Palpatine had been cloning himself for quite a while, inhabiting each clone in succession through the power of the Force. [Lucasfilm] liked that concept and also approved the idea of Luke journeying into the dark side. So in short order we had the go-ahead for the plotting of what became the six issues of Dark Empire."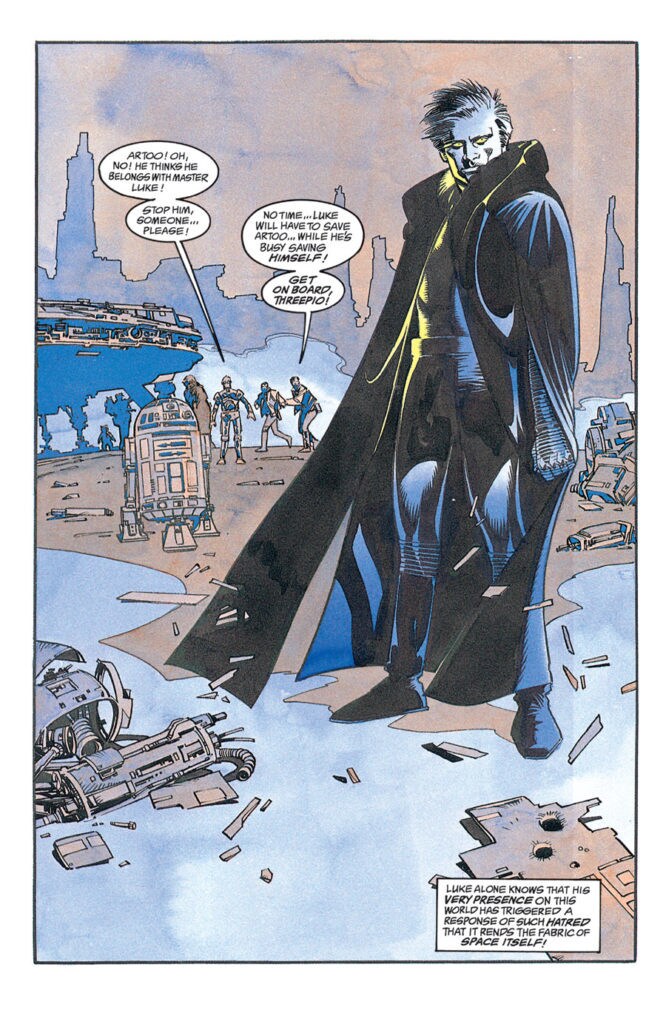 5. The nascent Expanded Universe expanded quickly. Veitch and Zahn worked out a timeline that permitted both of their projects (Dark Empire and Heir to the Empire) to go forward pretty much as conceived. Veitch also wrote a lot of detailed connecting material that was included in West End Games' Dark Empire Sourcebook. "What was most interesting, from my point of view, was that Zahn's plot provided a basis for saying, in the opening crawl and the text pages in the back of issue #1, that without the thousands of Jedi Knights who once formed the backbone of the Old Republic, the new confederation was a precarious one and 'long years of struggle ensued.'"
6. The cover art was meant to do more than just sell each issue. According to Dorman, "The main thing that I was trying to achieve with the cover art was to give the viewer a feeling that they were seeing a movie poster for a brand new Star Wars film. Obviously, there was plenty of Star Wars artwork related to the films, such as Tom Jung's and Drew Struzan'smovie posters, Ralph McQuarrie's portfolios, and reproductions in books and magazines, so there was plenty of inspiration for me to draw from in creating those covers."
7. Its influence continues. In a very real sense, Dark Empire played a critical role in reviving Star Wars as a franchise and giving birth to the Expanded Universe, now known as Legends. It kicked off nearly 25 years of Star Wars storytelling at Dark Horse Comics and was instrumental to some of the most influential stories. "The fact that Dark Empire is still popular today," Dorman says, "given the reactions I still get at conventions, from both older and a new generation of readers who weren't even born when it was released, shows me how timeless the material really was. I believe everybody involved in the project had a genuine love and affection for the material. That love, I believe, showed through to the public."
Star Wars: Dark Empire is available for download now from Marvel.
Jamie is a publishing/book nerd who makes a living by wrangling words together into some sense of coherence. He's also a contributor to GeekDad and runs The Roarbots, where he focuses on awesome geeky stuff that happens to be kid-friendly. On top of that, he cohosts The Great Big Beautiful Podcast, which celebrates geek culture by talking to people who create it. With two little ones and a vast Star Wars collection at home, he's done the unthinkable: allowed them full access to most of his treasure from the past 30 years, opening and playing with whatever they want (pre-1983 items excluded).