The mercenary will make her debut in Marvel's War of the Bounty Hunters one-shots.
The underworld of the Star Wars galaxy is about to get a little more dangerous. And colorful.
Coming soon to terrorize Marvel's War of the Bounty Hunters crossover is Deva Lompop, a bounty hunter specifically requested by Jabba the Hutt himself, revealed exclusively on StarWars.com. Co-created by writer Justina Ireland and artist Iban Coello, Deva will join the hunt for Han Solo in Star Wars: War of the Bounty Hunters: Jabba the Hutt #1 and appear in every War of the Bounty Hunters one-shot. As can be seen in the concept art and final pages from her debut issue, Deva is hard to miss: she sports a rainbow-feather mohawk and plated armor, which seems filled with surprises. And though Deva is new to Star Wars, it turns out she's been around the galaxy for a while; since the High Republic era, in fact -- centuries prior to the events of Star Wars: The Phantom Menace.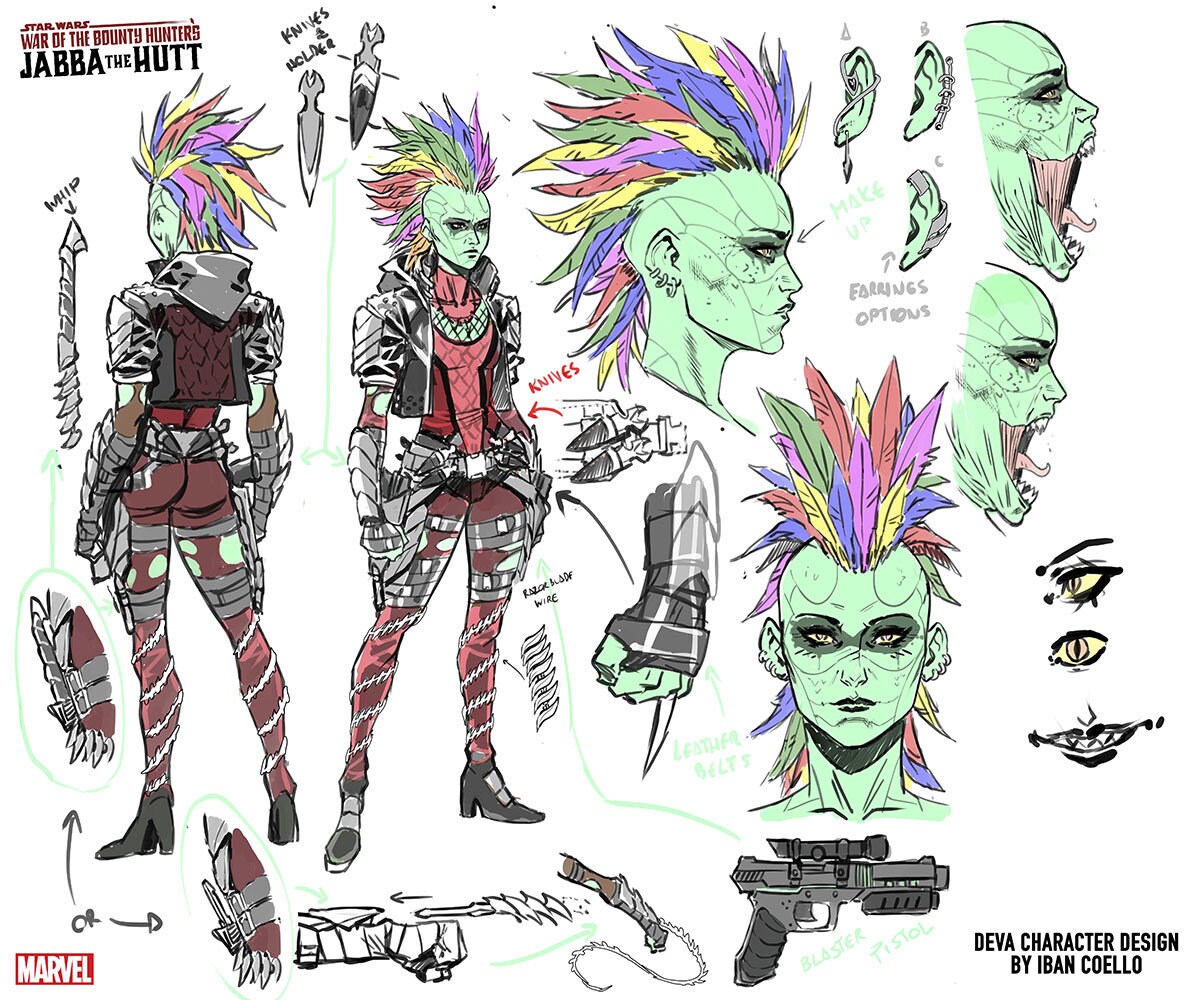 "Deva was the product of my absolute love of feathered lizards and badass women," Ireland tells StarWars.com. "There is definitely something awesome about getting a chance to bring a High Republic character to the War of the Bounty Hunters, and for High Republic fans they should watch for Deva in upcoming works."
"When I was designing the costume for Deva, I tried to honor all the ideas Justina had for the character when making her come to life," adds Coello. "She was very clear about the image that the character had and it was very easy for me to work on that direction."
Deva's alien species is called the Shani: a people with a long life-span that the Hutts consider to be the original bounty hunters of the galaxy. Though she has apparently moved on to other lined of work, War of the Bounty Hunters will see Deva reignite her bounty hunter legacy.
Star Wars: War of the Bounty Hunters: Jabba the Hutt #1 arrives July 21, and is available for pre-order now on Comixology and at your local comic shop.
See Deva Lompop and more on This Week! in Star Wars!