Check out some fully armed and operational jack-o'-lanterns!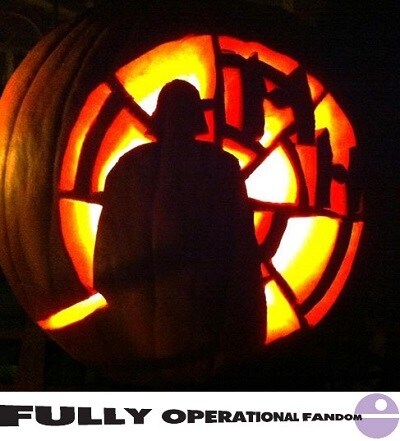 The calendar has turned towards fall and for many people that means costumes, candy, spooky decorations, and carved pumpkins. We've come a long way from giving pumpkins the traditional Jack-o-lantern style faces though. Those are fun, but it's not uncommon to see a Stormtrooper or a Rebel Alliance pumpkin on someone's front porch. You can find templates in stores (I've seen Star Wars: The Clone Wars pumpkin carving kits on shelves this year), download stencils, or come up with your own.
Star Wars fans are an incredibly resourceful bunch and several of them reached out to me to show off pumpkin designs based on characters and ships and everything in between. Yes, they are most impressive.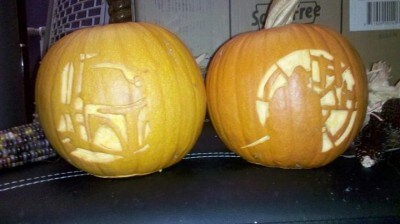 The saga has been part of Tim Simpson's entire life. No, really. His mother saw A New Hope while she was pregnant. When Tim caught the movie with his own eyes a few years later, he remembers wanting to be a member of the Imperial Guard. Those crimson robes are rather stylish. He's carried the love of the films with him and has since joined the 501st Legion. Given his history, it makes complete sense that his pumpkins feature bad guys Boba Fett and Darth Vader in the Death Star's throne room.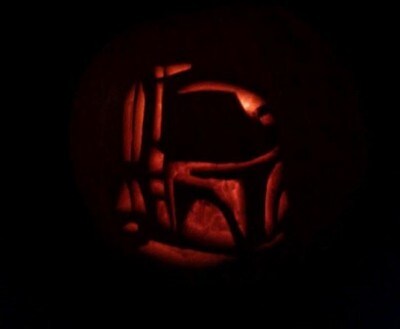 It took him six hours to finish the carvings and he managed to do it with just a utility knife.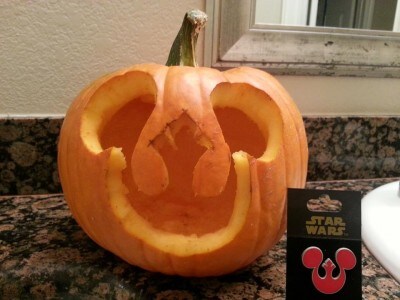 Christina Fung came to Star Wars through the action figures first (a cousin owned them) but soon saw the films on television with her dad. Since the announcement about Disney and Lucasfilm hit last year right before Halloween she decided it was appropriate to add a touch of the Mouse to her already planned Star Wars pumpkin. Disneyland sold a Rebel Alliance and Mickey Mouse pin, so she based her design on it and tada! Since it was a simple shape, it took less than ten minutes to carve.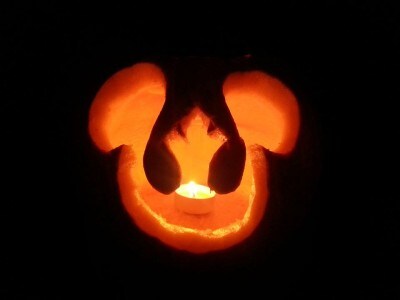 This is a great example of a pumpkin that looks cool but is more basic for those of us with time or skill challenges.
Darth Vader is a popular choice for pumpkins! Matthew Rushing also tackled the throne room image, and it took him about an hour and a half. He said it was challenging to cut the thinner pieces while keeping them intact, but he still had a blast carving this for a Halloween party.
A few more fans sent in photos of their carves, and I couldn't resist sharing. First up is a snowspeeder by Rocky Vanoost (just look at all the details):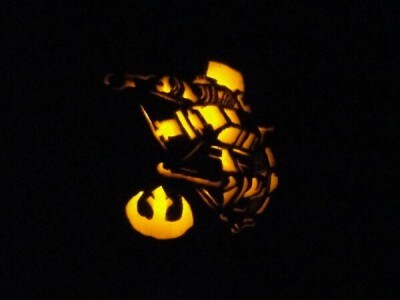 Captain Rex by Johnamarie Macias: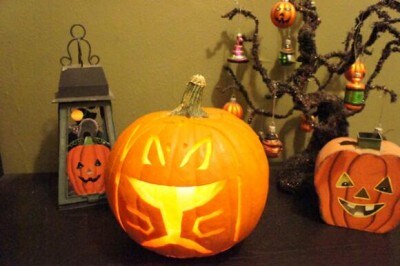 Death Star by Tony Kim: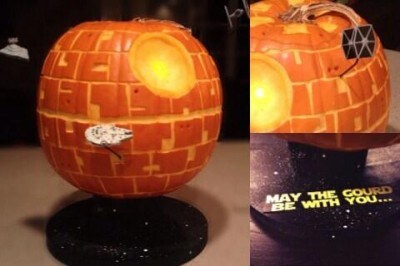 If you can't get a fresh pumpkin, grab a foam pumpkin from your local craft store. Bonus: you don't have to clean out pumpkin guts and the surface is softer and easier to carve. Using a craft pumpkin also allows you to keep your creation on display year round!
This year will be the first time I'm attempting to carve a pumpkin since I was much younger; I'm planning to make an Ahsoka one. I've got a bacta tank on standby just in case.
Amy Ratcliffe is addicted to Star Wars, coffee, and writing. You can follow her on Twitter at @amy_geek and keep up with all things geeky at her blog.