For Star Wars fans, the latest Celebration will be four days long remembered.
Time is weird. I spent what felt like forever waiting for Star Wars Celebration to get here, and once the first day arrived, the hours flew by. Yes, it's a cliche observation, but once I was among my extended Star Wars family, I didn't want it to end -- to the degree that I stayed up way past my usual bedtime every night at the convention because I wanted to soak it all in. The memories stacked up on top of each other every day to the point of bursting. Every time I talked with someone at Celebration -- even on the first day -- we spoke about the people we'd met, the panels we'd seen, the emotions we'd experienced. Celebration is just that special.
Choosing a single moment out of Star Wars Celebration Anaheim's four days and labeling it as the best isn't simple or really even possible. If you asked a Wookiee to twist my arm, I could maybe narrow my favorite memories down to top five. I'm sure most of you feel similarly. But for the sake of not writing a never-ending post, I asked fans to sum up their experiences and highlights in just a few words.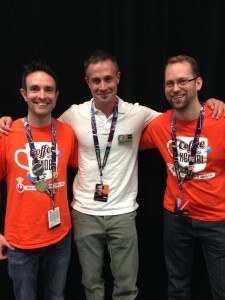 "Celebration Anaheim was an amazing, surreal experience. For four days, I was ensconced in all things Star Wars and got to meet some incredible people. Being able to meet other podcasters, Star Wars fans, and have conversations on the convention floor with people was amazing. Certainly, being able to be on the podcasting stage was unforgettable, but the real charm of Celebration was that everyone is an equal in Star Wars. Whether you are an actor or a fan, it really felt like there was no pretense at all. We all were there for our love of Star Wars, and friendships were cemented because of it!" - Dan Zehr, Coffee With Kenobi
"So many great moments and memories were made for me during those four days. My favorite was sitting in the digital stage watching all six Star Wars films with true fans. The love and excitement the audience displayed with every familiar character and scene filled me with joy for being a part of a greater Star Wars family." - Jonathan Wood
"Being in large crowds that positively erupted with joy and excitement during The Force Awakens and Rebels Season Two trailers and knowing that there are people who just get it." - Ron Bartlow
"I dare say I will NEVER forget that first panel with J.J. Abrams and Kathleen Kennedy and teaser trailer." - RebellRadion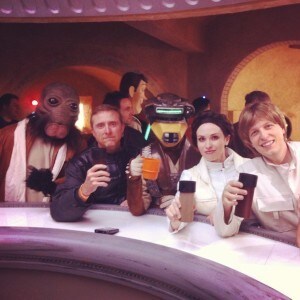 "A definite highlight was the wonderful chat I shared with Peter Mayhew while working on the cantina set, a man whose heart is as large as his stature. Escorting Weird Al (dressed as a Jedi) from the building was a lot of fun, too. "Rebels Saturday" was amazing and while I loved the panel and press conference, it was that moment when Dee Bradley Baker saluted Ashley Eckstein that stole the day for me. Yet the greatest thing about Celebration was making new friends and meeting up with old ones for the first time. Memories were made sweeter with them. Go Rogues!" - Thomas Riddle, Star Wars in the Classroom
"Eating breakfast at the food trucks Saturday morning and Anthony Daniels strolled right up the middle, and chatted with us for a bit." - Chuck
"Being in the Celebration Stage room for 'Chewie, we're home.' when everybody lost their minds. It was incredible." - Alex Quevedo
"Getting a chance to see so many podcasters that I listen to every week on stage and in person." - M. Gabriel Colbaugh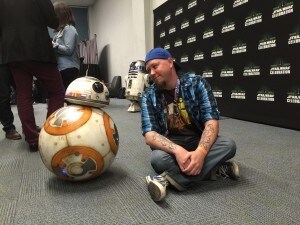 "Can't pick just one! Watching James Arnold Taylor work his hosting magic, making new friends, and hanging out with BB-8." - Matt Rowbottom
"Honestly, I'd say that my favorite memory is losing track of time. It flew by, and that's something I've never experienced." - Chris Pirillo
"Hearing Luke Skywalker again for the first time in 30+ years. Shivers, chills, you name it, I had it." - Nanci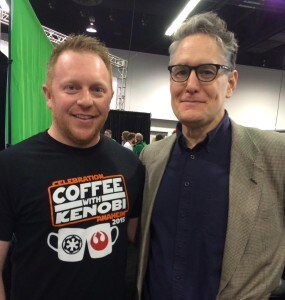 "Meeting all the friends I've never met in person. And especially meeting Ryder Windham." - Ryder Waldron
"Best SWCA experience? Geeking out with other Star Wars fans from all over the world while in line for a panel. Such great people!" - R.B. LeMoyne
As for me, Celebration Anaheim will be an event long remembered because I shared it with fans. I experienced the new teaser for The Force Awakens with friends and with thousands of strangers (who weren't really strangers) who understood why tears were running down my face. I passed my Max Rebo plush around to pals who appreciate "Lapti Nek." I was at home, and I didn't stop smiling for four days.
How about you? What experiences from Celebration Anaheim will you remember for years to come? Tell me about them in the comments!
Amy Ratcliffe is a writer obsessed with all things Star Wars, Disney, and coffee. Follow her on Twitter at @amy_geek and keep up with all things geeky at her blog.