StarWars.com talks with cosplayers bringing the kinda good, kinda bad archaeologist to life. (Just don't tell Darth Vader.)
In Fully Operational Fandom, StarWars.com goes right to the heart of the Star Wars saga — the fans — for insight into their thoughts and experiences surrounding a galaxy far, far away.
Doctor Chelli Aphra. The character introduced in Marvel's Darth Vader comic doesn't suffer fools. An archaeologist and a skilled tech, Aphra's the kind of person you want on your side. With her dangerous droids BT-1 and Triple-Zero by her side, she's not the sort of person you want to anger. And let's be real: she's bold enough to work with Darth Vader and evade death by his hand.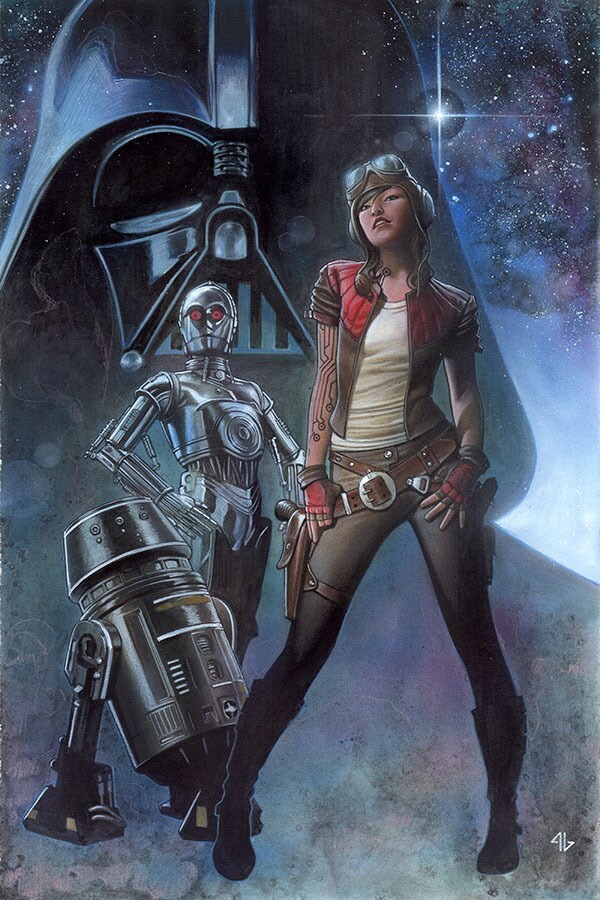 Aphra was a break-out character in Darth Vader, and nowadays, she's the star of her own ongoing series, Doctor Aphra. She also recently won Hasbro's Star Wars Fan Figure Vote and will be part of the 3.75-inch Star Wars Vintage Collection. She's a fan-favorite and nothing expresses adoration for a character like cosplay. Multiple cosplayers have put on the now-signature goggles, and I asked them about their affinity for Aphra.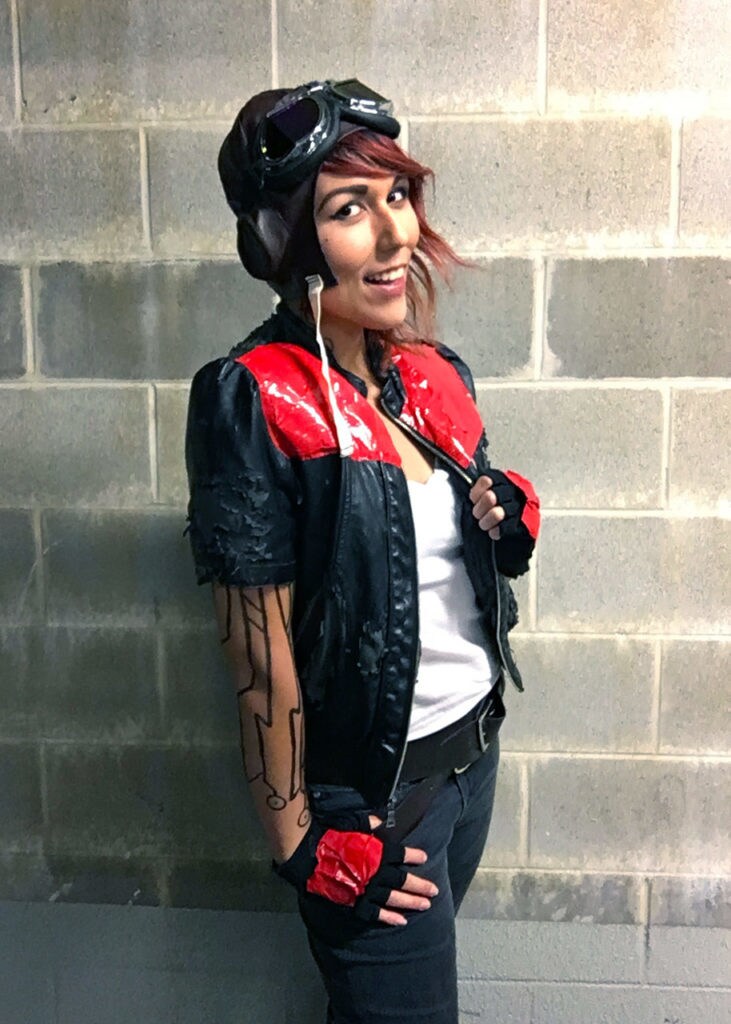 Alyssa Vidales was introduced to Doctor Aphra thanks to a co-worker. He told her, "'You know you're in a Star Wars comic book, right?'" He saw a resemblance between Alyssa and Aphra, and she saw it, too. "Her features, her clothes, even. It was like seeing a thousand-times-cooler version of myself in a universe I loved. It's inspirational and empowering. I read the comic and was tickled to see how quirky and crafty she was with defying rules and norms. She's ruthless yet human, independent yet loyal, full of charm and optimism gone rogue," Alyssa says.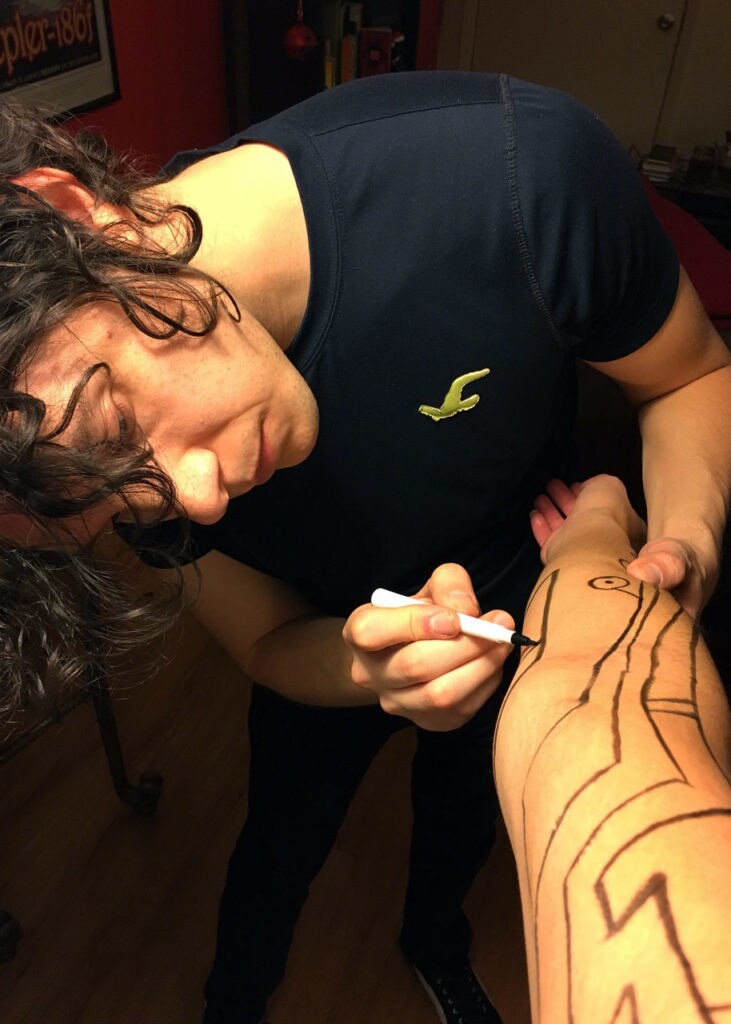 She wanted to channel the awesomeness of Doctor Aphra and felt compelled to dress up like her. Alyssa cites time as the most challenging part of the costume. She explains, "I decided a week before its debut that I would commit to dressing up, especially since I already owned similar clothes, boots, and a pair of goggles. I didn't take in account how uncommon aviator hats and holsters are to get a hold of."
Alyssa pieced the costume together, enlisted her boyfriend to draw Aphra's markings, and even added red duct tape for the red detailing. It's the kind of resourcefulness Aphra would be into.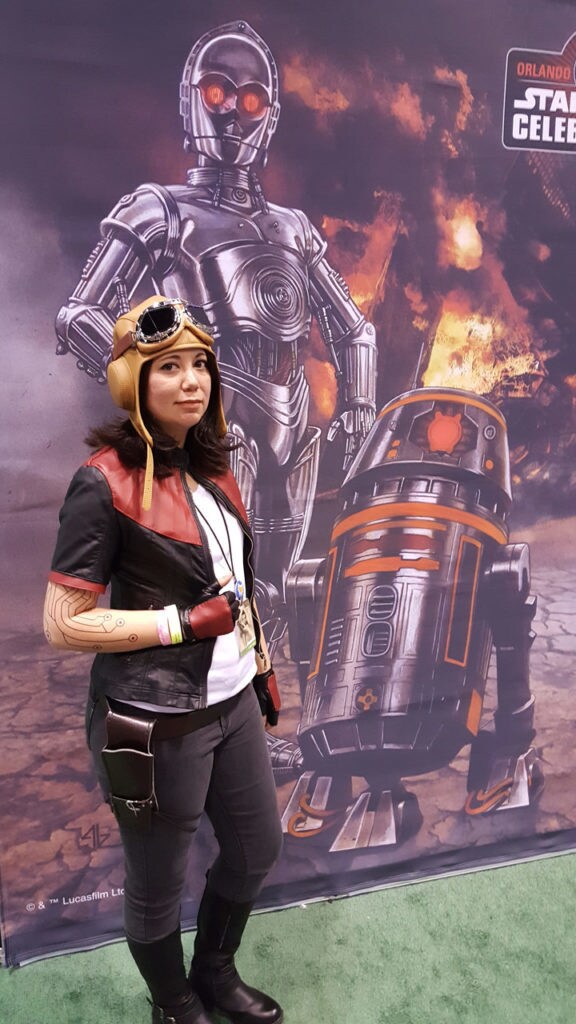 Kim Love was looking forward to the Darth Vader comic because she was a fan of writer Kieron Gillen, and she fell for Aphra when the character was introduced in the third issue. "I was instantly in love with her snarky personality. Her banter with Vader was amusing, and the addition of the sassy torturer Triple-Zero and 'kill everything' Bee Tee to her crew solidified my admiration," she says.
She has an Aphra moment she particularly treasures. "Probably my favorite moment so far was when she teamed up with Leia and Sana in rebel jail. Her quips with them were hilarious. I like that she sort of won them over enough for them to let her go free and offer her a place once Darth Vader was through with her," Kim says. "That is another thing that I like about her -- she is well aware of her situation with Vader and that once her usefulness has ended, she will need to be disposed of."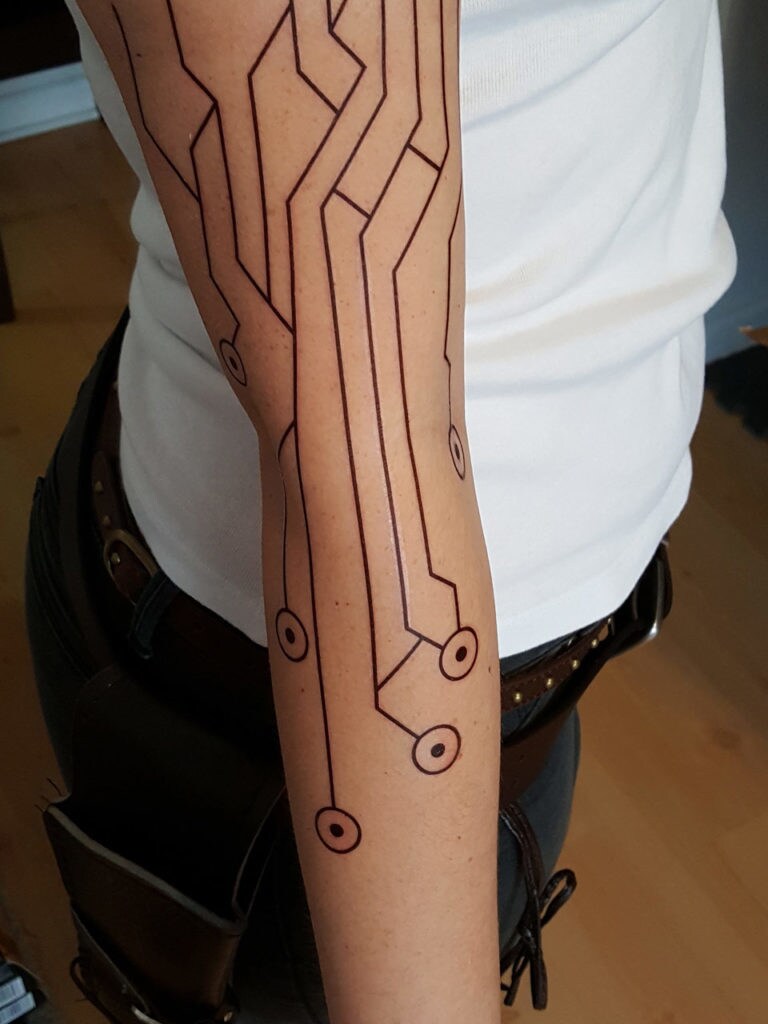 Kim's been wanting to craft a Star Wars costume since Celebration VI in 2012, but she's been waiting for just the right character. "I never found a character that I felt I looked enough like to pull off. I'm half-Thai, so seeing an awesome character like Doctor Aphra, who I thought looked like me, made me very excited and so I HAD to cosplay her." Like Alyssa, Kim had a tricky time finding the aviator hat, but she found someone to make her a custom one and she designed and printed her own temporary tattoos.
She debuted her Doctor Aphra ensemble at Celebration Orlando and received a positive reaction from fellow fans. Kim was only going to wear the costume a single day but donned it again since she had so much fun. "There was one fan at the end of Thursday who said to me, 'I haven't told anyone that their costume is awesome, but I want to tell you that your costume is awesome,' and then gave me a high five." Kim shares another favorite moment: "Another highlight for me was when comic book cover artist John Tyler Christopher asked to take a photo with me!"
Ann Campea thinks of Aphra as the Indiana Jones of the Star Wars universe. She admires how Aphra is "fearless, intelligent, charming, adventurous and snarky." Ann specifically likes Aphra's quest for knowledge. "Doctor Aphra's endless curiosity and fun nature is what I find most intriguing about her character. It's this undying curiosity that leads her into some very unpredictable situations. She doesn't choose sides, either. She'll do business with whomever she needs to get what she wants, even if that means being Vader's sidekick and later faking her own death to free herself from his clutches," she says.
She only cosplays character's she drawn to, and since her attraction to Aphra was instantaneous, Ann had to dress as her. She worked with others to replicate the jacket and aviator helmet to closely match what's in the comics. She tells me duplicating Aphra's ink was the most challenging aspect of the costume. "I used temporary tattoo paper and printed the design using a laser printer. From there, it was like applying a giant-sized temporary tattoo. I used a bit of black body paint to touch up, but I must say that it came out much better than I thought. I ended up wearing the tattoo for three days straight!"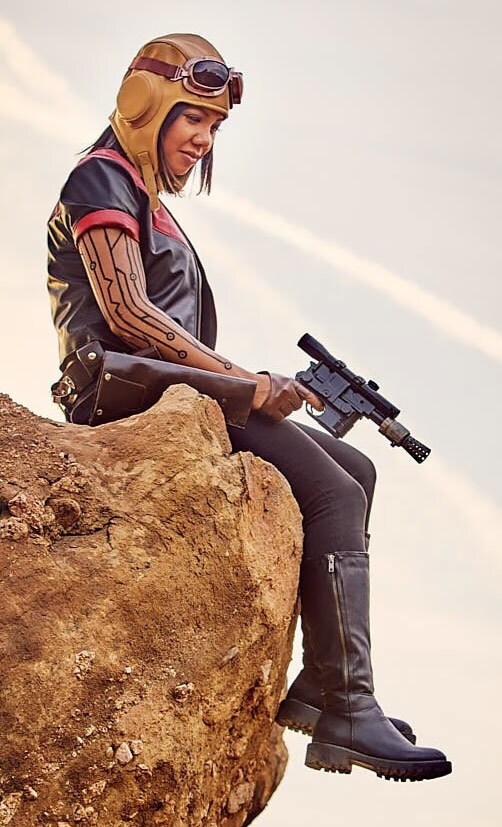 So far, Ann's worn her Aphra ensemble to Celebration Orlando. She says the fan reaction was tremendous. "People were very impressed by the quality of the costume and my likeness to the character. I hadn't realized how many Aphra fans there were until I walked the convention floor and got stopped for photos. I even had a guy approach me to ask if the tattoo was real! Crazy!"
Aphra's sassy personality is an appealing factor for several fans, including Bria LaVorgna. "I love that she's unapologetically herself. She's snarky and gets things done in her own unique way. She's someone that I can relate to a lot," Bria says. "My favorite part of her story would have to be the epilogue of Darth Vader #25 when we find out that she found a way to survive being air-locked by the Sith Lord. I was so relieved that she'd made it through the book and did so in a way that made sense. I couldn't be happier that she's got her very own series now."
Bria says there was no question about cosplaying Aphra. Once she committed to the build, it was hard to find all the aspects of the costume. "The most challenging part was probably sourcing everything. There was nothing particularly challenging on a sewing front, which is unusual for me. It was just a loooong process of finding pieces, altering them if need be, and then inevitably upgrading them. This is probably a costume that I'll always be upgrading. I don't think I'll be tired of costuming as her any time soon."
For her take on Aphra's tattoo, she drew the design on a pantyhose with a Sharpie.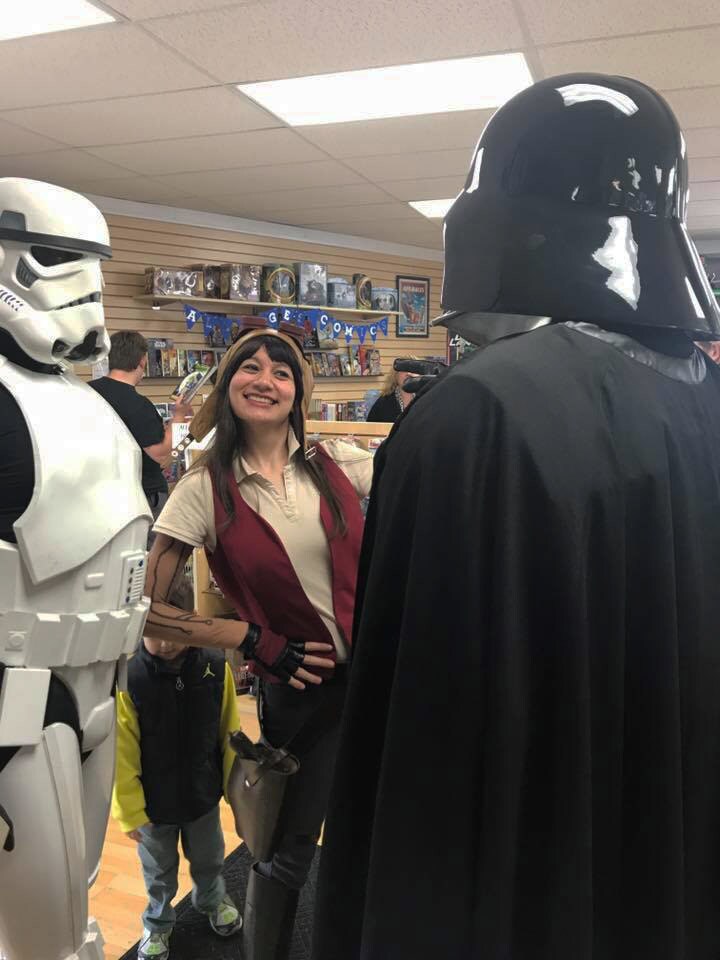 Bria's worn her Aphra costume at more than a few events and says more and more people recognize who she's cosplaying each time. She especially had a blast on Free Comic Book Day (FCBD) since she got to hide from a certain Sith Lord that thinks she's dead. "It was my first time trooping as Aphra with the 501st and we had a Darth Vader there that day who arrived an hour or so after me," she says. "I didn't see him come in the door at first until a customer in line pointed him out and I immediately ducked behind the nearest shelf. (Because Vader thinks she's dead and we can't have him learning otherwise, right?) Not all of the customers at Victory Comics for FCBD knew who Aphra was but I'm pretty sure everyone got a huge kick out of watching me sneak around and duck behind shelves and counters and even, at one point, behind another 501st member who had on an officer uniform."
Are you an Aphra aficionado? Tell us why you love the good doctor in the comments below!
Amy Ratcliffe is a writer obsessed with Star Wars, Disney, and coffee. Follow her on Twitter at @amy_geek.