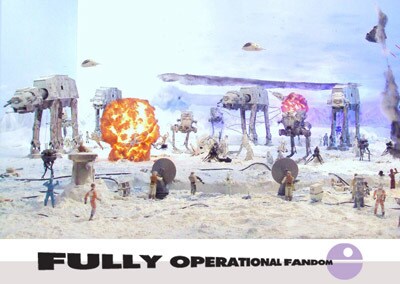 One must have patience to be a Jedi, and one must have even more tenacity to be a diorama builder. Legions of Star Wars fans are devoted to creating miniature replicas of scenes from the films, and I bet most of them could teach Obi-Wan a trick or two. Barry Riddle would surely be considered a master.
Riddle's work caught my eye a couple of weeks ago. He used 140 square feet in his living room to re-create the Battle of Hoth -- complete with stationary explosions and smoke. None of the images in this post are manipulated. I was impressed by the details, the scale, and the beauty of the diorama. If someone is putting in the effort to build a scene like this in his house, he probably likes Star Wars. Just a little bit.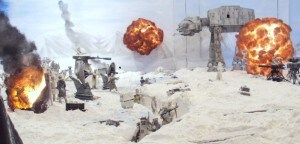 Riddle saw Episode IV in the theater in 1977 back when it was still called just Star Wars. According to him, the movie completely blew away his much-younger self. He's been a fan ever since, but once he had children and the toy line was revived in the mid-'90s, he experienced it with a fresh perspective. "I was able to enjoy the experience in a whole different fantastic kind of way, with my family."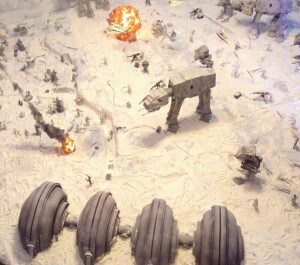 Building larger scale dioramas isn't new to him. He built Tatooine before Hoth (the desert scene is due for a makeover and isn't pictured here), and he finds it's one of the best ways to display his collection of Star Wars toys. It started as an activity to share with his sons and has now evolved to what you see in the pictures. Part of me hopes he'll keep going, and that one day he'll have a full Endor set in his yard.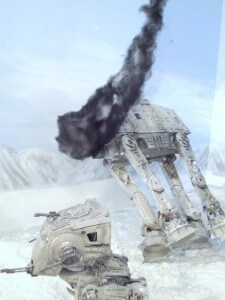 As you can see in the photos, Riddle pays attention to the minute details. He pulls references from a variety of sources including Star Wars books, the films (thank you pause button), various sites, and consultations with friends. This exhaustive research is the first step. "I consider reference material and research to be key when undertaking any project."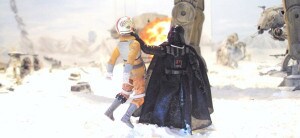 The next step is time and effort, and no small amount of it. Besides planning and staging where each piece will go, he has to weather and age his toys to match the setting, build pieces of the background (like amazing explosions, check out his tutorial), paint…whew! I think just making the checklist for the process would be exhausting.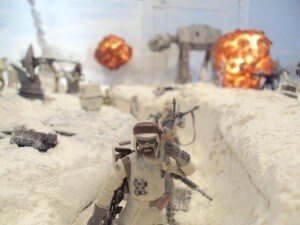 He's put six months into the Hoth diorama so far and estimates he still has another month left. To him, his dioramas are always a work in progress, and he says he'll probably keep tweaking the design in the Hoth room (this is where it's important to note that Riddle's wife is very supportive of his love for Star Wars) for the next few years.
It might take me that long to start the trash compactor diorama I've always wanted to build.
Amy Ratcliffe is addicted to Star Wars, coffee, and writing. You can follow her on Twitter at @amy_geek and keep up with all things geeky at her blog.