Hear from and see photos of cosplayers who would make the Resistance's newest hero proud.
Any convention I've attended or seen pictures from after December has had one thing in common: droves of Rey cosplayers. The star of Star Wars: The Force Awakens has inspired fans by the dozens, if not hundreds. Within the span of 30 minutes at WonderCon in Los Angeles, I counted nine different Rey cosplayers of all ages and with slightly different versions of Rey's scavenger ensemble. The Reys could form their own costuming legion.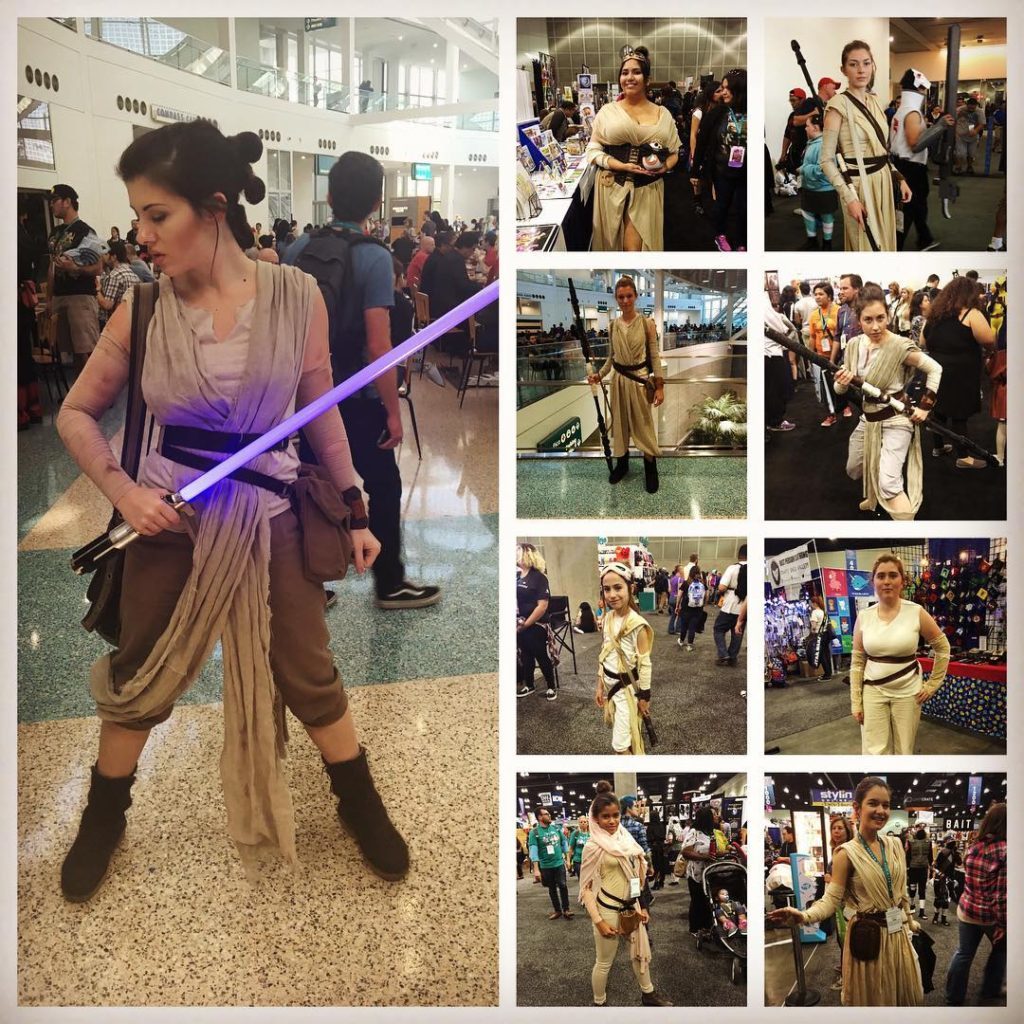 Though I didn't speak with any of those cosplayers, I did catch up with other fans who have dressed up as Rey to ask what about the character inspired them to get crafty.
Kay Serna started plotting her Rey costume as soon as she saw the first teaser for The Force Awakens in November 2014. "I bought some boots that December and began construction in earnest in January 2015. My costume debuted at Star Wars Celebration Anaheim in April 2015. After seeing the costume in person there, it underwent a few revisions as I strove to make it as movie accurate as I could by the opening of The Force Awakens," she says. She followed up the Jakku look by making Rey's Resistance base costume, too.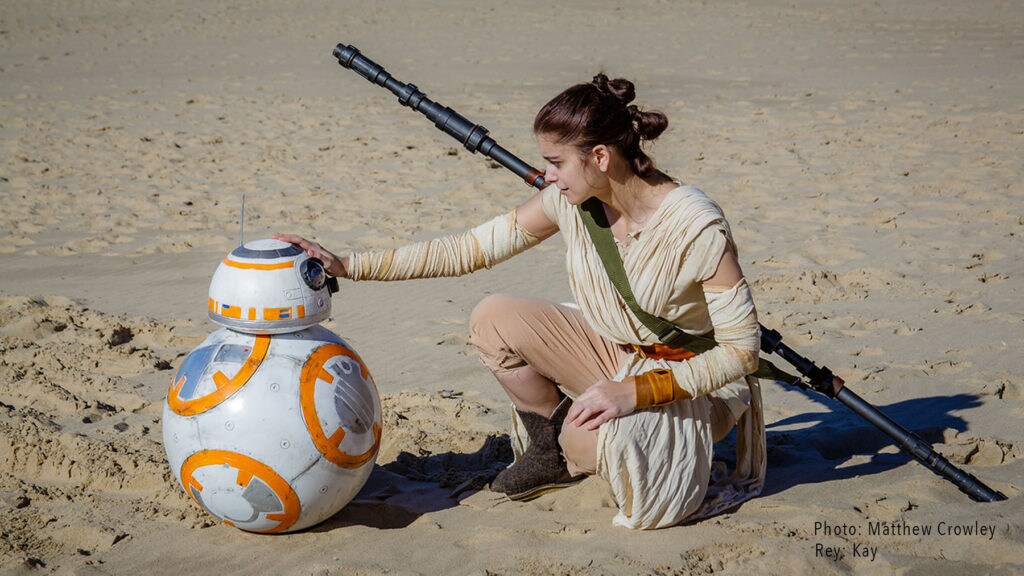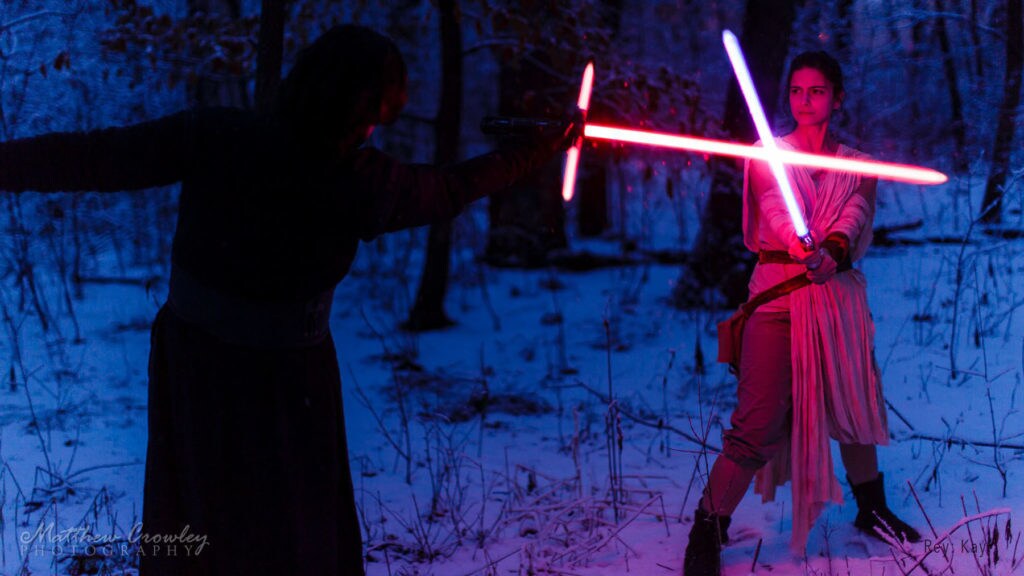 But why Rey? Kay's answer can be distilled to a single word: hope. Kay says, "There was hope she'd be a character I could love and relate to but even more so I hoped she'd be a character who would sweep up kid's imaginations the same way Leia and Han did for me when I was little. A little girl ran up to me at Celebration Anaheim, hugged me, and declared 'I love you, Rey!' This was only two trailers in and immediately I found myself wanting Rey to be awesome for that little girl more than for me."
The Jakku costume inspired Zoe Hinton, too. She tackled the look for a themed day at her school. She explains, "One day was Character Day, where you were supposed to dress as one of your favorite characters. I spent a while trying to figure out which character I wanted to do, and then around 9 p.m. Monday night I decided I wanted to do Rey. I thought that Character Day was Wednesday. So, using a shirt and pair of pants we already owned, along with a belt and tool bag from our old Jawa costumes and leftover fabric from my sister's Tusken Raider costume, we made a Rey costume, minus the wig. Within 45 minutes, the costume was finished. The next day, not only did I find out that character day was actually Thursday, but we also went to Party City, bought a wig, and that styled into Rey's signature hair style."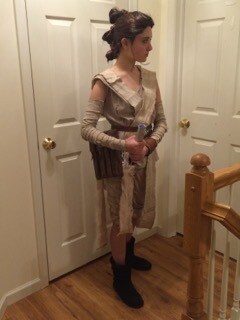 Rey inspires Zoe: "To me, Rey means that I can do anything. I know it sounds kind of cheesy, but look at how much Rey can do. She can fly, she can fight, she can use the Force -- Rey can truly do anything, and that is very inspirational for me and I know plenty of other girls feel the same way."
Vani, a.k.a. Small But Dangerous, was resourceful like Zoe when she crafted her Rey costume. Rey's Jakku look is meant to appear sort of scrapped together, and that ragtag aspect means you can probably piece the outfit together from items in your closet. Vani says, "I could legitimately 'scavenge' just about everything I needed for her Jakku wardrobe from the confines of my own home. With a little patience, a cotton sheet, some faded curtains, and a small table cloth I had managed to complete the rather comfortable look in just a few hours. Figuring that since I made it I might as well wear it. I brought it to a local event, [thinking] if anything it would be good for a chuckle or two, but the amount of positive feedback was almost overwhelming. Before I knew it I was back home gathering more orphaned supplies to recycle into her staff."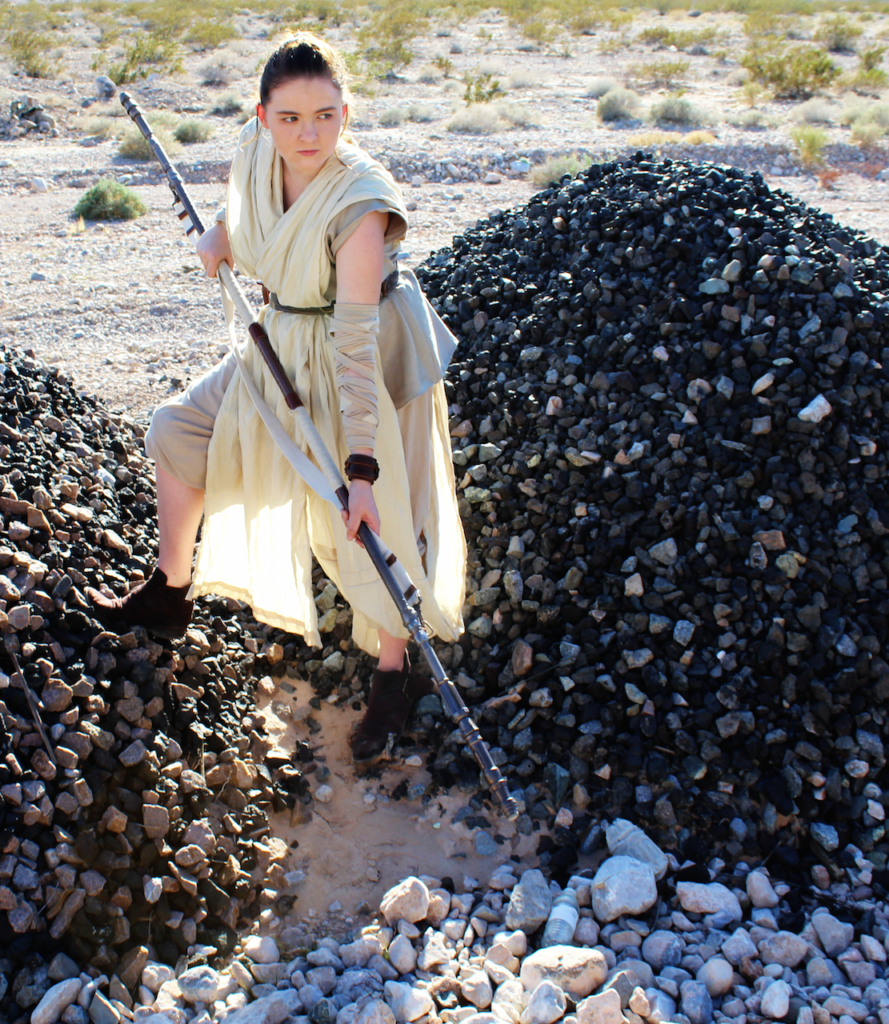 Donning the costume has been rewarding for Vani. "During the handful of times I have worn Rey or even just had my hair up in triple buns for the fun of it I have been flagged down by a handful of little girls, each one of them starry eyed and ready to share their joy. Their excitement means so very much to me. I was once weary of sharing the things I loved, so afraid of ridicule and seclusion. In the end I was terribly lonely. After I recently began to open up to fellow fans I've begun to feel this indescribable feeling of belonging," she says.
It's kind of a neat how a girl who survived alone on Jakku for so long has brought so many people together, isn't it?
Amy Ratcliffe is a writer obsessed with Star Wars, Disney, and coffee. Follow her on Twitter at @amy_geek.