Meet some fans who've decided to make their own overweight globs of grease.
It's no secret that one of the things I like best about Star Wars is how it inspires fans to create. Costumes, art, crafts -- I appreciate all of it. There's something special about fan-made astromechs though. Anytime you see an R2-D2 unit rolling around a convention or fan event, be sure to pause for a few minutes and wait until a kid comes along. Getting the chance to watch a child react to seeing R2-D2 in person is getting the chance to watch pure, innocent joy. Adults react that way, too. I can't help but grin when I hear Artoo's beeps and boops.
The R2-D2 Builders Club was founded in 1999 and serves as a resource for fans wanting to re-create the lovable droid. If you see Artoo or any other astromech rolling around a convention, the operator is nearby and usually happy to answer questions. Though the beloved blue and white droid is quite popular, builders assemble other characters too and sometimes come up with original designs and color schemes. I talked with a few astromech builders about what made them want to build droids, what they've built, and what advice they have for anyone interested in following in their footsteps.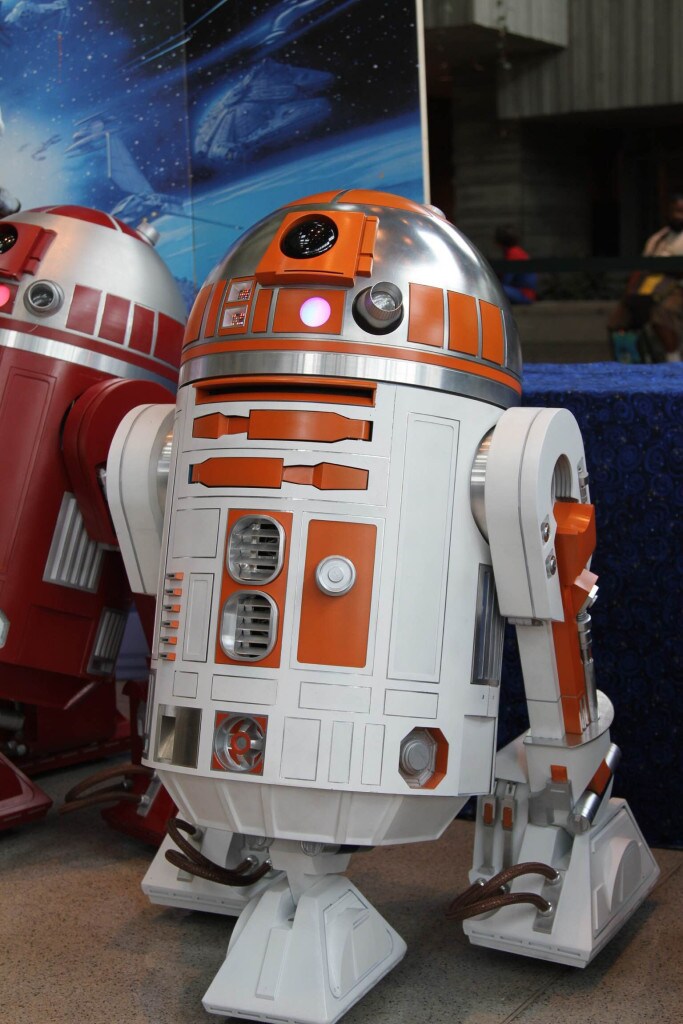 Michael's first experience with Star Wars was being terrified by Darth Vader in A New Hope when he saw the film in theaters. "I remember being so scared that I had to close my eyes when Darth Vader first appeared." He recovered from the trauma and has been a fan of Star Wars ever since. He was motivated to make a droid when he encountered a local builders group at the Portland Mini Maker Faire. They directed Michael to Astromech.net, the official website of the R2-D2 Builders Club, and a year and a half later after a lot of reading and work, Michael has his own droid.
He joined the Builders Club and said it's been essential to completing the build. "From organizing part runs to answering questions, there are a lot of great people in the club that are willing to share their knowledge and passion for building. Being an accountant, I had very little experience with some aspects of building (electronics, programming, drive systems) but fortunately the club has been there to guide the way."
Michael initially planned to make Artoo but decided to change it up so his droid would stand out. He found an orange astromech in the background of the Echo Base scenes and decided to replicate that. He named him R2-A2.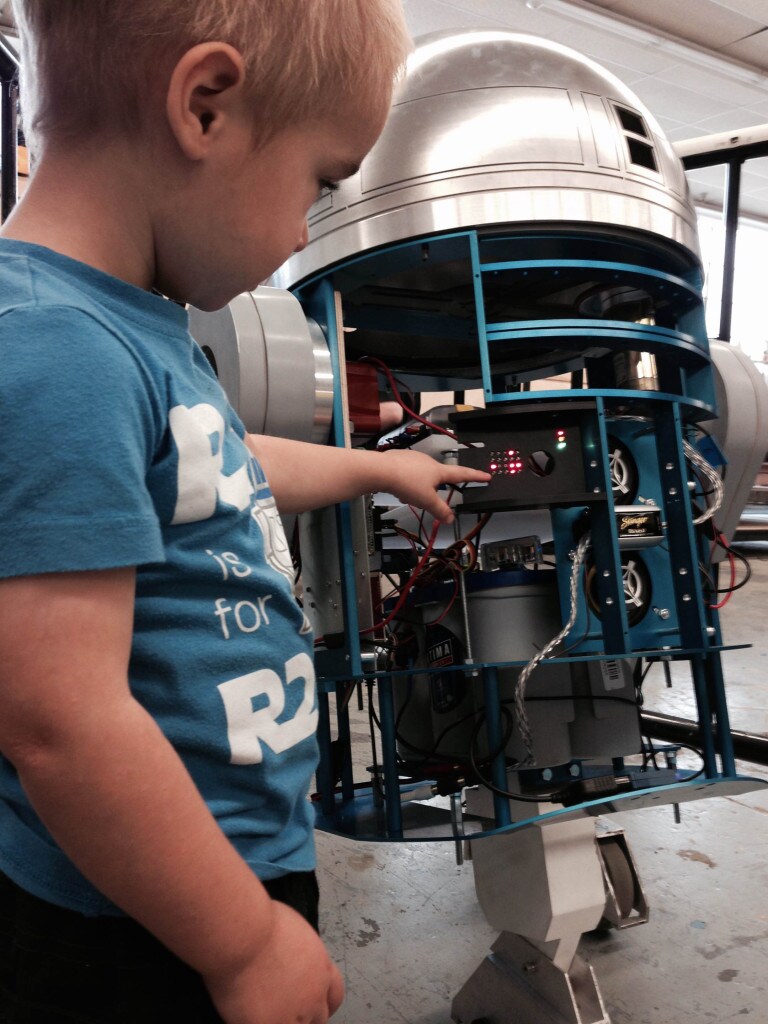 The most challenging parts of the build involved time. Michael said that some specific astromech parts aren't readily available for purchase from the hardware store -- you have to fabricate the part yourself or join a part run with other builders to get what you need. Then, he had to find free time to actually make the droid. He finished R2-A2 just in time for Celebration, but it was a huge rush and a little stressful.
His advice to new builders: "Relax, take your time, do some research and make a plan. Get to know the four main building materials used; aluminum, wood, styrene, and resin (fiberglass and 3D printed parts are also common). Each has their own benefits (cost, availability, time to sand and finish) and a droid can be made by a countless combination of these materials. Most people can't tell that I used wood legs and aluminum feet. It's up to the builder to figure out what is going to work best for them. Finally, being an accountant, I would say give yourself a reasonable budget (which will be dependent on the materials you choose), double it and then never let your significant other see the amount."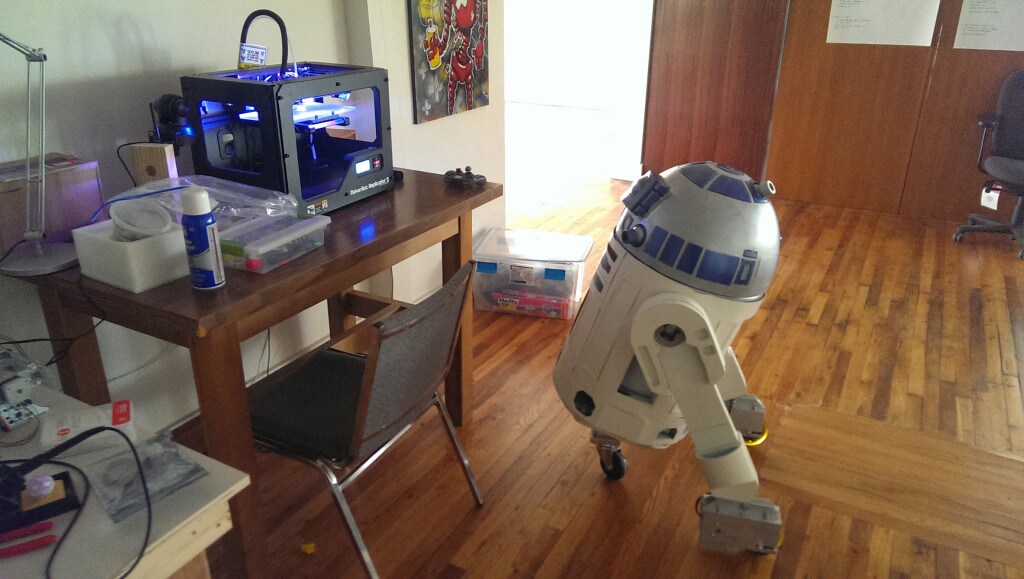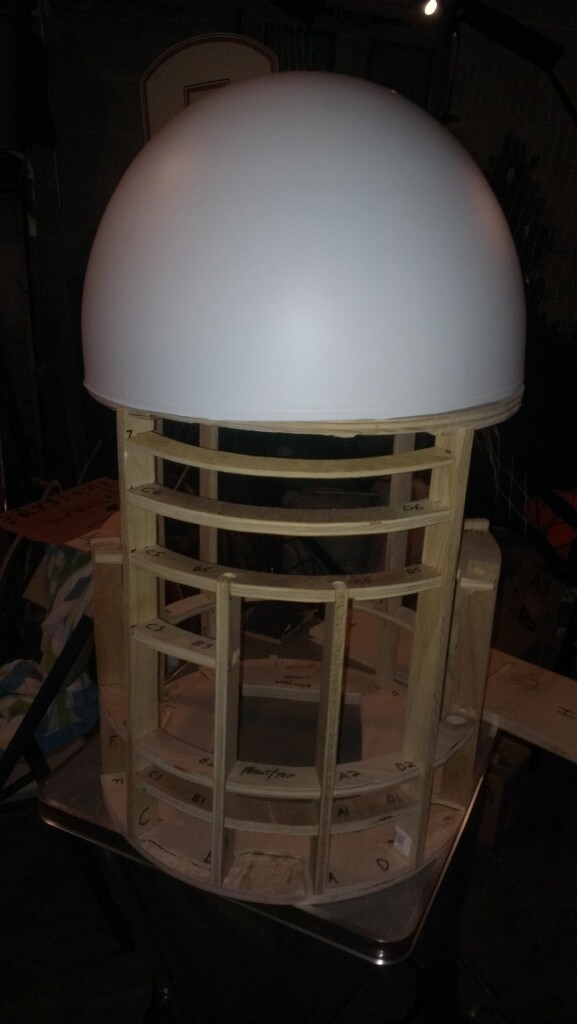 Andy Wiseman got on board with building a droid because he wanted to learn more about electronics. He teamed up with his friend Anthony Palmieri to work on an R2-D2 model on weekends. He found the R2-D2 Builders Club to be a crucial resource. You can register through Astromech.net for free, and Wiseman said there's a ton of information including templates, blueprints, and more. He also recommends joining a local MakerSpace if possible (he used the Staunton MakerSpace). That will give you access to more tools and maybe a 3D printer. Though Wiseman and Palmieri faced challenges along the way with the drive train and with getting the skins on the frame, they stuck with it.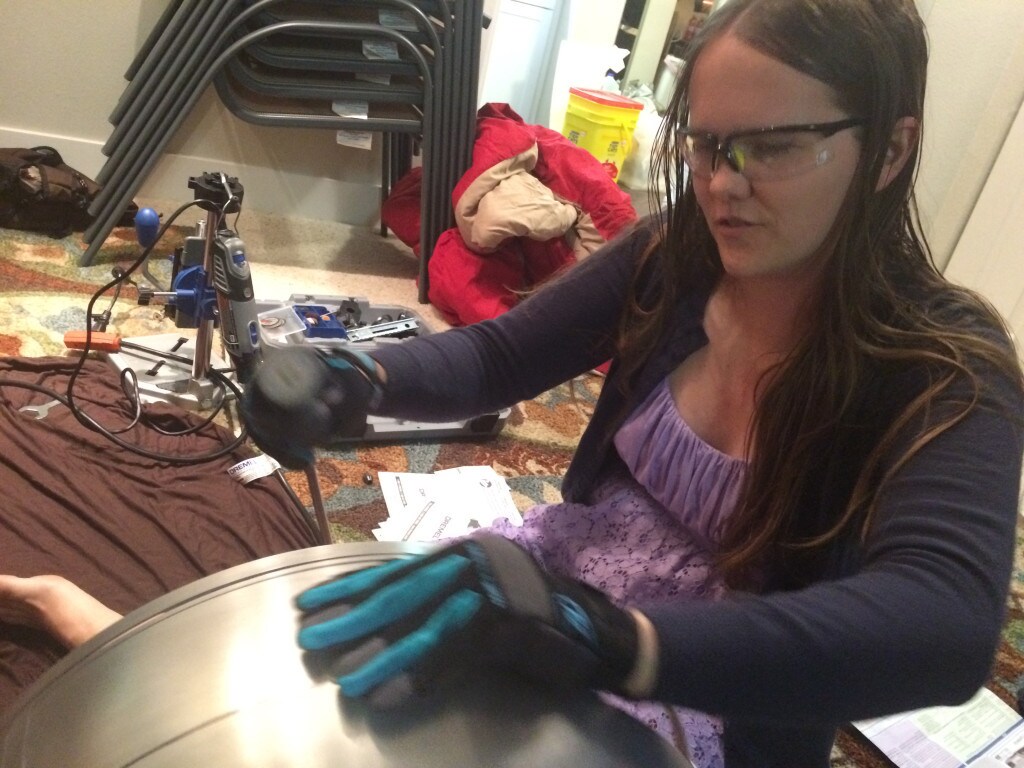 Keri Bean's R2-D2 is still a work in progress. She recently fell in love with the Star Wars movies and knew she had to build her own R2-D2 soon as she encountered fellow builder Grant McKinney and his astromech. She said, "I tried to be a responsible adult and wait until we had purchased a house so we'd have a garage space to work with. That was going okay until I went to Star Wars Celebration back in April 2015. Grant took me into the builder's room, and I pretty much started hyperventilating, squeeing, and crying all at the same time. I knew I couldn't wait any longer." The very next week, her husband Jeff built a full-scale model of R2-D2 out of K'NEX as a test. They started on an actual R2-D2 too and as of right now, they're about 70 percent done with the dome. Bean thinks they'll have the major structural parts done by the end of the year.
Through the R2-D2 Builders Club, she's met tons of smart and helpful people. "I have spent several weekends driving around southern California meeting local builders and figuring out how folks did their builds and getting lots of advice. There is a lot to read on Astromech.net and just spending days reading through the wiki and builder's logs gives you a great idea about how to tackle your own build. There's a great community here of builders and I'm happy to be joining a great group! We also decided to announce joining the Builders Club in a rather unique way. We made a 'baby' announcement after we got our first part in, which happened to be the dome."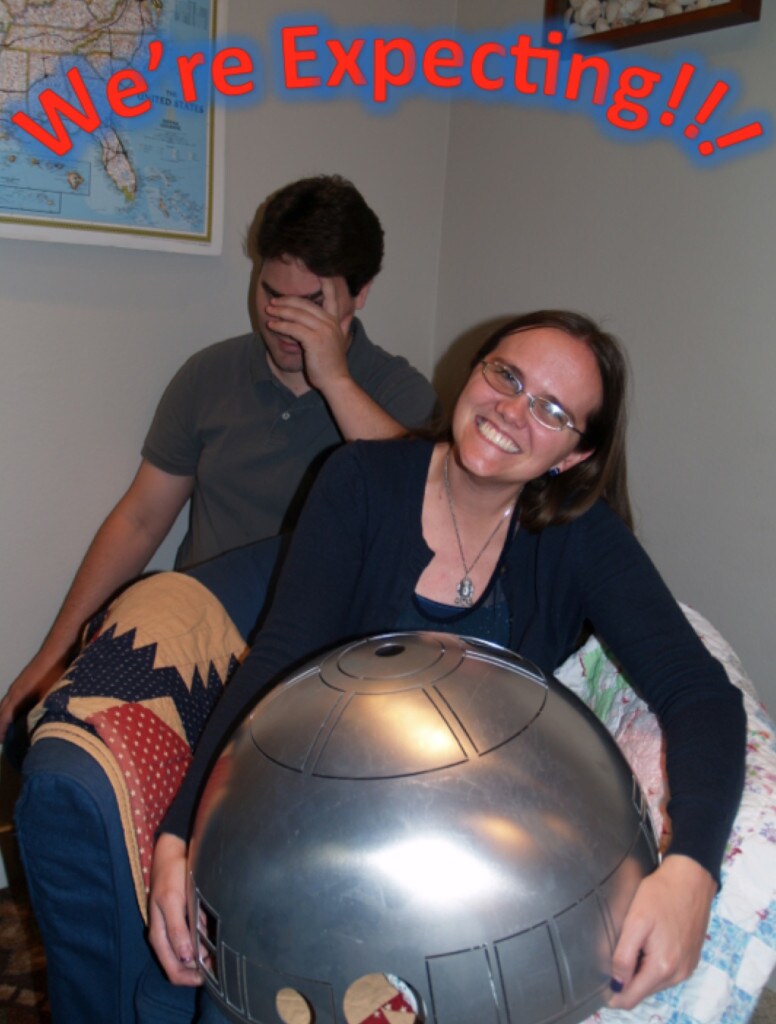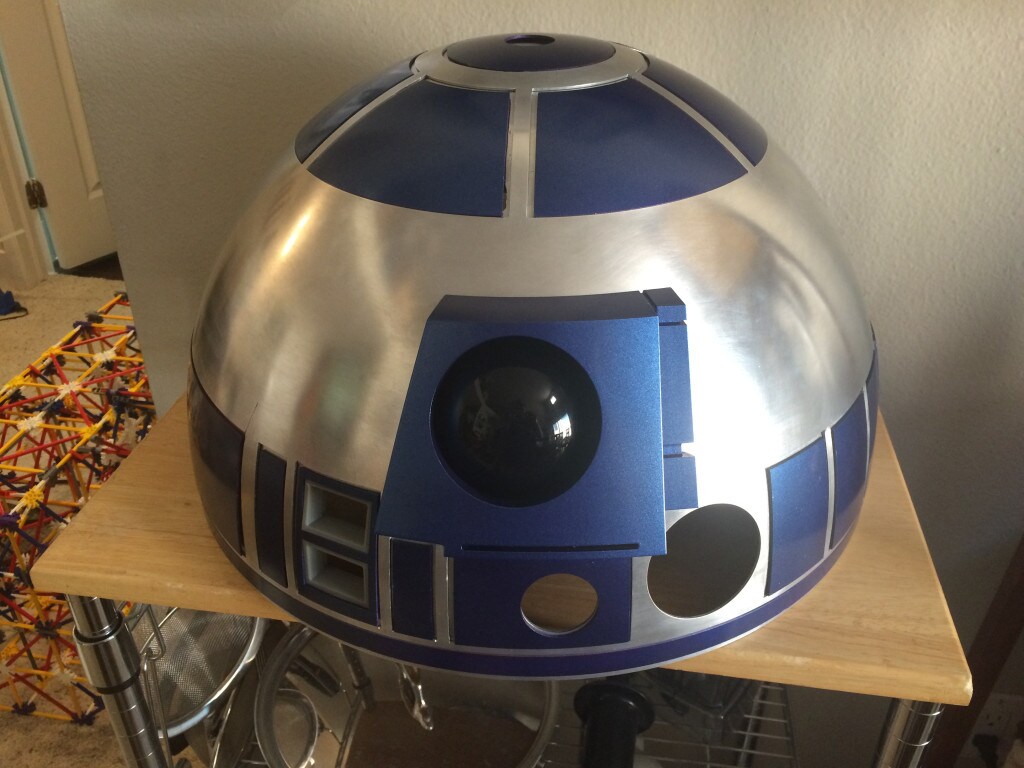 Bean and her husband have backgrounds in computer engineering, science, and operating robots, but Bean said she's learned new things from this project -- it's given her hands-on engineering experience. "I've gotten to use a lot of power tools I've never used before, and I got to experience 3D printing parts for the first time, too. Nothing has been too challenging yet, thanks to all of the wonderful advice and tutorials in the Builders Club! Just a lot of elbow grease needed for all that aluminum polishing. I also have a great group of friends that are happy to help. I imagine as I start diving into the actual frame and the robotics of building, it will get much more complicated!"
Have you built an astromech? Tell us about it in the comments!
Amy Ratcliffe is a writer obsessed with all things Star Wars, Disney, and coffee. Follow her on Twitter at @amy_geek and keep up with all things geeky at her blog.