Co-founder and designer Erik Haldi discusses the company's first Star Wars enamel pin: Luke Skywalker on his tauntaun.
When designer Erik Haldi joined a boutique agency, one of his first jobs was to create enamel pins for a client. But when Haldi began drafting explorations, the artist knew he was doing something different.
"I just drew what I wanted it to look like, and didn't worry too much about the limitations, even though I knew deep down I was pushing them a little bit," he tells StarWars.com. "It just so happens that my drawing style is very suited for this medium. When we reviewed our first set of samples, we really loved what we saw."
Thus, the FiGPiN concept -- an enamel pin larger than what you might normally see, featuring a stylized character -- was born, serving as the basis for a new company of the same name. Today, FiGPiN holds many licenses, crafting unique enamel pins that can be worn or displayed as a collectible. Haldi is FiGPiN's co-founder and VP of creative, and the designer behind the company's first Star Wars offering: Luke Skywalker atop his tauntaun, made in celebration of Star Wars: The Empire Strikes Back's 40th anniversary, and revealed exclusively on StarWars.com. Pre-orders for the pin will start at FiGPiN.com at 10 a.m. PT on May the 4th, a.k.a. Star Wars Day.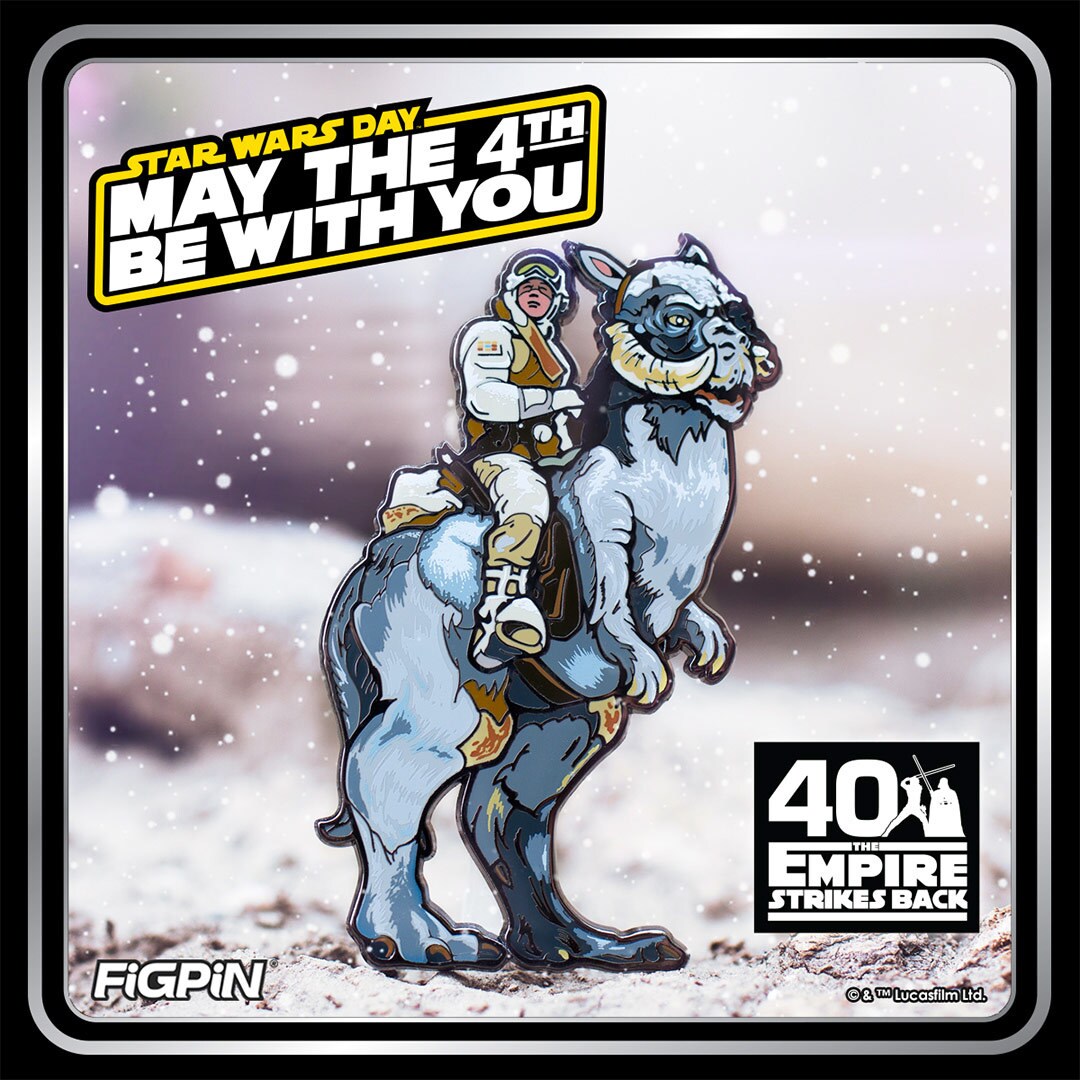 What's maybe most interesting about the pin is that Haldi and the team picked an iconic character -- but in a look that's not an obvious choice. "Being that this is our first-ever Star Wars FiGPiN, and having so many possibilities to choose from, it made sense to start right there in the opening scene of the movie," Haldi says. "That concept of beginnings felt very harmonious. The moment is certainly an iconic moment as it set the tone for the movie in so many ways and we wanted to capture that same feeling as we introduced ourselves to Star Wars fans."
The pin is beautiful, with a comic-book-like take on Luke and his trusty tauntaun steed. It's full of shading and nuanced details, like the green tint to Skywalker's visor and the creature's broken left tusk, which are both movie-accurate. "We bet on the idea that fans love their characters, and there are a lot of professionals who spend a lot of time on the details that make up those characters. We want to honor that in the best, most authentic way possible," Haldi says. "We felt that fans would appreciate that and feel the connection that we were trying to keep between fan and character."
And there will be more characters to come, as this Luke-on-tauntaun release is just the opening installment of FiGPiN's own Star Wars saga. "For starters, Star Wars fans can look for a line from FiGPiN of classic characters from the films as well as characters from the newer movies and shows, and from there, who knows," Haldi teases. "There is a massive amount of content to celebrate with Star Wars and FiGPiN fans and we are just getting started on our journey into the Star Wars galaxy."
FiGPiN's Luke Skywalker will be available for pre-order at 10 a.m. PT on May the 4th, a.k.a. Star Wars Day.
Dan Brooks is Lucasfilm's senior content strategist of online, the editor of StarWars.com, and a writer. He loves Star Wars, ELO, and the New York Rangers, Jets, and Yankees. Follow him on Twitter @dan_brooks where he rants about all these things.
Site tags: #StarWarsBlog, #StarWarsDay