The artist shares early sketches and talks technique for his 40th anniversary tribute to Episode V.
On May 21, 1980, Star Wars: The Empire Strikes Back made its theatrical debut. To celebrate the classic film's landmark 40th anniversary, StarWars.com presents "Empire at 40," a special series of interviews, editorial features, and listicles.
"Impressive. Most impressive." If Darth Vader had anything to say about artist Matt Ferguson's 40th anniversary poster for Star Wars: The Empire Strikes Back, it would surely be that. Ferguson's poster, published May 21 (the anniversary of Empire's theatrical debut), is a gorgeous celebration of what many consider to be the greatest Star Wars film. Focusing, appropriately, on the Empire, the painting brings together some of the movie's most famous iconography, including AT-ATs, the carbon freezing chamber, and a haunting Darth Vader, punctuated with a selective use of stark colors. StarWars.com caught up with Ferguson to discuss how he made the instant-classic tribute to Episode V.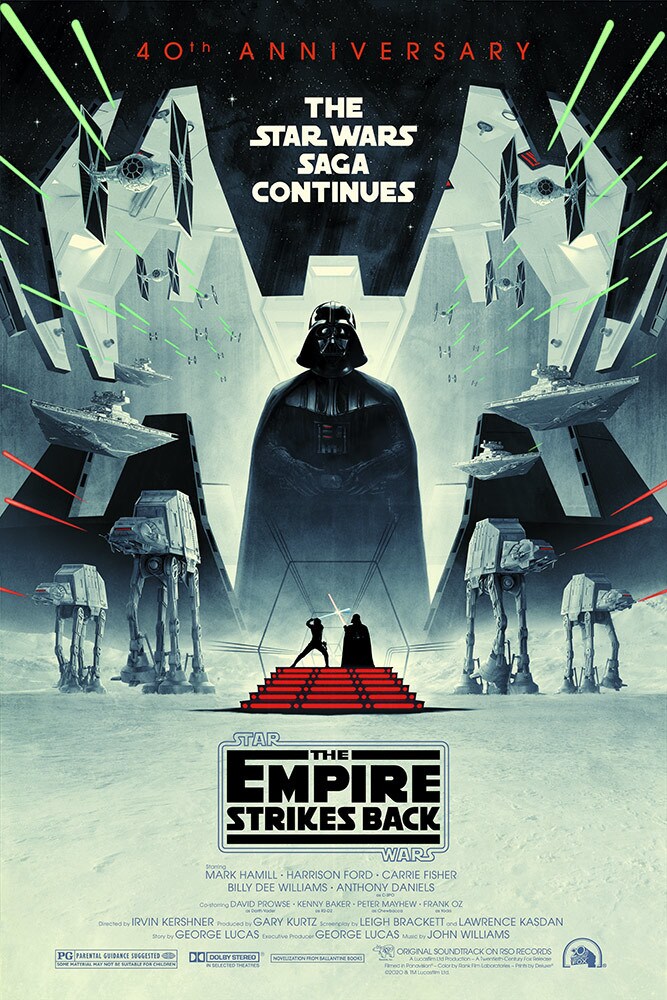 StarWars.com: Matt, we revealed your poster on the actual anniversary of Empire, and it proved to be pretty popular -- to the tune of 22K Twitter likes as of this interview, one day later. How's that feel?
Matt Ferguson: It's so amazing, the sheer amount of love for Star Wars from the online community was something to behold. To be a part of that is an amazing feeling. I was actually working on another project when the poster went live and my phone was next to me charging. It just started lighting up with notifications and hasn't stopped since. Incredible.
StarWars.com: What can you tell us about your own Empire fandom over the years? Do you remember when you first saw it?
Matt Ferguson: I was brought up in a science-fiction loving household with two older brothers, so Star Wars and The Empire Strikes Back have always been a part of my life. My first memories of it are actually playing with the action figures we had. We had an AT-AT and I loved that thing so much. I didn't actually see the film until a little later -- I was probably seven or eight and it must have been on TV for Christmas. The twist of the movie was a complete and utter shock to me.
StarWars.com: There are obviously a million different directions you could have taken with your poster. In the end, it seems you definitely leaned into the "Empire" side of things. How did you arrive at the characters, layout, and feel you ended up going with?
Matt Ferguson: It was daunting at first because the film is an important one for me. I did have a few things going in that I knew I wanted to achieve. I wanted it to feel as if it could have been art released in 1980, I knew it had to have Darth Vader on it, and evoke the Tom Jung poster from 1980, which was the poster used a lot in the UK and one I personally associate with the film.
I decided to watch the film again and have my Star Wars notebook on hand to thumbnail in while I watched it. When the first scene with the meditation chamber played, I thought it was a wonderfully graphic shape and the contrast between the black outside and brightly lit inside could look nice on a poster. I quickly scribbled a thumbnail and I knew right away that was the way to go.
StarWars.com: And what was your process, from concept to final image?
Matt Ferguson: I started by looking at other posters for the film and drawing inspiration from those, specifically the Tom Jung one sheet, as I mentioned before. Then I brainstormed by doing thumbnails in a very fast and loose manner, only a minute or so spent on each one. There was one that stuck out to me -- I even wrote "this one" on it. I fleshed that out a little more with a slightly more involved sketch. I like to give a client options to work with, so I mocked up 3 of them as digi-bashes in Photoshop to get an initial idea for color and form. Then they were submitted to Lucasfilm for approval. I did let them know I liked the meditation chamber comp best, which was happily the comp that was chosen. Then I had to really flesh out the poster. I wanted it to have a certain level of accuracy and realism, as well, especially the perspective, although there are a few cheats. So I prototyped a lot of the final comp in 3D and used that as a base for my illustration. It was then a matter of painting/drawing all the individual elements and putting it together into the final poster. I also remade the original Empire poster credits so they would be as clean and crisp as they could be.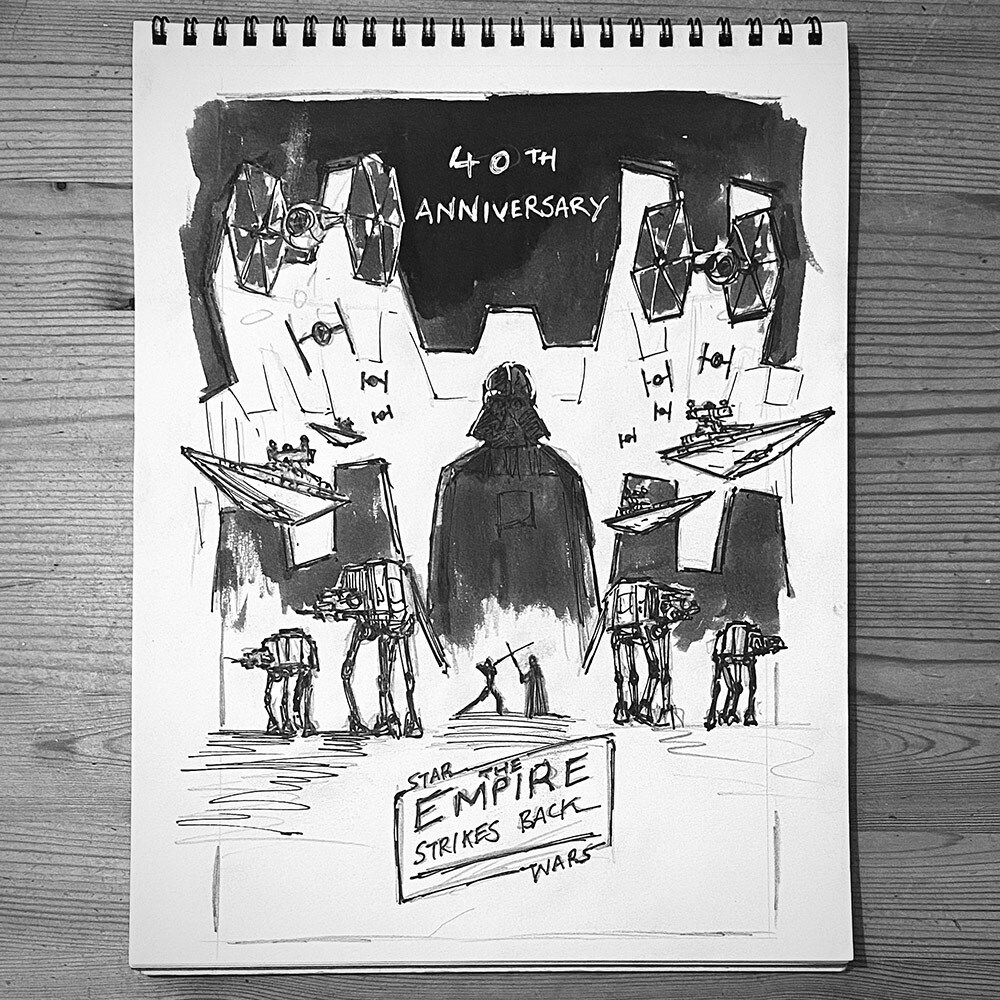 StarWars.com: I really love the color scheme, which I think is cleverly simple -- the Hoth white and Imperial black playing off each other, with smaller uses of red and green that really pop. It gives the poster so much power.
Matt Ferguson: With the color, I wanted the poster to reflect the relatively somber tone of the film, so I muted a lot of the colors down and went for an almost black and white color palette. This then allowed me to use the splashes of color to draw the eye, specifically the red glow of the stairs in the carbon chamber, which brings the focus down to the duel and balances out the composition. I think what makes the poster work is the strong contrasts and graphic nature of the shapes. I feel it makes it pleasing to look at and also serves a storytelling purpose by not only having Vader a large menacing presence, but also having him in his chamber orchestrating events and leading Luke to Bespin for the duel.
StarWars.com: If you could go back and tell your younger self, "One day you're going to be a Star Wars poster artist for Lucasfilm," what would he have said?
Matt Ferguson: I was a kid who lived for Star Wars. I had lots of action figures, bed sheets, books -- you name it I wanted it. I don't think I would have even thought it possible, as to me it was all magic and otherworldly, and that included the art and posters for the film. I used to pore over my Star Wars annuals, comics, and books because back then we didn't have VHS even, so I only got to see the films on TV maybe, or if the local cinema had them on a matinee. So, to tell seven-year-old me that I'd get to be a part of that legacy and make a poster that another child might pore over for hours is just something that I would never believe. It's been one of the best experiences of my career and I thank the team at Lucasfilm and Disney who let me loose on this and gave me such amazing creative freedom, as well!
Matt Ferguson's Star Wars: The Empire Strikes Back poster is now available as high quality limited edition screen prints, including English and Japanese formats, through both Bottleneck Gallery and Acme Archives, who is the official Star Wars fine art licensee.
Matt Ferguson's Star Wars: The Empire Strikes Back poster is available on Amazon.com and is featured in a series of T-shirts from Fifth Sun.