AT-ATs, tauntauns, and probe droids in a jar! Learn how to make your own Star Wars snow globe with StarWars.com's easy guide.
When December rolls around each year, I look at my holiday decorations to see what I can apply a Star Wars makeover to. It seems like there's an endless number of crafts to make such as stockings, tree skirts, and ornaments. This year I turned my eye to snow globes. I've put a tauntaun in a jar of fake snow, but I've never taken the next step and added water. I learned that snow globes are surprisingly simple to make, and I want to make one for every shelf in my home. I started with a Hoth snow globe because of obvious reasons and because it's one of my favorite planets in the Star Wars universe.
All supplies except the miniatures can be found at your local craft shop. Check the soap-making section for the glycerin. And as far as those miniature Star Wars toys, you've probably noticed from my DIY posts that I have an affinity for them. I use Micro Machines, loose pieces I pick up in used toy stores, Fighter Pods, Disney Parks Collectors Packs (they're blind bags) -- basically any miniatures I see. I've found eBay to be a great resource for amassing a stash of tiny toys.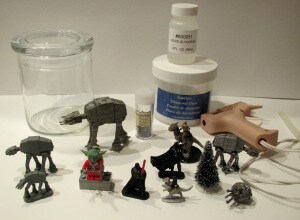 Supplies:
Water tight jar
Glitter in the color of your choosing or Diamond Dust
Water
Few drops glycerin
Glue gun and hot glue
Miniatures like an AT-AT, a tauntaun, a wampa, a snowspeeder, an Imperial probe droid, or Darth Vader
Miniature pine tree
Optional:
Platform for figures, like a bottle cap or toy stand
Mod Podge
Remove all labels and residue. Hot water usually does the trick. Then, make sure the jar is actually water tight. Check it a few times. If it does leak but only a small amount, you may be able to seal it with hot glue.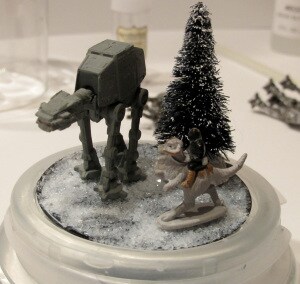 Take the lid off your jar and experiment with your figures until you set a Hoth-inspired scene you're happy with. You can include a single AT-AT or as many miniatures as you can stuff in. I chose an AT-AT, Han Solo on a tauntaun, a small pine tree, and an Imperial probe droid. Pose all the figures on the base and make sure the jar fits over them. Once you've ensured that, see if you need to add a platform for the figures to stand on. I flipped the base from a Funko Pop! figure over and used it to give my Hoth scene more height. You can sub in anything plastic for the platform.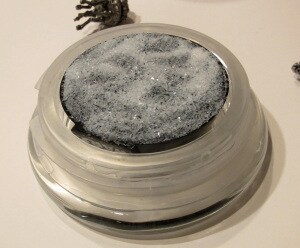 Use hot glue to secure your figures to the lid or your platform. Let them dry completely. If you're using a platform that's not white, you can conceal it by applying Mod Podge on all the bare areas and covering it with glitter or Diamond Dust. Lightly press the glitter or Diamond Dust into the Mod Podge and set it aside to let it dry completely. As an example, the above picture shows how the base looks without the figures on it. Remember that you want to glue on the figures first though and work around them.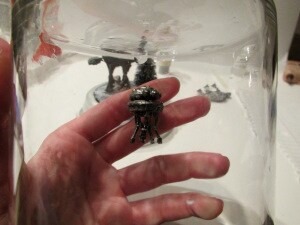 While the lid with your characters is drying, attach a miniature Imperial probe droid to the inside of the jar with hot glue. Mine is from the Star Wars Micro Machines pewter collection (they only look like pewter, they're plastic). Hold the probe droid in place until it's secure. Give it a few minutes to ensure it's completely dry.
Fill the jar almost to the top with water and add a few drops of glycerin. The glycerin will help the glitter swirl more slowly. Sprinkle in glitter in the color of your choosing and/or Diamond Dust. As long as the figures attached to the jar's lid are secure, put the lid on the jar and flip it over. You'll have a snowing Hoth wonderland.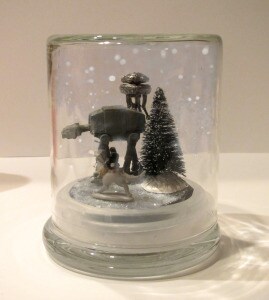 Glitter doesn't photograph well so I amped them up in this photo.
Jars work well for this project (especially those with lids that screw on), but if you want more of a classic snow globe look, you can order snow globe kits online.
If you don't want the whole snow globe effect, you can create a wintry Hoth scene by adding in more Diamond Dust or other fake snow and none of the water and glycerin. Add Diamond Dust into the jar, carefully put on the lid with the toys attached, and flip it over. Tada, mini diorama! You can see instructions for that process at my blog.
Happy Hothidays, everyone! If you make a Star Wars snow globe, please share links to photos in the comments or send them to me on Twitter.
Amy Ratcliffe is a writer obsessed with all things Star Wars, Disney, and coffee. You can follow her on Twitter at @amy_geek and keep up with all things geeky at her blog.