Senior producer Carrie Gouskos and art director Derek Smith give StarWars.com a masterclass in character design.
Vice Admiral Amilyn Holdo and Rose Tico -- two of Star Wars: The Last Jedi's breakout characters -- recently joined the hit Star Wars: Galaxy of Heroes mobile game. While developing their in-game abilities is one thing, StarWars.com wondered: how did the designers adapt these two very visually different members of the Resistance into the game's art style? To find out, we e-mailed with senior producer Carrie Gouskos and art director Derek Smith for a lesson in Galaxy of Heroes design.
StarWars.com: What's the overall design process for bringing any human Star Wars character into Galaxy of Heroes?
Carrie Gouskos: When it comes to content based on new Star Wars characters, we usually begin the year with a placeholder like "The Last Jedi Character" long before we know anything about the movie or who exactly we would want to bring to the game. The next and most exciting part is meeting with our partners at Lucasfilm and the Story Group, who tell us about the upcoming Star Wars releases and work with us to figure out which characters would be the best fit for the game, and what those characters can do. Once we have the outline, it then goes to our art and design teams to start figuring out which of the character's abilities make the most sense, and how they will look and feel. Again, Lucasfilm helps us to figure this out, especially when we are talking about a character in an upcoming movie that we haven't seen in action yet!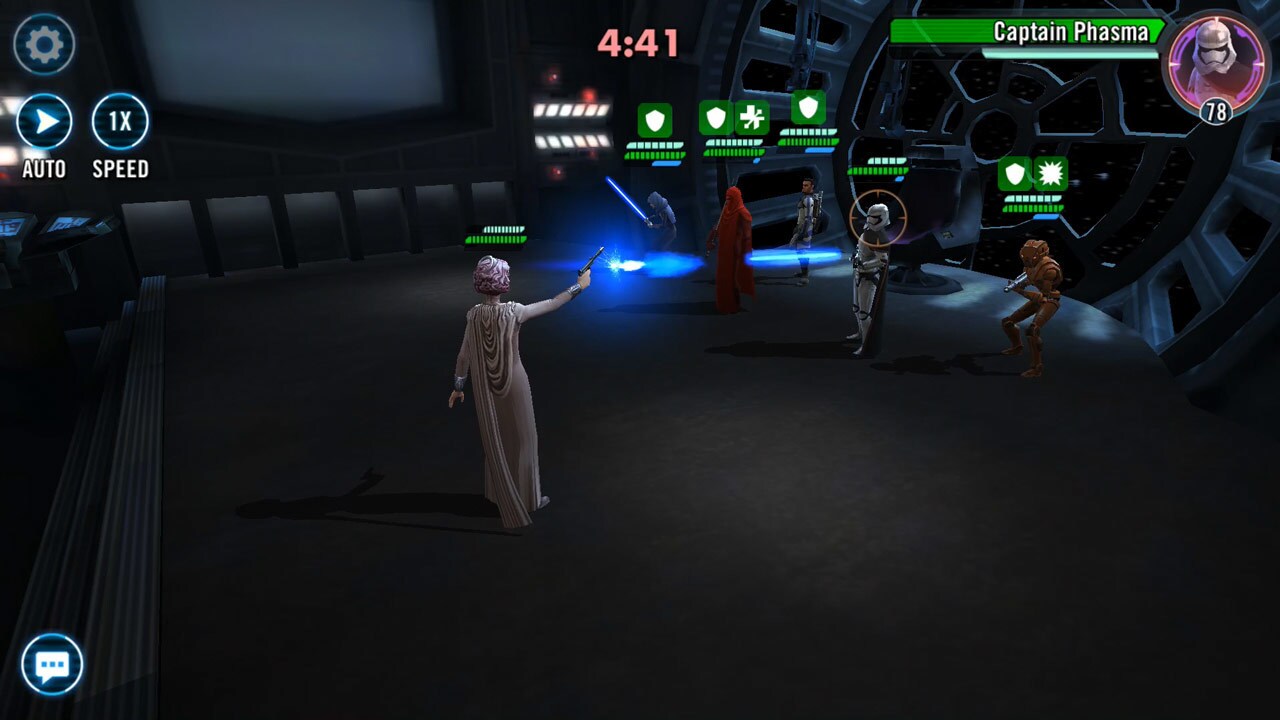 StarWars.com: Holdo and Rose are especially unique in design from each other -- Holdo is more elegant, while Rose is in military/mechanic fatigues. How do you tackle the challenge of adapting two very different designs into the game?
Derek Smith: They are certainly very different from a visual perspective, both in their costume design as well as their personalities and actions. Over the past three and a half years that we've been developing characters for Galaxy of Heroes, we've gotten extremely efficient at creating the assets from an objective standpoint. As in, we have reference to work from and we know how the characters need to look and what gadgets and weapons they may use. For the most part, Rose and Holdo were no different in this regard. The number one goal is always ensuring that players can recognize the character in game, on a 3.5-inch screen. With the two characters already being so unique and visually striking, most of the work was done for us by the Lucasfilm design teams. All we had to do was make sure key details in their outfits and appearances are surfaced, and sometimes even emphasized for clarity on a small device.
As an example, we had to go in and adjust the scale of Holdo enough so that she appears noticeably taller than others she's teamed up with and shrink down Rose so if she's in a squad with Finn, you can see she is shorter. In addition, both characters have unique hairstyles that we made sure we got right, down to the smallest details we can manage, such as modeling Holdo's tiara and ensuring Rose's bangs are just the right length and spacing.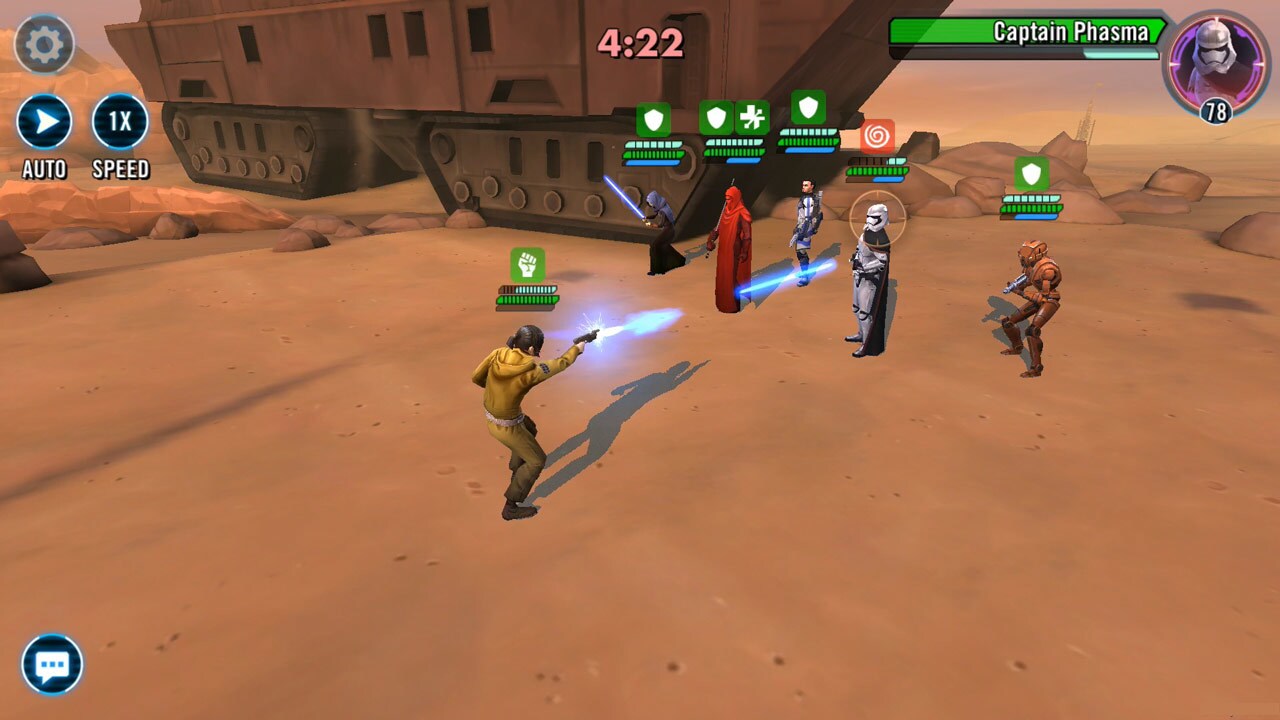 StarWars.com: At what point did you start work on Holdo and Rose? Was it during production of the movie?
Derek Smith: We started work on the art for both characters about two months before the movie was released. As Carrie mentioned, the whole process starts quite a while before the art team gets their hands on it, with our design team working with our partners at Lucasfilm, submitting and discussing the intention to release the characters months before this time. Once this process has the thumbs up on all sides, we submit a request for reference, as we always need to be certain we're working from official sources before we start production on any asset. Internet image searches can never be trusted when it comes to Star Wars imagery!
From this point, we receive written descriptions from Lucasfilm for each character's personality, which helps guide how we author the assets. Ultimately, nothing beats seeing the film itself. Luckily for us, we are launching these characters post film release, and seeing it gave us tons of visual reference to work off.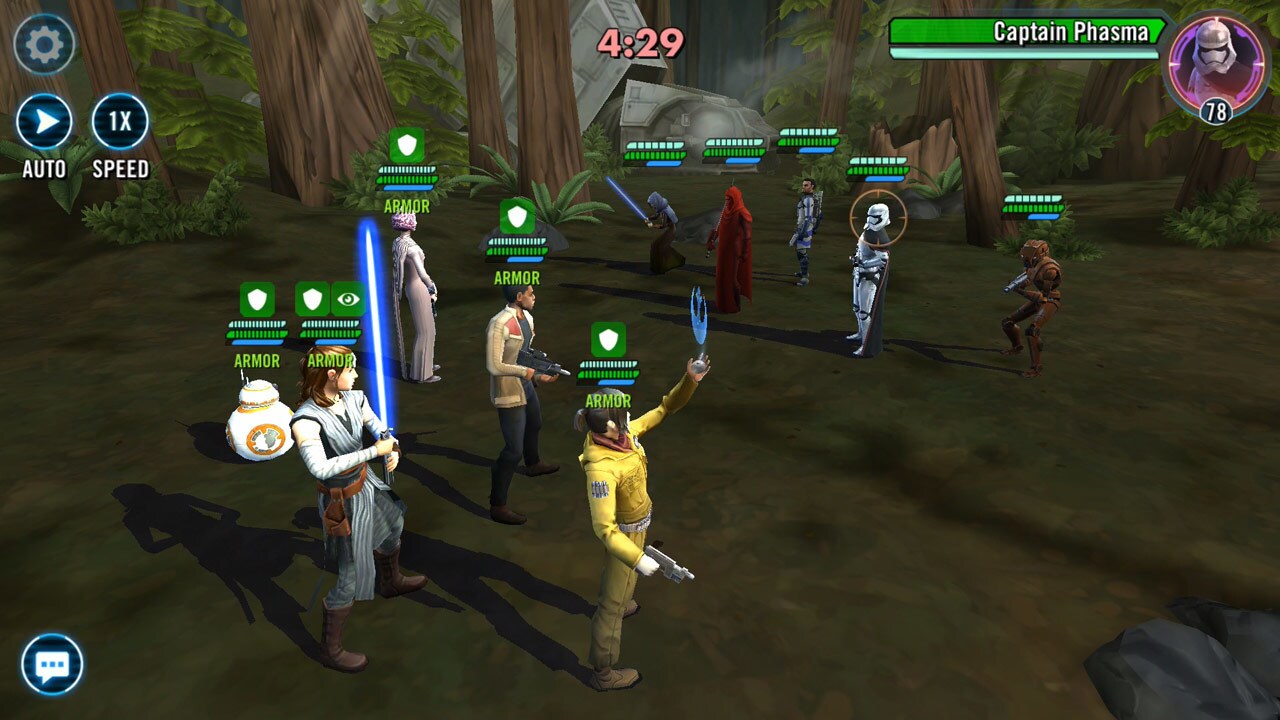 StarWars.com: The art style of Galaxy of Heroes seems to be one that simplifies characters down to their essence, while still making them easily identifiable. What was the give and take with Rose and Holdo in terms of what details you would carry over to the in-game models versus what you could lose?
Derek Smith: I couldn't have said it better myself! There's actually an interesting story behind our art style. During the earliest stages of development, we initially tried to make the art look as realistic as we could make it. We spent an incredible amount of time trying to make the key franchise characters look just as they appear in the films, with actor likeness being key. The issue we ran into -- on a mobile device, these tiny subtleties just weren't reading on screen. Turns out, when you shrink highly detailed characters down to the sizes they show up in game, you get a mess of unreadable pixels, and the essence of who the characters are wasn't showing through. So, we reestablished our art style to emphasize simplicity and readability on a phone screen. We tend to push elements that make a character unique even more so that you can see it. For example, taking a weasely scoundrel like Greedo and making him noticeably thinner and wily looking to convey the essence of who the character is, even though that's not exactly how he looks in film.
For Rose and Holdo, this translated into making key elements in their costumes and body type easily apparent. Holdo's costume emphasizes her long elegant body and fitting dress, so we made sure to convey that visual by emphasizing her height, making her head slightly smaller and making the changes in thick and thin across her body easily apparent. For Rose, we had to make her head slightly larger to account for her smaller size in game, and her baggy mechanic suit doesn't hug her body like Holdo's dress, so we made sure the folds and cloth bunches made her silhouette read accurately.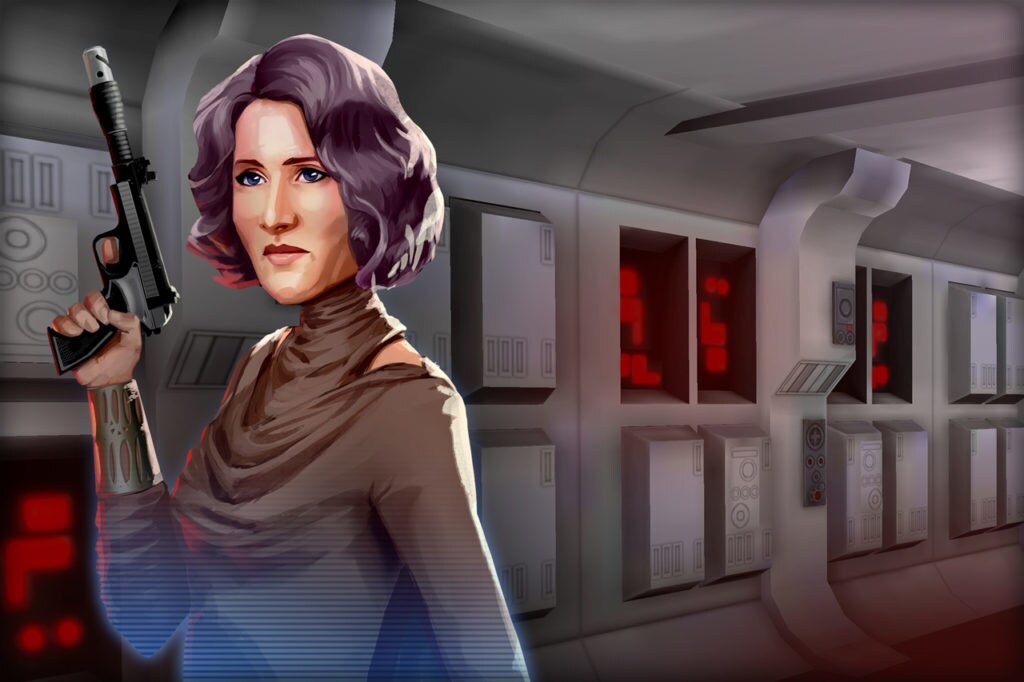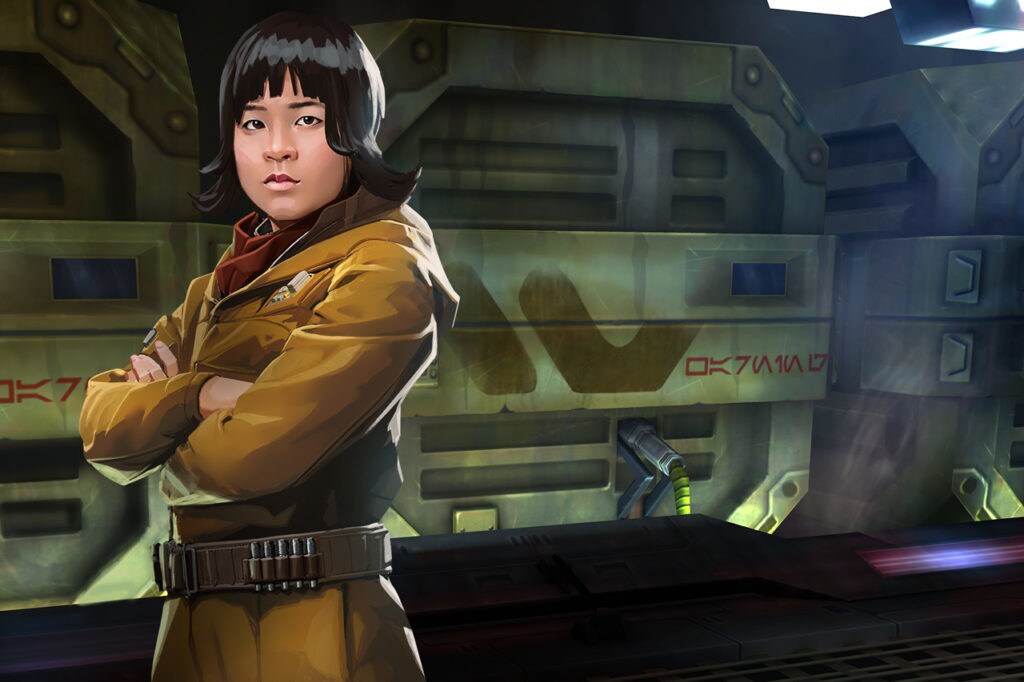 StarWars.com: The key art for Holdo and Rose is in a different style -- almost cartoony mixed with photorealism. How did you arrive at that aesthetic?
Derek Smith: Starting about a year ago, we readdressed how we approach our character event and key art. Before this point, most of our key art was based off of posed 3D character assets with a minimal amount of painted touchup. The art was fine and functional, but we found that these key art pieces offered unique opportunities to express to the players who the characters are and why they are awesome. So we injected a lot more love into their creation by spending more time creating unique illustrations that surfaced more details than what's seen in the 3D game assets. We focus more time on face likeness as well as composition and storytelling to say more about the characters themselves and hopefully convey how they play in our game.
For Rose and Holdo, we used a lot of reference shots we received from Lucasfilm to make sure the characters more accurately reflect the actors, Kelly Marie Tran and Laura Dern. We make sure to not just copy photographs, though, as we still need to have them appear like they're from our game. We do this by simplifying the planes of the face, making colors and values more deliberately separate, and "chunk-ifying" hair shapes to appear more blocked out and, as you say, cartoony. On top of this, we pose the characters in ways that reflect their personas and actions from the movie, as well as place them in environments that help tell a story. This all adds up to a much more engaging and fun illustration that gets our players excited. In fact, we regularly have threads on our forums with players gushing about the latest event or character art. It's always incredibly rewarding for the art team to not only contribute to a franchise we love, but to also directly see our positive effect on the fans.
StarWars.com: Both these characters resonated with fans when The Last Jedi was released. Are you especially excited to have a hand in bringing them to life in Galaxy of Heroes?
Carrie Gouskos: One of the most exciting things about working on a Star Wars game is that it's an IP that is still constantly evolving. There are always new things for us to add to the game that we didn't even know existed the year prior. Vice Admiral Holdo and Rose sounded like cool characters, but getting to see them in The Last Jedi helped us to see them brought to light by the actors in a way that tripled our excitement and gave us even more ideas about what we wanted to do with them.
Dan Brooks is Lucasfilm's senior content strategist of online, the editor of StarWars.com, and a writer. He loves Star Wars, ELO, and the New York Rangers, Jets, and Yankees. Follow him on Twitter @dan_brooks where he rants about all these things.