StarWars.com reveals a special surprise about the Deluxe Edition packaging, and talks to Hubris Studios' Todd Elhart about how it came to be.
Note: LEGO Star Wars: The Skywalker Saga will release spring 2022, as announced at Gamescom Opening Night Live 2021.
LEGO Star Wars games are known for their fun Easter eggs. Now, so is their box art.
Just revealed at Gamescom's Opening Night Live, LEGO Star Wars: The Skywalker Saga will receive an extensive Deluxe Edition in addition to its regular release. Featuring a striking image of Darth Vader, there's a secret to the box art that StarWars.com is excited to reveal. Set your visual scanning for the GIF below…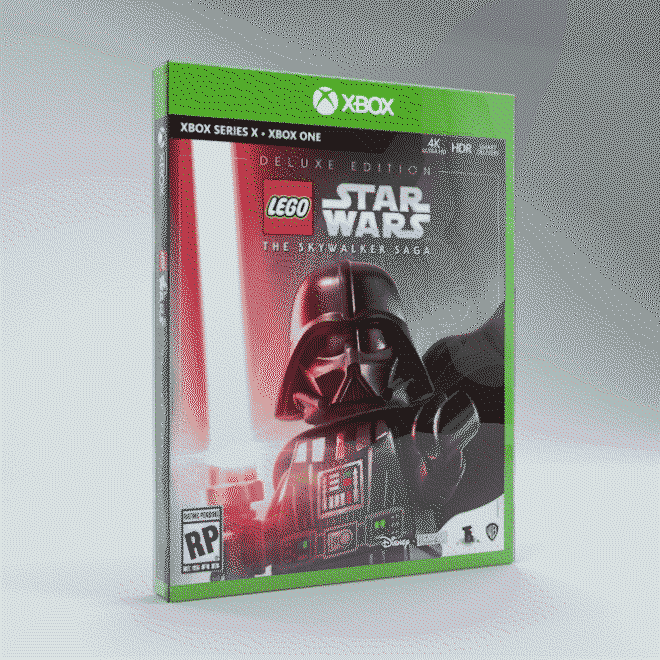 As seen above, all copies of LEGO Star Wars: The Skywalker Saga Deluxe Edition in the Americas will feature a removable slipcover, allowing fans to unmask the menacing Sith Lord. For devotees of physical media and creative packaging, it's not to be missed.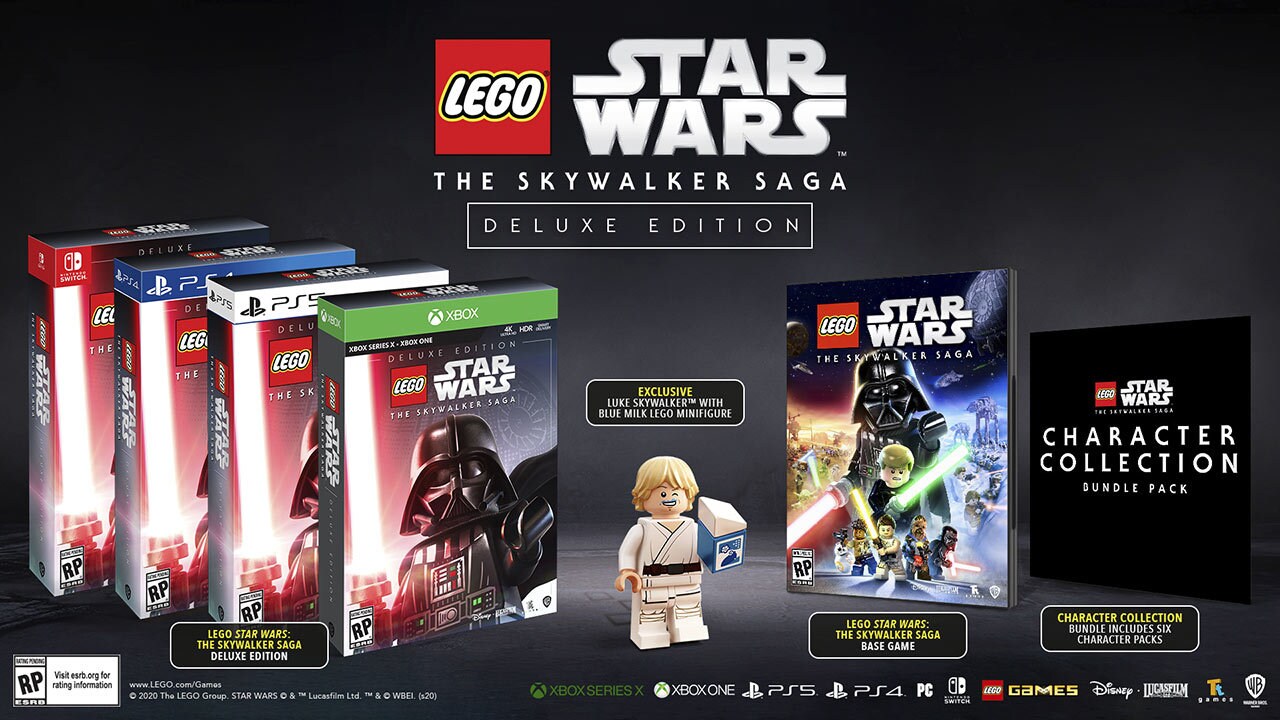 In addition to this clever cover feature, the Deluxe Edition comes with the base game and a Character Collection bundle, which includes six DLC character packs. Physical purchases of the Deluxe Edition also include an exclusive Luke Skywalker with Blue Milk minifigure -- with a deco that shows even Jedi-to-be get milk mustaches from overzealous swigs. Look for both the regular and Deluxe Edition of LEGO Star Wars: The Skywalker Saga to arrive Spring 2021 on the Xbox One family of devices including Xbox Series X, Nintendo Switch, PlayStation 5, PlayStation 4, PC, and Mac.
StarWars.com loved the Deluxe Edition surprise so much that we caught up with Todd Elhart, creative director of Hubris Studios, who worked in collaboration with Warner Bros. Games, Lucasfilm, TT Games, and The LEGO Group to create the special packaging.
StarWars.com: LEGO Star Wars games are always full of surprises for longtime fans, and I love that this special slipcase and box art are very much in that spirit. Where did the idea come from?  
Todd Elhart: We knew Darth Vader would be the focus of the Deluxe Edition key art since he's the most prominent figure on the standard packaging and we needed continuity between both boxes. While the main key art for the game is very epic in scope with big battles and over 100 characters, for the Deluxe Edition we wanted to break away from that to something simpler and powerful for the fans. It was almost, "How much can we take away so it's really direct and speaks right to the core Star Wars fan?"
Some of the ideas we explored were really just lighting the unique shape of the LEGO Darth Vader helmet. So, we presented some directions that were just about an interesting camera angle and lighting to capture this really unique silhouette the helmet forms. We knew fans would respond to keeping it pretty bare and cool, as the original helmet design is very unique.
So, everything we showed had a stripped-down aesthetic to it, but then we tried to add another level of story beyond that, so we explored a few approaches.
But our favorite was the direction that was chosen. You get to remove Darth Vader's helmet yourself as you lift off the slipcover. It married the level of the reveal with the physical action, so we felt that was a real winner and the teams at Lucasfilm, The LEGO Group, TT Games, and Warner Bros. Games agreed.
StarWars.com: Once you decided on the concept, how did you dial in on the pose and design of Vader?
Todd Elhart: I know we did some rough sketches internally for this direction to get the camera angle we wanted, then we did a 3D render with the real model and quick lighting.
Normally, we would only show sketches for the first few rounds to explore ideas, but we felt the vision we had was really about how Vader looked with light and shadow on his black helmet material, rather than the idea of just his pose. So, we actually rendered out all of our rough comps. It took several extra days, but everyone was pleased with the result and we could show a more complete vision of the different directions.
We did some refining of the lighting, as well as adjusting the subtle background image of the Death Star, but that was about all the was changed in terms of dialing it in.
StarWars.com: This is obviously an important game for LEGO Star Wars fans. Is this a way of telling them, "We know"?
Todd Elhart: Well, we like what we do and we're pretty good at it, but I'm not sure we're quite as cocky as Han Solo. I think only he could pull off that line.
I feel like maybe this is a game that all the teams can pull together on to push things further because everyone cares so much about the Star Wars movies and games. So this is really being used to usher in the next generation of LEGO games. The parts we've seen look amazing, and we've been working on LEGO games for years, so you'd think we'd be a little jaded. Nope, everything we see is blowing us away, it's just fantastic.
StarWars.com: Poster and box art have their own history both within video games and Star Wars. Is this a celebration of that history, as well?
Todd Elhart: Game box art started out as illustrations of something that you half imagined, since the early 8-bit games were so crude in their graphics. But now game box art has come to represent the actual experience of the game more and more as the graphics have come so far in the last couple of console generations. And today we're seeing more boxes that represent how you feel about the experience rather than just what the game looks like. I think we're in that camp of depicting how you feel about Darth Vader with this box. It's a purposefully stripped-down image that is meant to get an emotional response from the fans that love the Star Wars galaxy they grew up with. But then we try to take that further by revealing the man behind the mask.
So, I guess we're another little step in that history, and we'll see what happens as new generations evolve things even further.
For more on LEGO Star Wars: The Skywalker Saga, check out StarWars.com's previous in-depth coverage:

Discover 20 Easter eggs in the new LEGO Star Wars: The Skywalker Saga trailer
Go inside the making of the game with Jonathan Smith, head of production and strategic director at TT Games, and Craig Derrick, managing producer at Lucasfilm Games
Join the conversation on Twitter at @LSWGame.
Dan Brooks is Lucasfilm's senior content strategist of online, the editor of StarWars.com, and a writer. He loves Star Wars, ELO, and the New York Rangers, Jets, and Yankees. Follow him on Twitter @dan_brooks where he rants about all these things.
Site tags: #StarWarsBlog