StarWars.com sits down with the lead designer from the bespoke Japanese shirt maker to find out how they merged classic characters with out-of-this-galaxy prints and designs.
Since 2012, Original Stitch has been changing the game when it comes to men's shirts. Providing what seems like endless options -- you can choose everything from collar pattern and pockets vs. no pockets, to sleeve lengths and button color -- these handmade shirts are custom made just for you, exactly how you like it. And it doesn't end there. Now available for the first time in the U.S., Star Wars fans can incorporate their fandom into their custom Original Stitches. With over 30 unique Star Wars patterns, the possibilities are endless.
StarWars.com recently spoke with the lead designer Kazuki Higashi about what it's like to work with such iconic character designs and the elation of solving the riddle of creating a totally new pattern.
StarWars.com: When did you become a Star Wars fan?
Kazuki Higashi: I first saw Star Wars on television in the early 1980s. As a kid, I never got tired of the movies and watched them over and over again. My favorite scene to imitate was Princess Leia's line, "Help me, Obi-Wan Kenobi. You're my only hope." I loved that Luke Skywalker accidentally hears this message after cleaning R2-D2!
When I rewatched the Star Wars movies again as an adult, I felt that I was able to enjoy the storylines of Episodes IV through VI even more. As an adult, I had a whole new perspective and the movies weren't just about galactic space wars. You notice recurring themes such as fighting on and never giving up, even when the end seems imminent.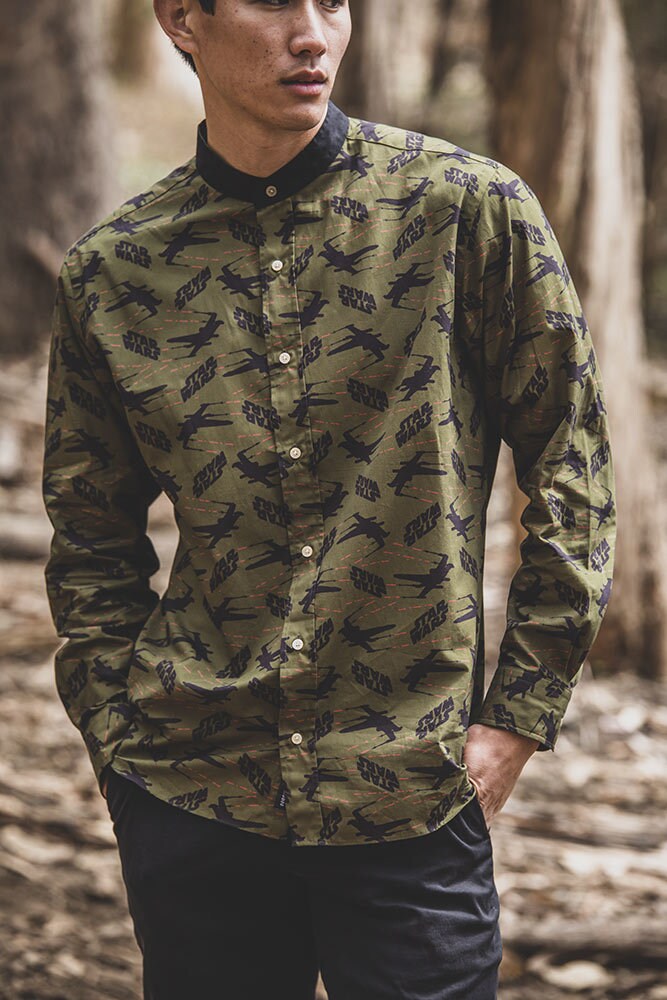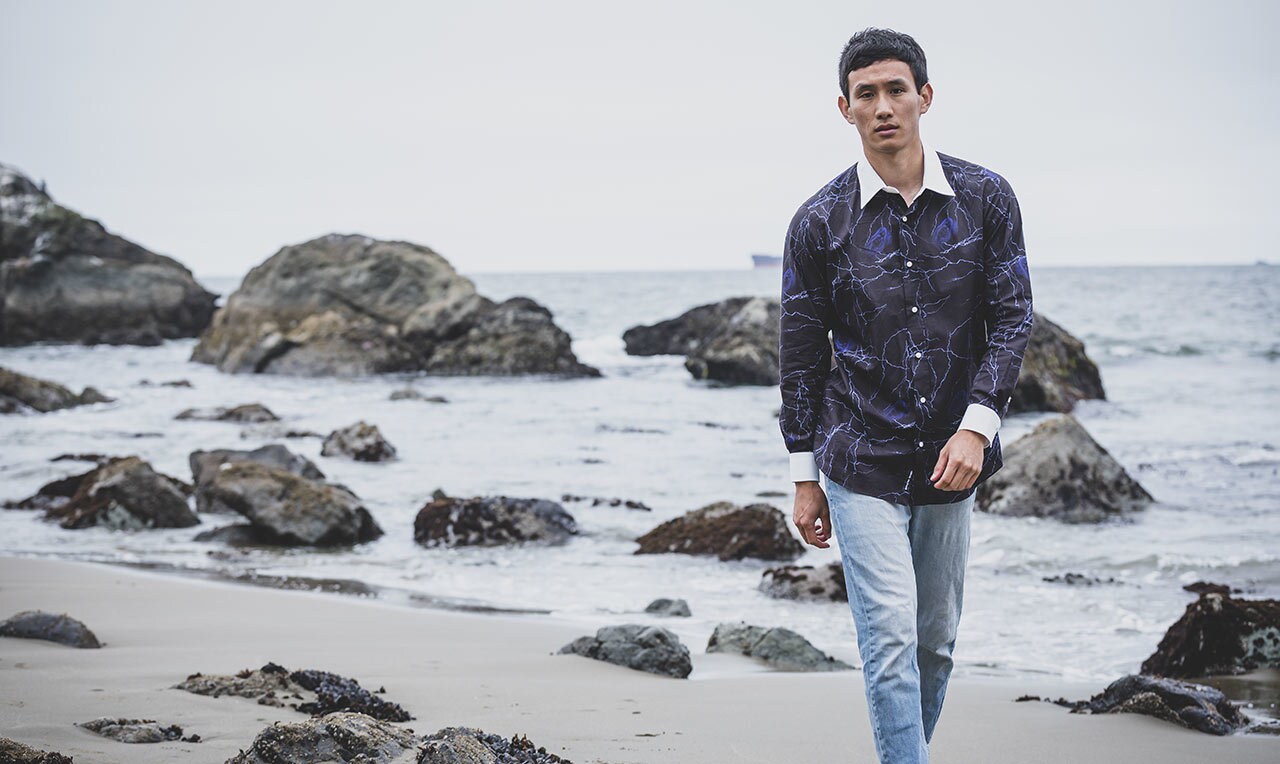 StarWars.com: What were you most excited for when you started this Star Wars collection?
Kazuki Higashi: As a designer and a Star Wars fan, I was so excited to be able to browse through the diverse archives of graphic art from around the world and get inspired by the immense content that was available for me to use. Not to mention all of the material from each of the films! Combing through the wide breadth of graphics, it was a great reminder of the depth of Star Wars history. This is a story that's been around for decades and I got to make new designs for it. That was such an honor!
StarWars.com: How did you decide on what pattern to create for a character? Where do you draw inspiration from?
Kazuki Higashi: I wanted the composition to look like a scene cut out of a movie, not just a repeating pattern, which is pretty common in textiles. Inspiration came to me at the moment when the designs of the characters in the material overlapped with the scenes I remembered from the films. I also combined the characters' features with standard textile patterns, including Japanese patterns.
StarWars.com: What do you enjoy the most about designing shirts?
Kazuki Higashi: I like puzzles, and the more complicated the puzzle, the more challenging it becomes. The design of a shirt pattern is super similar. I love putting the motifs together and imagining the whole picture of the pattern come to life.
However, there is always an answer to a puzzle and when it comes to a shirt pattern, there is no fixed answer. BUT you can make one up! There is a lot of depth to the seemingly monotonous repeats of patterns that are intricately combined, or conversely, complex patterns that are actually arranged in a monotonous way. I feel super excited when I create a pairing that no one else has ever drawn before. When I come up with a unique combination or create a one-of-a-kind design, that makes me the happiest. I have solved the puzzle.
StarWars.com: Is there a particular character and design that you think people will enjoy the most?
Kazuki Higashi: It's difficult for me to pick the best one because of the wide variety of characters and designs in this collection. Personally, I prefer designs based on the movie posters and graphics from the original trilogy. There's one of R2-D2 & C-3PO that I consider to be such a classic depiction of a friendship that can withstand anything. And the bold Darth Vader 2 design looks like it is a scene straight out of the film.
With this collection, people have a lot of history and moments to choose from and combine.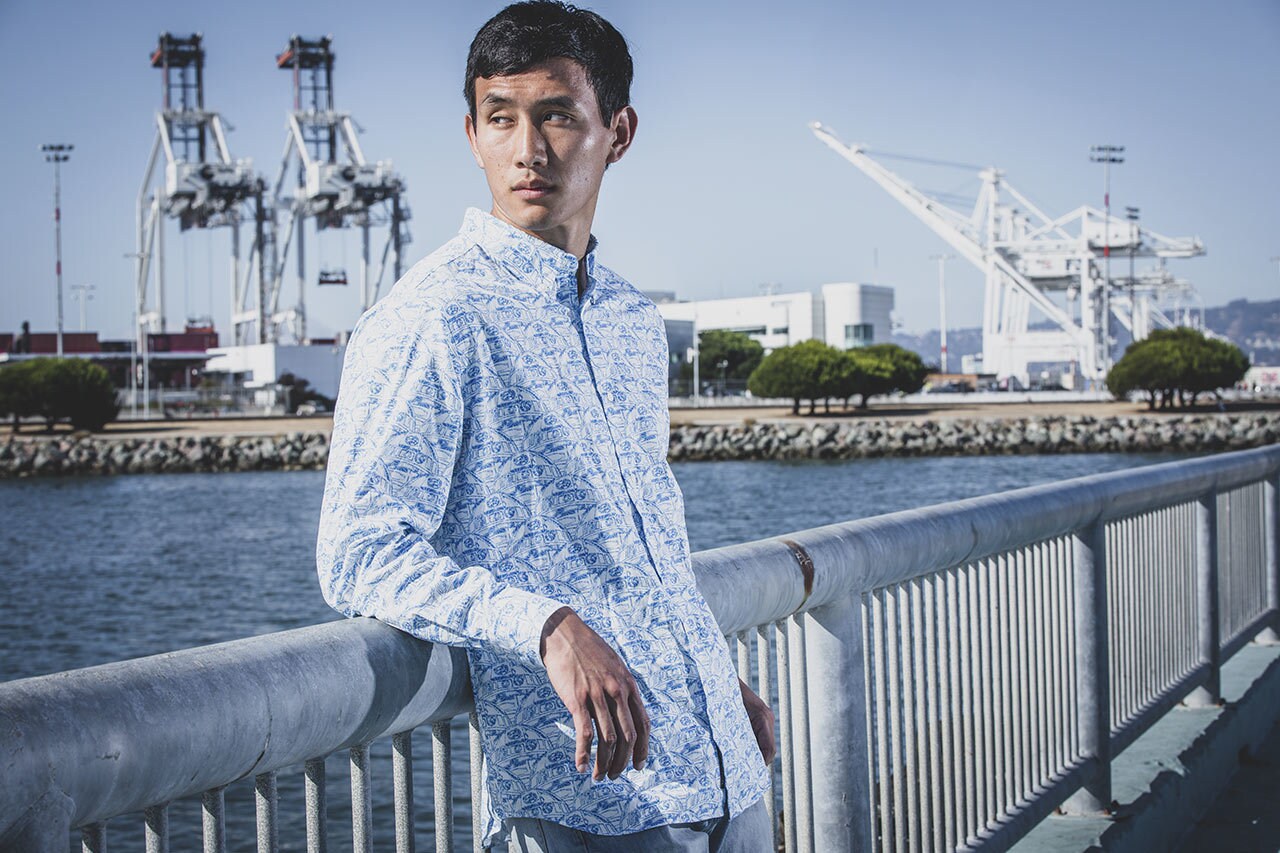 StarWars.com: Let's look at one design in particular. With the second R2-D2 pattern, how did you approach incorporating Star Wars themes into Japanese design?
Kazuki Higashi: I combined the head of R2-D2 with "Seigaiha" and "Kuwano-ha" which are traditional Japanese patterns. The roundness of R2-D2's head can be linked to the roundness of the "Seigaiha" pattern. It didn't work as a stand-alone Japanese pattern as is, so I added "Kuwano-ha" to it as an accent. The repetition of the same motif tends to be monotonous depending on its design and the drawing details are different, which could make it not look like a Japanese pattern. It was challenging to maintain a balance between the designs to ensure that didn't happen.
StarWars.com: The ability to customize the shirts is a really awesome feature! Why do you think that's a valuable part of the experience?
Kazuki Higashi: With the customization options of size and fabric, no two people will ever have the same exact shirt. The beauty of this collection is that the shirts are handmade instead of being ready-made, one-size-fits-all products. The wearer will feel like they themselves are the designer.
With the variety of patterns available, you can also make different shirts that fit in differently in your closet. For example, you can make a shirt that is super bold and a conversation starter, or a shirt that is more casual and the design is toned down.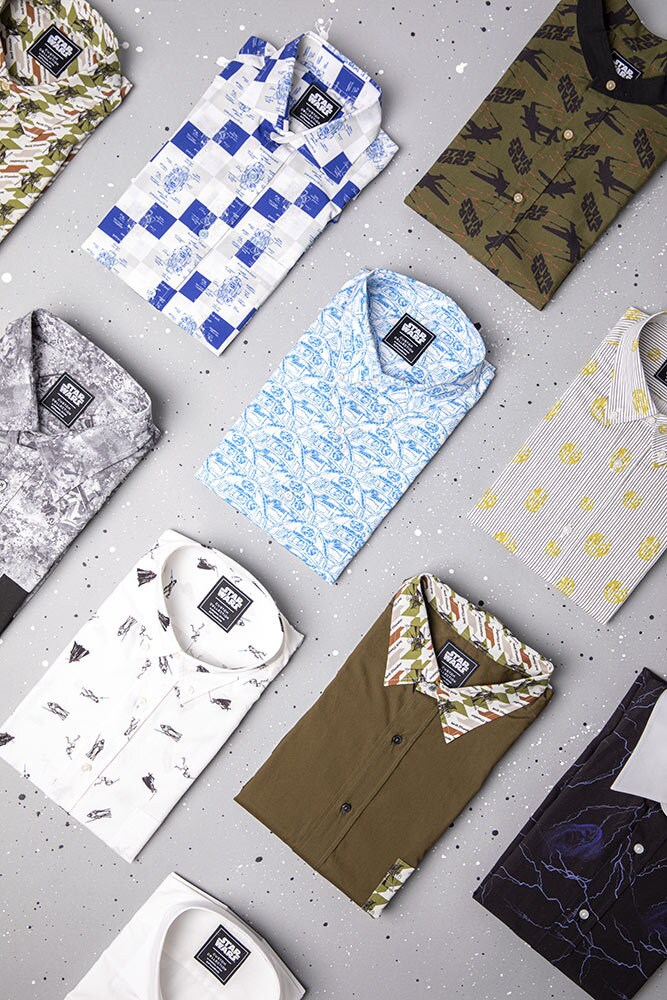 StarWars.com: What would your custom Original Stitch Star Wars shirt look like?
Kazuki Higashi: I would want to combine casual patterns that I can wear in my everyday outfits. It's interesting to think about how to combine styles, patterns, and fabrics to create something that suits all seasons and occasions. For my casual shirt, I'd pick the relaxed fit, with the C3P0 2 pattern. This pattern isn't bold and can blend well with jeans or a dark pair of pants.
You can end up with so many different shirts, and lots of different options! Who wouldn't want one of each? [Laughs]
Shop the Original Stitch Star Wars collection now!
Anina Walas is an associate producer at Lucasfilm with the Star Wars online team and writes the occasional article for StarWars.com. She loves pretty much everything Disney, great weather, traveling, making and eating really good food, and of course, Star Wars. Although Admiral Ackbar was her favorite character, the Child from The Mandalorian has definitely made its way into that top slot.
Site tags: #StarWarsBlog