The Phasma author discusses developing the backstory and rise of Captain Phasma.
Ever since the first photos of Captain Phasma appeared while Star Wars: The Force Awakens was being filmed, fans have been clamoring for more on this mysterious character -- and we know she'll be back in Star Wars: The Last Jedi. And now, with Force Friday II launching the Journey to Star Wars: The Last Jedi publishing program, we get a great story bringing together so much of Phasma's background: who she is, how she ended up in the First Order, and how she rose to be elite among the First Order's stormtroopers. Written by Delilah S. Dawson and published by Del Rey, Phasma comes out today. No stranger to writing Star Wars in this timeframe, Dawson previously wrote The Perfect Weapon, an ebook short story featuring the mercenary Bazine Netal, shortly before her appearance in Maz Kanata's castle in The Force Awakens. StarWars.com conversed via e-mail with Dawson to go under the caped captain's chrome dome and learn what it takes to walk in her armor.
Spoiler warning! This interview delves into plot points and characters in the book!
StarWars.com: Phasma takes readers into the story of one of the most enigmatic characters from The Force Awakens, Captain Phasma. What was it like getting to tell her story?
Delilah S. Dawson: A little bit like Phasma herself: shiny and terrifying! Writing for Star Wars is a great honor and a huge responsibility, especially when it comes to building the complex iceberg hiding in darkness under the tiny tip of Phasma that we got to see in The Force Awakens. Telling her story was thrilling and delicious, and I really do love writing violent women. My goal is for readers to understand exactly why she did what she did on Starkiller Base...and still love her. While, of course, fearing her.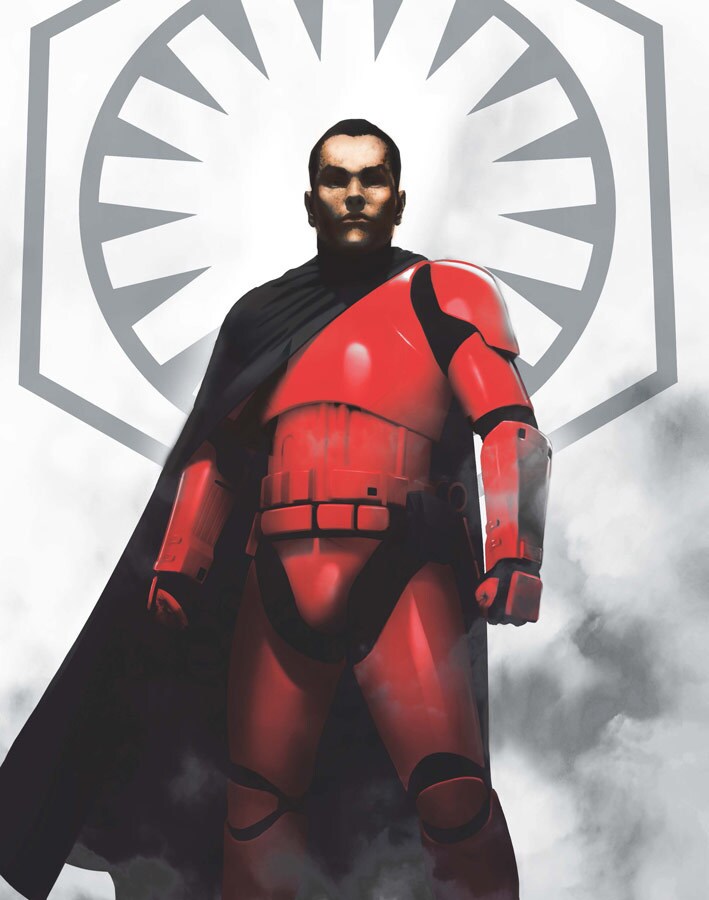 StarWars.com: The details of Phasma's life are told through a framing device of a Resistance agent, who has learned Phasma's origins, being interrogated by one of Phasma's enemies within the First Order, the scarlet-armored trooper known as Cardinal. Who is Cardinal and why is he so keen on learning more about Phasma?
Delilah S. Dawson: Spoilers ahead, so beware! It's hard to talk about Cardinal without describing him as the sun to Phasma's moon. You can see by the poster art [featured in this article] that he has red armor and a captain's cape, so you know his position within the First Order is similar to hers. Cardinal is our lens into why a good person would dedicate their life to the First Order -- and why they'd seek to excise someone like Phasma by any means necessary once they caught a glimpse of who is behind that mask. Fun fact: My fan-casting for Cardinal is Kalani Robb from Forgetting Sarah Marshall, which is one of my favorite Sick Day movies.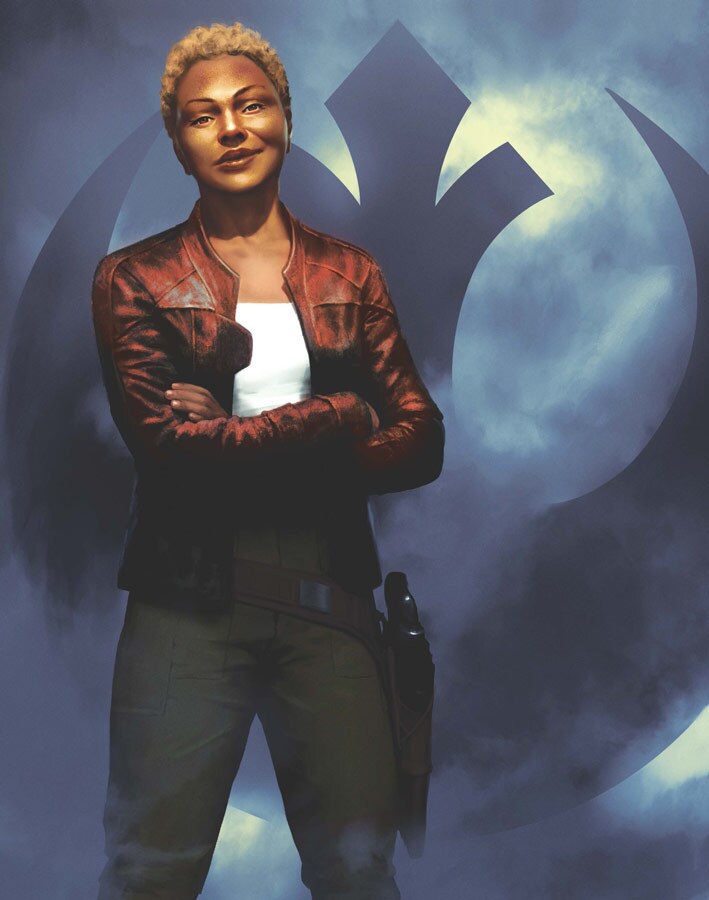 StarWars.com: Vi Moradi is the Resistance spy, Cardinal's captive, and is parsing out her knowledge of Phasma to survive and press her own advantage. What type of character is she and how does her point of view shape her recounting of Captain Phasma's past?
Delilah S. Dawson: Vi is like a female Poe Dameron: humor, ego, and talent, but with an added dash of James Bond. She's a spy with a long list of aliases and colored contact lenses, but she does admit to Cardinal that she only takes jobs that jibe with her heart and morals. Also, like me, she's a terrible knitter.
StarWars.com: For someone who ends up leading and training the troops of the First Order, Phasma starts off in a rather uncivilized place. Tell us about her people, the Scrye, and the world of Parnassos.
Delilah S. Dawson: The idea was to start Phasma off in the most aggressively punishing landscape possible. Parnassos is like Earth gone mad after a nuclear disaster. The rain is poison, the food-animals are dead, and the land is rocky and barren. Phasma had to be forged in a crucible of pain and tenacity. It's like Mad Max: Fury Road, but with an angry ocean, and the people of the Scyre have learned to scratch a living out of their small territory. One of my favorites among the Scyre folk is Torben, who's inspired by Jason Momoa. He'd do fine on Parnassos -- lots of rock climbing over there.
Keldo, in a Walmart-exclusive poster.
StarWars.com: One of the key figures in Phasma's past is her brother. Who is Keldo to her, and who is Phasma to him?
Delilah S. Dawson: Keldo is, in many ways, the keystone of Phasma's evolution. He begins as the brain to her brawn in a balanced team, but the lessons he teaches her go way beyond a typical sibling relationship. Let's just say it's very, very different from Luke and Leia.
StarWars.com: What makes getting into the point of view of Phasma so interesting?
Delilah S. Dawson: There's a theme throughout Star Wars of characters who hide from themselves, tell themselves lies, or otherwise deny their destiny. And there's also the classic cloying lure of evil, with our beloved characters wobbling on that line in the sand. But with Phasma, she has zero doubts about exactly who she is and what she's willing to do, and there's something so seductive about that kind of confidence. Writing Phasma, for me, is kind of like watching Hannibal.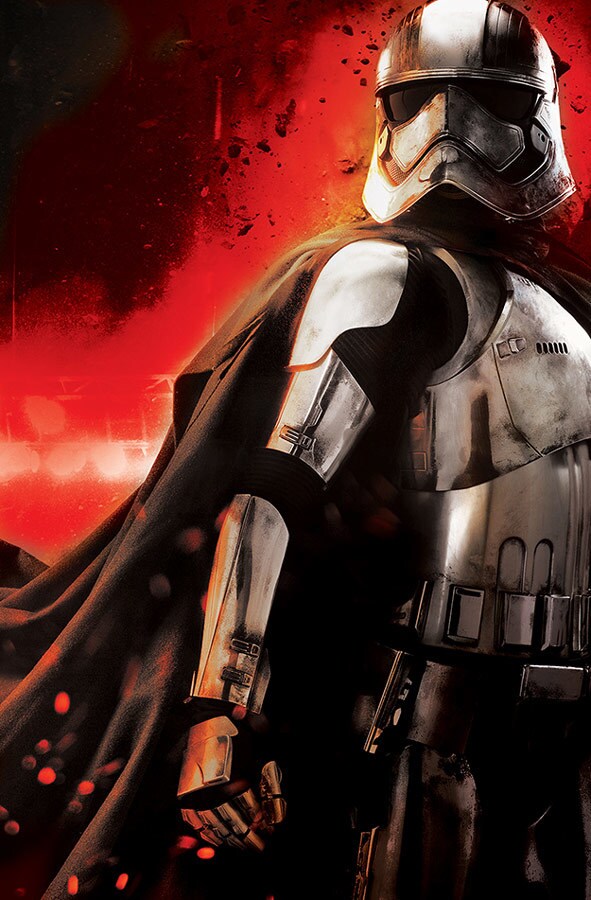 StarWars.com: How do you go about building up Phasma and the First Order, knowing that while they may consider themselves as doing the right thing to bring order to the galaxy, they are the villains of the Star Wars saga?
Delilah S. Dawson: One of the most important things I've learned as a writer is that every single character in a story considers themselves to be the protagonist -- and that includes the villains. It's all about finding a particular character's motivation and then throwing everything you can at them to see how far they'll go to get what they desire. In Phasma, we sometimes see the scene through Cardinal's point of view, and as he interrogates Vi, they bicker about why anyone would choose the Resistance vs. the First Order. It's all about perspective -- where in the galaxy you grew up and which symbol was on the jacket of the people who destroyed your village.
On sale today, September 1, Phasma is available in ebook and hardcover novel from Del Rey. In addition to the regular hardcover, Del Rey is also releasing three retailer exclusive editions, each with a double-sided poster. The poster will feature Phasma on one side, and another character on the reverse side, as seen above. The Phasma audiobook, narrated by January LaVoy, is available from Random House Audio as an audio download and on CD.
James Floyd is a writer, photographer, and organizer of puzzle adventures. He's a bit tall for a Jawa. His current project is Wear Star Wars Every Day, a fundraising effort for a refugee aid organization. You can follow him on Twitter at @jamesjawa or check out his articles on Club Jade and Big Shiny Robot.