The last episode in the first arc in the animated series' final season on Disney+ goes out with a bang.
Star Wars: The Clone Wars is back for its final season on Disney+! In Clone Wars Declassified, StarWars.com looks at each episode's biggest moments and surprises. Fall in, soldier.
By now, we've come to know the Bad Batch about as well as any of the clone troopers featured in Star Wars: The Clone Wars, so it's bittersweet to see their arc come to an end. But this week's episode, "Unfinished Business," (available to stream now on Disney+) gives us a grand finale to their story, complete with the kind of explosions that can bring even Wrecker to tears and a satisfying end to Echo's tumultuous journey. Here are five highlights.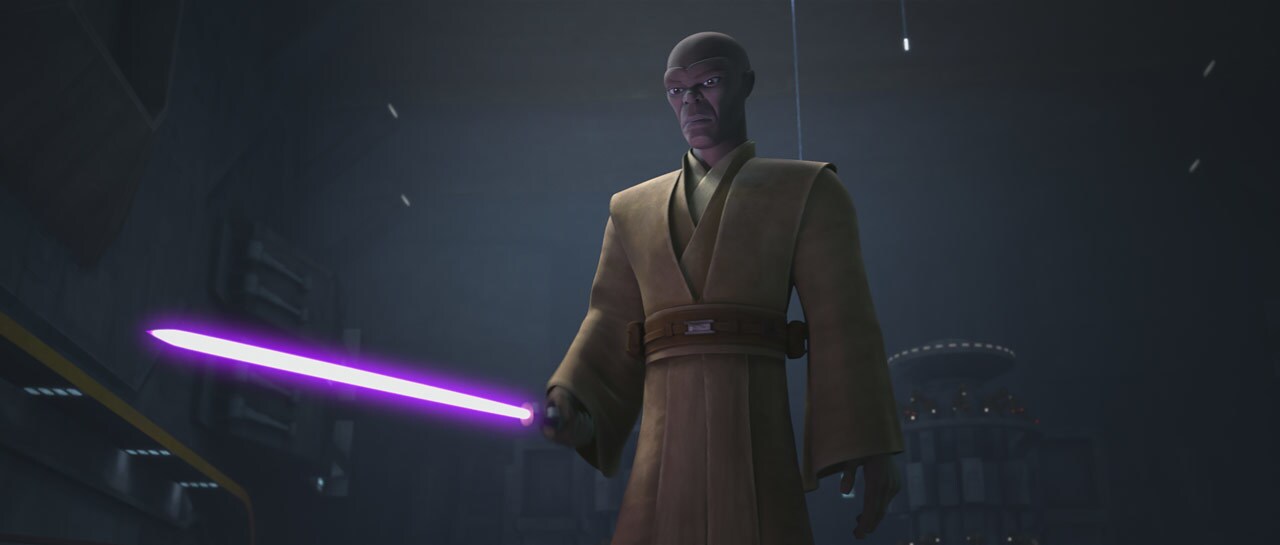 1. Mace Windu's no-nonsense speech.
Well, we guess it was worth a try. In a rousing speech, Mace gives the assembled battle droids the chance to lay down their weapons. And in the most Mace fashion, he does so by reminding them that he's dismantled and destroyed over one hundred thousand of their brethren in battle. In other words, this party's over!
2. Mace vs. the bomb.
It's touching to see Master Windu ordering the evacuation of his troops while he himself charges headfirst to the fusion reactor where a bomb threatens to annihilate the lot of them. A ray shield would prevent almost anyone from inputting the code to disarm the massive weapon, but as we well know a Jedi has other means. Using the Force, Windu inputs the decrypted sequence as fast as Echo can gather the intel, with the clone risking it all in the process and getting fried before he can access the final digit. So close!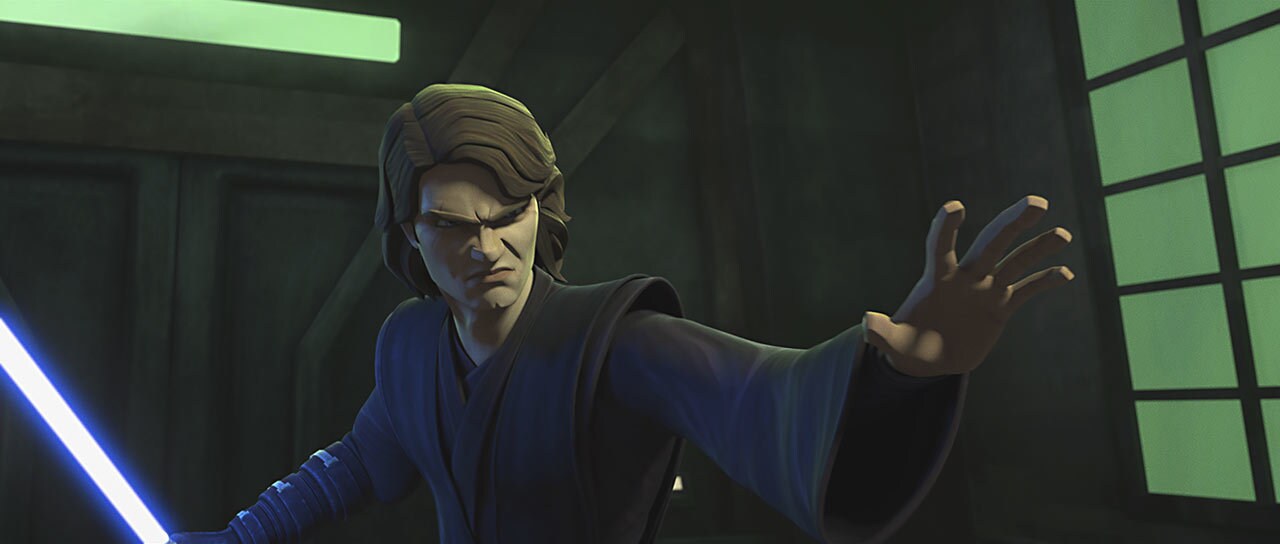 3. "I don't have such weaknesses."
Good thing Anakin Skywalker is here to help. The character redesign this season has already hinted that Anakin is inching closer to the Skywalker we see in Star Wars: Revenge of the Sith, but that's also apparent in the way he strides onto the bridge of Trench's dreadnought scowling. He basically growls as he demands the final number in the sequence. And while Trench seems certain that a Jedi's nobility will prevent him from killing Trench where he stands, a single swipe of Anakin's blade through Trench's cybernetic arms proves otherwise. And that's just a taste of what the warrior has in store, neatly skewering the menacing Separatist on his blade.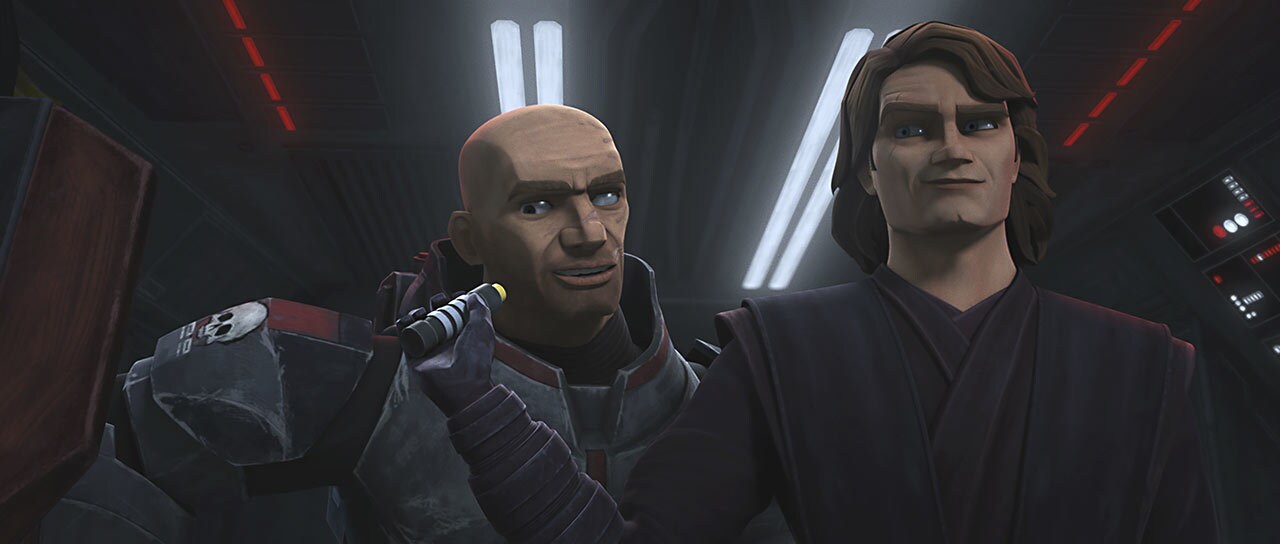 4. Wrecker's happy day.
It's satisfying to watch the Bad Batch do their thing, each member employing a specific set of skills for the betterment and victory of the whole. And to get the injured Echo to safety, it takes the entire Clone Force 99 doing what they do best. But it's Anakin's gift to Wrecker, Trench's detonator, that brings the muscle-bound soldier to tears as he brings the Separatist ships down in one fiery explosion.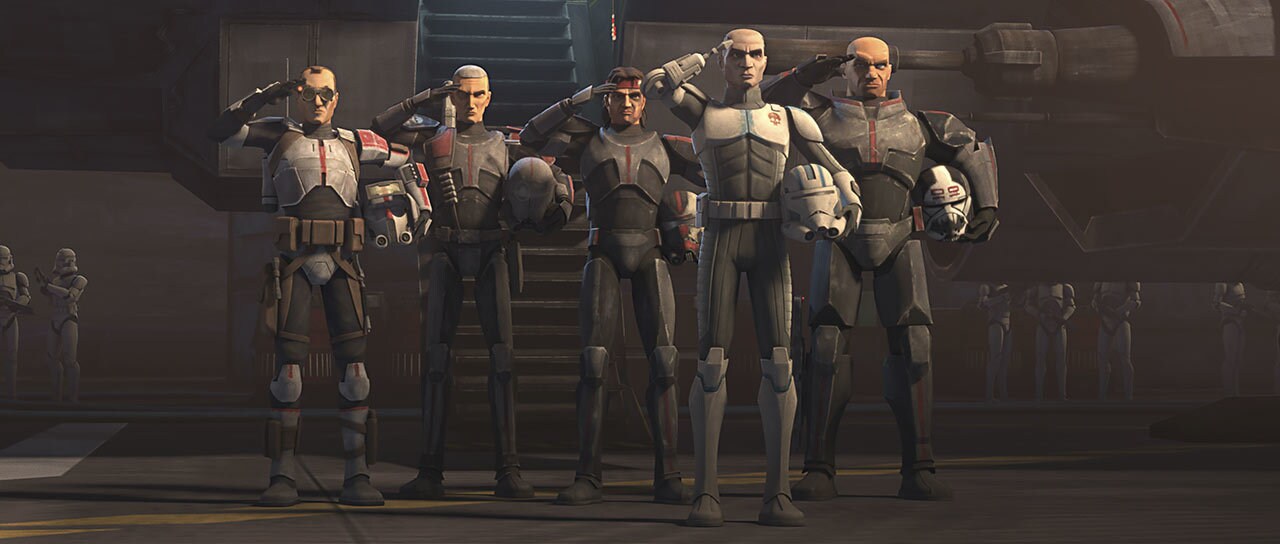 5. Echo's new path.
Of course he must do what he feels is right. It's been an uphill battle for Echo to earn the trust and respect of the Bad Batch. And early on even some of the Jedi had their doubts about putting Echo back into action so soon after he'd been rescued from the Separatist torture chamber that turned his very mind against his brothers. But now he's not only proven his loyalty, he's found a new band of brothers among Clone Force 99. Like the rest of this elite squad, Echo's different from the standard clone troopers. And it's what sets him apart that gives him an edge in fighting the Separatist threat.