StarWars.com reveals the highly-anticipated book's cover along with story insights straight from the authors.
Now you're ready to visit Canto Bight.
StarWars.com and The Star Wars Show are excited to reveal artist Matt Taylor's cover for Canto Bight, a new book coming on December 5 as part of the Journey to Star Wars: The Last Jedi publishing program.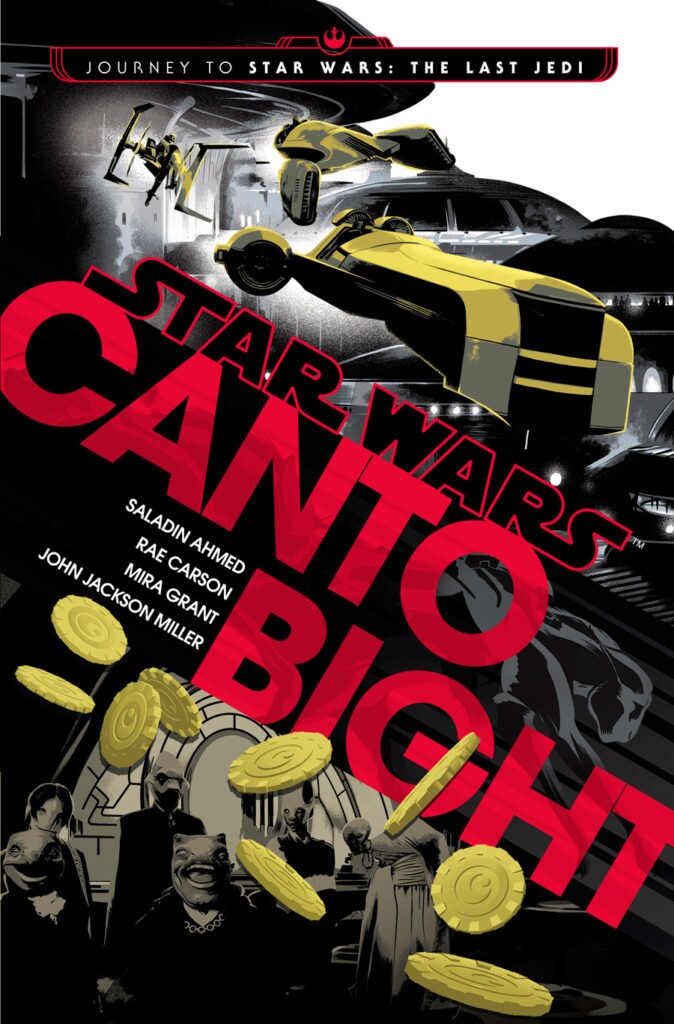 Available for preorder now, Canto Bight -- named for the new casino city featured in The Last Jedi -- is a collection of four interconnected novella-length adventures of the exotic aliens and creatures who frequent the locale. The stories are written by Saladin Ahmed, Rae Carson, Mira Grant, and John Jackson Miller, and in addition to the cover, StarWars.com has statements directly from the authors that tell us a little bit more about their respective tales:
Saladin Ahmed, "Rules of the Game"
"'Rules of the Game' is a quiet drama about work and crime and corruption and pecking order, but it's also an alien buddy comedy with explosives. Interplanetary contract criminal Anglang Lehet and Vaporator Salesbeing Kedpin Shoklop have led very different lives. They have one thing in common: Each of them has spent more than a century following the rules of his trade. But one night in the glittering casino city of Canto Bight their paths will cross and, beset by gangsters, corrupt cops, and overpriced drinks, they will have to rely on each other to have any hope to survive."
Rae Carson, "Hear Nothing, See Nothing, Say Nothing"
"No one is better placed to overhear key information than Lexo Sooger, the star masseuse at an elite spa. But Lexo never gets involved, no matter what. In a dangerous city like Canto Bight, it's the only way to keep his family safe. But vile gangster Big Sturg Ganna will stop at nothing to acquire him as an asset, and when Ganna kidnaps Lexo's daughter, Lexo must call on secret, long-unused abilities to save her. The gangster doesn't know it yet, but he has messed with the wrong masseuse.
I spent a big chunk of my childhood in poverty, so I know that even the most beautiful, lavish places have an underclass, people barely scraping by in a system stacked against them. When I saw Lexo, a fantastically realized alien creature doing hard labor, surrounded by luxury that's never truly his, I just had to know more. For me, Lexo is Canto Bight's everyman, and I'm so glad I got to write his story."
Mira Grant, "The Wine in Dreams"
"There's nothing better than a good con game, except for maybe a con game that takes place in the Star Wars universe.  My story takes you to the glamorous night life and the glittering world of Ubialla Gheal, whose club is the place to see and be seen in Canto Bight.  A lot of business happens there.  A lot of deals.  But when Derla Pidys, one of the most renowned liquor traders in the galaxy, shows up to purchase a bottle of wine that may or may not come from another dimension, things get complicated, fast.  It was a joy to write, and I think you're going to enjoy it."
John Jackson Miler, "The Ride"
"What do you do when everything you think you know is upended at precisely the wrong time? 'The Ride' is some of the best fun I've had writing a Star Wars story, combining a look at gaming within the Star Wars universe with an adventure loaded with humorous moments. It's a chance to wallow in casino life, surrounded by memorable characters. The Lucky Three (Plus One) is more than a starting pazaak hand — it's a formula for a wild ride!
With statistics as his Force and card combinations as his lightsaber, Kaljach Sonmi fancies himself a Jedi Knight of the gambling halls, making short work of all who oppose him. Until, that is, he encounters something none of his knowledge and experience can help him with: The Lucky Three, a notorious trio and terrors of the casino.
Suddenly, with fearsome members of the Canto Bight underworld breathing down his neck, Kal launches upon the craziest — and possibly last! — night of his life, a frenetic odyssey during which fortunes are lost, won, and lost again. He's drawing dead with a deadline, and his only outs may be three diminutive lunatics named Dodi, Thodi, and Wobi!"
StarWars.com. All Star Wars, all the time.