Discover the design origins of the Z-95 ship and much more!
Star Wars Resistance is here! The animated series follows Kazuda "Kaz" Xiono, a young pilot recruited by the Resistance and tasked with a top-secret mission to spy on the growing threat of the First Order. Visit StarWars.com following each episode for "Bucket's List Extra," an expansion of our weekly fun-facts video series Bucket's List. In this installment, we look at "Bibo."
Bucket's List Extra – "Bibo"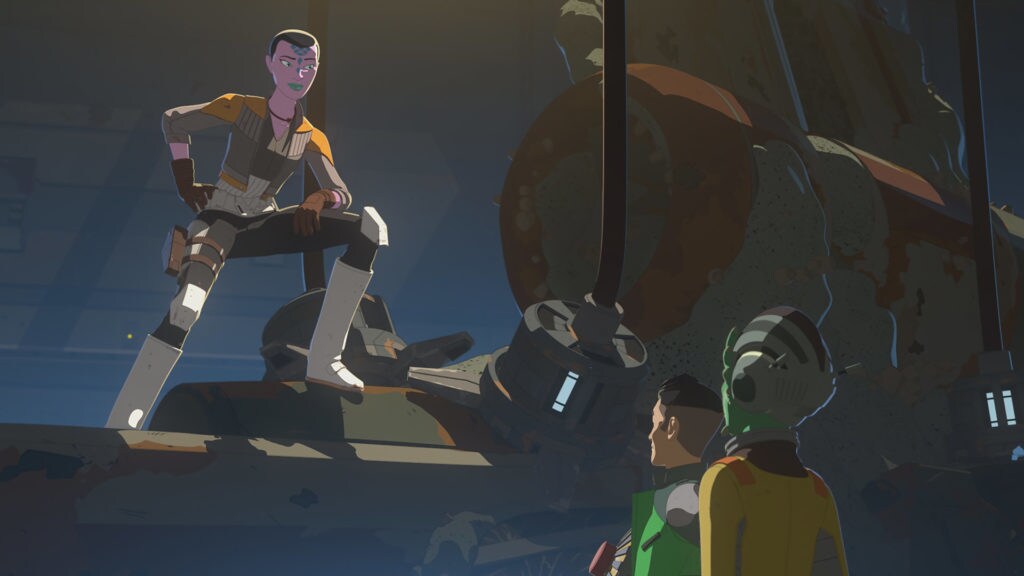 1. It's a classic.
The Z-95 hauled out of the ocean is an example of a very old ship design in the galaxy. In the fifth season of Star Wars: The Clone Wars (set over 50 years before Resistance), we see Z-95s in action over Umbara. Their design is based on early concept art and model work for the original X-wing fighter.
Bonus Fun Fact #1: In fiction, the Z-95 first appeared in the novel Han Solo at Stars' End in 1979.
Bonus Fun Fact #2: Though not said in the final episode, Synara found the Z-95 in the Karavian Trench of the vast Castilon ocean.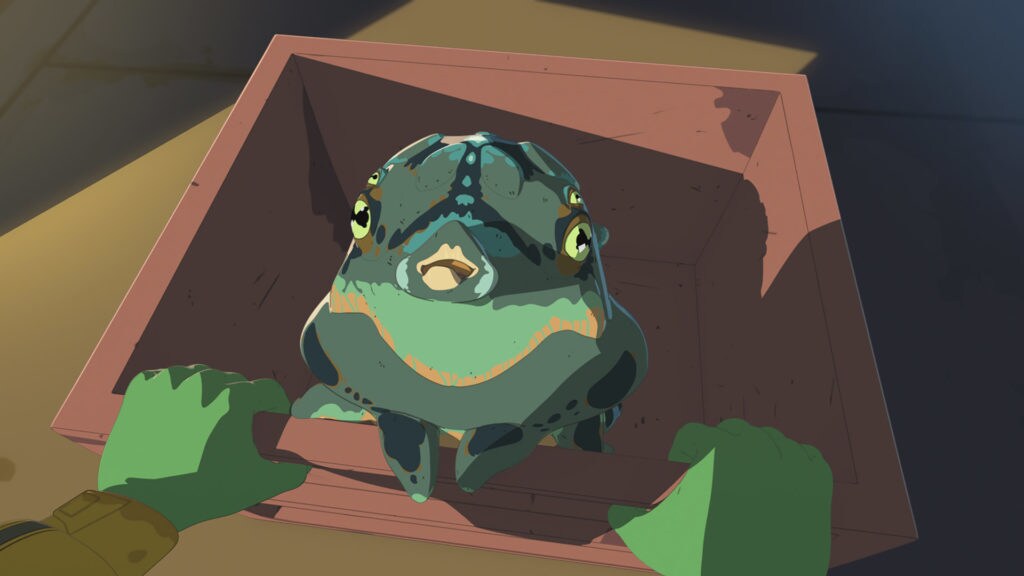 2. Return of the Jedi.
Bibo is voiced by Bob Bergen, who has played Luke Skywalker many times in such classic LucasArts video games as Masters of Teräs Käsi, Rogue Squadron, X-Wing Alliance, Force Commander, Jedi Knight II: Jedi Outcast, Galactic Battlegrounds, and others.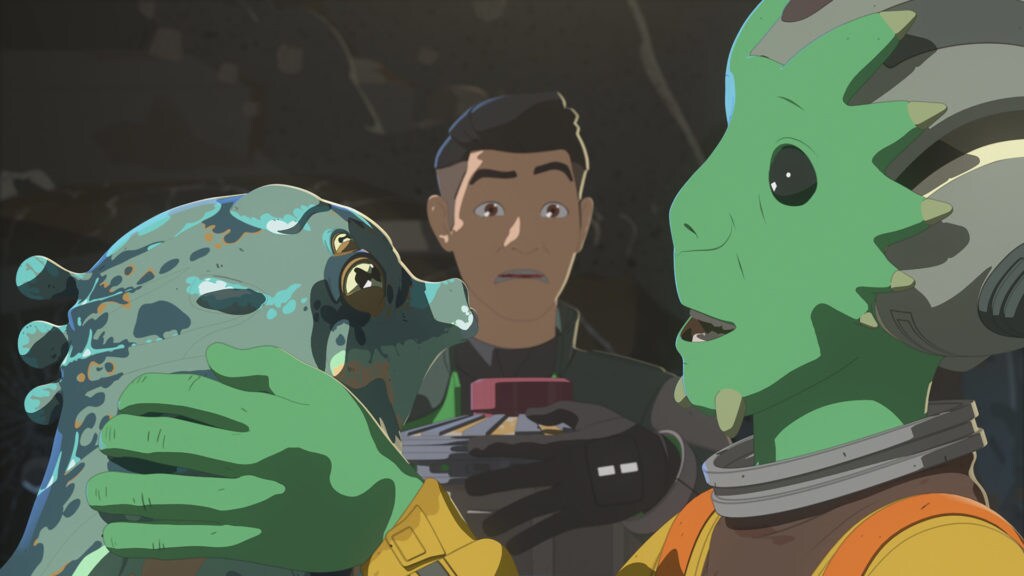 3. Moggo-what now?
Neeku makes mention of his old moggolvee pet. Though he says Bibo resembles a moggolvee, a moggolvee is a new creature never seen before in a story.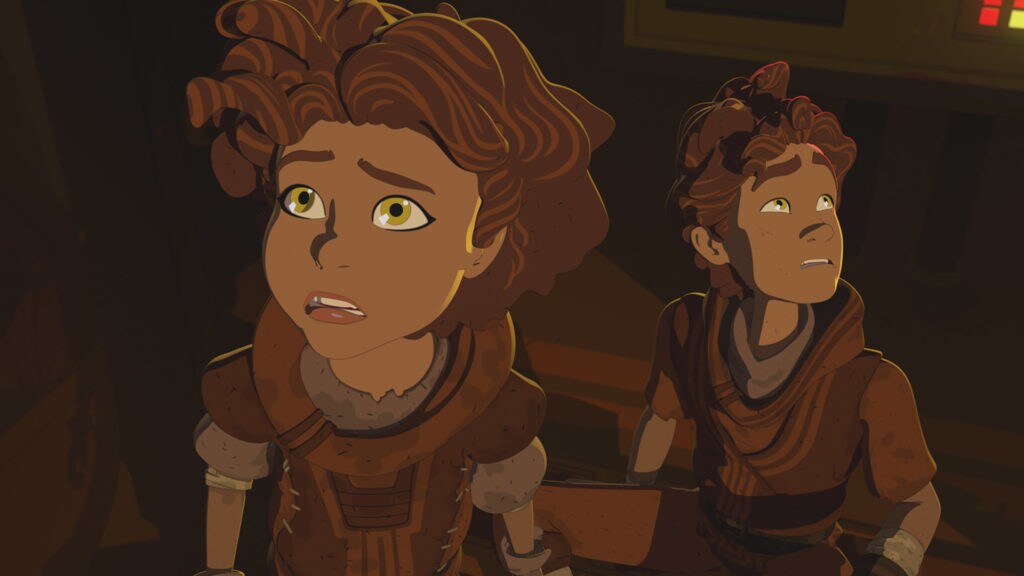 4. Paul Giacoppo can do it all.
This episode marks the return of Kel and Eila, last seen in "The Children from Tehar." Both these episodes were written by Paul Giacoppo. In addition to being an animation writer on such shows as Avengers Assemble, Ultimate Spider-Man, Thundercats, and Generator Rex, Giacoppo is also an ILM visual effects artist, with credits including Rogue One: A Star Wars Story, Pacific Rim, Rango, and Star Wars: Episodes I, II, and III.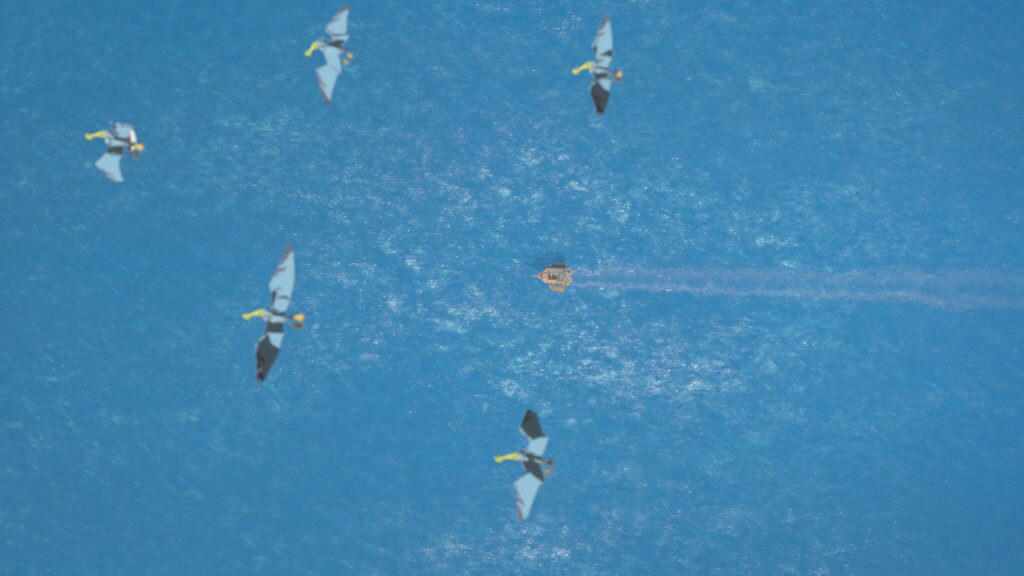 5. Speagulls, stop it now.
The bird-like creatures are speagulls. Like Bibo's species, the rokkna, they also have four yellow eyes. It was a design choice to have all of the more non-sentient species on Castilon have an extra set of eyes, and this is also a nod to the two moons.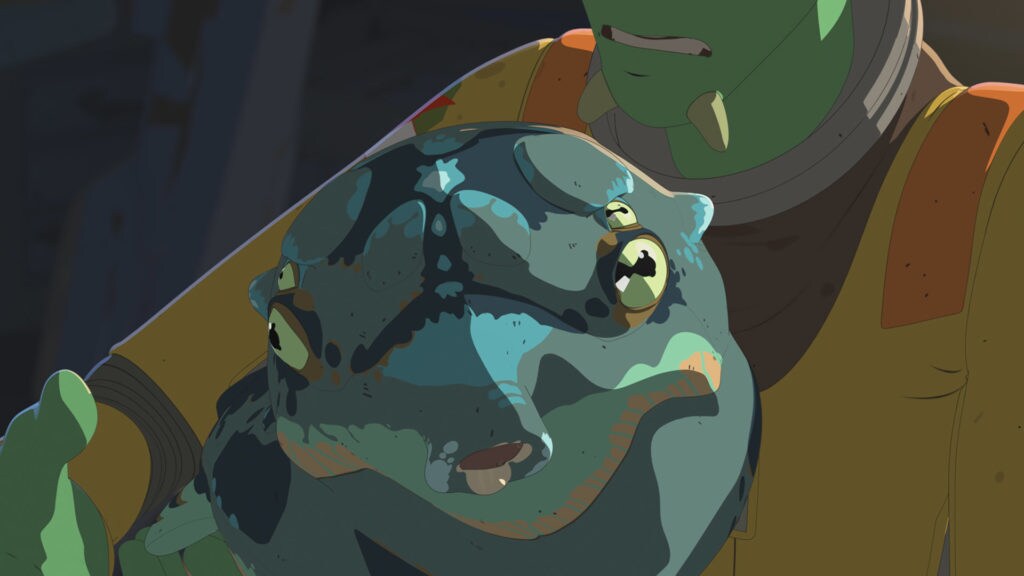 6. What an incredible smell you've discovered!
At one point in the story, a patron was to remark on the rancid smell of Bibo, and describe it as smelling like duriak, a delicacy. This is in reference to durian fruit, a pungent yet tasty melon native to Southeast Asia.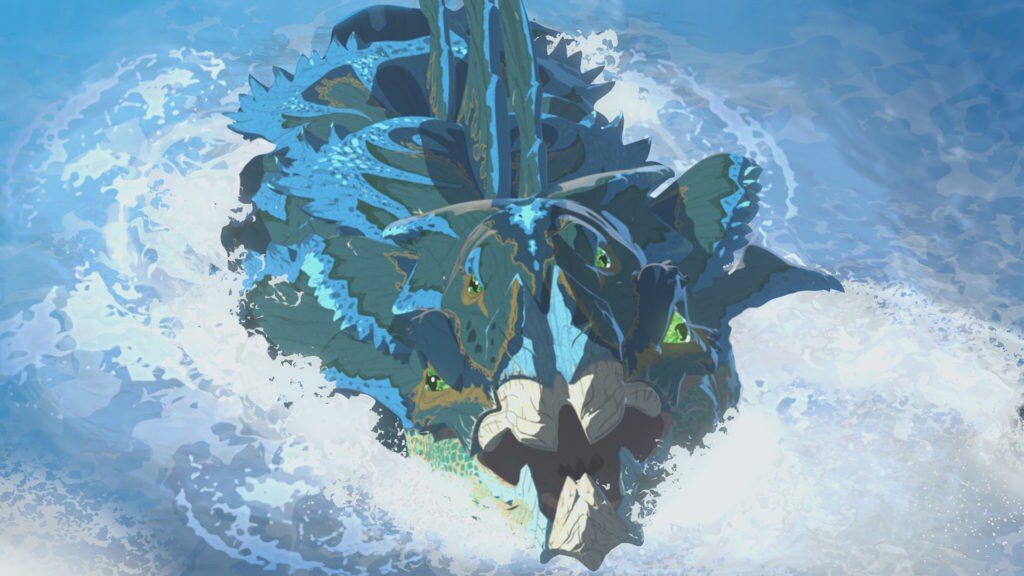 7. They grow up so fast.
Every visual element that can be seen in the adult rokkna was included in the baby Bibo design, although some details like scaly plates and teeth have not fully developed, as Bibo is still in his tadpole stage.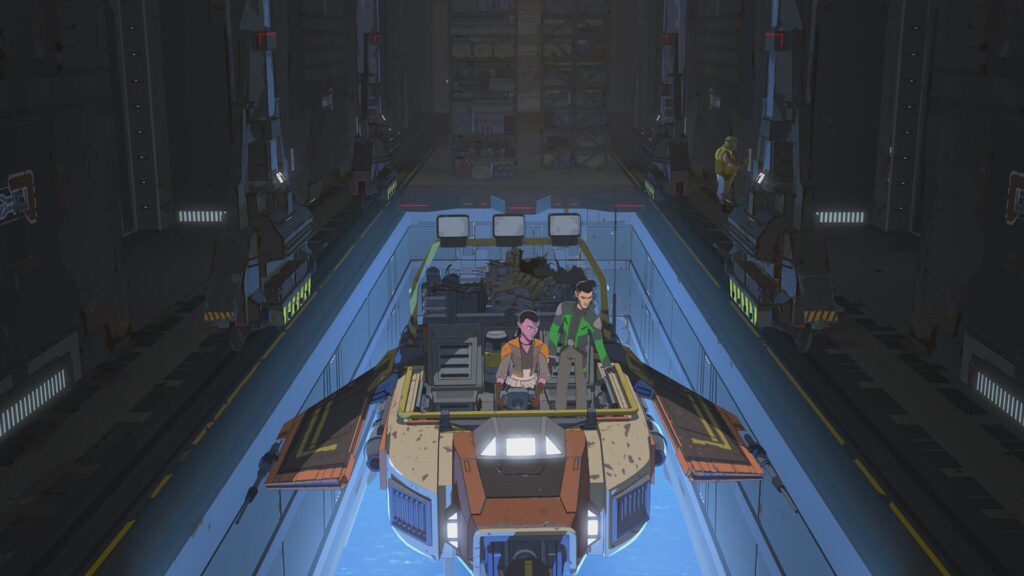 8. What can't it do?
The skiff that Synara and Kaz take out is one of many that are used by the Colossus salvage teams. It is designed to retrieve all manner of wreckage, sporting harpoons, magnetic wenches, high-powered searchlights, and landing skis that double as a forklift.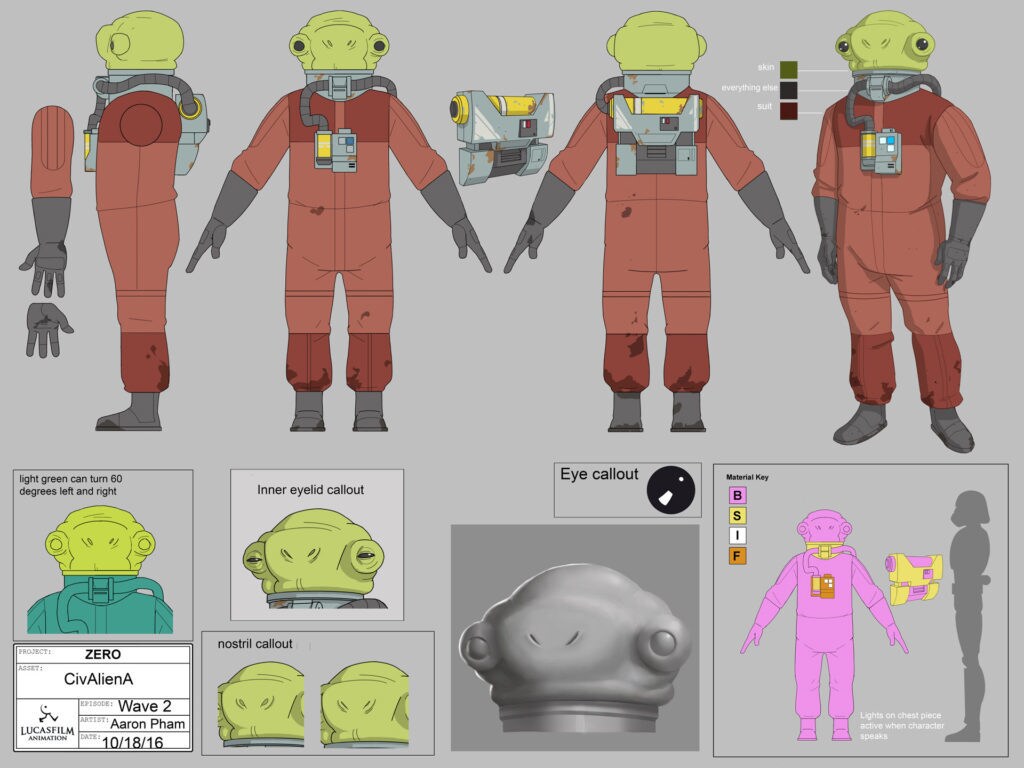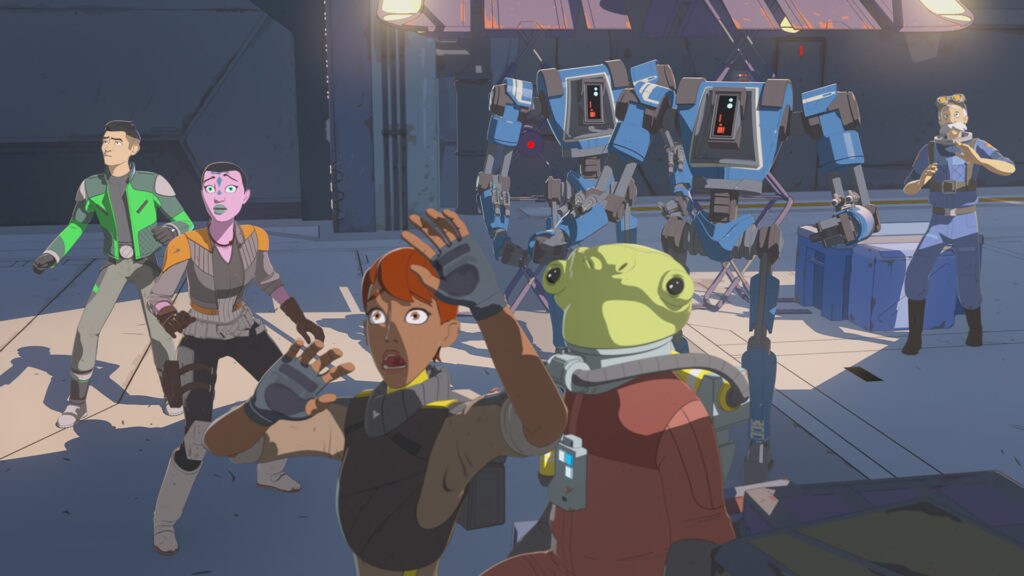 9. Sorry, no snacks for you.
A new species created for the show, the green alien in the red spacesuit has no mouth -- as such, he can be seen in the background throughout the show, looking very forlorn at snacks and drinks, which he has no way of eating or drinking. He gets his sustenance from the hoses and tanks that are part of his suit. In this episode, he can be seen signing to a fellow Colossus resident to run away from the rokkna as it attacks the marketplace.
In case you missed this week's Bucket's List video, check it out below!
Bucket's List
https://www.starwars.com/video/buckets-list-bibo-star-wars-resistance
Star Wars Resistance airs Sundays at 10 p.m. ET/PT on Disney Channel.
StarWars.com. All Star Wars, all the time.