The writer behind Aphra's new Marvel (mis)adventures speaks to StarWars.com.
In Star Wars, there are heroes like Jedi and rebel princesses. There are villains like Sith and slimy crimelords.
And then there's Doctor Aphra. She's found herself on the side of freedom one moment and saving the Emperor's life the next. The rogue archaeologist has a tendency to walk -- and sometimes trip over -- a moral line between right and wrong, all depending on how she benefits. And that's how Alyssa Wong, writer of Marvel's new Doctor Aphra ongoing series coming April 2020, likes it.
"I think Aphra is a delight. She's out for herself, for fun and profit, and that drives her actions more than any internal moral compass," Wong tells StarWars.com. "It makes her really fun to write! Aphra acts according to her whims and desires, which gives her an edge of unpredictability. But the second you think you've got her number, she chooses to do something that leaves her vulnerable -- whether that's an unexpected moment of nobility or bitter betrayal. No matter which side Aphra's currently on, you can count on her to be deeply selfish. And that's what I love the most about her."
Last we saw her, Doctor Aphra was heading for the stars with what was left of her fan-favorite murder-droid friends. She outsmarted Darth Vader once again, doing something uncharacteristically generous and hacking into the Empire's database to erase files pertaining to the Rebellion's new base on Hoth. The usually-not-so-good doctor also arranged it so that those closest to her -- her father, her ward, and her on again/off again girlfriend -- were safe and together on the ice planet, where they could take care of each other. But this being Doctor Aphra, she can't stay that quiet, or that good, for long. That's where Wong's new series, set after the events of Star Wars: The Empire Strikes Back, begins.
"After a streak of bad luck, Doctor Chelli Aphra is back, hunting for a score big enough to change her fortunes for good," the writer says. "So when she hears rumors of an incredibly valuable ancient artifact, she can practically hear the credits pouring into her lap. Crafted by an ancient group of artisans called The Architects of Vaale, the Rings of Vaale are the last relic of a long-forgotten secret society. They're a priceless piece of history. They'll make Aphra rich." She assembles a team of unlikely treasure hunters -- including an old flame or two -- to help track down the artifacts. "There are only two problems," Wong says. "First, legend has it that the Rings are cursed. Located on a planet covered in ash, it's said that they hold an entire ancient city in their thrall. Few explorers have returned alive, and none of them sane. Second, there's another party interested in the artifacts: Ronen Tagge, a spoiled scion of the powerful, illustrious Tagge family. He collects rare, beautiful objects for the sole purpose of destroying them. And now he has his eye on the Rings of Vaale." This sets Aphra and her motley crew on a collision course with Ronen's goons, and off on a race to recover the artifact first. The series is illustrated by Marika Cresta, colored by Rachelle Rosenberg, and sports covers by Valentina Remenar.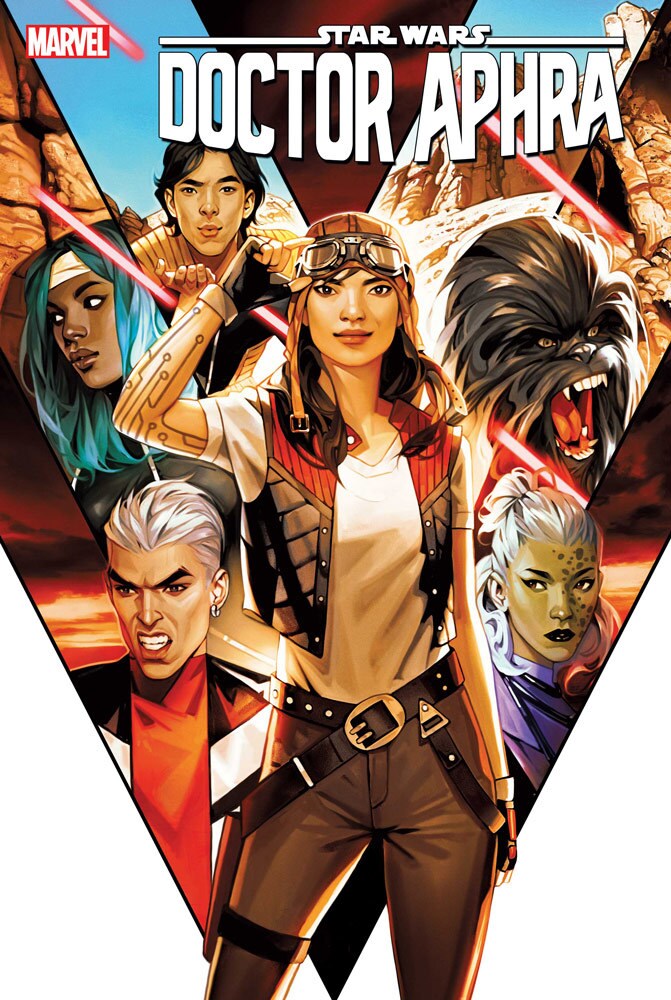 Remenar's cover for issue #1, revealed here, offers a glimpse of the new faces in Aphra's crew: clockwise from the lower right, that's Doctor Eustacia Okka (beneath Wookiee bounty hunter Black Krrsantan), following a look at Ronen himself is Detta Yao, and finally, Just Lucky. "Doctor Eustacia Okka is a disgraced professor, and unfortunate events cast doubt on the veracity of her research," explains Wong. "Curt, cold, and obsessed, she believes that finding the Rings of Vaale will vindicate her. Eustacia and Aphra were classmates, but their relationship has long since soured." Sounds about right.
"Detta Yao is a graduate student studying archaeology at the Shadow University," says Wong. "Cheerful, sweet, and bubbly, she hires Aphra to help her find the Rings of Vaale so she can write her thesis. Detta reminds Aphra of her younger self." But Wong teases that there may be a dark side to this ray of sunshine. Still, she may be the only member of the crew who doesn't have a past with Aphra, which is probably a good thing.
"Just Lucky is a handsome smuggler and assassin," Wong says. "Laid-back and dangerous, he's in it for the money, not the glory. Lucky and Aphra have worked together, as well as against each other, on different jobs before, but neither of them ever takes it personally." Altogether, it sounds like a team that will have some severe and highly entertaining growing pains. But StarWars.com has a very important question: are the murder droids along for the ride?
"I can't give you all of my secrets!" Wong teases. "But rest assured, they're out there. Somewhere close. Waiting."
This relaunch comes on the heels of very successful runs by Kieron Gillen, who co-created the character, and Si Spurrier, who took the reins from Gillen on the first Doctor Aphra ongoing series. "I admire their work on Doctor Aphra a lot," Wong says. "Kieron Gillen built the groundwork for the series, and his Aphra is sly, dangerous, and emotionally complex. And I dig the thrilling, unsettling, and heartbreaking direction that Si Spurrier took us, with an Aphra who has to face the messy consequences of her actions. They've left some pretty big shoes to fill. Luckily, the team I've been working with at Lucasfilm and Marvel has been a fantastic help, and I'm excited to share what we've come up with." While Aphra has been a breakout star in Marvel's Star Wars comics -- even making the jump to action-figure form -- a #1 represents a chance to expand her audience even further. For her part, Wong hopes that her take on the shady archaeologist has a wide appeal. "Aphra's setting off on a new adventure with a new crew, so if you're new to the series, this would be a great time to jump in," Wong says. "Of course, there's a lot for folks who are already fans, too. But it's important to me that this arc is accessible to everyone, whether you've never picked up a Doctor Aphra comic book before or it's a favorite on your pull list."
From the sounds of it, there's a good chance that Wong's Doctor Aphra will become a favorite of many. And the writer is having a great time telling this new (mis)adventure. "Aphra is just so much fun," she says. "She's got a ton of personality and brings chaos to every situation she steps into. You want to follow her, because you never know what's going to happen. Sometimes, she's a hero. Sometimes, she's a villain. She's clever and hyper-competent, impulsive and arrogant, and her personal life is a flaming wreck. What's not to love?"
Check out a gallery of artist Marika Cresta's character studies below!
Star Wars: Doctor Aphra #1 arrives April 2020.
Dan Brooks is Lucasfilm's senior content strategist of online, the editor of StarWars.com, and a writer. He loves Star Wars, ELO, and the New York Rangers, Jets, and Yankees. Follow him on Twitter @dan_brooks where he rants about all these things.
Site tags: #StarWarsBlog