This new collection of novellas based on the casino city from Star Wars: The Last Jedi is not to be missed.
As our journey toward Star Wars: The Last Jedi draws to a close, Star Wars publishing has one more treat for you before the film's opening: Canto Bight, a collection of four novellas set against the luxurious backdrop of this dazzling city that attracts society doyennes, slick gamblers, wealthy opportunists, and even those just trying to make a living in the town's casinos, hotels, restaurants, and spas. Part Monte Carlo, part Casablanca, and all Star Wars, Canto Bight seems like the destination of your dreams…until you look a little closer. Here's why the new book set in this mysterious locale is essential.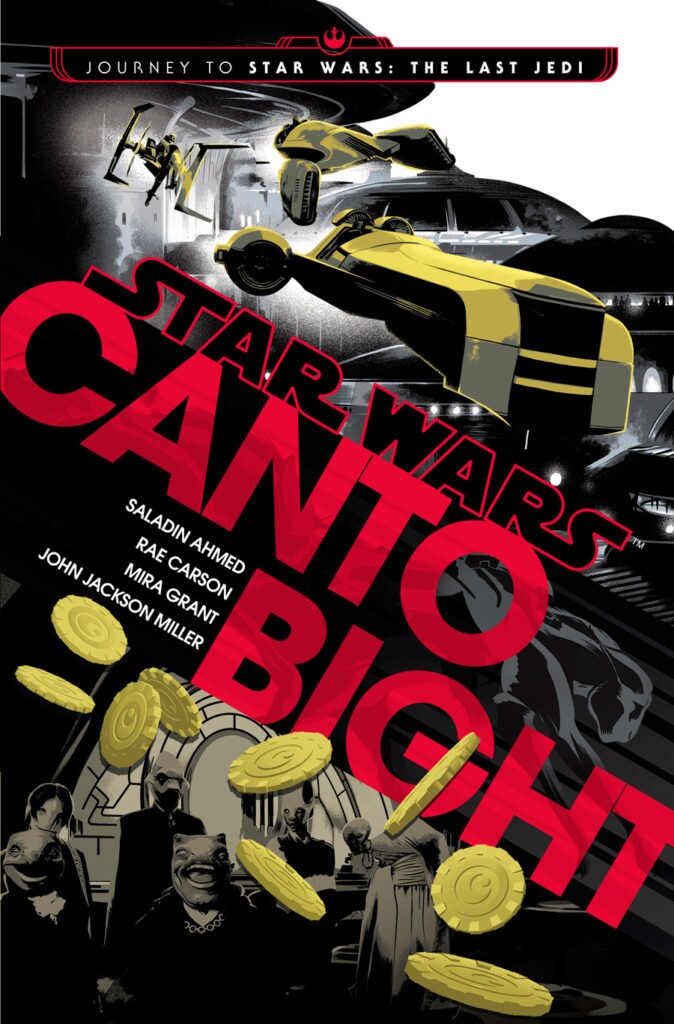 1. It takes place just days before The Last Jedi. The stories in Canto Bight will give you a sense of this extravagant locale right before we see it in the film. The film presents Canto Bight to us through Rose and Finn's eyes—so get the chance to "see" it through your own first. Besides, what you'll see in the film will have a stronger resonance when you already know some of the secrets lurking beneath the glitz and glam. And you just may recognize a face or two…particularly Ubialla Gheal, who appears in a truly unforgettable fashion in Mira Grant's "The Wine in Dreams."
2. Fathiers! I know we're all excited (really excited) about porgs, not to mention those cool crystal foxes, but fathiers are another species of beautiful creature introduced in The Last Jedi. They resemble horses, but are quite a bit larger, with great, almost bunny-like ears, and they are an integral part of the economy of Canto Bight. (Maybe the best part about fathiers is the names some are given, like "Kessel Runner" "Hard Luck," and "Time for Flatcakes.") Rae Carson's story "Hear Nothing, See Nothing, Say Nothing" features a character who works closely with these sweet creatures and gives us a glimpse of the culture surrounding them.
3. A new kind of locale for Star Wars. I don't think we've ever seen a location in Star Wars quite as richly glamorous as Canto Bight. There's something uniquely thrilling about such an enticing place dressed up in Star Wars trappings. Buy expensive wine, play a high-stakes game at the tables, surrender yourself at the luxurious spa…all while surrounded by some of the oddest-looking beings in the galaxy. Saladin Ahmed's story "Rules of the Game" introduces us to Kedpin, an unassuming salesbeing who has won a trip to Canto Bight and is overwhelmed by the plush surroundings and dazzling personages. Joining Kedpin on his wide-eyed journey is a great introduction to this den of dilettantes.
4. Fun. All four stories share the same setting and timeframe, but what they really have in common is a wonderful sense of humor. Times are stressful, so why not take a break and immerse yourself in Star Wars with hilarious, sparkling stories that bring the galaxy to life in a fresh, exciting way. I laughed my way through John Jackson Miller's "The Ride" and I know you will, too. Treat yourself to a good laugh and an all-expenses-paid vacation, even if it's only in the pages of a book.
Jennifer Heddle is senior editor of fiction for kids, teens, and adults at Lucasfilm. Follow her on Twitter @jenheddle.