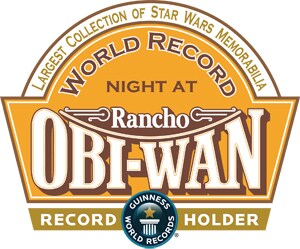 Party time! Who among us doesn't love to hear those words…especially if Star Wars is involved. Well, perhaps the party planner who has hundreds of details to attend to, tight budgets, deadlines to meet, occasional quirky people to contend with -- and a reputation to uphold.
We're just beginning to recover from the Nov. 2 World Record Night at Rancho Obi-Wan, an evening designed to mark our second anniversary as a nonprofit museum and to celebrate our inclusion in Guinness World Records 2014 as the "Largest Collection of Star Wars Memorabilia." As important, the event was a fundraiser to help us continue our mission of Inspiring through the Force of Imagination, which is a nice way of saying -- like any nonprofit -- we need to keep raising money to stay alive. More on that later.
Anne Neumann, Rancho vice president and general manager, worked on the fundraiser nearly full-time for months. I helped a bit, mainly by staying out of her way. When Anne is focused on something, she is a force of nature -- something like a hurricane -- so it's important to keep track of her path. And there were dozens of volunteers from the Star Wars community who helped us in advance -- everything from moving boxes and deep cleaning to installing some incredible new interactive electronics -- to get us ready; many also helped the night of the event.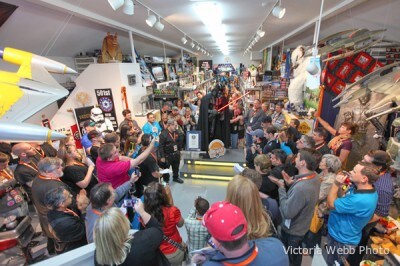 Anne and Consetta Parker, our head of marketing and publicity, made sure our members and others heard about the event. That was tricky because we had to wait until Guinness made its own media announcements worldwide in mid-September and we tied up some loose ends; finally we were able to announce the event September 23, something that would leave most event planners aghast since they suggest an announcement a year or at least nine month in advance -- but our party was just six weeks away!
At the same time we were approaching licensees and others asking them to become "name" sponsors of Rancho Obi-Wan or to contribute items to our live and silent auctions. I won't kid you. For me, asking for money and in-kind contributions is difficult. This all started as my private collection in 1977. Over the years, as it kept growing, and especially after the move to a former chicken ranch in Petaluma, California, in 1998, more and more people wanted to visit. It was finally Anne and Consetta who convinced me, about a year before I retired from Lucasfilm, that there was a way to do it. I could expand the "warehouse," open it to the public and give tours by incorporating and becoming a nonprofit.
The costs involved have been eye-opening. There's general upkeep and maintenance, heating and cooling 9,000 square feet of collectibles, security and fire systems, an umbrella liability policy, decent but barely sufficient insurance for the collection that costs over $6,000 a year, and much more. Not a penny that we raise goes to buying items for the collection -- that's all me along with occasional donations from licensees like Gentle Giant, eFX Collectibles, and Comic Images.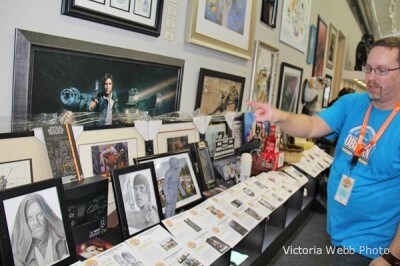 I lease the collection and the buildings to the nonprofit at no cost. We do free school and community outreach tours where we talk to kids about the creativity that gave birth to Star Wars and how fans have been inspired to take that to the next level by their choice of careers or channeling their own creativity. And we donate tours to other nonprofits that help them raise thousands of dollars a year.
But we've been incredibly fortunate because the Star Wars community is like no other. We got three name sponsors fairly quickly: Entertainment Earth, DK Books, and Tommy-Meyer Klipsch and his mother Judy, longtime Star Wars fans and supporters. A good friend who I met through buying Topps Star Wars cards, Rich Smolen, came aboard as our volunteer director of development and solicited some amazing original art for our auctions from artists that he knows. Licensees Gentle Giant, Hasbro, Comic Images, Hallmark, OfficialPix, and Museum Replicas as well as Prop Store, Dreams and Visions Press, and Ink Correct Bar Gear came through with items for the auctions or for our Guinness World Records "Officially Amazing" swag bags (which are still available to members on our web site for a donation).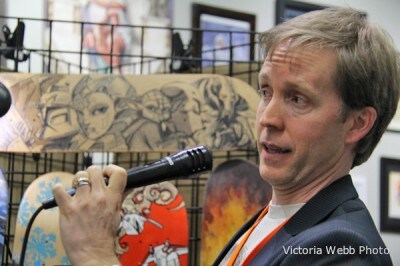 Despite the short timeline, we filled Rancho Obi-Wan at party time with more than 150 guests and volunteers, some from as far away as Australia and the UK. At exactly 5:01 p.m. (yes, of course that precise time is significant!) I unveiled the World Record framed certificate. Guests resumed roaming the museum, getting their photos taken with Darth Vader, and figuring out clues in a bounty hunt to collect 15 Rancho Obi-Wan trading cards -- the last one being a sketch card from artist Lee Kohse. There was a balloon pop -- pick a dark or light side dart and pop one of 50 balloons and win the prize noted on a slip of paper inside. And there was great food and Star Wars character-topped cupcakes for desert.
Talented artists Denise Vasquez and Randy Martinez -- who are also talented musicians and singers -- performed two sets. Only Randy could write a song called "Padmé" and make it really good. And the irrepressible and wonderful James Arnold Taylor, a longtime supporter of Rancho Obi-Wan, performed an excerpt from his one-man show "Talking to Myself," where he gave voice to characters ranging from Fred Flintstone and Huckleberry Hound to Johnny Test and The Clone Wars' Obi-Wan Kenobi. Other Clone Wars guests were Cat Taber (Padmé), Tom Kane (Yoda), and supervising director Dave Filoni who claims to be very busy with some new Star Wars animated project!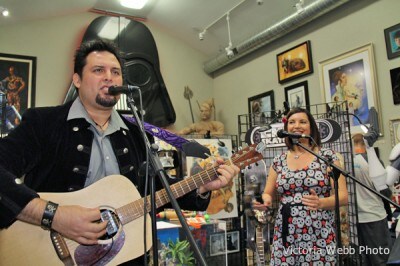 Michonne Bourriague (Aurra Sing in Episode I) was there to meet two cousins who came with a large contingent of Seattle-area fans. A good friend from Mexico and a number of Canadians made it, part of a wedding we held at Rancho for fellow collector Ross Cuddie and Charmaine Picot the day before the fundraiser.
Besides circulating, greeting guests and answering questions, my fun part of the evening was running an hour-long live auction. There were any number of pieces I wanted to bid on myself -- which was a good sign, really -- but I kept my bidder number in my pocket and watched a lot of visitors walk away with some real treasures. The true treasure, of course, was providing a wonderful evening and making a lot of fellow Star Wars fans very happy. Maybe we'll do it again!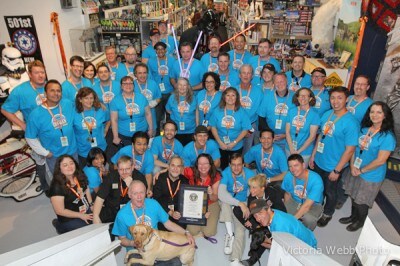 Steve Sansweet, head of Fan Relations at Lucasfilm for 15 years and now Fan Relations Adviser, is chief executive of Rancho Obi-Wan, a non-profit museum that houses the world's largest private collection of Star Wars memorabilia. To find out about joining or taking a guided tour, visit www.ranchoobiwan.org. Follow on Twitter @RanchoObiWan and https://www.facebook.com/RanchoObiWan.