The Dark Lord of the Sith and a fan-favorite Star Wars: The Clone Wars freedom fighter return, and more character names are revealed.
Earlier today on EW.com and The Star Wars Show, full names were revealed for the heroes and villains of Rogue One: A Star Wars Story. But not all are new to Star Wars. It's time for fans to welcome back two characters from Star Wars past: Saw Gerrera and Darth Vader.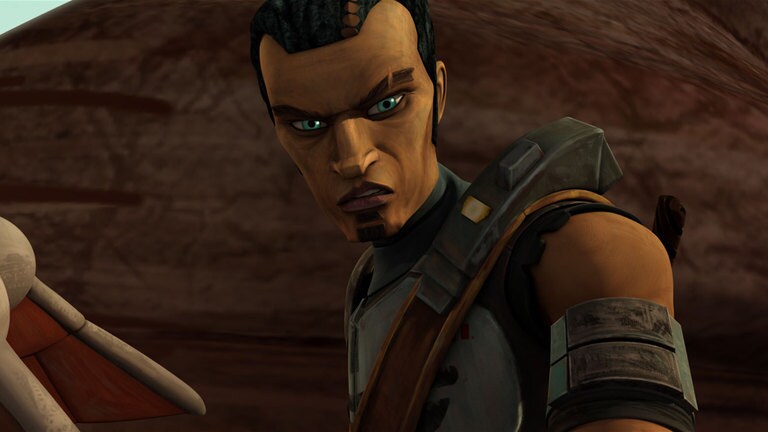 Saw Gerrera, played by Forest Whitaker in Rogue One, originally debuted in "A War on Two Fronts," the first installment of a four-episode arc of Star Wars: The Clone Wars. Voiced by Andrew Kishino, Saw helped lead a rebellion against the Separatist droid occupation of his home planet Onderon and, along with his insurgent group, received training and fought alongside Anakin Skywalker, Ahsoka Tano, and Obi-Wan Kenobi. He was tough, a natural leader, and essentially laid the groundwork for what would become the Rebellion. Rogue One finds him years later, and it appears Saw has only grown more hardened and grim, his methods more extreme. "Consider him kind of a battered veteran who leads a band of Rebel extremists," Lucasfilm president Kathleen Kennedy told EW. "He's on the fringe of the Rebel Alliance. Even [they] are a little concerned about him." In today's episode of The Star Wars Show, Pablo Hidalgo of the Lucasfilm Story Group discusses how Saw Gerrera was created, developed, and then made an integral part of Rogue One. 

As 
Rogue One 
is set prior to the events of 1977's 
Star Wars: A New Hope
, fans long speculated that Darth Vader would be featured in the movie. Lucasfilm confirmed the Sith Lord's inclusion, though no more details have been disclosed.
The rest of Rogue One's character lineup, including the rebel strike team and Imperials seen in the film's trailer, are: Jyn Erso (Felicity Jones), Captain Cassian Andor (Diego Luna), Chirrut Imwe (Donnie Yen), Baze Malbus (Jiang Wen), Bodhi Rook (Riz Ahmed), K-2SO (Alan Tudyk), Galen Erso (Mads Mikkelsen), and Director Orson Krennic (Ben Mendelsohn). Head over to EW.com for exclusive details on each character.
For fans of The Clone Wars -- and the dark side -- there's even more reason to be excited for Rogue One.
Rogue One: A Star Wars Story, which tells the story of resistance fighters who have united to steal plans to the dreaded Death Star, hits theaters December 16, 2016.
StarWars.com. All Star Wars, all the time.