The voice of Hera joins executive producer Dave Filoni for a special Star Wars Rebels panel!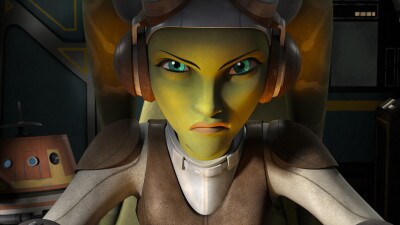 WonderCon is back at the Anaheim Convention Center this weekend, but now with 100% more ace Twi'lek pilots: Vanessa Marshall, voice of Hera on Lucasfilm's upcoming animated series, will be joining Dave Filoni on his special "Behind the Scenes of Star Wars Rebels" panel. Hera is the steel-willed captain of the Ghost starship, and the heart of the show's fledgling group of Rebels. Like the rest of the team, she has her own reasons for wanting to fight the Empire; uncovering those reasons will be part of the journey of Star Wars Rebels. "Every time we get a script," said Marshall in the character's introductory video, "I am breathless with anticipation. I cannot wait to read what's next because I want to see where we're going, too."
Check out a full list of Star Wars-related programming at WonderCon after the jump!
Behind the Scenes of Star Wars Rebels
Executive producer Dave Filoni (along with special guests) present an exclusive look at the highly anticipated television series. Star Wars Rebels is set between Episodes III and IV, and it is a dark time in the galaxy. In the spirit of the original trilogy, the Empire is once again the preeminent villain of the saga, and Star Wars Rebels puts the might of Imperial forces in the spotlight. Produced by Lucasfilm Animation and featuring many of the key talents from the Emmy Award-winning Star Wars: The Clone Wars, Star Wars Rebels is scheduled to premiere this fall as a one-hour special telecast on Disney Channel; it will be followed by a series on Disney XD channels around the world.
Saturday, April 19
2:00 p.m. - 3:00 p.m.
Room 300AB
How to Build Your Own R2
Come pick the brains of some local R2 builders to learn what it takes to build your own R2. Panelists Chris Romines, Mike McMaster, Mike Senna, and William Miyamoto will give you a look into the world of building a fully functional Star Wars R2 astromech. The panel is hosted by fellow builder Victor Franco.
Friday, April 18
5:00 p.m. - 6:00 p.m.
Room 207
501st and Rebel Legions: Costuming for the Good of the Galaxy!
Have what it takes to create an amazing Star Wars costume? Want to know more about joining the 501st Legion and/or Rebel Legion? "Trust in the Force"...and a little assistance from members from the 501st Legion (The Bad Guys) and the Rebel Legion (The Good Guys) who are here to help. Learn about basic costuming standards, what's involved, how to join, and more!
Friday, April 18
12:30 p.m. - 1:30 p.m.
Room 203
The Making of The Star Wars
WonderCon Anaheim special guest artist Mike Mayhew (Avengers) goes behind the scenes of the Diamond GEM Award-winning series, The Star Wars, from Dark Hose Comics. Mike will take you on a tour of the universe that was never meant to be, from its mysterious origins to a sneak peek at the collected volumes coming this summer.
Friday, April 18
5:30 p.m. - 6:30 p.m.
Room 203
The Psychology of Star Trek vs. Star Wars: Episode III
Psychologists Dr. Andrea Letamendi (UnderTheMaskOnline.com) and Dr. Ali Mattu (BrainKnowsBetter.com) bring their popular, intergalactic sci-fi battle back to WonderCon Anaheim for round 3! These geeky psychologists step into the pop culture ring, this time with a focus on the character relationships from these two legendary franchises. Special panelists include actors Chase Masterson (Star Trek: Deep Space Nine) and Catherine Taber (Star Wars: The Clone Wars). Join a side and cast your vote as they crown one as the winner! Impartially moderated by Brian Ward (The Arkham Sessions).
Saturday, April 19
7:30 p.m. - 8:30 p.m.
Room 213