It's Con Season, and Star Wars Rebels executive producer Dave Filoni details everything you need to dress as the show's ace Twi'lek pilot.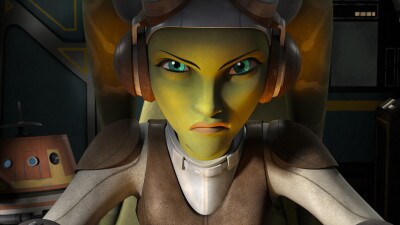 Hey guys,
Sorry for the delays between posts, but I've been pretty busy as you can imagine. Things are going really well on Star Wars Rebels, and I'm very proud of the work the team is doing. I also know that you guys are hard at work getting ready for Comic-Con, and other conventions for this summer, and many of you have asked for some insights as far as what materials are used in some of the costumes on Rebels. It is always a challenge taking an animated style and translating into an actual costume, so I thought I would do a quick breakdown of some of the characters, as we head into Con Season. I might not be able to get to them all, but I will start with one that has been requested quite a bit: Hera. I hope this breakdown helps. Any other need-to-know questions are welcomed and I will try to answer them as I have time. Thanks, and good luck with the costumes.
Hera:
Hera's costume is a mix of a classic X-wing pilot's outfit with elements found on WWII-era pilot- and tank-crew gear.
The basic elements are:

Lekku, which are connected to a pilot's headgear.
A radio headset with attached goggles. I suggest once you have crafted or kitbashed this piece that you connect it to the above lekku/headgear, and fasten it all with a small buckle or Velcro under the jaw. As always, the lekku will present a weight problem -- try to pull your chin up and head back. Many costumers are making great lightweight lekku these days. Keep them light and flexible, and it will make the long Con-day less of a hassle.
There is a shirt, probably cotton, lightweight with puffy sleeves, and a strap around the neck which is not very functional, but mainly for design.
A chest/shoulder assembly made of embossed leather. This is more like well-worn leather armor, flexible, not too rigid, except in the shoulders. You may want to connect the shoulders to the chest piece with small straps; this might be better than letting the weight sit on the shirt.
The pants are the same material as an X-wing flight suit. They have a belt with a similar X-wing type rigging of straps around the legs. Not that in the center of the pants they rise above the waist. I would put a button snap here, to fasten the pants to the chest piece. Also, there is a piece of more rigid leather right on the abs with buttons on it, as well. You might try sewing this piece to the pants so that it helps support the pants when attached to the chest piece.
The boots are leather with a piece of plastic formed to the foot. This is somewhat similar to a hockey skate guard, but more likely in line with Stormtrooper armor. The plastic should bend with the foot -- watch out that it does not cut into your foot!
The gloves are a soft leather, not as warm brown as the other leather parts. Definitely large, like an engineer's gloves, and a very soft leather, well worn.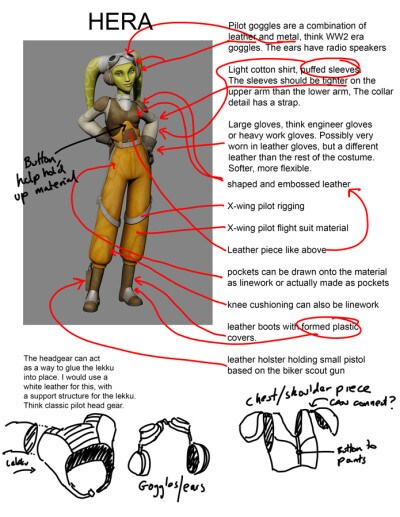 I also included a back view so you can get the full turnaround. I know it is hard to get a look at the characters from all angles, even when the episodes are out, so here is a pretty good view of the back. The whole crew loves it when we go to a Con and see a Hera, or any character that we have created, come to life and walk up to us. Thanks for the effort and support of the show.
Next up: Sabine.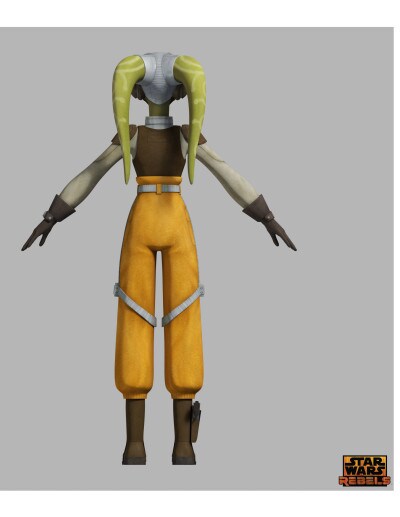 Thanks,
Dave