AHSOKA NEEDS YOUR HELP! PLEASE SPREAD THE WORD AND PLEASE VOTE TODAY! #VOTEAHSOKA
CLICK HERE TO VOTE FOR AHSOKA!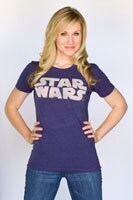 Ashley Eckstein is the voice of Ahsoka Tano on Star Wars: The Clone Wars and also the founder of Her Universe, the first merchandise line made exclusively for female Star Wars fans! You can follow Ashley on Facebook and Twitter.