Go inside the saga-spanning exhibit, arriving November 13 at the Denver Art Museum.
Standing before a row of Queen Amidala's gowns is like peeking behind the curtain before a couture runway show. Hand-smocked velvet gives way to gossamer silk chiffon; substantial grosgrains mingle with fine filigrees and a playful feathered cape. Some look a tad bit uncomfortable -- one gown actually calls for the wearer to straddle a car battery to illuminate a series of globes at its rigid base -- while others are just plain covetable, but each has the unmistakable air of royalty.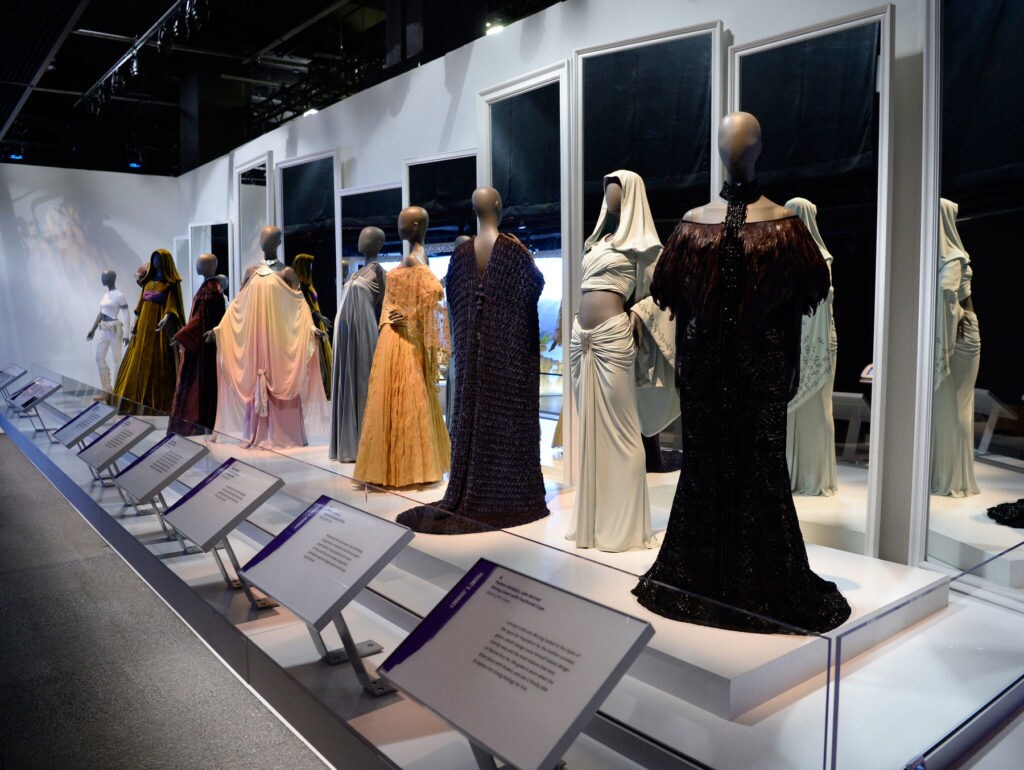 Here, among a hand-picked collection of cinematic wonder, curators behind the touring exhibit "Rebel, Jedi, Princess, Queen: Star Wars and the Power of Costume," tell the story of the creative process from eclectic inspirations to physical manifestation. StarWars.com visited the exhibit during its final days in New York City, with an eye towards its November 13 opening at the Denver Art Museum. 
In dressing the inhabitants of a galaxy far, far away, costume designers evoke mythological heroes and real-life astronauts, Eastern royalty, and pre-Raphaelite models. Breathing life into George Lucas' vision, conceptualized by artists such as Ralph McQuarrie and Iain McCaig, then designed by the likes of John Mollo and Trisha Biggar, required international travels to find perfect fabrics.
Sometimes even their lunch became fodder for a dazzling headdress. As the story goes, Biggar and her team were taking a break from working on the prequels one day and eating abalone. "They're looking at these shells and, after they were done with their lunch, they had the waiter put them in a doggie bag," says Saul Sopoci Drake, the exhibitions developer behind the show. "Those particular shells ended up in Queen Jamilla's crown."
Jamilla's full regalia is one of about 70 pieces, including the armored bodies of bounty hunters and droids, the monk-like robes of the Jedi and Sith, and the iconic looks of the classic films.
Craftsmanship and artistry
Drake, of the Smithsonian Institution Traveling Exhibition Service, and Laela French, director of archives for the Lucas Museum of Narrative Art at Skywalker Ranch, worked together to cull from the thousands painstakingly preserved pieces to brilliantly illuminate the creative undertaking and the intricacies of each costume. For the marriage of Anakin and Padmé, costume designer Biggar stayed up all night before the shoot to pearl the wedding gown, which had already been fashioned from a 20th century antique Italian lace bedspread and embellished with over 300 yards of French knit braid.
The exhibit gives fans a chance to get within reach (but not too close -- no touching) to examine Biggar's handiwork. "When you see them up close, you can really appreciate the details and craftsmanship and artistry," Drake says. "There was so much time and effort and detail. Some are works of art. Others are fashion statements."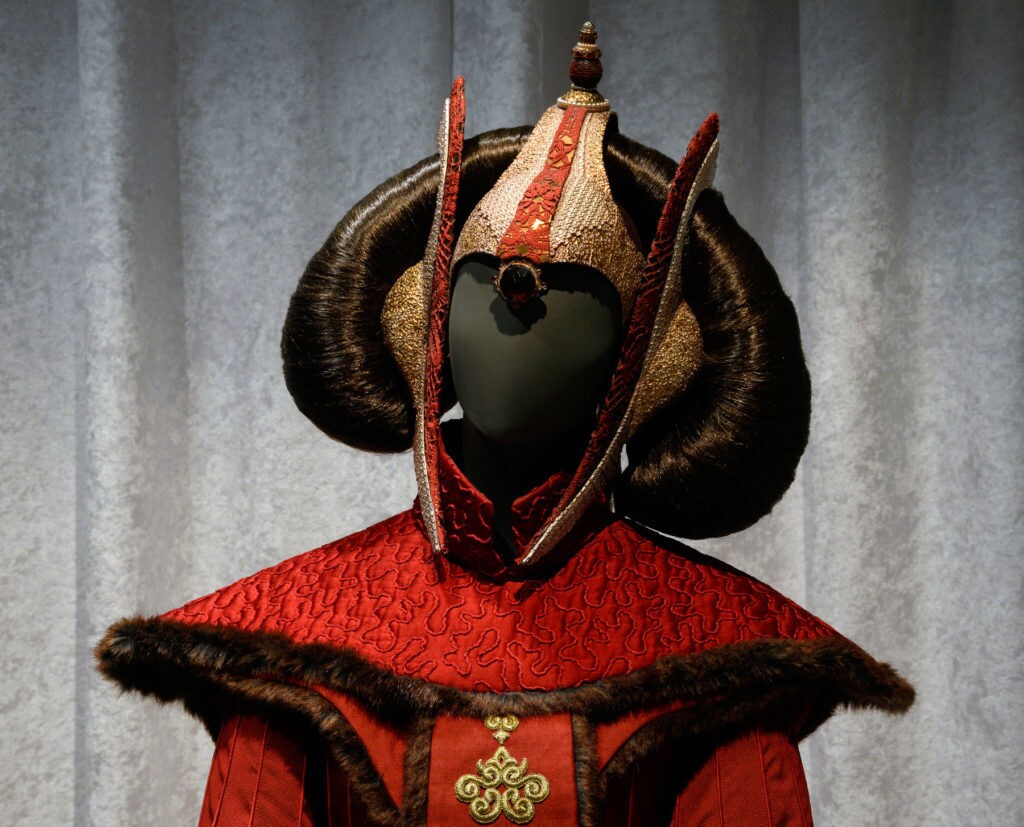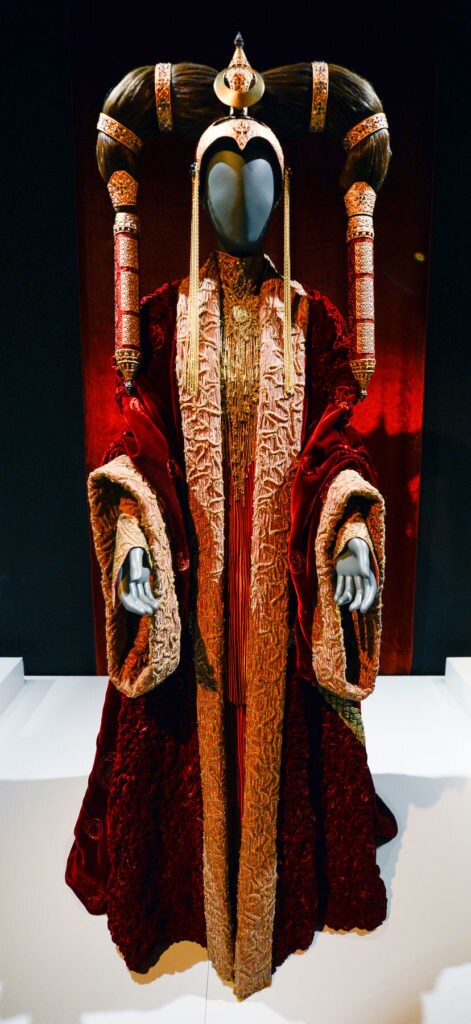 Take, for example, Amidala's vast wardrobe, equal parts haute couture and cultural homage. The character had so many costume changes over three films that some gowns that took months to create but were on screen for mere seconds. Among Drake's favorites is a senate gown that boasts an opulent Mongolian-inspired head piece, which along with everything else in the show must travel in a carefully-packed custom crate. "On a symbolic level, when you look at this headdress, this person isn't digging ditches. She's the queen of some people," he says. Those nonverbal cues, in this case a nod to Tibetan royalty's court regalia at the turn of the century, imbue many characters with a clear purpose as soon as they walk onscreen. "Truly on a symbolic level there are some powerful things at play here."
'The ultimate bad guy'
The open air platforms where many of the costumes are perched has been a gift to passionate cosplayers. On occasion, Drake has also fielded their requests for behind-the-scenes knowledge. Before packing up the show in New York City in September, he was tasked with measuring part of Alec Guinness's Obi-Wan Kenobi robe for a man who was building his own Jedi garb and couldn't quite perfect the belt. "It's a testament to the veracity of the fan base," Drake says. "You have really passionate fans who live and breathe this stuff."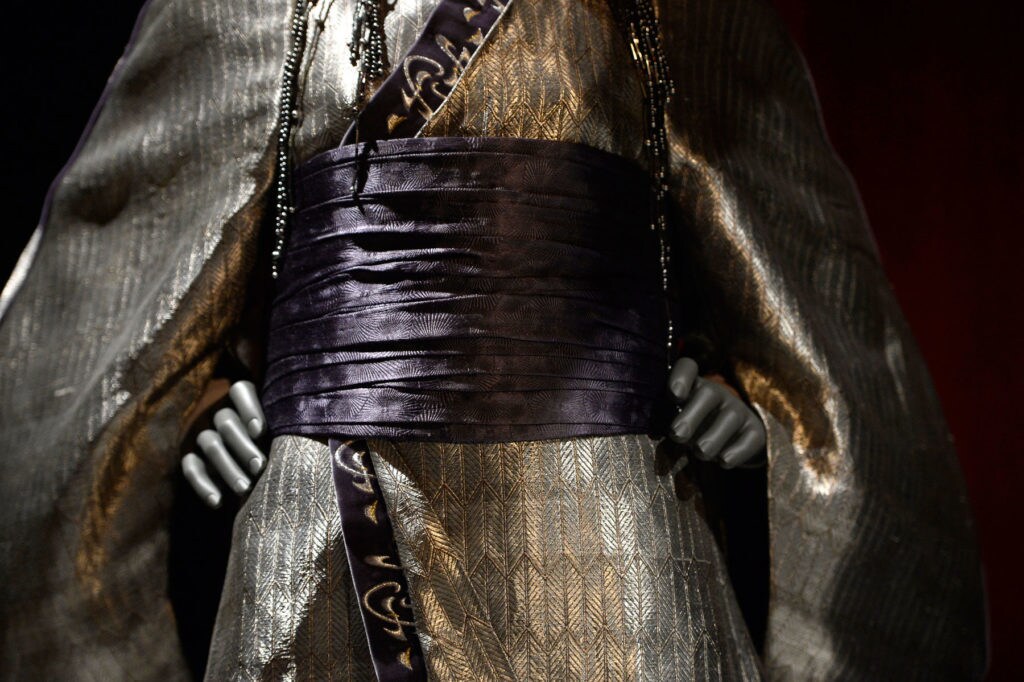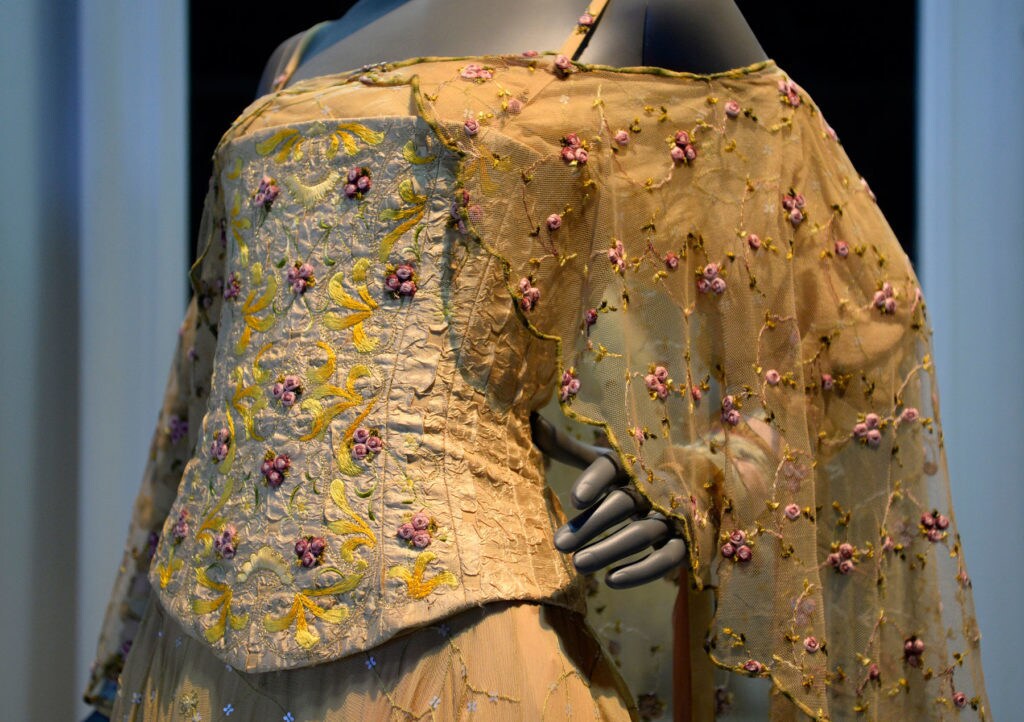 Amidala's gowns, specifically, are staggering in number and splendor. Up close, one can study the brocade lining sumptuous bell sleeves, fine collars made from clustered seed beads, and the feathers and rosettes adorning ensembles with delicate precision. In contrast, Jedi and Sith robes appear deceptively simple, like the humble trappings of monks. But up close one can see the way fabric layers allowed Sith apprentice Darth Maul's tunic to fan out in choreographed splendor, or examine the finely tooled leather gauntlets of Mirialan Jedi Luminara Unduli.
It was important for Drake to trace back the cultural influences that combined to make pieces at once familiar and wholly unique. George Lucas' own library at Skywalker Ranch encompasses a vast reference material collection. "This library rivals some university libraries in terms of depth and breadth," Drake says. "All of these costumes in one way or another are somewhat familiar to us. We've seen aspects of them in cultural and world history."