Cavan Scott's thrilling Star Wars: The High Republic audiobook original will be published in script form.
Fans can soon revisit the story of the villainous Lourna Dee -- in a whole new way.
StarWars.com is excited to reveal that Star Wars: The High Republic: Tempest Runner, an audiobook original published earlier this year, will be released as a script in book form on March 1, 2022. In Tempest Runner, a group of Jedi continue their search for Lourna Dee, one of the marauding Nihil's deadliest leaders. The hardcover version will include Scott's stage directions, written sound effects, and notes to the audio team; you can get first look at the cover below.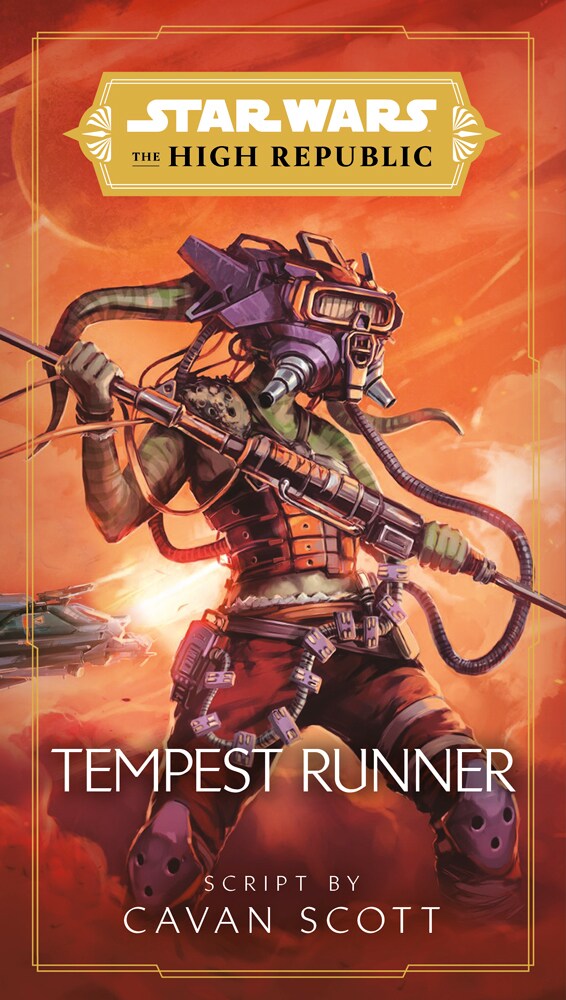 "I'm really excited that Tempest Runner is following in the steps of Dooku: Jedi Lost and Doctor Aphra in getting a physical script book edition," Scott tells StarWars.com. "Not only is it useful for the kind of people who need to know exactly how character's names are spelled (and yes, and I am definitely one of those people), it's also really important for folk with a hearing impairment. Now everyone can share Lourna Dee's story, while also getting a little glimpse behind the curtain of how we make these audio adventures."
Get ready to ride with Lourna Dee and the Nihil one more time.
Star Wars: The High Republic: Tempest Runner hardcover edition arrives March 1, 2022, and is available for pre-order now; the audiobook original is available now.
Visit Lucasfilm's official hub for all things Star Wars: The High Republic at StarWars.com/TheHighRepublic.