The tough Lasat with a heart of gold continues to evolve.
Studying Skywalkers is an exclusive column that investigates the characters, themes, and lessons of Star Wars from an educational, literary perspective. In this installment, StarWars.com looks at Zeb's growth in Season Two of Star Wars Rebels.
Recently, Star Wars.com has looked at Kanan and Hera's growth in Season Two of Star Wars Rebels, as well as the development of Ezra and Sabine; these four characters help form the crew of the Ghost, but there is another: Garazeb "Zeb" Orrelios, the last survivor of the planet, Lasan. Through much of the series, Zeb has taken a bit of a back seat to the previously mentioned characters, but that does not make him any less important. In fact, once he takes center stage, we learn much more about not only Zeb, but the Star Wars universe, as well.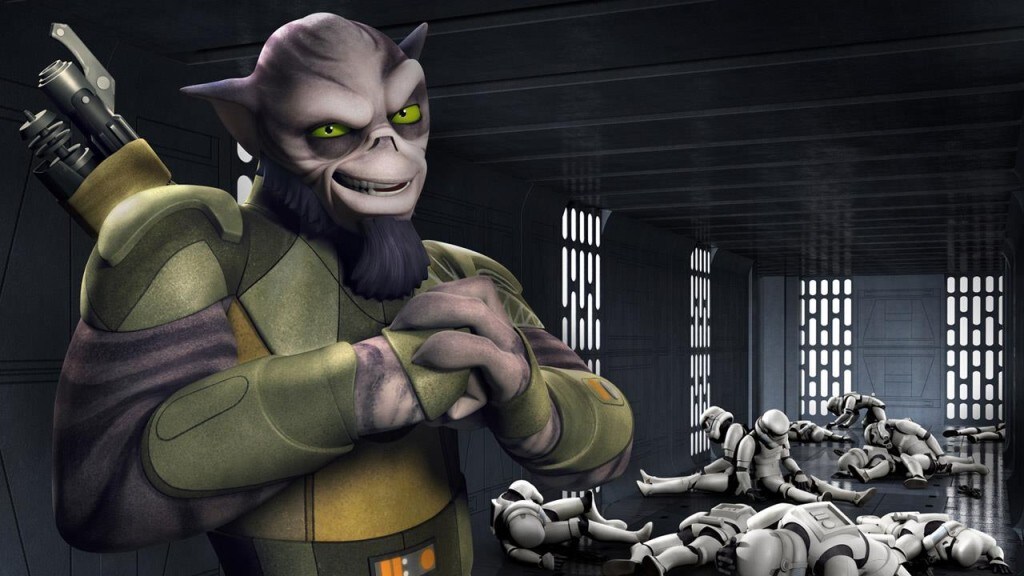 For much of the run of Star Wars Rebels, we have known very little about Zeb. Zeb was a member of the Lasat honor guard, and is a fierce combatant, as well as an adept strategist, and a highly intelligent member of the Ghost crew. He was believed to be the last of his people, after they became a victim of genocide, courtesy of the Empire. However, this changed in the episode "Legends of the Lasat."
As is often the case in a bildungsroman (a novel or story where the character matures and comes of age), Zeb has to come to grips with his past, in order to create an identity for himself in the future. His guilt at not being able to prevent the Empire from destroying the people of Lasan has remained with him for a long time, and clouds his vision now. He then turns to his surrogate family, specifically his "younger brother" figure, Ezra Bridger, and shares his feelings of responsibility over what happened.
Zeb tells Ezra, "I failed my people that day," and begins to express a desire to remove the shackles of his self-imposed culpability, to which Ezra replies, "So don't fail them now." This is not the first time that Star Wars has demonstrated character arcs where evidence of posttraumatic stress disorder is present, and it reveals vulnerability in Zeb not truly expressed until this point in the series. Zeb's guilt is out of place, as it is reasonable to assume he did everything in his power to save his people. He now has a second chance, and once he learns to focus his energy in a positive way, things become much clearer.
The metaphor springs to life in a poignant scene: Chava the Wise mentions the Ashla (another term for the Force) has brought them together for prophecy. This prophecy involves the fate of three: the fool, the warrior, and the child. The number three has long been sacrosanct in literature and storytelling, and we learn that Zeb has all three of these elements: he was foolish to deny a part of himself (and to be tricked by Hondo), he is a warrior for fighting for his family (and for battling his inner demons), and he is a child of Lasan (and he harnesses the innocence of a child, which allows him to believe in the prophecy).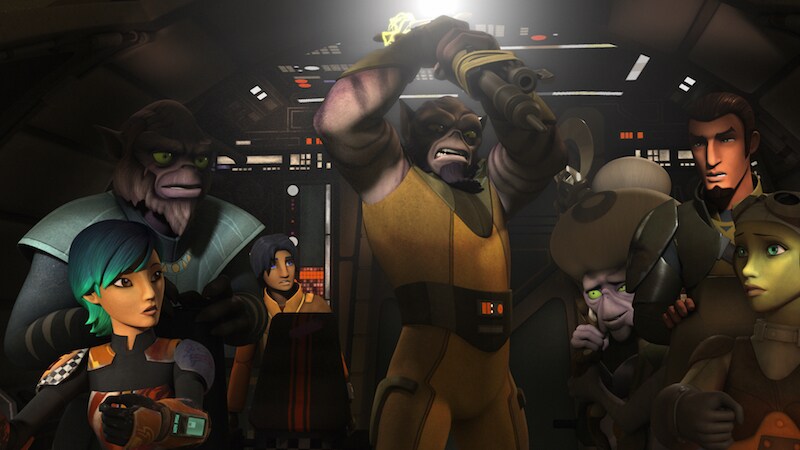 Once he accepts all aspects of his persona, he activates his bo-rifle, and yellow light cascades throughout the cockpit of the Ghost. The yellow light (signifying happiness in many cultures) is also the color most often associated with a deity. While Zeb is not a god, he certainly finds enlightenment and happiness, and, similar to Moses, uses a staff to separate the natural world and lead his people to the Promised Land, Lira San.
In "The Honorable Ones," which premieres tonight on Disney XD, Zeb faces another test of who he is and who he wants to be, as he's stranded with his most hated enemy, Agent Kallus.
How has Zeb changed for you as a character throughout this series? Let us know in the comments below, and stay tuned to StarWars.com for the latest news and analysis of Star Wars Rebels.
Dan Zehr is a high school English teacher with an MS in Teaching and Learning, and runs Coffee With Kenobi (with co-host Cory Clubb), a Star Wars podcast that analyzes the saga through critical thinking, analysis, interviews, and discussion. He is also a member of the Rogues (as Blue Leader), a network of teachers that incorporate Star Wars in the Classroom.