Check out an all-new still from the final film in the Skywalker saga and learn how eight iconic brands are celebrating its release!
Star Wars: The Rise of Skywalker arrives in our galaxy this December -- and today Lucasfilm and the film's eight promotional partners have joined forces via a coordinated social moment to reveal a first look at Babu Frik. The tiny Anzellan droidsmith, first glimpsed in toy form during the Triple Force Friday livestream event, works among the Spice Runners of Kijimi and can reprogram or modify virtually any droid -- regardless of the security measures protecting its systems. Check out the full still of Babu Frik below!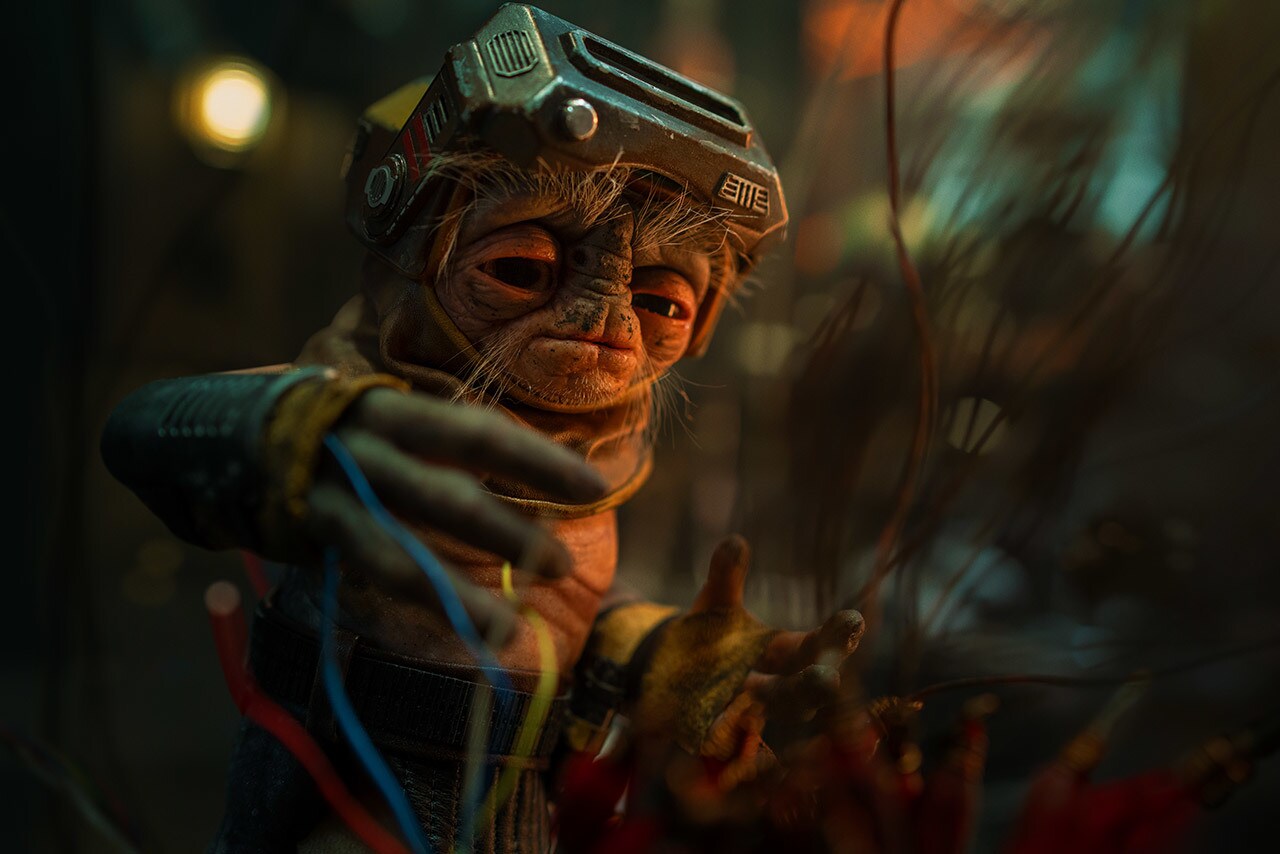 The unveiling of the new alien comes in celebration of a once-in-a-lifetime chance for you and a friend to attend the red carpet premiere of Star Wars: The Rise of Skywalker ahead of its December 20 release! For official rules and to enter the sweepstakes*, which includes a prize package with two tickets to Star Wars Celebration in Anaheim next year, click here. To be eligible, entrants must have a registered Twitter account and participate using only the hashtag #TheRiseOfSkywalkerSweepstakes and tagging @StarWars in a tweet.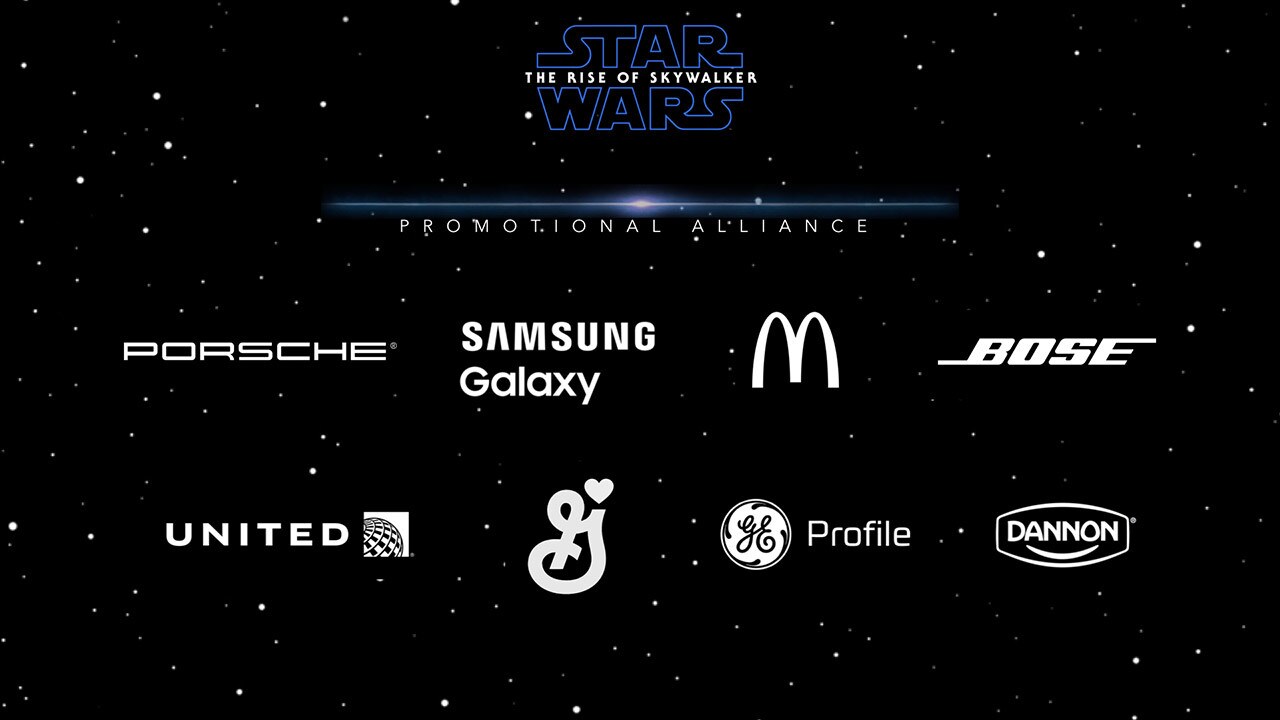 Eight major brands -- United Airlines, Porsche, Bose, Samsung Mobile, GE Appliances, McDonald's, General Mills, and Dannon -- came together to share segments of the new image on their individual social platforms and help reveal the new character. And Lucasfilm is excited to announce that each brand partner will also be hosting individually curated and innovative programs leading up to the debut of Star Wars: The Rise of Skywalker:
United Airlines: This fall, United Airlines is inviting guests to fly the friendly galaxy. Check out special nods to Star Wars: The Rise of Skywalker featured onboard, at upcoming film-inspired experiential activations, and fabulous first-of-its-kind programming for fans across the galaxy to enjoy. United Airlines will debut a special aircraft design in celebration of the conclusion of the Skywalker saga this November, taking to the skies among approximately 4,950 flights a day to 358 airports across five continents as part of the world's most comprehensive route network.
Porsche: Porsche is excited to collaborate with Lucasfilm to celebrate the release of Star Wars: The Rise of Skywalker and the timeless design of these iconic brands will be honored in a way that is sure to ignite enthusiasm among two of the most passionate fan-bases in the galaxy. The collaboration coincides with both the release of Star Wars: The Rise of Skywalker, and the US launch of the all-new, fully electric Porsche Taycan, marking a seminal moment in the history of Porsche. For more information on Porsche or the Taycan visit the official site or follow @Porsche on social media.
Bose: Bose will provide audio augmented reality experiences through the official Star Wars app, bringing fans closer to the saga than ever before. With Bose AR-enabled wearable devices, fans can unlock an all-new, 360-degree audio storytelling journey into the Star Wars universe.  Bose Noise Cancelling Headphones 700, Bose QuietComfort 35 wireless headphones II, and Bose Frames each have Bose AR capabilities built in, with embedded motion sensors that can detect head orientation and body movement.  The Star Wars app, enhanced with Bose AR, will use that information to deliver deeply immersive audio content. For more information on Bose, visit the official site.
Samsung Mobile: Samsung Mobile celebrates the release of Star Wars: The Rise of Skywalker with a special collaboration that showcases a connected world powered by the Galaxy. Samsung Mobile's vision is to be the innovator of new mobile experiences that inspire the world and shape the future with transformative ideas and technologies. For more information on Samsung Mobile, visit the official site.
GE Appliances: GE Appliances, driven by the force to create "good things, for life," will harness the Force of Innovation with its GE Profile series, helping families to make their homes and lives easier through meaningful advances in smart technology for the kitchen and laundry room. GE Profile is joining forces with Star Wars: The Rise of Skywalker to bring fans special film engagement opportunities with appliance retailers around the country, as well as a national advertising spot. Find more on the latest home solutions at the GE Appliances official site.
McDonald's: McDonald's is inviting families to celebrate Star Wars: The Rise of Skywalker with an out-of-this-world Happy Meal experience. Each Happy Meal will include 1 of 16 exclusive, stylized Star Wars collectible characters. Plus, there's an exciting surprise with each toy: when opened and lit up, each one reveals one of four Star Wars hologram images with a unique connection to that character. Families in the US will have the opportunity to extend the excitement with a sweepstakes opportunity with each Happy Meal!
General Mills: Big G Cereals, Chex Mix, and Nature Valley have teamed up for Do Good in the Galaxy, an interactive campaign that benefits Feeding America. Between October 15, 2019 and May 14, 2020, scan participating packages or the character tattoo found inside Big G Cereals to unlock a special activity in the official Star Wars app. Complete the game to trigger a 10 cent donation from General Mills to Feeding America, enough to help secure one meal, up to a maximum donation of $100,000. For more, check out the General Mills official site.
Dannon: Danone North America, the leading maker of yogurt in the U.S., is celebrating the release of Star Wars: Rise of Skywalker with families across the country.  Danimals, the No. 1 kids brand in the dairy aisle, along with family favorites YoCrunch and Dannon, will be dressed up as your favorite characters from Star Wars: Rise of Skywalker. Danimals is proud to continue fueling the adventures of kids in our galaxy with six new Star Wars smoothie bottles to collect. YoCrunch is bringing the magic of the light side and the dark side to families with out of this world custom Star Wars toppers. And Dannon non-fat yogurt drinks will include four intergalactic Star Wars characters to collect, too! Danimals, YoCrunch, and Dannon Star Wars items will hit shelves nationwide in November 2019 in the dairy aisle. For more on Dannon, check the official site.
*NO PURCHASE NECESSARY. VOID WHERE PROHIBITED BY LAW. Open only to legal residents of the 50 United States and District of Columbia, age 21 and older. All entry tweets must be submitted between 12:00am ET on October 2, 2019 and 11:59pm ET on October 8, 2019. Entries must be submitted via Twitter using entrant's registered account. One entry per person per day only. ARV of the prize is $4,925. Odds of winning depend on the number of eligible entries received. All portions of this sweepstakes, including tweet content requirements and restrictions, are subject to the Official Rules located at www.starwars.com/the-rise-of-skywalker-sweepstakes-official-rules. Sponsored by: Walt Disney Studios Motion Pictures, 500 S. Buena Vista Street, Burbank, CA 91521. Sweepstakes is not sponsored, endorsed or administered by Twitter.
StarWars.com. All Star Wars, all the time.
Site tags: #StarWarsBlog