The actor tells StarWars.com what inspires her performance, how she connects with the mysterious young clone, and much more.
There's a lot of Michelle Ang in Omega, the newest member of Clone Force 99, on Star Wars: The Bad Batch. The actor was invited to use her native New Zealand accent, an homage to fellow Kiwi Temuera Morrison who originated the role of Jango Fett and the clone soldiers in the prequel films. But Ang also imbues the character with the child-like wonder she sees in her now four-year-old son as he discovers new parts of our own world each day. And, perhaps mostly importantly, since being quested to bring young Omega to life for the Disney+ Original Series, Ang has found new ways to tap into her natural earnestness, which lends itself well to Omega's innocence, and the way she interacts with the world as an Asian woman and performer who doesn't fit Hollywood's leading lady stereotype.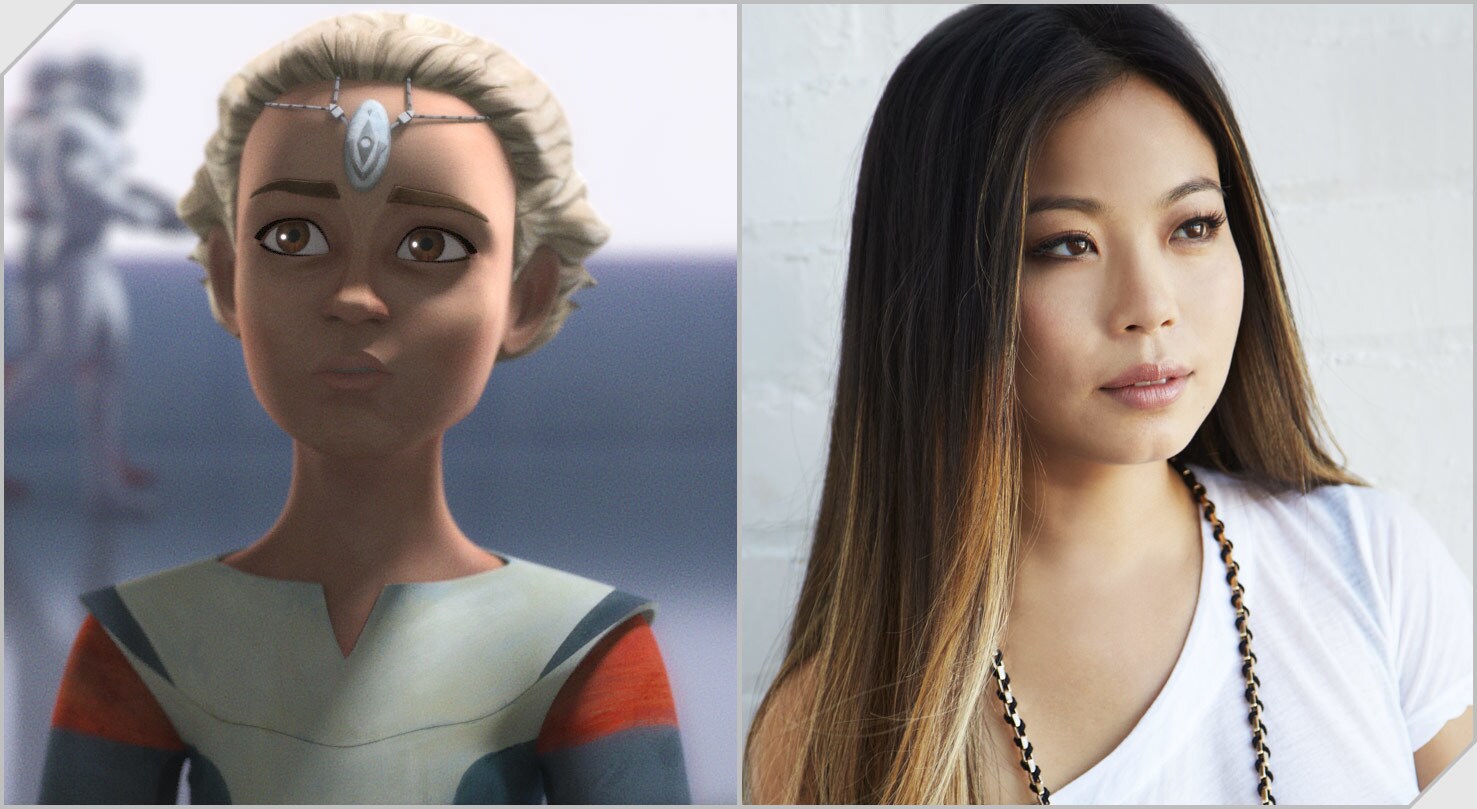 "A lot of that is sense memory as opposed to looking at external references. At the end of the day, to really inhabit an experience you sort of have to -- or my technique is to -- find touchstones that really resonate with you that are sort of parallels," Ang tells StarWars.com. "The idea of looking or seeming inconsequential, but feeling like you've got so much to contribute," she adds with a laugh. "I think just as a woman of color and someone who maybe isn't a traditional sort of television star or movie star or whatever, you know, there have been times in my personal professional life where I've felt like, 'I've got so much to offer, I just want you to give me a chance!' So I think that aspect of Omega and I converge quite a bit." She also finds she and Omega share similar outlooks in other ways. "I'm someone who really likes to look at the world and see people and give people the benefit of the doubt and take all the richness…. I'm not really much of a cynic in my real-world life and I think that's a wonderful quality that I can bring to Omega in the sense that she's also quite an optimist. But hers has more to do with innocence and youth."
And even though Ang and Omega may not look similar at first glance, getting to use her natural-born accent was a gift. In fact, as Ang speaks by telephone from an undisclosed set, the voice on the other end of the line could easily be mistaken for Omega all grown up. "It's nice for me, in terms of representation. It's not my face on this project -- it's just my voice," Ang says. "But as someone who might not visually be what the world thinks of when they think New Zealander, because I am of Chinese/Malaysian descent, on a personal level it was great to be embraced for who I was and all of my different identity spheres."
Ang has been acting on screen for more than two decades, including an Emmy-nominated role as Alex on Fear the Walking Dead: Flight 462, and although The Bad Batch is her first foray into the galaxy far, far away, it wasn't her first audition to step into Star Wars. "This is really moving for me to be part of Star Wars," Ang says, revealing that she also auditioned for a part in Star Wars: The Last Jedi. "The feeling of losing out to that was really huge and quite heartbreaking. So it's quite nice it have it come full circle and still get to play with all of you."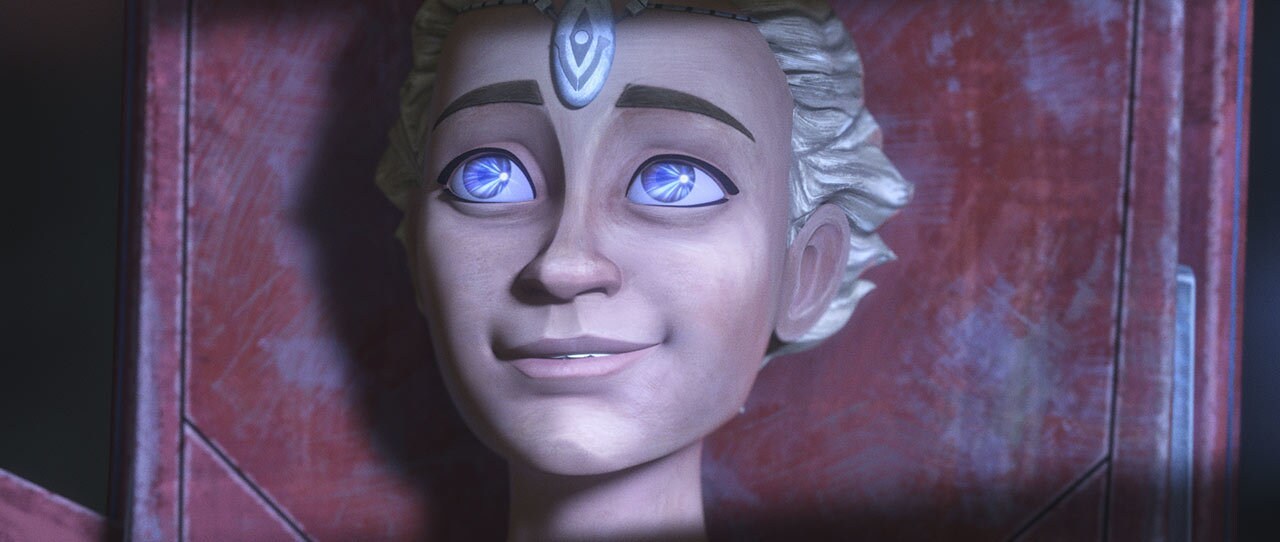 Omega's journey
Initially, Ang didn't know that the test scripts for her latest role would bring her back into the fold. "Obviously, when I auditioned for the role I did not know that it was part of the Star Wars world or the Lucasfilm family or any of that," she says. What struck her right away was Omega's personality. "The character had this real innocence and naivety but also the core of someone who was strong in her internal compass and had morality. What resonated was this push and pull for someone who's experienced nothing and yet wants to stand for everything." And she's ecstatic that the creative team has written story arcs that allow her to take Omega on a journey of discovery and test everything the Bad Batchers think they know about surviving.
Ang says working on the series has given her a newfound appreciation for the depth of detail inherent in Star Wars storytelling. "The lore is so specific. This is a living, breathing world. It's fictional, but it's very exacting and there are laws and logic and references. And that was one of the most exciting things about stepping into the Star Wars franchise, really," Ang says. "This is fictional, but it's also so not, because of the amount of detail and knowledge that everybody who's a part of it holds is quite breathtaking."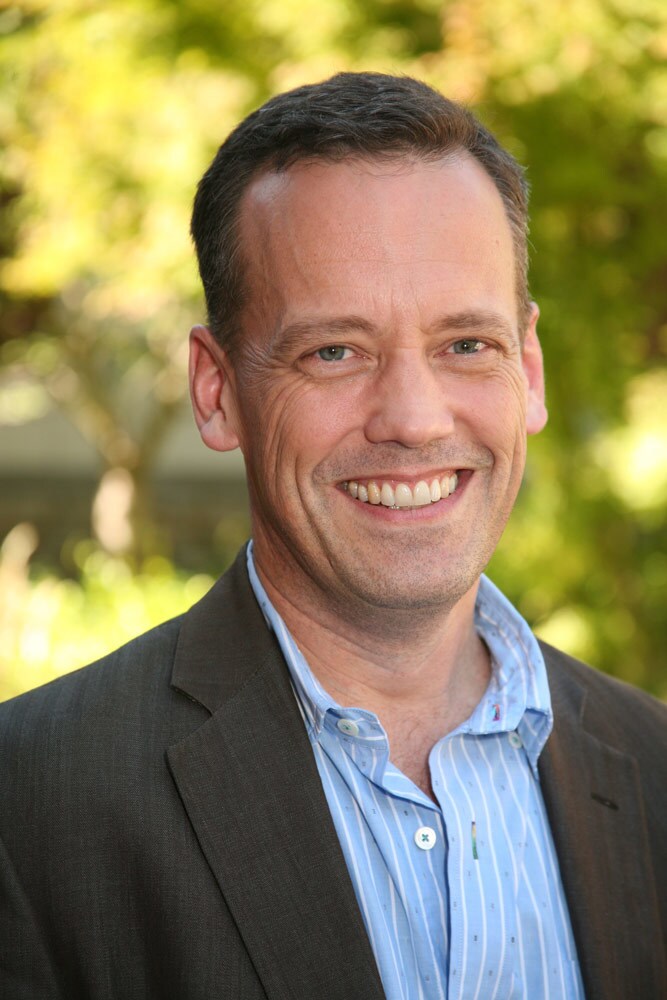 Longtime Star Wars voice actor Dee Bradley Baker brings the rest of the Batch -- Hunter, Echo, Tech, Wrecker, and Crosshair -- to life with his chameleon-like ability to morph into each unique member on the spot. Baker and Ang only recorded the premiere episode in the same recording studio -- as, first, other work commitments took Ang back to New Zealand and then, later, COVID further restricted their ability to inhabit the same physical space. Regardless of the distance, Baker was a welcoming presence and guide on and off screen.
"It is actually mind blowing. You joke about it but it is in some ways 'The Dee Bradley Baker Show,'" Ang says. "He is the most generous and unassuming and modest creative. Dee manages to make these shifts in character without any ego…he doesn't make a big hoo-ha about it, he just does it and it's so incredible to watch. And the distinctiveness he brings to all of them! He's really got a different mindset for each character. He's done his work. He's a real professional."
Although Omega gets to interact with the whole crew, she shares a special bond with Wrecker, who is really just a big kid at heart. "We've had a lot of fun with Wrecker and Omega because in some ways they really egg each other on," Ang says. And as Hunter, Baker brings a paternal presence to young Omega's life. "It's really fun. Obviously, Hunter and Omega have some really heartfelt scenes and our connection is a lot more sort of grounded."