Paths collide and fates are fulfilled in a classic season.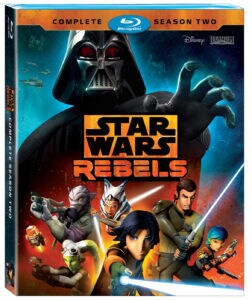 The landmark second season of Star Wars Rebels introduced new allies, adventures, and threats to the Ghost crew, changing their journeys forever -- and now you can take it home. Star Wars Rebels: Complete Season Two arrives today on Blu-ray and DVD, featuring all 22 episodes of the season, along with bonus features that even Chopper would love.
After the death of the Grand Inquisitor and the destruction of a Star Destroyer, the Imperial presence on Lothal has grown. The rebels are forced to seek out new allies throughout the galaxy and additional resources to sustain their fight against the Empire. With the help of Ahsoka Tano, the crew of the Ghost bands together with a secret rebel cell and ex-soldiers from the Clone Wars to join a fledgling alliance determined to restore peace and freedom to the galaxy.
As Ezra continues his journey to become a Jedi under Kanan's guidance, the threat of the dark side looms large over the fate of the growing rebellion. Darth Vader himself will dispatch new Inquisitors to snuff any spark of resistance, setting the stage for a climactic showdown in which past lives will be revealed, terrible truths will be discovered, and the lives of our heroes will be changed forever.
Get full details on bonus features and disc information below:
Bonus Features:
Blu-ray:

From Apprentice to Adversary: Vader vs. Ahsoka (Exclusive to Blu-ray) – Executive producer Dave Filoni reflects on the climactic ending of the season, when Ahsoka Tano finally confronts Darth Vader in a long-awaited, fierce, and epic lightsaber battle.
All DVD Bonus (see below)
DVD:
Connecting the Galaxy: Rebels Season Two – Uncover hidden references, easter eggs, and connections to the Star Wars universe found throughout the season.
Rebels Recon – Blast off with 20 fun, fast-paced episode recons, featuring behind-the-scenes footage, interviews with cast and crew, and more!
Disc Specifications:
Format: Blu-ray (3-Disc) & DVD (4-Disc)
Rating: TVY7 FV; CE: PG; CF: G (Bonus Material Not Rated)
Run Time: Approximately 485 minutes (not including bonus)
Closed Captioned: Yes
Aspect Ratio: 1:78 (Widescreen)
Audio: 5.1 Dolby Digital
Languages/ Subtitles: English, French, German & Spanish
StarWars.com. All Star Wars, all the time.