In an era when albums covers meant "huge spaceships," Star Wars was perfect for the '70s. See how George Lucas' space fantasy inspired a vast array of music, from orchestral to disco and beyond.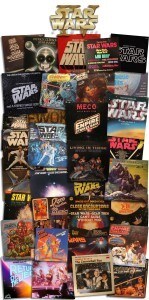 I'm going to take you on a journey. A stereo journey. Back to the mid 1970s, when a little fancied sci-fi film called Star Wars changed the world of cinema and exploded into popular culture like Bazooka Joe's bubble gum. It was a world of 7" and 12" vinyl, cassettes, and 8-tracks, when your dad's music setup was often housed within a sideboard the size of a Morris Marina and when the Walkman was still a long-distant dream. So for kids of the day, desperate for as much Star Wars as they could get their hands, eyes, taste buds, and ears on the music of the film was an evocative and much-prized treasure.
Today the music of Star Wars is as iconic as any aspect of the film, weaving its way into the cultural subconsciousness and launching a thousand imitators. The original soundtrack, a double album with booklet released in May 1977 by 20th Century Records, sold in millions and revived not only the popularity of the orchestral soundtrack but also the mass appeal of movie soundtracks in general. It made a global star of the already Oscar-laden John Williams and, completely incidentally, gave a plethora of artists and labels -- some non-licensed -- the impetus to go out and record some of their own versions of the films score. In these far savvier days, when a cursory glance at the internet would tell you instantly whether or not you were buying the "real thing" the thought of picking up one of these albums might seem crazy, but when kids were clamoring for anything remotely related to the galaxy's greatest film these releases sold well.
Here then is a look at just a few of those unique releases, some reasonably well-known (MECO hit number #1 on the Billboard Top 100 with his "Star Wars Theme" and today can be heard over the end credits of all RebelForce Radio shows and some not so much ("The Sounds of Star Wars" by The Sonic All-Stars anyone?)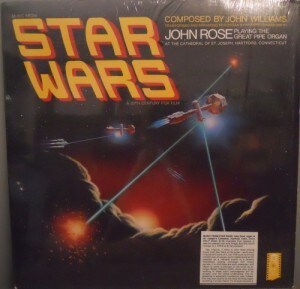 Music From Star Wars - John Rose Playing the Great Pipe Organ
As with the musical stylings of Figrin D'an and the Modal Nodes we know that Star Wars music can be played by anything from a 100-piece orchestra to a steel drum. Keyboard player John Rose managed to balance the instruments of the old with the music of the new by performing his version of the soundtrack on the great pipe organ at the Cathedral of Saint Joseph in Hartford, Connecticut, back in 1977. Released via Delos Records the album contained a selection of tracks familiar to anyone who owns the original soundtrack.
Track Listing

Main Title
The Desert & Robot Auction
The Princess Appears
Inner City
Cantina band
Mouse Robot & Blasting Off
Ben's Death & TIE Fighter Attack
Princess Leia's Theme
The Last Battle
The Throne Room & End Title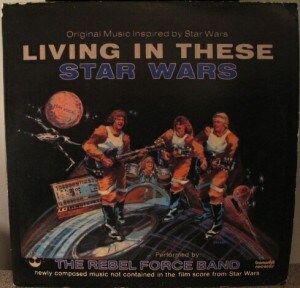 Living In These Star Wars by The Rebel Force Band
Yeah, you read that right, the Rebel Force band. Check out this funky disco disk from '77, released by Bonwhit Records and featuring a tracklist that included "Don't Fall In Love With An Android," "Chewie The Rookie Wookie," and (how appropriate) "Spaced Out." My friend Pete Vilmur took a more detailed look at the album in a post back here on Star Wars.com:
Track Listing

Living In These Star Wars
Don't Fall In Love With An Android
Leia
Chewie The Rookie Wookie
Respirator For Darth Vader
Spaced Out
May The Force Be With You
The Ballad Of Obi Wan (OB-1)
You'll Be A Warrior
Living In These Star Wars (Disco)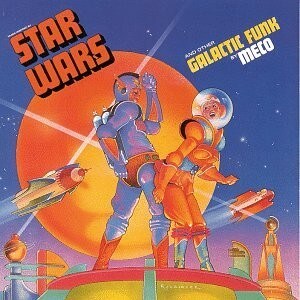 Star Wars and Other Galactic Funk by MECO
What non-John Williams Star Wars release comes as close to evoking the spirit of the original film than MECO than this legendary album? None that I know of, and a dip into the backstory of this popular album tells the tale. Released in 1977 via RCA and produced by Meco, Harold Wheeler and Tony Bongiovi (yes, that's Jon Bon Jovi's uncle) the album took tracks from the original soundtrack and arranged them into disco instrumentals. By 1st October the Star Wars Theme/Cantina Band single had hit number one on the Billboard Hot 100 where it would stay for two weeks. What better way to close the second year of Star Wars?
Track Listing

Title Theme
Imperial Attack
The Desert & the Robot Auction
The Princess Appears
The Land of the Sand People
Princess Leia's Theme
Cantina Band
The Last Battle
The Throne Room & End Title
Other Galactic Funk (12:31)
Other (4:07)
Galactic (5:02)
Funk (3:21)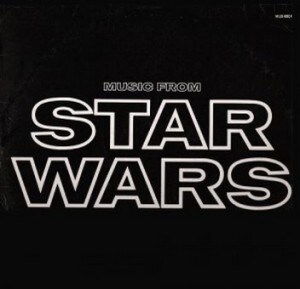 Music From Star Wars by The Electric Moog Orchestra
You can't get much more '70s than the Moog. Stevie Wonder transformed the popularity of the instrument with a classic run of albums on the early to mid-'70s and given it's otherworldly sounds there was little doubt it would soon jump to lightspeed and visit the Star Wars galaxy. By 1977 and via Musicor Records The Electric Moog Orchestra were the ones who made that jump, bringing their singular sound to six classic tracks. Also available on 8-track, the kids who had this loved it for its unique take on familiar tracks.
Track Listing

Main Title
Princess Leia's Theme
Imperial Attack
Ben's Death And Tie Fighter Attack
Cantina Band
The Throne Room And End Title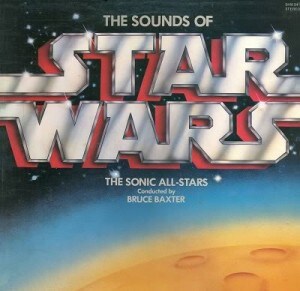 The Sounds of Star Wars by The Sonic All-Stars, conducted by Bruce Baxter
No, that's not the guy who you wouldn't like when he's angry, Bruce Baxter was the conductor of this 1977 collection released by Pickwick records that promised on the liner notes that "You will become totally involved in the Star Wars and you will be powerless to stop it." Never a truer word was spoken as this synth heavy, snappy record takes you on a very unusual aural journey through familiar musical territory, bringing different arrangements and veering off into strange locations on the way. In fact, just check out these fantastic liner notes, a singular addition to the listening experience.
"Mission Control calling all earthlings -- this is a recorded announcement -- report to your nearest sound monitor system immediately. Listen Carefully, this message cannot be repeated.
Pickwick International have broken through the inter cosmic barriers with a new and hitherto unidentified sound. This lethal weapon is said to affect the cerebral system, or to put it in earthly jargon, to blow your mind. You will embark on a spectacular, music filled journey into space, to a galaxy millions of light years from your own planet, Earth. Your senses will be stretched to the outermost realms of the imagination as the music pounds through your brains. You will become totally involved in the Star Wars and you will be powerless to stop it.
These are the symptoms noted in the people already affected.There is no known antidote and no one is immune. You have been warned. Pickwick has invaded the musical world. The strains from Imperial Attack can already be heard penetrating the walls of the control room. This message will now self destruct. We have been conquered."
Track Listing

Star Wars Intro
Star Wars Main Title
Princess Leia's Theme
Imperial Attack
Ben's Death
Tie Fighter Attack
Cantina Band
The Throne Room And End Title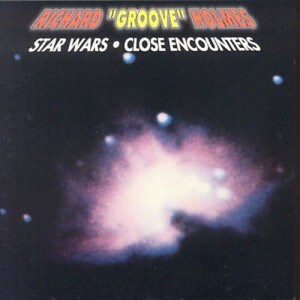 Richard Groove Holmes, Star Wars / Close Encounters
In 1977 what self-respecting master of the groove didn't want to get on the Imperial troop Transporter and boogie their way to the Cantina? Richard "Groove" Holmes definitely wanted to and via the Versatile label he brought his own brand of funk and pop to the GFFA. Working his way through five tracks, some lengthy ("Gonna Fly Now" from the Rocky soundtrack is over 10 minutes long) and some shorter (his Star Wars/Close Encounters piece is the shortest on the album at five minutes, seven seconds) the album opens with the classic Star Wars strains before drifting off into more elevatatorial waters. Definitely one for hardcore collectors, but nevertheless evocative of the era Star Wars arrived in.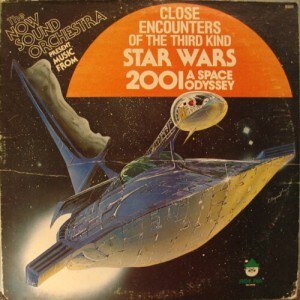 The Now Sound Orchestra Present Music from Star Wars
A popular way of getting the Star Wars name (and bigger sales as a result) onto a soundtrack album was not to record an entire album of Star Wars tracks, but to drop one or two into a much more general sci-fi themed release. One good example is The Now Sound Orchestra Present Music from Star Wars, released by Peter Pan Records which also included tracks from 1977's Close Encounters of the Third Kind (another John Williams composition) and the classic 2001, which itself used music by Richard Strauss, Johann Strauss II, and György Ligeti. And check out the awesome artwork. Nothing to do with Star Wars, 2001, or CE3K but perfect nonetheless.
Track Listing

Theme From Close Encounters Of The Third Kind
Theme From Star Wars - Part One
Theme From Star Wars - Part Two
Theme From 2001 A Space Odyssey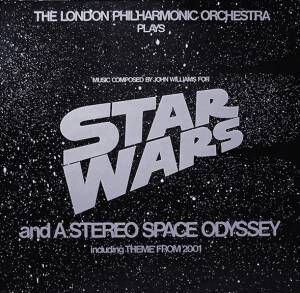 London Philharmonic Orchestra, Star Wars And A Stereo Space Odyssey

I unabashedly bow down at the altar of this album, as back when I was a kid it got almost as much play as my original soundtracks. Released by the Stereo Gold Award label and performed by the world class London Philharmonic Orchestra, this strikingly presented album (that cover, silver lettering on a deep blue background) stood out a mile and brought on side one a run through the classic Star Wars tracks.
Side two, while not featuring any Star Wars music, was a well chosen selection of music that reminds the listener of the clear influences John Williams used when constructing the original soundtrack, key among them the "Planets Suite" by Holst.
Track Listing

Main Title
Imperial Attack
Princess Leia's Theme
Bens Death And Tie Fighter Attack
Lord Of The Sand People
The Return Home
End Title
A Stereo Space Odyssey: Theme From 2001
Battle Of The Planets: Mars
Mercury
Venus
Stellar Caprice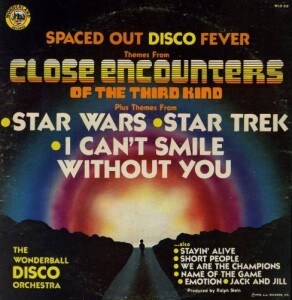 Spaced Out Disco Fever. Compilation album by The Wonderball Disco Orchestra
It really doesn't get much more 1978 than a band called the Wonderball Disco Orchestra, and they did the era proud by bringing us this release via their own Wonderland label that plants the flag of Star Wars firmly where it belongs, in the soils of the '70s. The album opens with Close Encounters Of The Third Kind, followed by Star Wars and then warps back to the '60s for Star Trek's main theme (remember, this is just prior to the release of Star Trek: The Motion Picture, when the three seasons of the classic show and two seasons of the animated series were all fans had). But wow, get the rest of the tracks. "Name Of The Game" by ABBA, "Stayin' Alive" by the Bees Gees, "We Are The Champions" by Queen, and to cap it all off, "I Can't Smile Without You" by the one and only Barry Manilow. I can almost smell the Pot Noodles from here...
Track Listing

Close Encounters Of The Third Kind
Star Wars
Star Trek
Name Of The Game
Stayin' Alive
Short People
We Are The Champions
Emotion
Jack And Jill
I Can't Smile Without You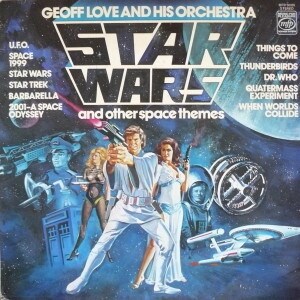 Star Wars and Other Space Themes -- Geoff Love and his Orchestra
This 1978 release by the prolific British arranger and composer Geoff Love and his orchestra, released by the hugely popular Music For Pleasure label, is a nostalgic blast of of easy listening and pop versions of popular film themes of the time, including our very own Star Wars. Slipped inside a vibrant cover, the album featured a mix of film, television and classical pieces including the Star Wars "Main Title" and "Princess Leia's Theme," the theme from Star Trek, the rousing theme to the classic '60s Supermarionation series Thunderbirds by Gerry Anderson, and the staple of British sci-fi Dr Who. In the UK Geoff Love was a well known and much loved figure and the album sold well, and with that fantastic cover it's certainly a favourite in my own collection.
Track Listing

Main Title From "Star Wars"
U.F.O.
Theme From "Star Trek"
Barbarella
Space 1999
Also Sprach Zarathustra
March From "Things To Come"
Thunderbirds
Princess Leia's Theme From "Star Wars"
Dr. Who
When Worlds Collide
Mars, Bringer Of War From "The Planets"
We're not done with our trip back in time -- there's more to come from MECO for
The Empire Strikes Back
and
Return of the Jedi
, as well as a dash of Irwin the Disco Duck and a drop of Empire Jazz. As they used to say back in the day, don't change that dial.
With thanks to the following websites and blogs for their information and images:

http://www.collectorsgalleryonline.com
http://www.restrainingbolt.com
http://www.discogs.com/
http://starwarsmusic.blogspot.co.uk/
http://www.allmusic.com/
Mark is a long-time contributor to Star Wars Insider, is the co-owner of Jedi News, contributes to the UK's biggest free newspaper The Metro, and is the co-host of RebelForce Radio's RADIO 1138 podcast.  When he's not talking or writing about Star Wars he can usually be found sleeping, where he'll most likely be dreaming about Star Wars.