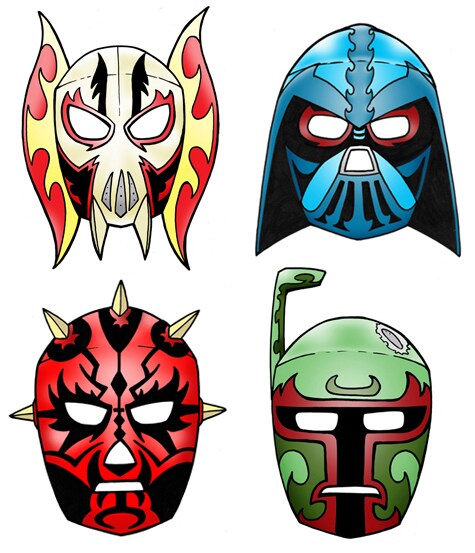 It's Cinco de Mayo, but it's also the day after May the 4th. You may still be feeling the need to celebrate Star Wars today, but don't know how. Fear not; there is a way to make Cinco de Mayo strong with the Force.
Ever wonder what it would be like to see a tag-team wrestling match with Darth Vader and Darth Maul against Boba Fett and General Grievous? We do too, and better yet, they should be wearing Lucha Libre (Mexican wrestling) masks!
Lucha Libre masks hold special meaning for the luchadores who wear them. The masks represent animals, legendary heroes and ancient gods. The luchador never reveals his true identity by taking off his mask or he could be disqualified from a match. Even when luchadores retire, they often still wear their masks in public.
Here's what we think Star Wars luchadores masks should look like, illustrated by Star Wars artist Randy Martinez. Print them out and wear them for fun!
Download and print out these luchadores masks:

General Grievous
Darth Vader
Darth Maul
Boba Fett