40 years. 40 stories. #OperationBlueMilk revealed.
When Star Wars: A New Hope was first released in 1977, part of its appeal was that the world it presented felt alive. Landspeeders and starships were dirty. Droids broke down. And it was filled with cool, weird, and really weird background characters. (Really, just take a look around the Mos Eisley cantina.) Never mind Han, Luke, Leia, Darth Vader, and Obi-Wan. Who were these other guys? What was their story? Just seeing them brought up questions for fans that sparked the imagination.
In celebration of Star Wars' 40th anniversary, Del Rey is going to shine the spotlight on those unsung weirdos, heroes, and villains with a unique, new anthology. Star Wars: From a Certain Point of View, coming October 2017, will bring together more than 40 authors for 40 stories. Each will be told from the perspective of background characters of A New Hope -- from X-wing pilots who helped Luke destroy the Death Star to the stormtroopers who never quite could find the droids they were looking for. There's never been a Star Wars book like it, and you can get a first look at the cover below!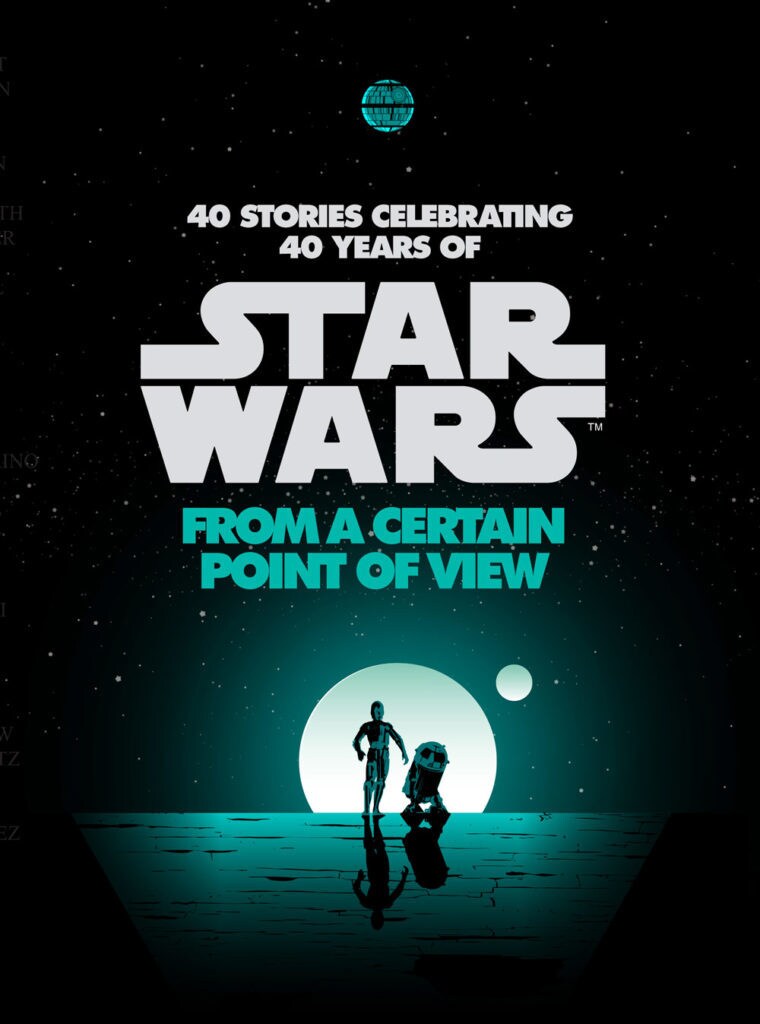 The author lineup is a selection of Star Wars all-stars, many of whom have been teasing this announcement with #OperationBlueMilk on Twitter. (Which would be an amazing hashtag, with or without this book.) The current list, with more authors to be announced closer to publication, includes:

Ben Acker & Ben Blacker
Renee Ahdieh
Tom Angleberger
Meg Cabot
Rae Carson
Adam Christopher
Zoraida Cordova
Delilah S. Dawson
Paul Dini
Alexander Freed
Jason Fry
Christie Golden
EK Johnston & Ashley Eckstein
Paul Kemp
Mur Lafferty
Daniel M. Lavery
Ken Liu
Griffin McElroy
John Jackson Miller
Nnedi Okorafor
Daniel José Older
Madeleine Roux
Gary D. Schmidt
Cavan Scott
Sabaa Tahir
Glen Weldon
Chuck Wendig
Gary Whitta
And more!
All participating authors have generously forgone any compensation for their stories. Instead, their proceeds will be donated to
First Book
-- a leading nonprofit that provides new books, learning materials, and other essentials to educators and organizations serving children in need. To further celebrate the launch of this book and both companies' longstanding relationships with First Book, Penguin Random House has donated $100,000 to First Book, and Disney/Lucasfilm has donated 100,000 children's books -- valued at 1 million dollars -- to support First Book and their mission of providing educational resources to children in need. Over the past 16 years, Disney has donated more than 57 million books to First Book.
So if you're a fan of the desert-searching stormtroopers of the galaxy and the scum and villainy gathered in a Tatooine watering hole, you're in luck -- even if Obi-Wan might not believe in it. Star Wars: From a Certain Point of View is available for pre-order now.
StarWars.com. All Star Wars, all the time.