Subtle nods to iconic characters and emblems have been rendered in gold, silver, diamonds, and gemstones for a stunning new high-end collection.
A sleek sterling silver ring molded to give just a hint of the Mandalorian's beskar helmet. A jade pendant chiseled with a relief of Jedi Master Yoda. Light and dark itself, represented by black and white diamonds, and between them the balance.
StarWars.com is pleased to announce the launch of Star Wars Fine Jewelry, a new coveted brand featuring pieces inspired by the characters, symbols, and themes from a galaxy far, far away. A stunning array of high-end pieces pay homage to beloved Star Wars favorites, from the original trilogy to The Mandalorian, in beautifully crafted gold, silver, diamonds, and gemstones.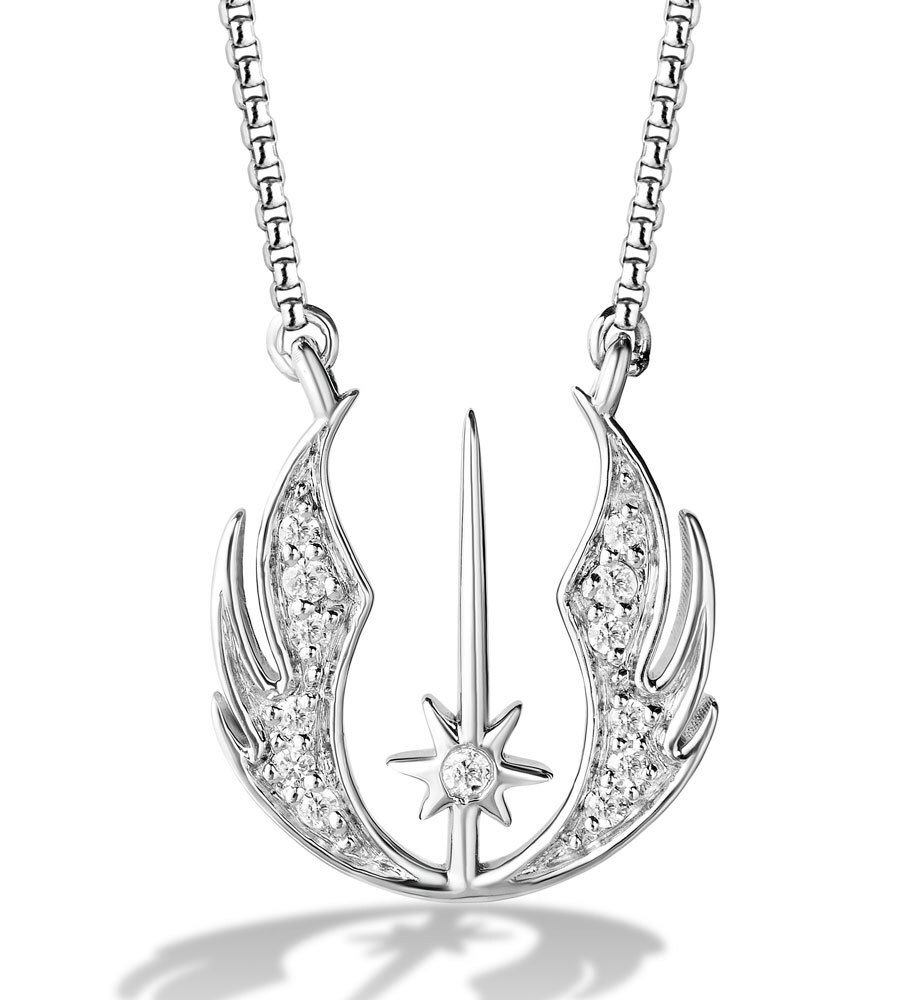 "We created this collection for everyone who has been inspired by the powerful storytelling of Star Wars," says Roopam Jain, president of Renaissance Global, which owns the new brand. "The designs bring the energy and mystery of both the light side and the dark side of the Force to life through stunning high-end collections."
"Star Wars fans celebrate their love for the franchise and its themes including friendship, loyalty, hope and balance by infusing it into their own personal style," adds Celina Chu, Design Manager, Lucasfilm. "The Fine Jewelry collection showcases beautiful inspirations of fan-favorite characters and adventures through gold and gems, a medium that is as enduring as this iconic story."
At launch, shop from seven distinctive Fine Jewelry collections with styles ranging from $149 to $1,999.
"Into the Galaxy" represents the delicate balance between light and dark with the star symbol of the Jedi Order recreated in black and white diamonds.
"The Mandalorian Collection" celebrates the adventures of the titular bounty hunter and the Child with pieces inspired by Mando's beskar armor and the precious asset's hover pram.
The "Friendship Collection" has droid-inspired details and iconic color cues to bring to mind the classic counterparts R2-D2 and C-3PO.
For "Balance of Nature" awaken the spirit within and channel strength and self-discovery with pieces evocative of Luke Skywalker and Yoda.
On the flip side, the "Balance of the Force," which takes design elements from Luke Skywalker and Darth Vader, inspired by the internal battle with the dark side.
For romantics, the "Celestial Love" collection is designed with hope in mind, a celebration of the bond between Han Solo and Princess Leia Organa.
And the "Forces of the Galaxy" collection celebrates bravery with styles inspired by Chewbacca and the Imperial stormtroopers.
Every piece in the collection comes in an exquisite Star Wars Fine Jewelry box that lights up when you open it, perfect for gift giving this holiday season.
Shop the collection beginning today at StarWarsFineJewelry.com.