A galaxy far, far away meets the Disney park of your dreams with new content and a limited-time event.
Disney Magic Kingdoms is a magical mobile game that gives you the opportunity to build your very own Disney-inspired theme park. Populated with characters from the rich history of Disney and Pixar, Disney Magic Kingdoms combines building and managing the park of your dreams by completing quests given by beloved characters. Some familiar faces from a galaxy far, far away will soon be joining them, so there's no better time to jump into the fun.
Gameloft game manager Jennifer Gale and lead artist Brad Heitmeyer recently chatted with StarWars.com about what you can expect to see in the event, how new stories and events are added to Disney Magic Kingdoms, and tips for new players joining in the fun for the first time.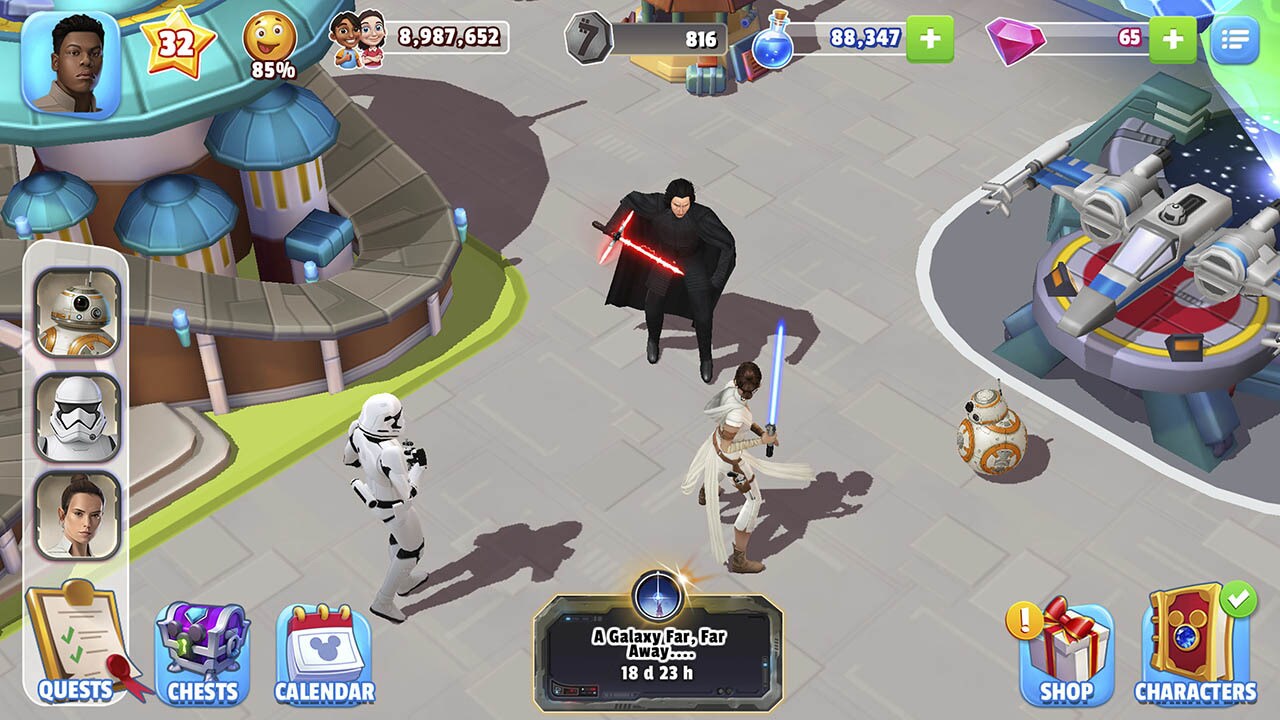 StarWars.com: What can you tell us about this limited-time event? Can you say who from a galaxy far, far away we'll find in the Kingdom?
Jennifer Gale: This event is going to bring new adventures and a new story into the Kingdom. We have some new characters -- we've got nine of them, in fact! [There are] some fan favorites, including Rey, BB-8, and Kylo Ren, as well as our favorite droids R2-D2 and C-3PO. This update includes limited-time content as well as Kingdom story content that will stay permanently in the game after the event is over.
The event starts December 19 and ends on January 14, so players have quite a bit of time to collect the characters, level them up, and grab all those attractions that are super cool.
One last thing I wanted to share about the update itself, for anyone who's familiar with Disney Magic Kingdoms already -- they might be quite excited about it -- is that we will be introducing some new land!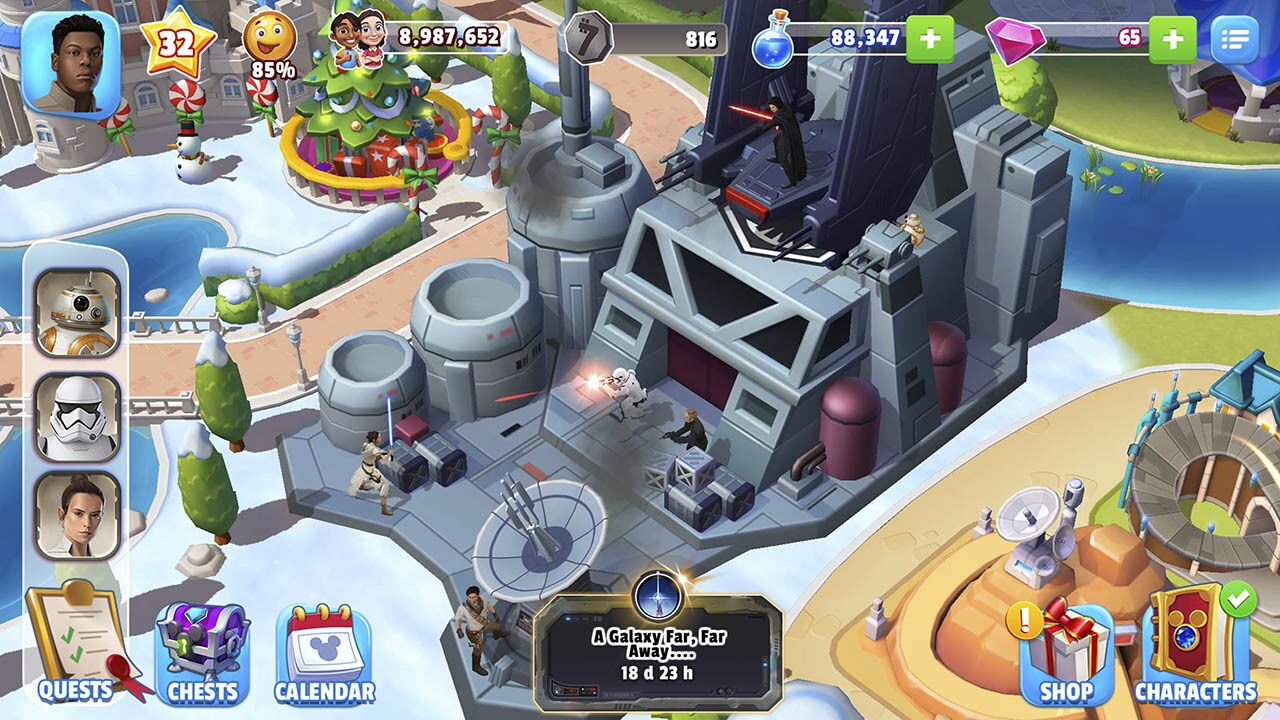 StarWars.com: How did you choose which Star Wars locations to add to the Kingdom?
Brad Heitmeyer: We wanted the locations to be familiar to players, so we worked closely with Lucasfilm to pick iconic environments from Star Wars in order to bring a themed land to Disney Magic Kingdoms that both existing and new players would be excited about.
As Jen was saying, we have kind of a little bit of new, a little bit of old, a lot of familiar [places] that players will recognize. We hope to bring something that's a unique experience that embodies Star Wars inside the style of Disney Magic Kingdoms.
StarWars.com: Were there any challenges in incorporating Star Wars into the art style of Disney Magic Kindgoms?
Brad Heitmeyer: Yes, it was an interesting challenge to bring those characters and those worlds that are being presented inside the more simplistic and saturated world that we've created for ourselves. We collaborated with Lucasfilm to find a good balance between our style and the Star Wars brand. With the team's experience translating Disney and Pixar IP into the style of Disney Magic Kingdoms, we were able to take the best of both worlds and deliver a final product that was representative of both brands.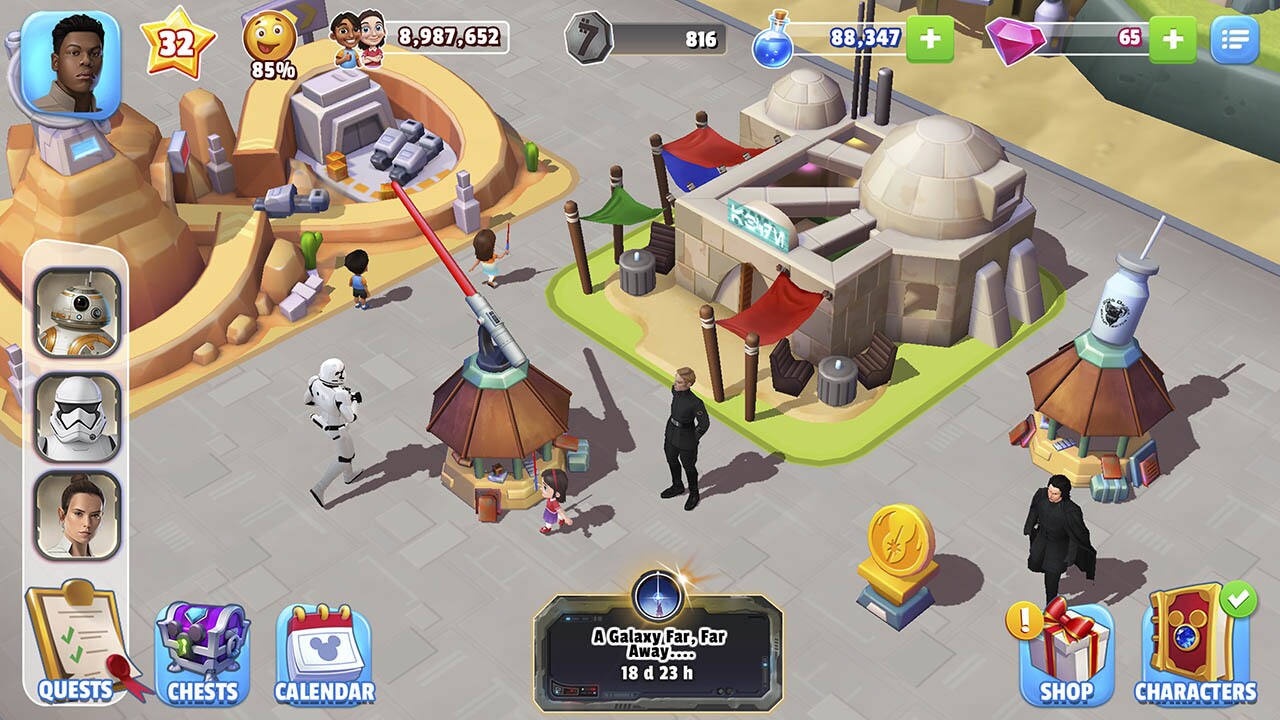 StarWars.com: This is a game that's meant to be played, put down, and played more later. Does that affect how a story like the upcoming event is written?
Jennifer Gale: Yeah, it really does. We need to take that time into account when we're writing the narrative that goes along with it. We have narrative designers here who take that story and build in the timers. Each character has something that they want to accomplish in those times, so they try to match them up accordingly. Obviously certain things can't be done in eight hours in real life, but we try to make them relatable.
Our Star Wars event doesn't follow the latest film, it takes from the themes, so we're able to apply those details in order to bring more meaning to those quests for the characters.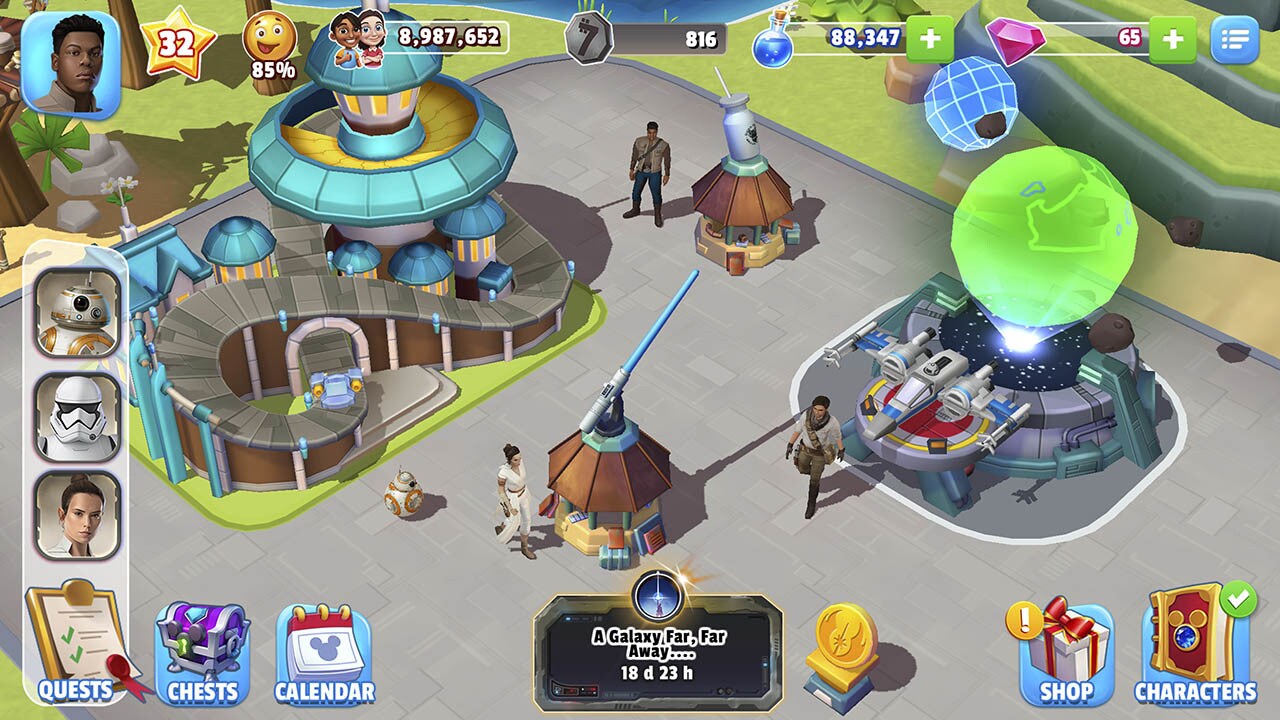 StarWars.com: Do you have any tips for Star Wars fans who might be picking up Disney Magic Kingdoms for the first time?
Jennifer Gale: Download the game and start playing it right now! [Laughs] The game is pretty easy to follow. There are a lot of great stories and wonderful characters who will help you build your Kingdom. Once you reach the California Screamin' attraction, players will be able to unlock the new Star Wars-themed land, characters, and attractions. After that, you'll want to level up your characters, collect as many tokens as you can, and get as many attractions as you can. All of that will help build up your bank to help you progress in the event.
The other piece of the puzzle is that we're actually introducing C-3PO and R2-D2 a little bit earlier on than our event characters, so they'll be available in the Kingdom quest storyline. Anything you can do to help level up those characters ahead of the start of the limited-time event is really going to help you.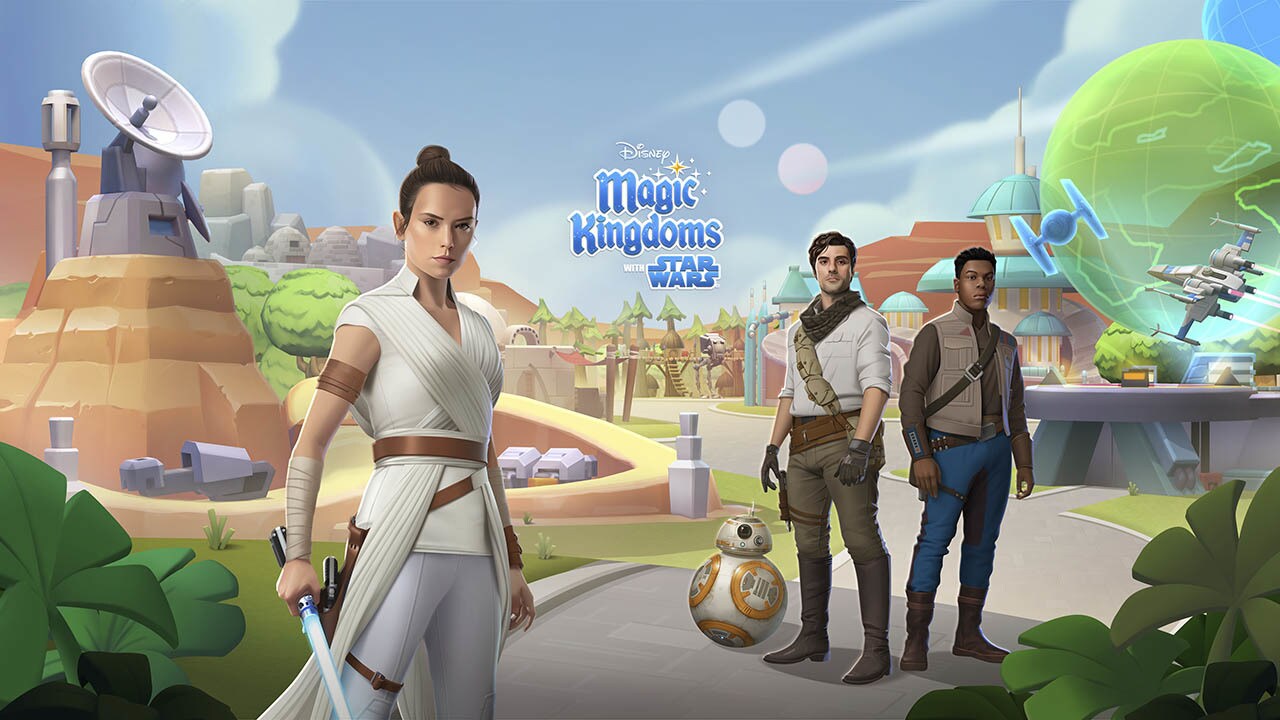 StarWars.com: What has working on the Star Wars event meant to you on a personal level?
Brad Heitmeyer: Being an artist in this industry, working on a property like Star Wars is a nice little notch in the belt for sure. And being able to immerse yourself in that and get paid for it, it's like a double bonus. [Laughs] It's definitely an extra joy to do something like this…with the themes of our game, it's something you wouldn't think that we'd be able to do. And to bring it in and have it work with everything that we're doing has been a fun ride.
Jennifer Gale: For me, too, it's just having the ability to bring something so big to so many of our fans, and potentially bringing new players in based on such a large brand, and bring the joy of Disney Magic Kingdoms to them. We've got players who have been with us since day one and it would be great if we can get more in so they can see how fun and relaxing and cool and awesome [it is]. The team here has done such a great job of bringing each one of the different brands to life, and Star Wars is no exception to that. I'd love for the world to see the game through the eyes of someone who developed it and see the pride behind all the work that has been done.
Disney Magic Kingdoms is available on the App Store, Google Play, and Windows.
Kelly Knox is a Seattle-based freelance writer who loves creating Star Wars crafts with her daughter. You can find her on Twitter at @kelly_knox.