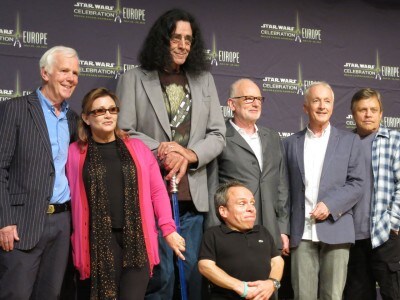 The Force has arrived in Essen, Germany! The biggest Star Wars party of the year officially begins in a couple of minutes with a special press conference featuring legends Mark Hamill, Carrie Fisher, and more. And we're here to liveblog it for you!
16:20: David Collins, Celebration Europe's Digital Stage host, takes the stage. Discussing the history of Celebration, he notes it evolved from a smallish event meant to celebrate the release of Episode I into a worldwide, huge show. At this point, Star Wars appeals to multiple generations, and Collins notes that "Star Wars Celebration is truly a family event."
16:25: Mark Hamill and Carrie Fisher, accompanied by some Stormtroopers, come to the stage!
16:25: Hamill notes that this is his fifth Celebration. Fisher doesn't know how many she's been to. "I have no idea. How would you remember that?" she jokes.
16:28: Collins asks if they have any fond memories of Return of the Jedi, as this is the film's 30th anniversary. "It had this feeling of closure," Hamill says. "It was sad in a way, because you'd never see these people again." Fisher jokes that she knew she'd be here, on stage in Germany, talking about it 30 years later.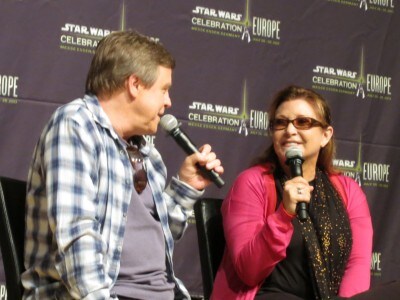 16:32: Peter Mayhew, Jeremy Bulloch, Ian McDiarmid, Warwick Davis, and Anthony Daniels have joined the stage. A Return of the Jedi reunion!
16:36: Hamill and Fisher exit, while everyone else sits for some Q&A. McDiarmid recalls his first Celebration, which was last year. "The dark side comes to Florida," he jokes. "I was quite overwhelmed by it."
16:37: Peter Mayhew on why Celebration is special: "It is a vacation...it's beautiful."

Warwick Davis, Celebrity Host, talks about his plans for the Main Stage: "Look out for something quite different this year."
16:40: Fondest moments of making Return of the Jedi. Did it feel like the end? Davis: "For me, it was the beginning...it was the most amazing experience. I never thought we'd be celebrating that film 30 years on."

Anthony Daniels on his favorite line: "It appears Captain Solo, that you are to be the main course of a banquet in my honor." He also notes that he'd never seen George Lucas happier than during the filming of Jedi...until last week.
16:45: Time for press questions. The group is asked about coming to Germany. Daniels remembers coming to Germany for Star Wars Concert, which he loved.
16:48: What does Celebration mean to you? Jeremy Bulloch: "For me, it's a fairy tale...that's why we're all here today."

Daniels: "One thing I really enjoy is that fans are encouraged to be apart of the show...They come in wonderful costumes they've created, or a wonderful prop they've created...Celebration is a real living event...this is the film coming alive for the guests."

Davis: "It's our chance for a bit of a reunion...and for me, I get to get on stage and bring Star Wars to the audience."
16:52: What was the weirdest thing you've signed at Celebration? Peter Mayhew says Pez dispensers are very difficult for him. "Well, I love signing Pez dispensers," Davis adds. Lots of laughter.

Daniels says he once refused to sign someone's arm. "I just got queasy about it."
16:55: McDiarmid on doing a spinoff film jokes that he imagines Palpatine had an interesting early life, and hopes to see backstories explored.

Which order should we watch the movies?

Davis: "Whatever order you choose, it presents quite a different experience." He notes that he just watched them all in number order with his family for the first time.
17:01: McDiarmid notes that Lucas told him that while playing Palpatine, he should imagine he that persona as like looking through contact lenses. It was great advice from a director, he says.
17:03: What makes Star Wars endure? "The fact that the most evil creature in the universe could be defeated by teddy bears," McDiarmid jokes. "It's a terrific story. We're always held by terrific stories."

Daniels: "Star Wars has become a place to go that has carried people through difficult times. And it's become a part of their family histories. You'll hear that more and more around Celebration."