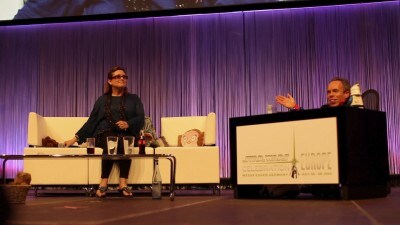 Star Wars legend Carrie Fisher joins Warwick Davis for a chat on Celebration Stage, and we're here to liveblog it for you!
18:04: Warwick Davis takes the stage sporting his lightsaber shades!
18:05: Davis talks to a fan onstage. Highlight? "Right now," the fan says. The fan saw Anthony Daniels' panel, and Davis says, "He went on a bit long, didn't he?...Some of it made sense."
18:10: R4-CEII, Davis' translator droid comes out. He says he speaks a little German, but won't translate "Where is the Celebration Store line?" because "There is no line. Everyone is here."
18:14: Now showing a Leia highlight reel!
18:15: "A regal welcome to Star Wars royalty: Carrie Fisher!" Huge standing ovation as Fisher emerges (along with her dog, Gary).
18:16: A fan yells out, "We love you, Carrie!" "I know," she replies.
18:17: "I was going to say we could talk about Star Trek," Fisher says. The crowd playfully boos. Fisher's dog begins tearing into stuffed Ewoks.
18:19: Talking about the Jabba scenes from Return of the Jedi. "There was an entire human that played the tongue...I was really, really happy to kill Jabba," Fisher says.
18:21: Fisher says she was asked if they wanted her stunt double to choke Jabba, and she said no.

How did she get the part originally? She was sent the script and loved it. "If they could make this look what it sounded like, I was desperate to see it myself," she says.
18:23: Fisher says that she was sent to "gun school" during filming, because she kept flinching when firing. She trained in the Village in New York with the person who trained Robert DeNiro in Taxi Driver.
18:26: Did she know Leia's backstory? She says she did know that she didn't have her real parents.
18:27: While she didn't know Star Wars would be the success it was, "On the second film I knew that we were making a hit movie...There was so much less pressure."
18:29: Now talking about the 30th anniversary of Return of the Jedi. "That was my favorite scene," Fisher says of the moment where Leia meets Wicket. "It was my chance to be human," she says, meaning it was a quiet moment.

"Was I annoying?" Warwick asks. "No, you were adorable."

Fisher says they told her to improvise her lines in the scene with Wicket, which she found a little difficult. "What do you say to an Ewok?"
18:33: Now onto Stage Wars, where they'll recreate a scene from the films. Davis picks the scene in Return of the Jedi where they meet.
18:36: Davis gives Fisher a Twinkie for the snack Leia gives Wicket, and a Batman hat for her speeder helmet. Davis puts on an Ewok hat.
18:38: They act out the scene. Davis picks up one of the stuffed Ewoks that Gary bit. "A relative," he says. The bit successfully ends when they jump behind the couch at the sound of a blaster shot.
18:42: Davis plays old footage of Wicket lost backstage. Features Harrison Ford, Mark Hamill, and Carrie Fisher! It's referred to as Revenge of the Jedi in the sketch! Davis says it's actually from a 20-plus minute film on how he got the part, but it was never finished.
18:46: Now onto trivia! Fisher scores a strong 8/10.
18:52: They show a photo on screen of Fisher and Davis from the set of Jedi, with Davis' Wicket mask off.
18:53: Twitter questions: Better kisser, Luke or Han? "You're asking me about my brother, so I have to say Han."

Will you be writing a new book? Yes!
18:55: More from Twitter: Having you tattooed on my arm in the morning. Bit scared. Will you come and hold my hand? "Yes," Fisher says!
18:58: Davis thanks Fisher, and the audience gives a standing ovation.
That's it! Thanks for reading!