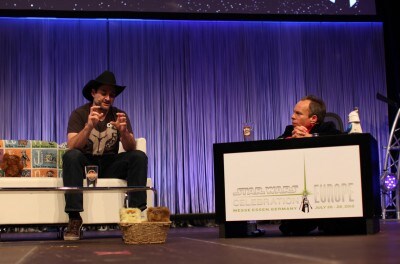 Dave Filoni, supervising director of The Clone Wars is about to join Warwick Davis for a talk about Lucasfilm's next animated series: Star Wars Rebels, which he is executive producing. And we're here to liveblog it for you!
12:32: Warwick Davis takes the stage! He is now talking to a fan. What brings her to Celebration? "My boyfriend." The crowd laughs, but she adds that she like Star Wars now.
12:36: Davis asks, "Do you know which character I played?" She answers, "The little one?" "A lucky guess," Davis replies.
12:39: R4-CEII, Davis' translator astromech, has taken the stage. Davis points out that it does actually say CEII on his dome.
12:42: Now showing the video previously released of Pablo Hidalgo's chat with Dave Filoni about Star Wars Rebels.
12:45: Filoni takes the stage! Standing ovation from the crowd. Says this is his fourth Celebration. "You fans are always so gracious. I really appreciate it." He's wearing a shirt made for him by a fan.
12:47: Filoni says that he had a part for Davis set up in The Clone Wars, but then the series ended. They're trying to figure out the best way to bring out the remaining episodes. "What I really like about it is, I feel that Clone Wars got its place and time in the Star Wars saga."
12:50: "You'll see in Lucasfilm now a collaboration across many fronts...that's something I never really had on Clone Wars." - Dave Filoni. Now showing a video from Greg Weisman and Simon Kinberg addressing the fans. "I'm just swamped on Rebels and very glad." -- Greg Weisman. "I am super, super excited to be working on the Rebels show and to be working on the movies, as well." - Simon Kinberg
12:53: Kinberg discusses how his children love Star Wars, and he sees that he "can't mess this up" for them and for the fans.
12:55: Where did the idea for Rebels come from? Filoni says Lucasfilm's story team got together and talked about what they wanted to see, and they all agreed it was this era. He adds that it will visually be different from The Clone Wars, particularly it will have a strong influence from Ralph McQuarrie. "I looked at his paintings, and there are tons of paintings that he did that have never made it to the screen." Concept art shows on screen, they look very Star Wars. "Ralph had such a mind for the future."
12:59: Filoni says they opened the archives and looked at all of McQuarrie's originals to see texture and details. They were often slightly different from what made it to film, which was perfect. "We wanted to create a look for this part of Star Wars that precedes A New Hope by just a little bit." He adds "We have created a set of digital brushes that replicate McQuarrie's style...We're going for something that's much more an illustrative look."
13:03: Now talking about the influence of Miyazaki's character design. They're creative but believable dramatically. The same goes for Star Wars.
13:05: No animation has really been created yet, but Filoni shows off some Star Wars Rebels concept art, including an Imperial interior! He talks about very specific color schemes. The Empire is always glossy and silver. Luke wears browns and sandy colors. Han is multi-colored. Leia wore white because she was in the Imperial Senate.
13:09: More concept art for an astromech, which will feature arms that McQuarrie originally intended for Artoo, and a protocol droid. Now showing a Star Destroyer. Great applause. Filoni points out that the design will feature elements of the Star Destroyers from A New Hope.

13:11: Now showing a Stormtrooper! Audience applauds. "They get excited about anything bad, don't they?" - Davis

Filoni says, "You can see a lot of the texture and line work is meant to represent McQuarrie and the way he paints." He adds that seeing characters he drew in The Clone Wars come to life via fan costumes is one of his favorite things.
13:14: Now showing the Ghost, a new ship from the show, which will be central. Filoni says he wanted it to feel like a home, the way the Falcon did. They're also working hard studying the original films, hoping it will match the look of classic Star Wars.
13:15: "There has been such great support at Lucasfilm for this endeavor...if you told me as a kid growing up in Pittsburgh that I'd be mentored by George Lucas and then Kathleen Kennedy, my had would have exploded," Filoni says.
13:18: Just unveiled the official Star Wars Rebels logo, and Filoni is now throwing some T-shirts with the logo into the crowd.
13:21: Now onto trivia!
13:23: Filoni gets one wrong! What was the opening sentence to the Revenge of the Sith crawl? "War!"
13:24: "You have no idea how much pressure this is!" Filoni says. He scores a 9/10.
13:27: Twitter question: The Clone Wars' goal was 100 episodes. What is Rebels' goal? "I'm really excited. Rebels is a really important project to me...It's something that I want everybody at Lucasfilm to be proud of...Let's shoot for 100. Why not?"
13:28: Will Rebels be told out of sequence like The Clone Wars? Filoni explains that that came from George Lucas.
13:29: Will Rebels see a younger, skinnier Porkins? "Just to show you that the people working on this show are not so different from you, it's actually come up," Filoni says.
13:32: Will Rebels continue storylines from The Clone Wars? Filoni is non-committal, but says, "I love all Star Wars characters, especially the ones I created."

That's it! Thanks for reading!