The project manager tells StarWars.com how designing the frighteningly realistic gangster and other Star Wars icons makes him feel like a kid again.
You know that laugh. The booming and ominous cackle of the slug-like Jabba the Hutt, chuckling over the latest misfortune to befall whatever scoundrel has gotten sidetracked on the way to paying him back this time.
And gazing upon the new and finely detailed Jabba the Hutt and Throne Deluxe Sixth Scale Figure set from Sideshow Collectibles, you might just expect to hear the gangster begin to chortle. The figure, one of the largest in the Sixth Scale series so far, has been immaculately recreated with some help from diligent movie rewatching, some Return of the Jedi-era behind-the-scenes images, and a team of designers who made sure to include everything from Jabba's arm tattoo to interchangeable eyes and mouths, so he can nod off on his throne and drool with his tongue hanging out. Even his ever-present pal, Kowakian monkey-lizard Salacious Crumb, is fully poseable, with interchangeable heads to capture his own trademark squawk, among other accessories and features. The display will make you feel like you've woken from a carbon freeze and found yourself back on Tatooine.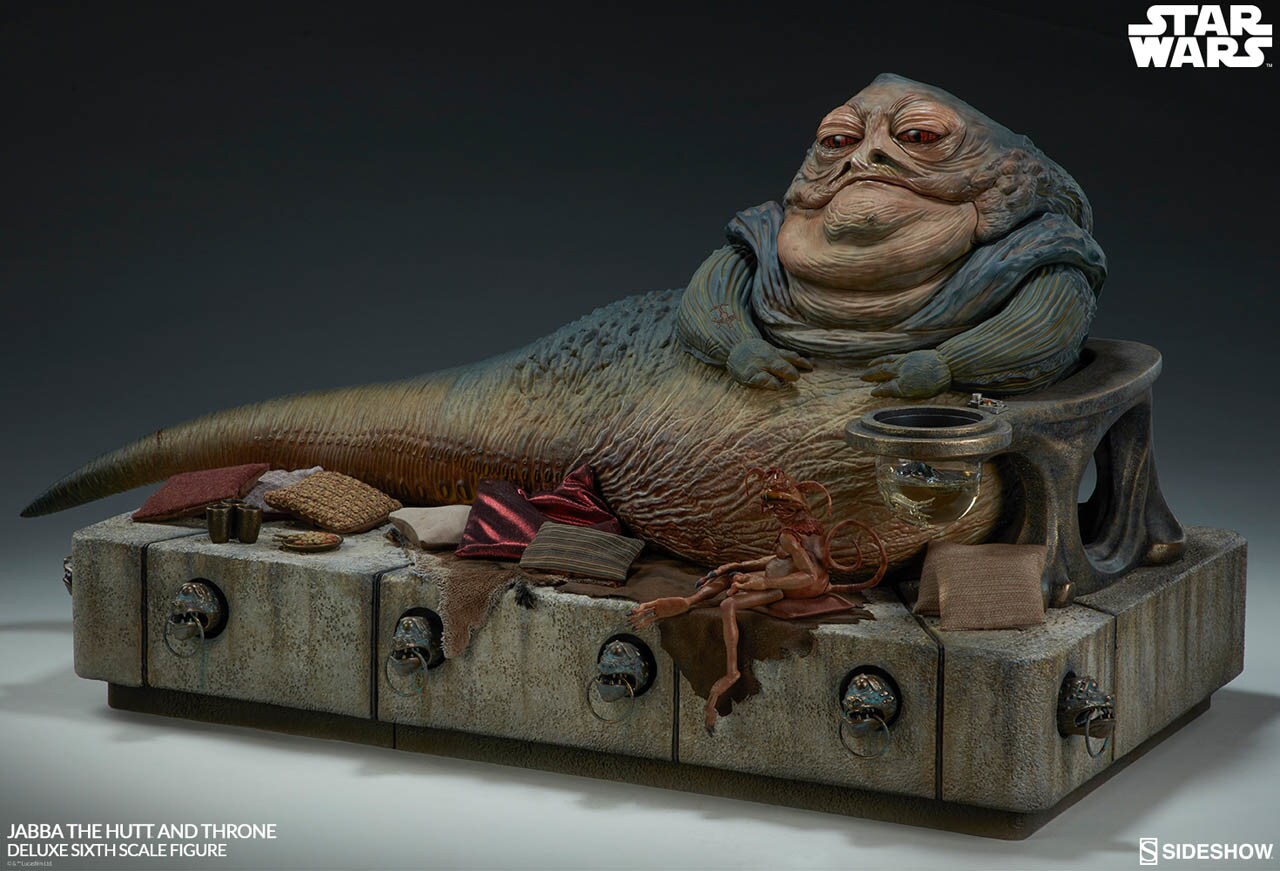 StarWars.com recently spoke with Sideshow Project Manager Kevin Ellis to get the full story on why Return of the Jedi had an impact on his childhood, and how he and his team brought the nefarious crime lord to life.
StarWars.com: This isn't the first time Sideshow has made a Jabba the Hutt figure, but it's certainly the most ambitious Hutt yet. What's evolved in terms of your sculpting and production methods that allowed you to make this Deluxe Jabba so much more detailed than any previous incarnation?
Kevin Ellis: I'd say the biggest evolution in our Deluxe Jabba was how we sculpted the piece. Back in 2006/2007, when our first Jabba the Hutt was developed, it was all done by hand. Everything from Jabba himself, to the throne, to all of his accessories were done from clay and wax. Our new Deluxe Jabba was sculpted almost entirely digitally by artist Joe Menna, and this allowed us greater freedom in determining how we wanted to approach the piece. It helped us determine which parts we wanted to swap out, and helped us explore some creative engineering.
Over the last decade, the Sixth Scale landscape has advanced significantly, and expectations have evolved along with that. This time around, we wanted the collectors to have as many options to display this piece as they do with their other Sixth Scale Star Wars figures.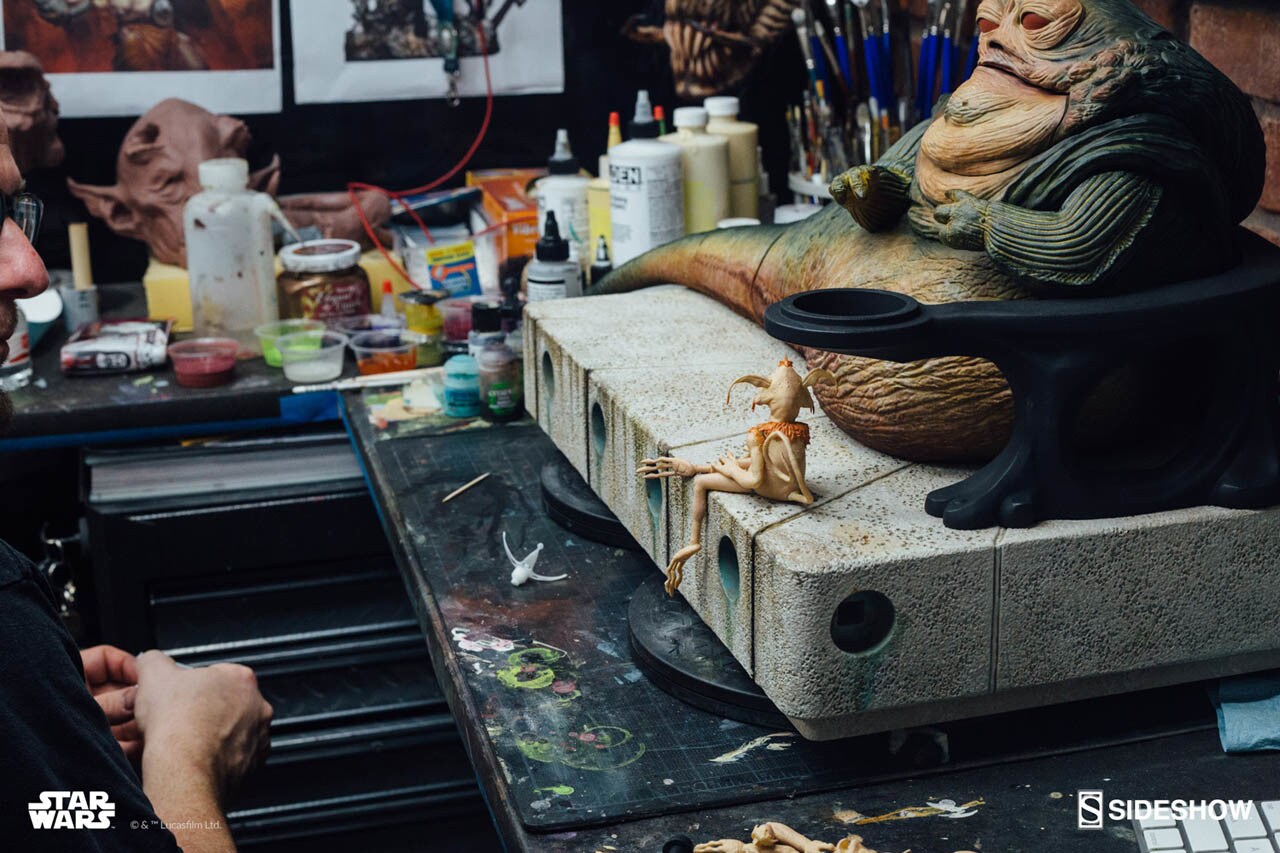 StarWars.com: Jabba is the second in a new line of Deluxe 1:6 scale Star Wars figures, after the debut of an epic Jedi Luke. Of all the characters in the vast Star Wars universe, what made you decide to tackle Jabba next? And what makes the Deluxe figures different from the standard 1:6 scale line?
Kevin Ellis: The release of our Deluxe Jedi Luke was a celebration of our first foray into the Star Wars Sixth Scale universe. We started on this journey over 10 years ago, so it seemed only right to revisit this original piece from a fresh perspective. This gave us the opportunity to put new skills and knowledge to work, to build upon the successes of the previous version, and to take this piece to heights that just simply weren't possible a decade ago.
Regarding Jabba, well, this time around, we've made Jabba an all-inclusive figure, which means you not only get Jabba and all of his swap-out options, but you also get the throne, an articulated Salacious Crumb with multiple heads and leg options, fabric pillows and rugs for the throne, and a bunch of other accessories. That, for me, is really what makes this piece a Deluxe offering.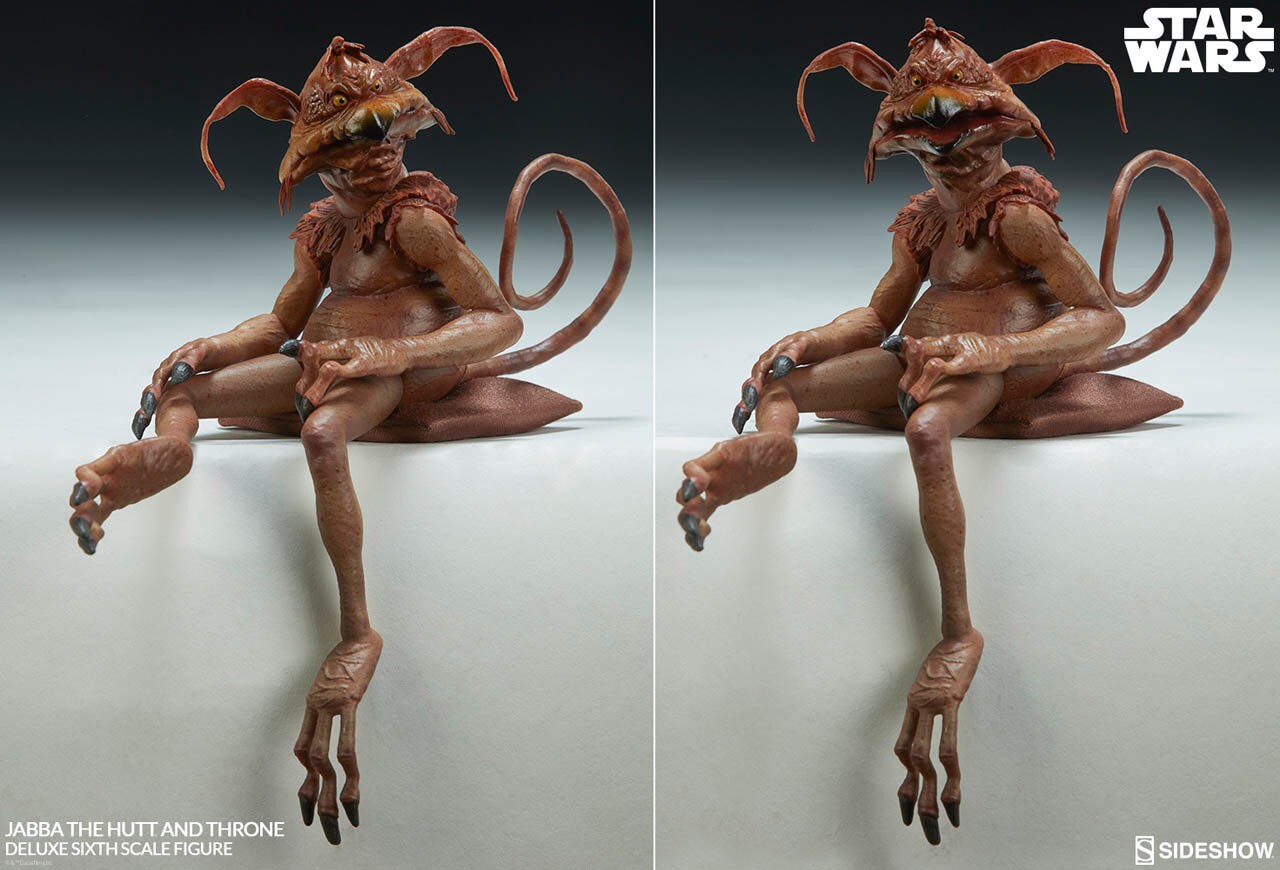 StarWars.com: Take us back to day one on this project. When you first sat down to create a Deluxe Jabba, what was at the top of your wish list for details or accessories to include?
Kevin Ellis: Salacious was always at the top of my list, specifically a version of Salacious that collectors had options with. He is such an expressive character, I felt limiting him to a single pose just wouldn't do him justice. And the frogs, of course! That has been so many people's first question: "Does he come with the frogs?" My personal favorite detail is the frog floating in the bowl in his arm rest.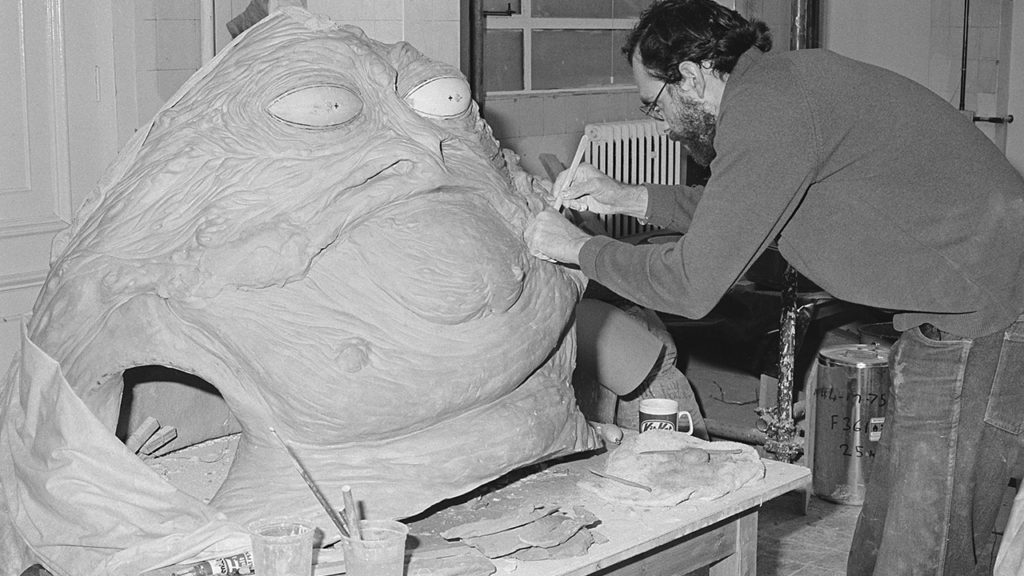 StarWars.com: This is a Return of the Jedi-era Jabba. Did you revisit the film and behind-the-scenes images for ideas or did you feel like you already had his scenes committed to memory? 
Kevin Ellis: Return of the Jedi was the first Star Wars film I saw in theaters, and it made quite an impact. I definitely feel like I've got those scenes committed to memory, but memories aren't always the most accurate, so we watched and re-watched the film many times. We also had access to an archive of set photos and behind-the-scenes photos, and those really helped to flesh out the details.