Learn a recipe that even Supreme Leader Snoke would love.
When BB-8 first appeared in Star Wars: The Force Awakens, the helpful little droid immediately captured fan's hearts. Now with the release of Star Wars: The Last Jedi, a dark counterpart has emerged in the form of BB-9E, the black-plated astromech who serves the First Order.
These cookies look just like the menacing square-domed droid, and are always at the ready to hang off the side of a tall glass of Blue Milk, on the lookout for the Resistance. This holiday -- and today on #NationalCookieDay -- enjoy Star Wars: The Last Jedi along with a few of these fun First Order snacks.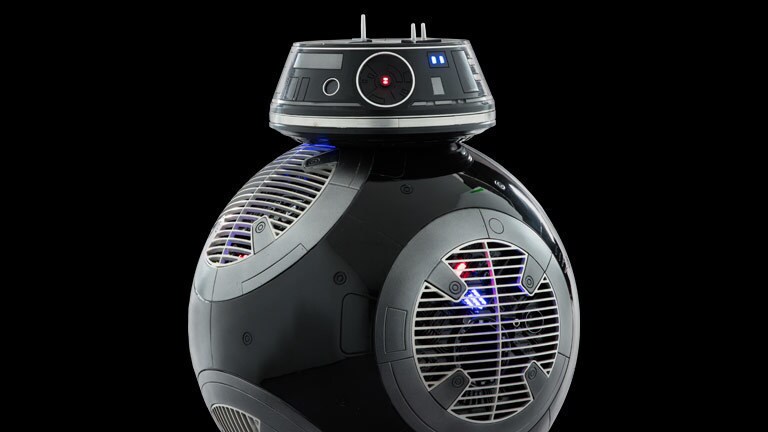 BB-9E Hanging-Mug Cookies
What You'll Need:
Gray icing
Red icing
Blue sprinkles
Ingredients:
3 cups all-purpose flour
½ teaspoon baking powder
½ teaspoon cinnamon
Pinch of salt
1 cup (2 sticks) unsalted butter, softened
1 cup brown sugar
1 egg
1 teaspoon vanilla
Black Icing Ingredients:
4 cups powdered sugar
3 Tablespoons meringue powder
6 Tablespoons water
Black food gel dye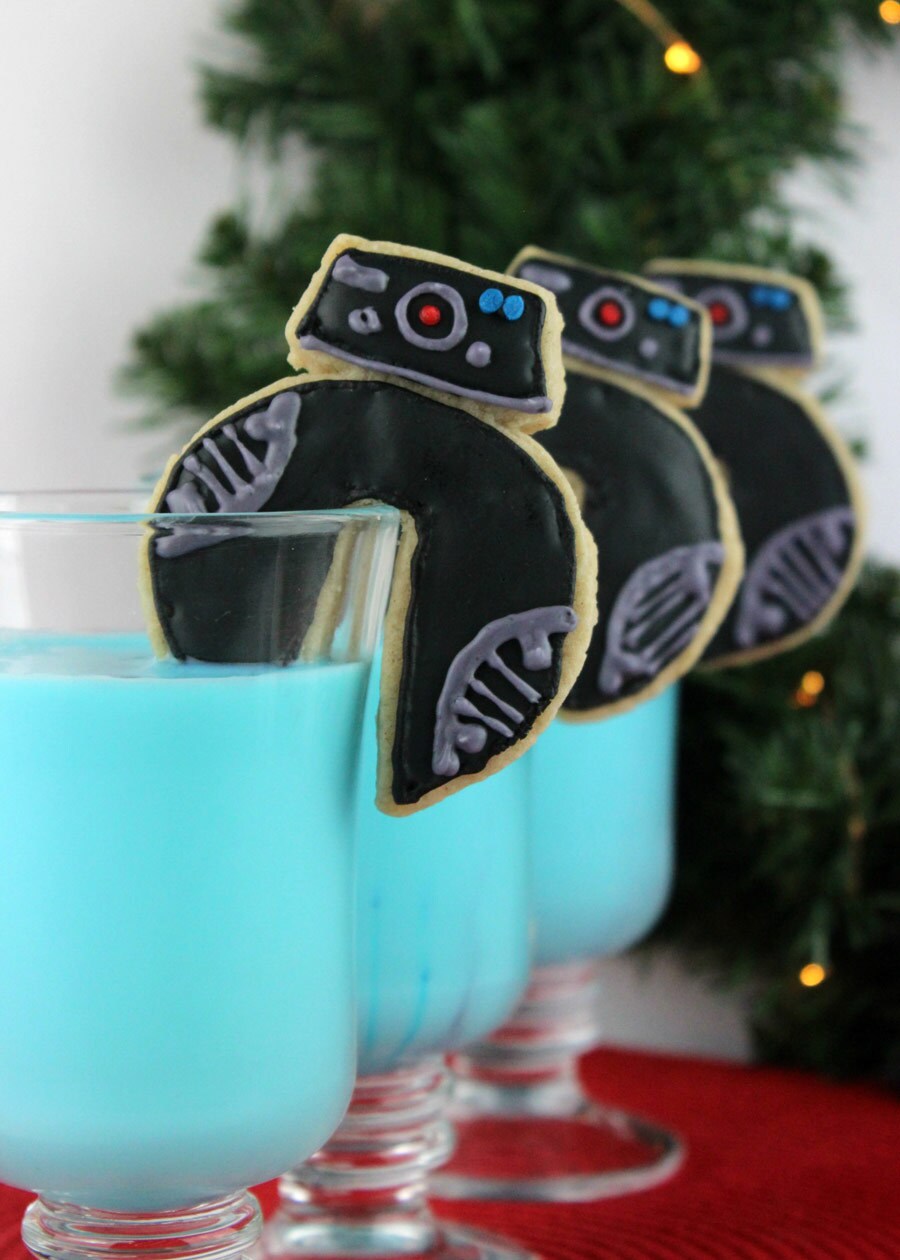 Step 1: In a medium bowl whisk together the flour, baking powder, cinnamon, and salt. Set aside.
Step 2: In the bowl of an electric mixer cream the butter and brown sugar until combined.
Step 3: Add the egg and vanilla, then slowly add in the dry ingredients just until the dough comes together.
Step 4: Split the dough into two and wrap in plastic wrap. Chill until you are ready to use.
Step 5: Preheat the oven to 350 degrees. Prep baking sheets with silpats or parchment paper.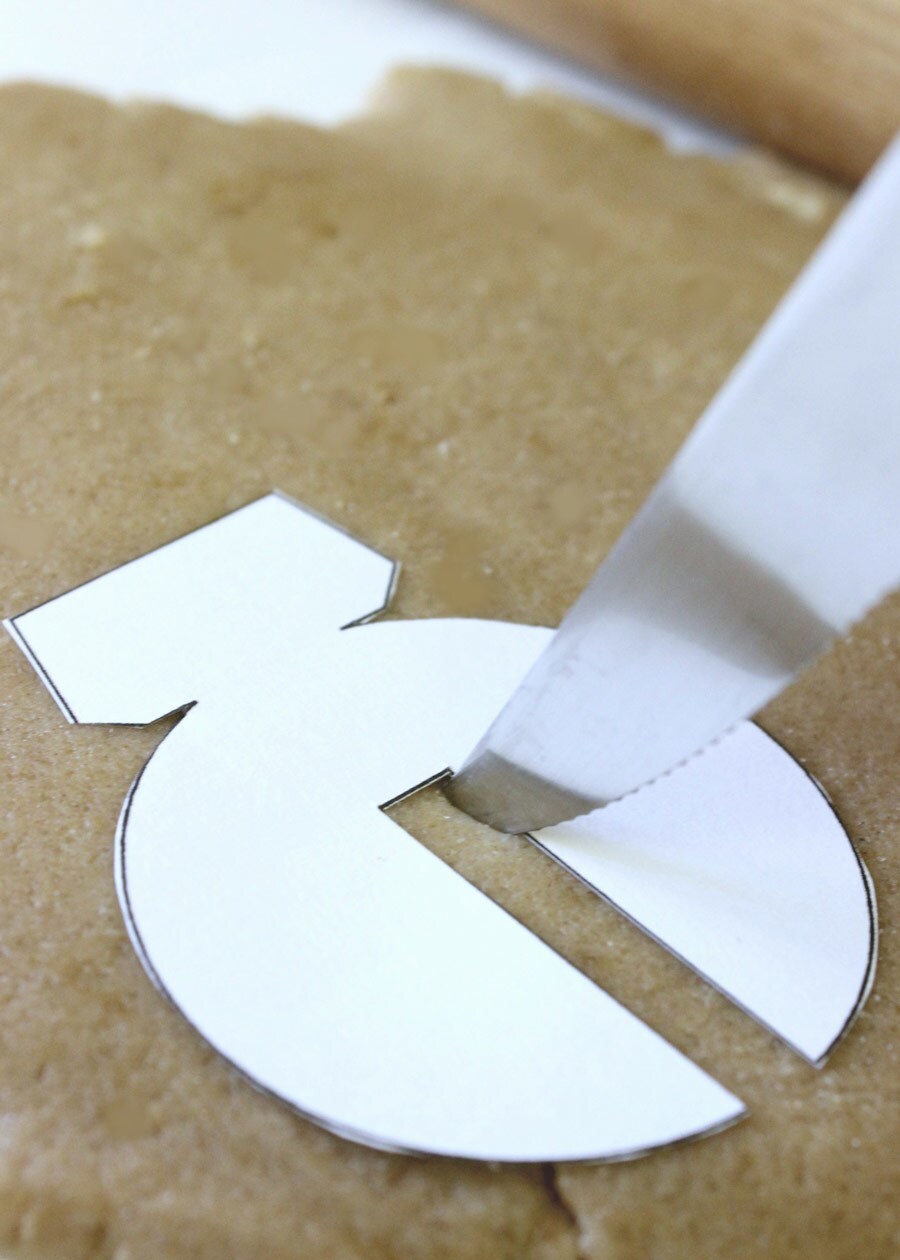 Step 6: Roll out the dough to about 1/4 inch thick. Use the template to cut out the shapes and transfer onto the prepped baking sheets.
Step 7: Bake for 10 minutes, let cool on a wire rack.
Step 8: Start the icing. In a small bowl stir together the powdered sugar, meringue powder, and black food gel dye. Slowly add the water until you get a manageable consistency.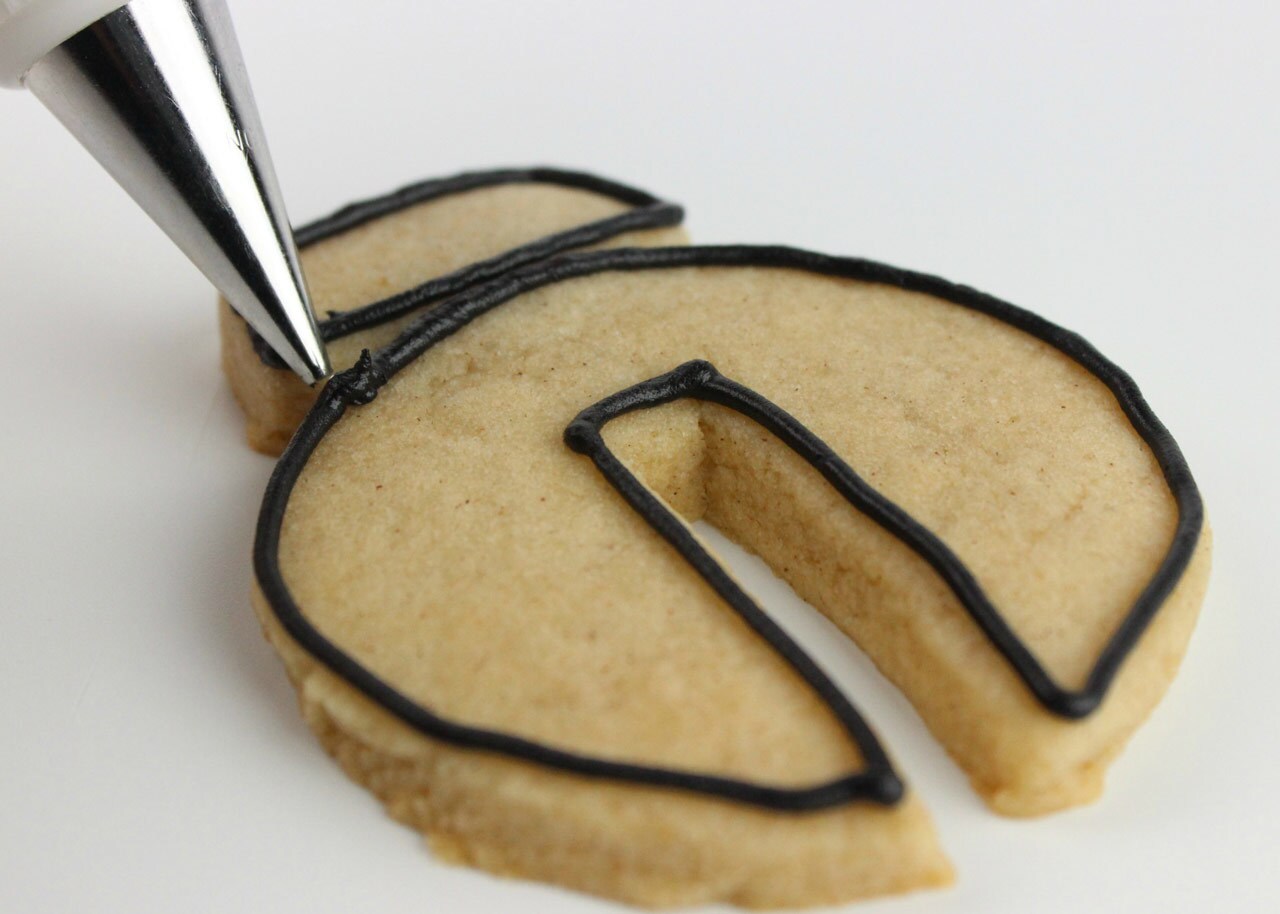 Step 9: Scoop the icing into a piping bag and with a #4 tip, pipe the edges of cookie. Then go back in and flood the rest of the area with icing, using a toothpick to reach all the edges. Let the black icing dry.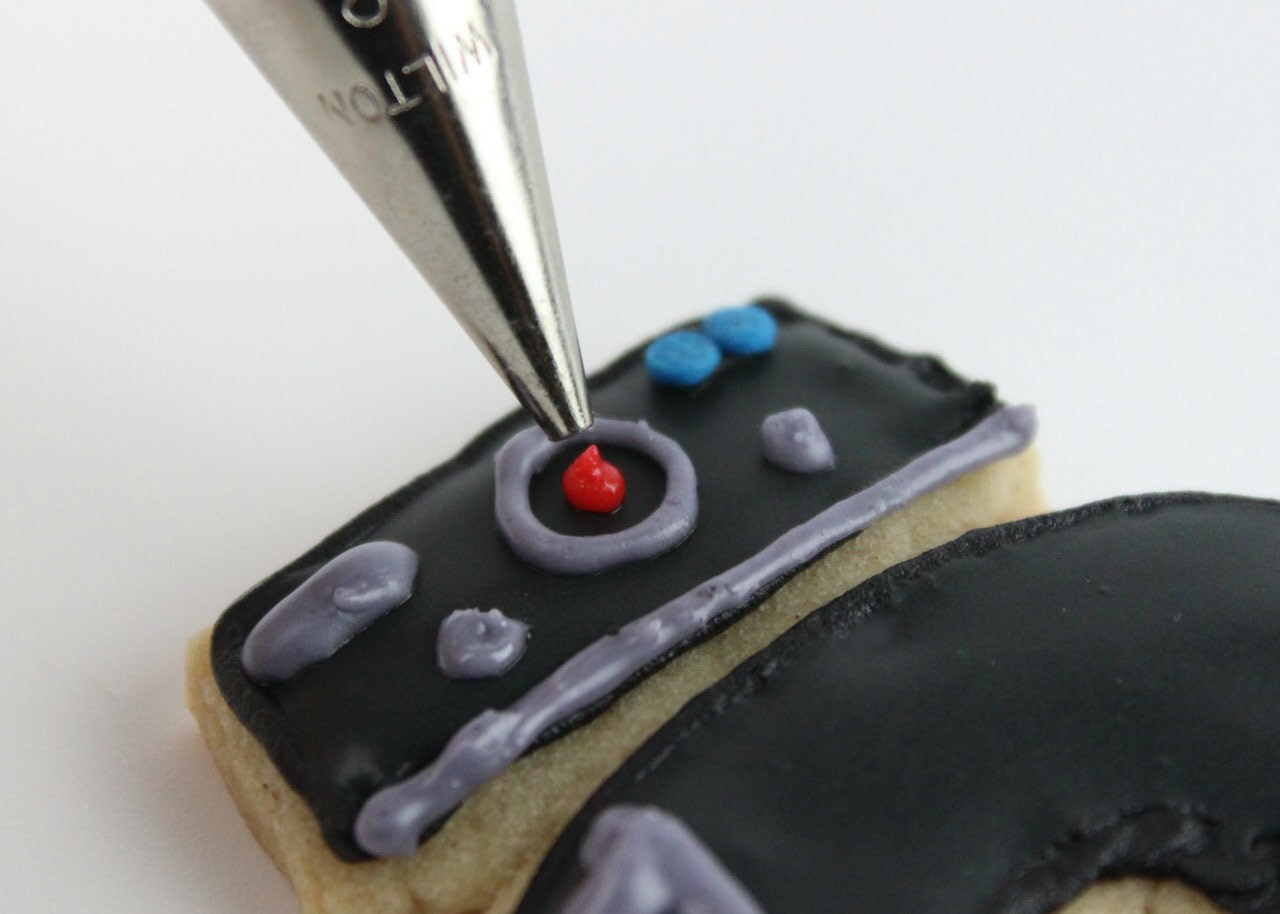 Step 10: With a #3 tip and gray icing, add the details, including the blue sprinkles for the lights. Then use a #3 tip and red icing to add the red sensor. Let the icings dry.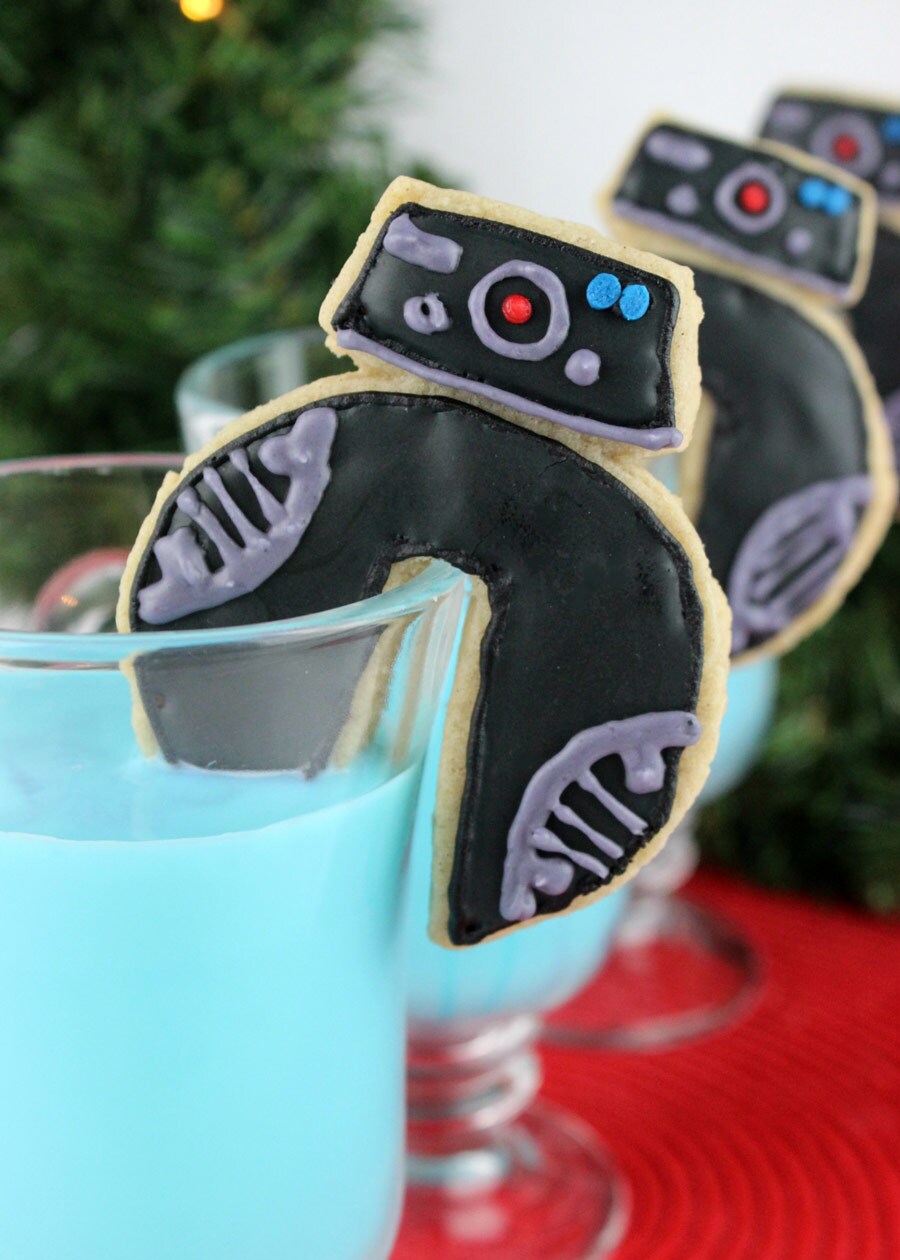 Step 11: When the cookies are dry, place onto the edge of a mug to serve.
Enjoy with your family, friends, and even Supreme Leader Snoke!
Jenn Fujikawa is a lifestyle and food writer. Follow her on Twitter at @justjenn and check her Instagram @justjennrecipes and blog www.justjennrecipes.com for even more Star Wars food photos.