On May 3rd, 2018, Lucasfilm and Star Wars: Force for Change launched the global "Roar for Change" social media challenge. For every public post, like, and share on social media that included #RoarForChange between May 3-May 25th, 2018, Star Wars: Force for Change donated $1 to UNICEF USA. By the afternoon of May the 4th, fans from around the globe had already unlocked the $1 million maximum donation! Every dollar raised through the "Roar for Change" campaign will be used to purchase Ready-to-Use Therapeutic Food (RUTF) packets, which is lifesaving nutrition for children suffering from Severe Acute Malnutrition (SAM).
Since 2015, Star Wars: Force for Change has unlocked more than 7 million packets of RUTF to help save the lives of over 59,000 children suffering from malnutrition. Thanks to all of our amazing fans, more children, like Muhasin, will be able to grow up strong and healthy.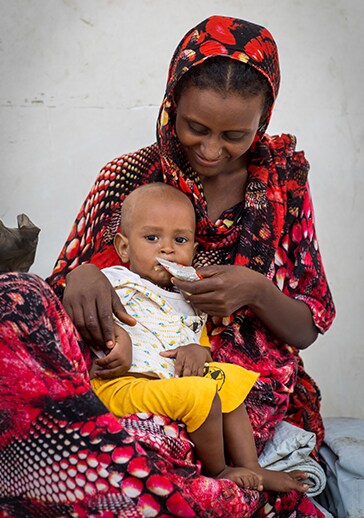 Two-year-old Muhasin, her mother Bahreya, and two siblings lived in a refugee camp after being displaced from their home village of Boranga in Sudan's Central Darfur State. Muhasin was taken to a UNICEF supported nutrition center where she was examined by medical staff. When it was confirmed Muhasin was suffering from Severe Acute Malnutrition (SAM), nutrition workers gave Bahreya packets of Ready-To-Use Therapeutic Food (RUTF), an energy-packed peanut paste, lifesaving treatment.
Bahreya returned to the nutrition center with Muhasin every week for continuous medical and nutritional assessment, and to receive a fresh supply of RUTF.
Muhasin quickly regained her appetite and soon she was playing happily with her siblings. Within five weeks, Muhasin had made a full recovery.
Muhasin is just one of thousands of children suffering from SAM whose lives have been saved through lifesaving interventions. Thanks to continued support by Star Wars: Force for Change and other generous donors, UNICEF treated more than 165,000 children with SAM in Sudan in 2017 alone.
StarWars.com. All Star Wars, all the time.
Site tags: #StarWarsBlog, #ForceForChange