Learn how one fan brought pre-Padawan Ahsoka, glimpsed briefly in Star Wars: The Clone Wars, to life.
Most Impressive Fans is a feature highlighting the amazing creativity of Star Wars devotees, from cosplay to props. If there's a fearless and inventive fan out there, we'll highlight them here.
Artist and budding cosplayer Joanna Wallace could have used her own personal Obi-Wan Kenobi by her side as she embarked on her redesign of one-of-a-kind Ahsoka doll, an undertaking that required Jedi-like patience.
An action figure used as a practice test for custom painting ended up with a slightly melted face (sorry, Rey!), her first attempt at the Togruta's montrals were too small even for the youngling, and hand-stitching the diminutive shift dress for the project proved to be more time-consuming than renovating her entire bathroom, she says.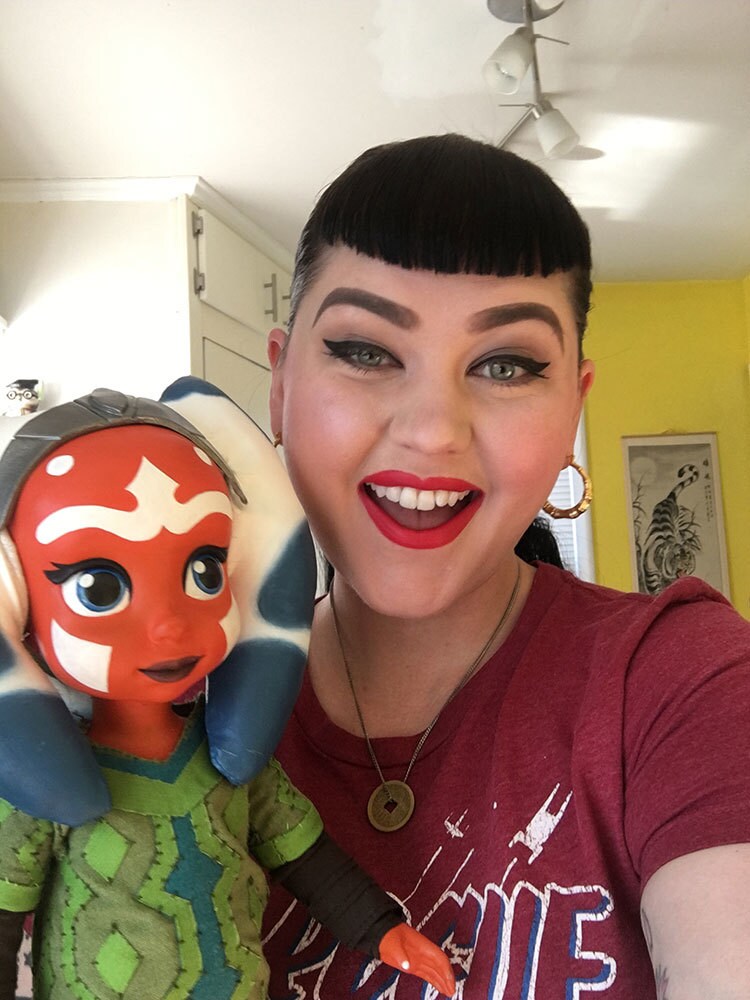 But after five months of meticulous work and dedicated eBay searching, Joanna turned a little mermaid into her own unique creation, a youngling Ahsoka she proudly displays in her Minneapolis, Minnesota, living room.
And there may be a young Asajj Ventress and a little Leia in Joanna's future to add to her collection.
'Rabid' rebel fan
Joanna, now 31, has been a self-described "rabid fangirl" for all things Star Wars since she was a child growing up in Arizona, escaping the heat in her grandma's pool while her uncle hovered over the water dressed up as Darth Vader.
By the time the Special Editions hit the theaters, the 10-year-old was struggling with her parents' difficult divorce and, beyond providing a distraction from the turmoil, "[Star Wars] really showed me that there was hope," Joanna says. "It showed me that these people who were put in this horrible, difficult situation fought their way out of it."
She collected the action figures and consumed every Star Wars book she could grab, but at times, she was chastised and bullied for enjoying what was seen by some as a franchise for boys, she says.
As an adult, Joanna helped run The Alliance of Star Wars Fanatics, a site dedicated to creating a positive atmosphere for fans to share their love of Star Wars without fear of being bashed for their gender or for preferring the prequels over the original trilogy, she says. "We don't allow people to talk about not being a true fan," Joanna says.
During a trip to Disneyland soon after the release of The Force Awakens, she got a glimpse of how the fandom is changing to be even more inclusive for the next generation, as she noticed little boys who wanted to be brave and scrappy like Rey. "I was moved to tears multiple times," she says. "Kids don't see that gender thing now. To them, Star Wars isn't a boy thing. It's just a really cool thing."
Lessons in chemistry
That 2015 trip to California, a joint celebration of Joanna's 30th birthday and her mother Susan Williams' 60th, also planted the idea for her Ahsoka custom doll, after she found herself gazing at a display of Disney Animators' dolls.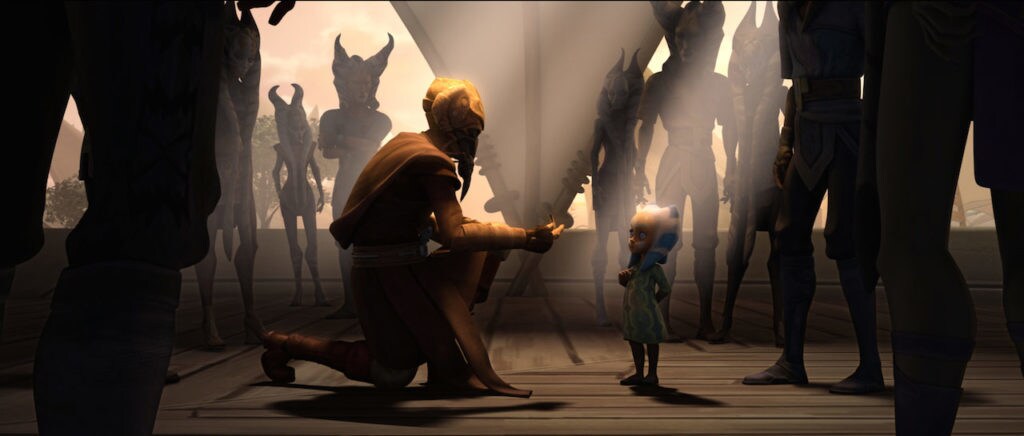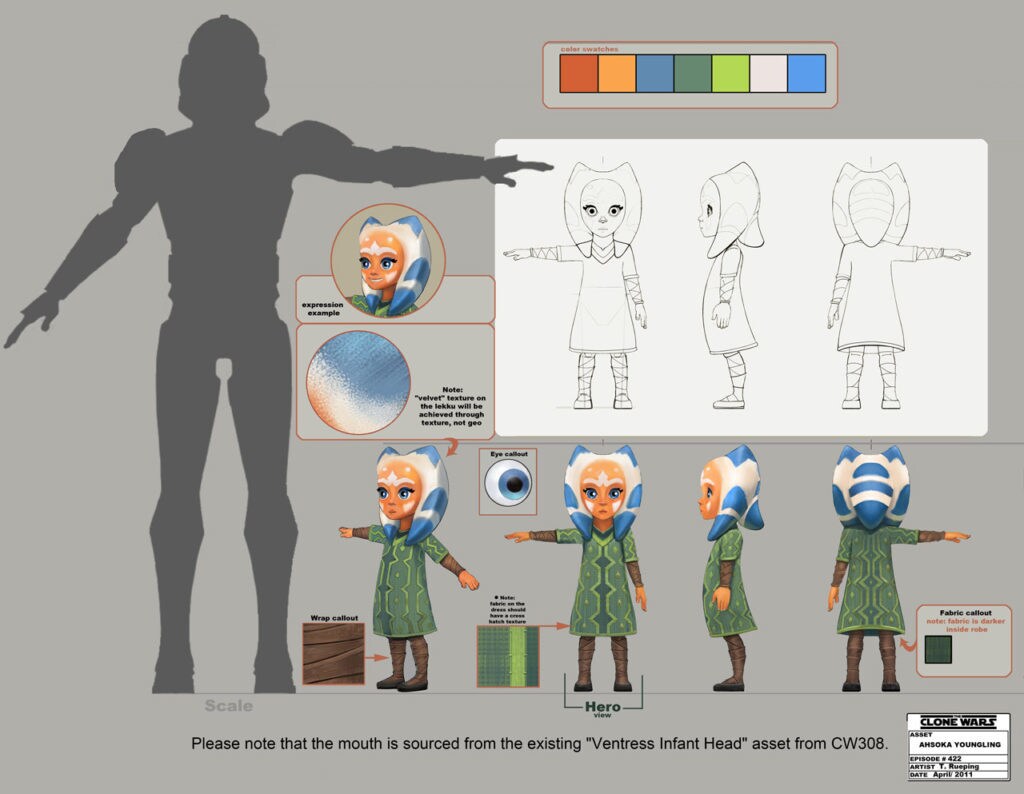 Instead of waiting and wishing for a version like the child Ahsoka glimpsed in the Clone Wars TV series, Joanna decided to create her own. By day, Joanna oversees enrollment and advising at Capella University. By night, she's just starting out in the hobby world of cosplay and prop building, relying on her artistic training from her days at the New School for the Arts & Academics in Tempe, Arizona. "I paint. I sew. I teach myself whatever I need to do."
Still, jumping from 2D painting to 3D design meant she would need to practice. She found an inexpensive Rey figure from the Black Series line, and decided to repaint the scavenger's face.
"And there were a lot of lessons there," Joanna says.
Lesson one -- acetone is a lot harsher than the desert sun of Jakku. After soaking the action figure in the chemical melted down some of the head, Joanna had to perform some literal plastic surgery to re-sculpt and fix the features. "She still looks kind of melty," Joanna says.
Feeling confident enough to begin, she combed eBay to snag a used $15 Ariel doll from the Disney Animators' Collection -- with just the right expression to evoke three-year-old Ahsoka being discovered by Jedi Master Plo Koon on Shili.
A close shave
To make room for the montrals and head tails, Joanna hacked away at the doll's thick red locks, sacrificing her razor and relying on a clay-sculpting tool toward the end to get down to the roots.
Joanna covered the vinyl doll head-to-toe in gray primer, then painted on the perfect shade of orange for Ahsoka's skin tone. A final coat of matte polyurethane helped conceal any brush marks and sealed the acrylic paint to it wouldn't rub off over time with handling.