He can even give thumbs up!
Most Impressive Fans is a feature highlighting the amazing creativity of Star Wars devotees, from cosplay to props. If there's a fearless and inventive fan out there, we'll highlight them here.
An invitation to dinner at the Young home in Atikokan, Ontario, may call for dining around a table cluttered with AT-AT legs and BB-8 parts.
Patriarch Jamie Young spends his free time crafting life-sized astromechs, scaled-down Imperial walkers, and other prop vehicles from the Star Wars saga, using every available surface in the house as his workspace.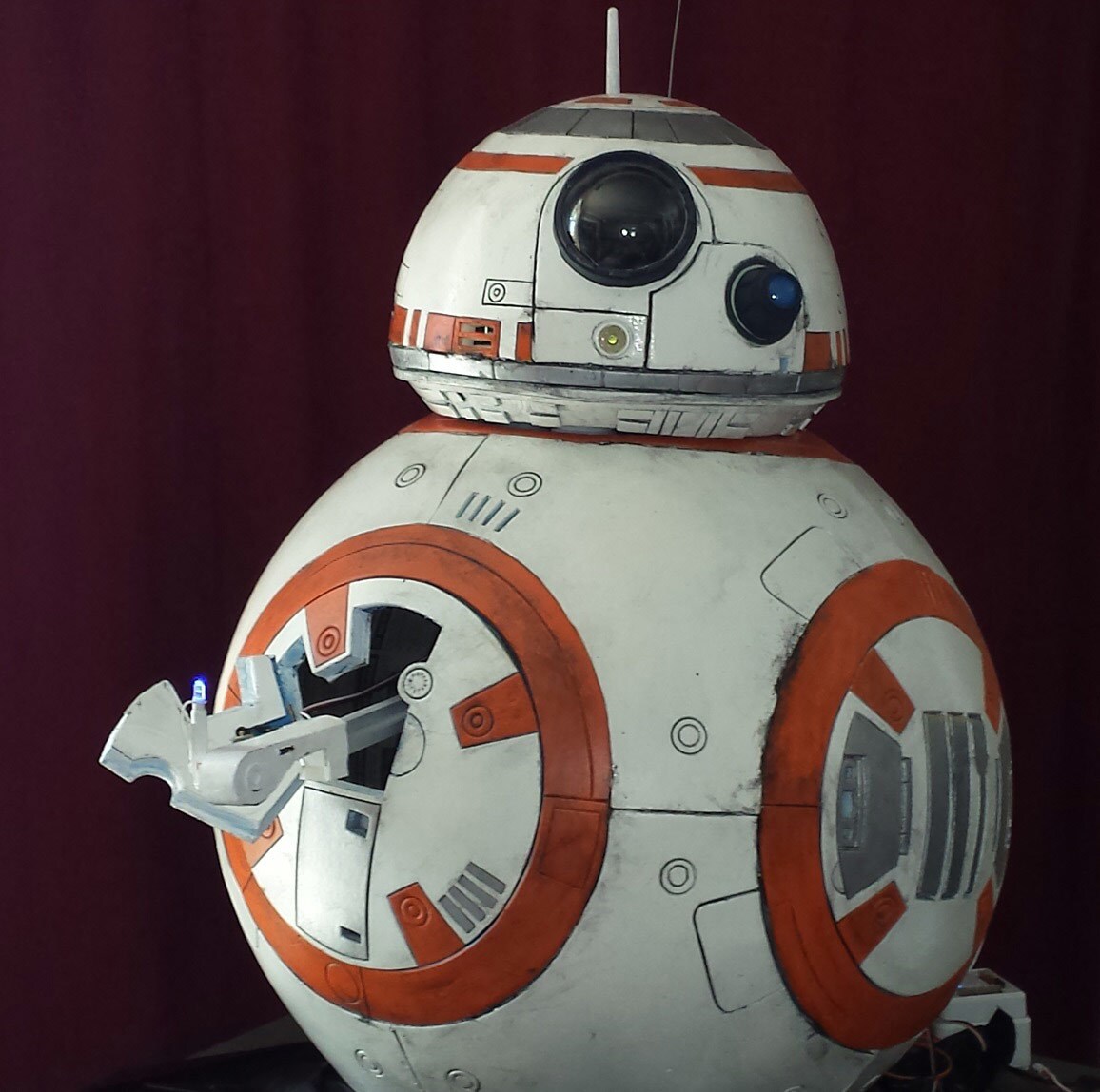 His one-of-a-kind creations don't come from a kit or digital blueprint -- they're painstakingly crafted from discarded foam flooring and scavenged parts from the hardware shop and raids on his children's LEGO bin.
"I'm a sucker for a challenge," says Jamie, explaining how his initial plan for a static BB-8 statue turned into an interactive droid. "Someone said, 'I bet you could make the head move.'" His response? "Challenge accepted! Never play chicken with me."
'Happenstance'
Call it luck, fate, or maybe the Force, but before 2011, Jamie had never even heard of the EVA (Ethylene Vinyl Acetate) foam that would become his medium of choice. A favorite of theatrical costumers and cosplayers seeking lightweight armor, Jamie first learned about EVA through the popularity of Iron Man cosplayers on the Replica Prop Forum online.
Then Jamie and his family moved into a new home and found the former owners had left behind a pile of the foam, which can also be used as flooring, in the basement. "It was just happenstance," Jamie says. "I gave it a go, and fell in love with it."
The first thing he built was an Iron Man costume, but he got bored midway through and ended up with more of an Iron Man bust. "I hate to brag, but my father's artistic. Normally whatever I put my hands to I can pick up quickly and excel in it," Jamie said, and he found following the patterns online wasn't much of a thrill. "I wanted to do stuff nobody else had done. So that's when I moved to a life-sized R2-D2."
Trial and error
Troubleshooting his first trusty droid took about 200 hours in all, including some frustrating moments trying to form flat foam into the droid's dome and the realization — too late! — that at 30 pounds, Artoo was too heavy to be supported by a pair of foam legs. "After awhile his legs started to bend because he couldn't carry his own weight," Jamie says, so he retrofitted a wooden frame and added some standard shelving brackets to help keep him from sagging.
The texture of the foam posed another hurdle. "There was a lot of trial and error to make matte tile look like droid," Jamie says. "I would spray paint Artoo, come back a few hours later and be like, 'OK, where's the paint gone?'"
The porous surface was sucking up the finish like a sponge. After a white latex paint left the droid looking prematurely battle worn and cracked, Jamie discovered he could essentially seal the foam with a standard clothes iron, for a finish the looked as smooth as a real astromech.
"Don't use the good one, though," he cautions, another bit of wisdom he gleaned only after bits of the foam transferred onto one of his son's Cadet uniform shirts with disastrous results.
But his work with the iron was also a boon for his future BB-8 project, after he heated up a piece of foam with a slice in it and noticed it separated so it looked like a groove. "It's just one of those happy accidents."
Running out of space...
It was December of 2015, days after Jamie and his wife Sarah had made the two-hour drive from their rural home to a city cinema to see The Force Awakens, when he started work on his own rotund sidekick.
An online BB-8 Builders group, like the Artoo project before, helped to provide guidance and hi-resolution scans to make his model as screen-accurate as possible. "A couple of them had been to the movie premiere and were able to measure display models," he says. A standard action figure, and three days of scouring the internet for screen captures rounded out his research. Among his supplies: a Christmas ornament, a flashlight bulb, and a cut up pen.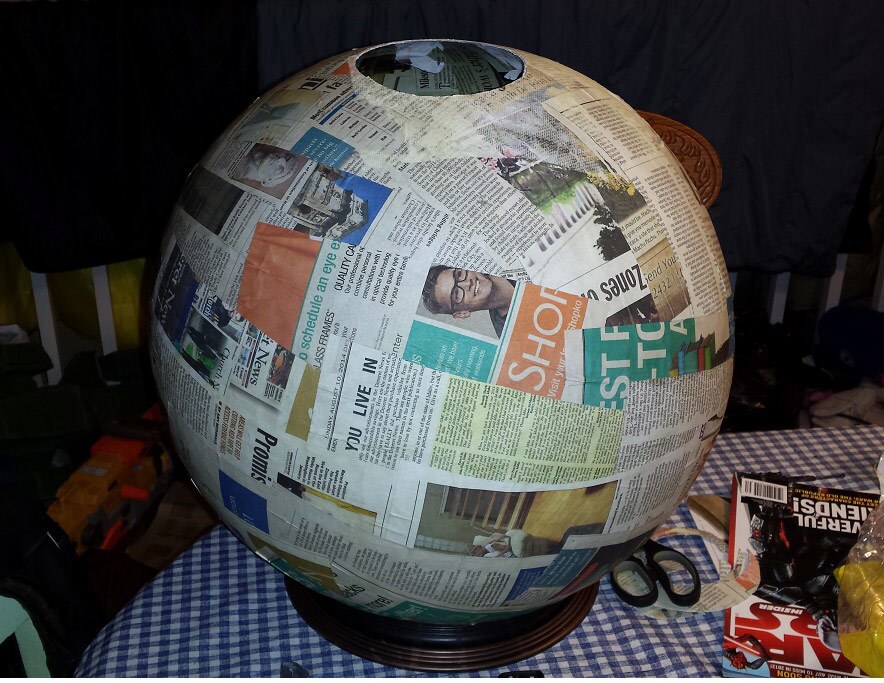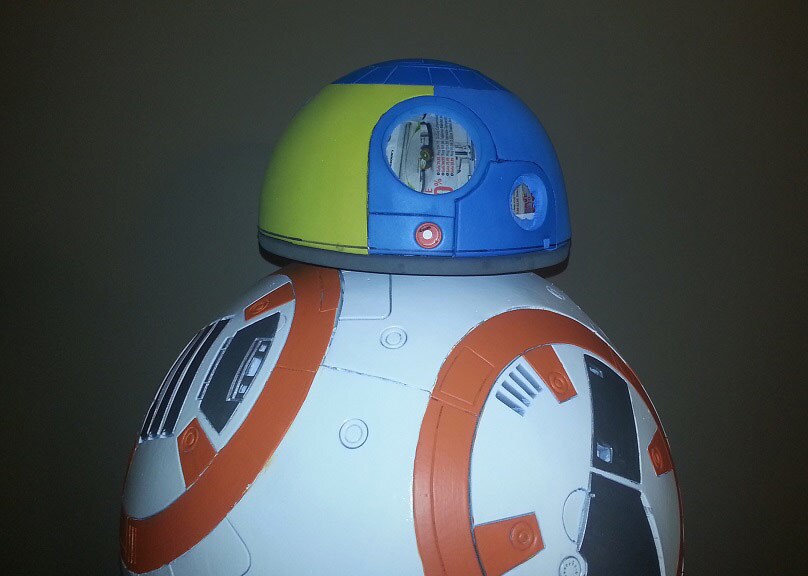 The Artoo project had taught him how to form the foam to the droid's dome-shaped head, but he had not yet tackled making a perfectly smooth ball like BB-8's body. Luckily, the droid's details allowed him to cut several pieces, which were curved around a papier mached beach ball and fixed in place with hot glue.
He installed a small Servo motor — the kind used on drones and hobby planes — so BB-8 could spin his head around left to right, with some added support from the ball-bearing innards of a trio of roll-on deodorant sticks.
But after just one outing at a Canada Day celebration, Jamie quickly realized adults and bigger kids had to squat down to get a good look at the petite astromech — which stands just under three feet tall — so he went back to the drawing board and figured out a way to install a second motor so the head could also tilt up and down.
"Then someone suggested the thumbs up would be a great idea," Jamie says. "So once again it was like, 'Challenge accepted!'"
Several pieces of LEGO formed the teeth and the cog to pull the arm in and out, and a micro Servo powered up the door in the body. "That was tricky — trying to fix a hinge onto foam."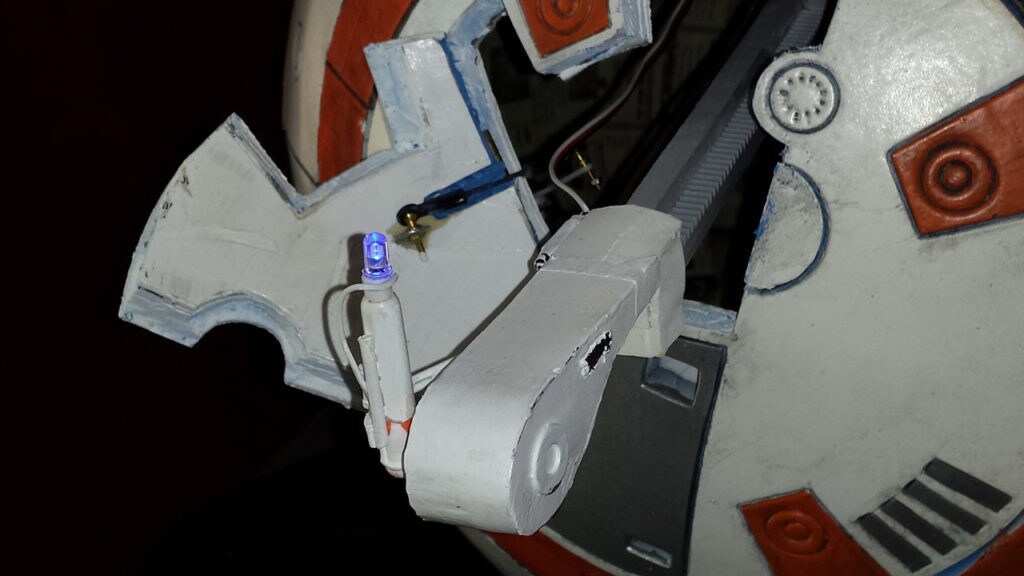 But he was running out of space, ultimately limiting the neck articulation mechanism to make room for extra interactive elements. "And I had to do this the day before his first main display at a convention."
Never enough time
BB-8 debuted at ThunderCon in Thunder Bay Ontario in October 2016, but Jamie was undeterred by the looming deadline, even when the droid's arm snapped and he had to make a hasty repair.
And he was undaunted when, 12 hours before show time, he was loading the prop into the car when it dawned on him that the droid had sound, but it didn't have any lights.
With a few hours to go, Jamie borrowed an LED from a flashlight and sat feverishly coding a program that would sink up the new and existing elements to be controlled from his cell phone.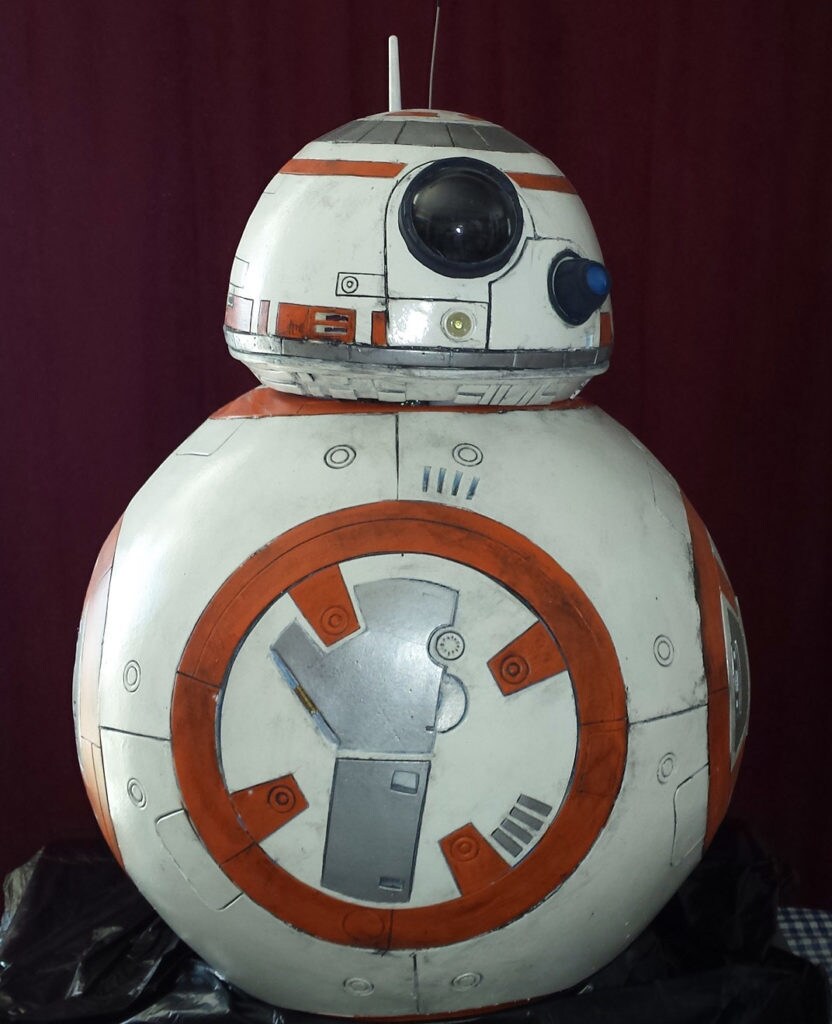 For now, BB-8 weighs in at about 20 pounds, most of that due to the wooden stand that keeps him upright. "Unfortunately, he has quite a few limitations, but that's the fun. You'll be building something and realize, OK, this can't be done. But then I adopt the idea, "It can't be done at the moment. Give me a few weeks."
The hardest part may be letting go of a project once it's complete and ignoring the urge to keep tinkering, upgrading and improving.
"You're always your own worst critic," Jamie says. "When I build something, I can see where I went wrong and I want to fix it. So BB-8 is pretty much done...I do want to add a few more lights."
'The kids were getting jealous'
In between conventions, Jamie also carts his creations to visit school children in his community.
"A few years ago, the principal asked if I could bring some of my props in because some of the kids were getting jealous," he says. His son had been talking up his father's work and word was circulating. "This kid goes home and has a life-sized Artoo in his basement!"
But reaching young fans is important to Jamie, himself a father of four — Alexander, 8, Hannah, 10, Elizabeth, 11, and Jamie Jr. (or J.J.), 13.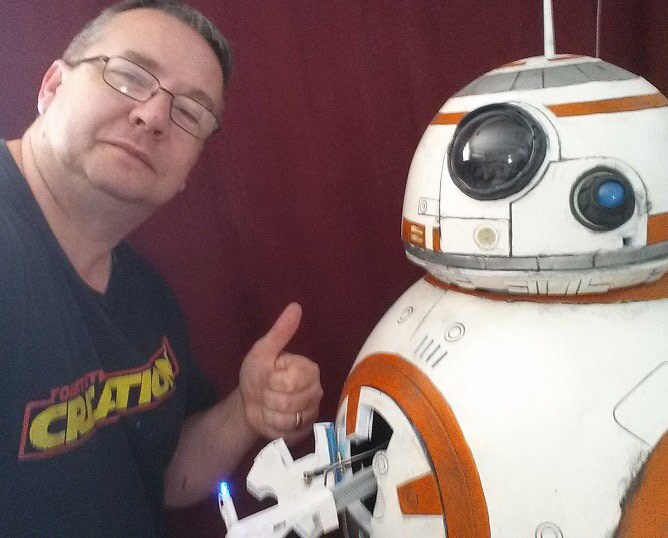 The relatively low cost also makes foam prop creation more accessible than similar products fashioned from metal and other materials. "I try to keep my builds to no more than $200-300, including paint and materials," a fraction of the cost of other astromech replicas. "Actually, I think my wife tries to keep it down. She has a couple of weird hobbies. We support each other in our weirdness."
Among his current projects, Jamie is building a full-sized Buzz Lightyear costume for a return to ThunderCon, an AT-ST and a decidedly not-life-sized Slave I. It helps that his day job is at a building center near his home, where he's always roaming the aisles considering the right pieces to complete his next model.
"I'm the town wacko," Jamie says laughing. "There are a lot of artists in town, but I'm the one who says 'I'm working on a robot.'"
---
The Most Impressive Fans Q&A
Who is your favorite Star Wars character?
When I was a kid I always wanted to be Luke. That was until I found out that Han got the girl! But overall, I would say Luke. I mean, he's a Jedi, he got to ride a tauntaun, he faced off against Vader, he got to fly an X-wing, and had Artoo as his best friend. Oh, and he also got a really cool robotic hand!
Which Star Wars film ranks highest on your list?
The Empire Strikes Back, for me, is the best of all the movies. It had everything: plot twist, action, romance. You got to see the Emperor and Boba Fett. And last, but no way least, AT-ATs!
What's your first Star Wars memory?
Watching A New Hope on the TV in England when I was a kid. That was the first time I had ever seen the movie. I had my little Artoo unit sitting next to me on the arm of the chair and I pretended that he was projecting it on to the screen.
Do you have a favorite scene?
Any and all Hoth scenes. Tauntauns, AT-ATs, snowspeeders, snowtroopers! It was awesome.
If you had to choose: join the rebels, or live the Imperial life?
Well, in real life I really want to join the 501st, so I would say Imperials. However, in the actual Star Wars universe, I would have to say rebels. I mean, firstly, it is the safer of the two sides because stormtroopers have pretty bad aim, regardless of what Obi-Wan says! But at least with the rebels if you make a mistake you can make it up. Being an Imperial, if you make a mistake then you get choked out! Yeah, definitely the rebels.
Kristin Baver is a writer and all-around sci-fi nerd who always has just one more question in an inexhaustible list of curiosities. Sometimes she blurts out "It's a trap!" even when it's not. Follow her on Twitter @KristinBaver.