He's a BB unit. One of a kind. Orange, white, and made of yarn.
Most Impressive Fans is a feature highlighting the amazing creativity of Star Wars devotees, from cosplay to props. If there's a fearless and inventive fan out there, we'll highlight them here.
Like Rey, Ellie McPhee is always stopping to fix her BB-8's antenna or readjust his wobbly head.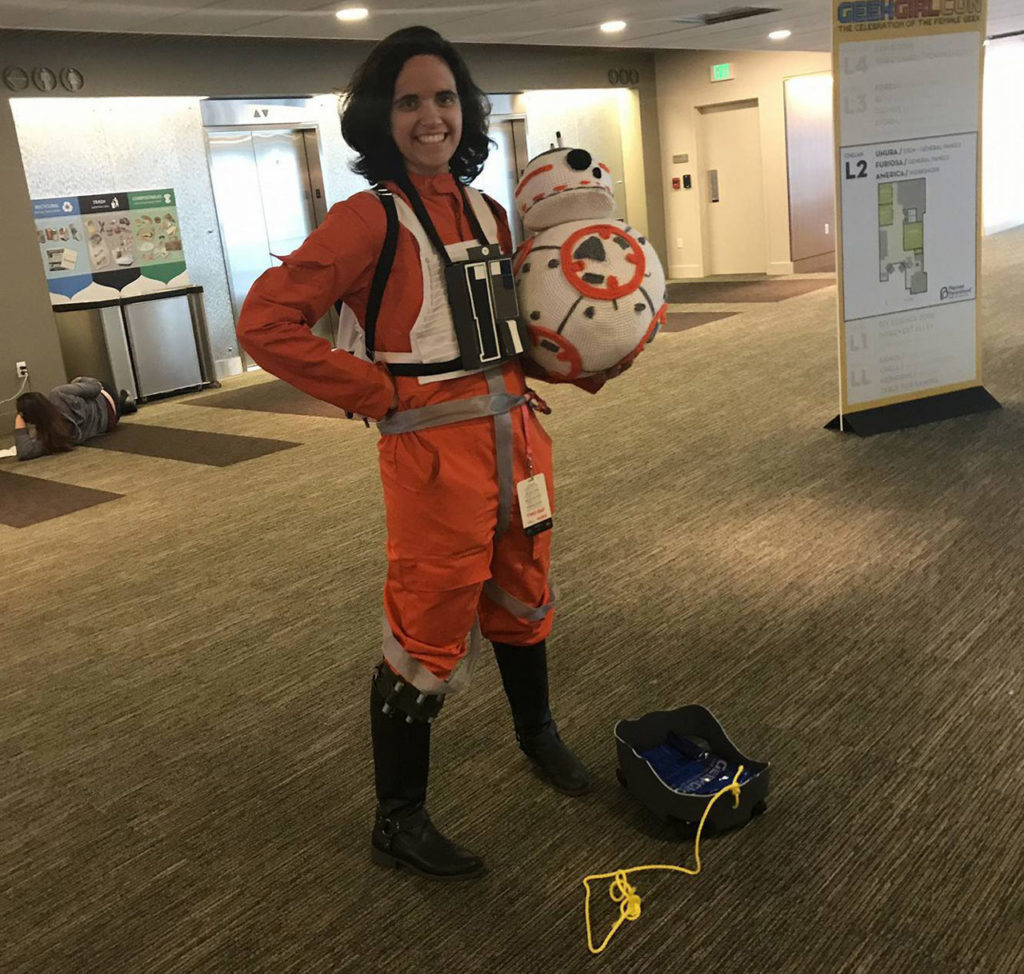 This pint-sized astromech isn't carrying important information vital to the Resistance (at least, not that we know of — maybe it's classified). It's more likely Ellie and her plushy astromech are out for a stroll on the streets of Seattle or headed to a convention exhibit hall. Strangers stop Ellie to compliment what they at first mistake to be a mass-produced movie tie-in. Children tug on parents' sleeves to get their attention and sometimes stop for a hug and a photo op. Her friends come over and nuzzle the life-sized BB-series droid. But for Ellie, the project started as a way to simply ease her own nervous energy and help to focus in school.
"Originally the idea of crocheting was something I started to cope with my anxiety and my short attention span," the 18-year-old says. "I started crocheting in class and I was able to pay attention more during lectures. It's a coping mechanism...It's like the fidget spinner only you're doing something productive."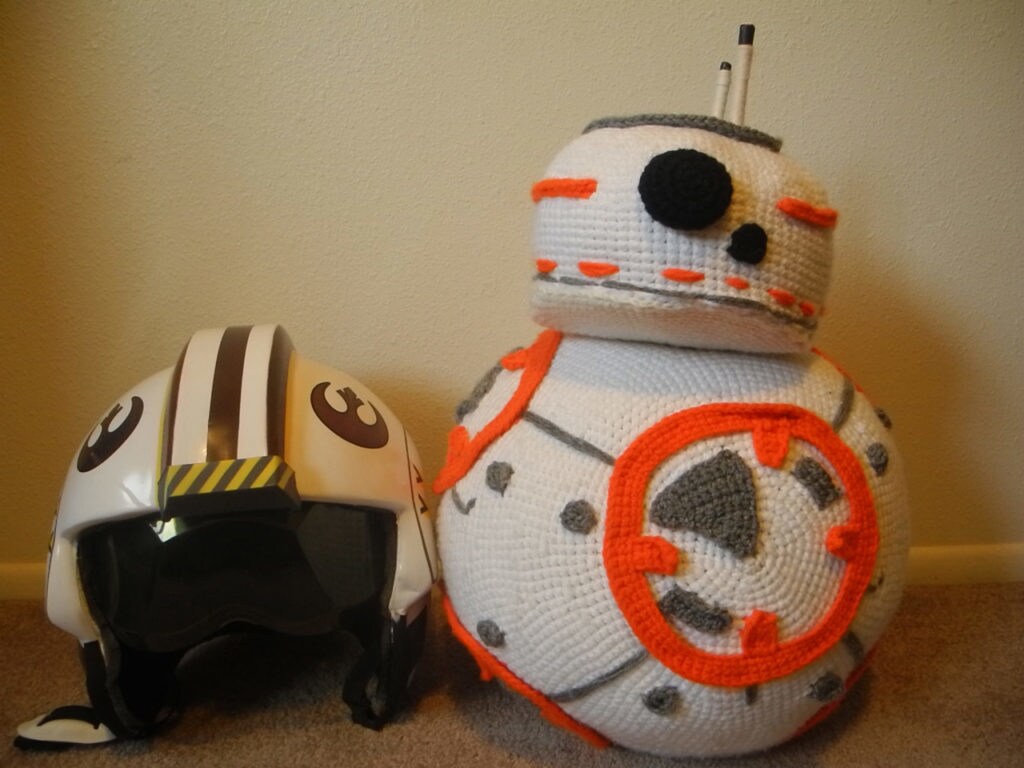 Ellie was diagnosed with anxiety disorder in the 8th grade, and tried medications and other treatments before reading about the benefits of knitting and crochet online. "I knew I was really bad at knitting, but I thought, heck, why not try crochet."
Her mother had some crochet hooks around the house and it quickly became her favorite way to unwind. "For me it really allows me to slow down and not overthink everything that's happening or been going on, when your brain tries to hyper elevate a certain event that happened that's not important."
Where do you come from?
At first, she used the hobby to craft the standard scarves, hats, and gloves, before moving on to any army of tiny BB-8s -- gifted to her three siblings Raegan McPhee, 21, Lucy Davidson, 6, and Henderson McPhee, 5 — and other stuffed creatures including Baymax.
"And jokingly toward the end of my junior year one of my friends said, 'Hey, you should make a life-size one.'"
She searched her feelings, and did the math on how much yarn she would need and how long it might take. "I was like 'Wait, I could actually do this.'" She knew it to be true. And a sale on yarn was just the impetus she needed.
So during her senior year, Ellie started down the long path of constructing her own version of Poe's VIC (Very Important Co-Pilot).
An online calculator helped her convert the 2-foot-2-inch roly poly droid from inches to centimeters to stitches to figure out where to begin, then she got to work with her .5 mm hook. To make the giant ball base in single stitch starting last October, it required five skeins of white yarn.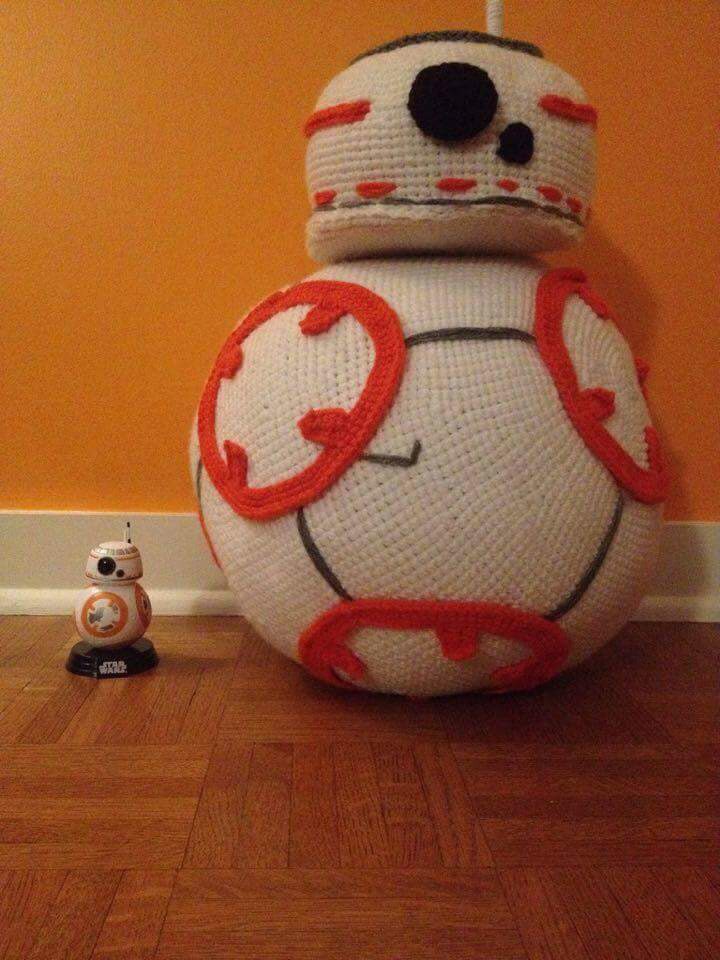 The domed head proved to be the first challenge.
"I think I did the head about six times before I got the size right. And there were days when I would be so frustrated because I would go through and do the math and I would be like 'OK. this one's going to work' and I would finish it and it did not look right."
Then she stuffed him with about five gallon-bags of pillow fluff and, using a piece of cardboard to keep the head flat on one side, attached the two pieces with a single loop of yarn running from stem to stern. The connection allows the droid's head to spin 360-degrees, or flop at jaunty angles to give off a little extra sass. "It's actually just yarn, which can cause the head to be quite wobbly. But if you're watching the movie, BB-8's head is quite wobbly. It gives him some character."
For the pesky antenna, she took straws and tightly wound yarn around each one, then stabbed them through gaps in the stitching. "There's a lot of pictures where he doesn't have antennae because they fall out," making the piece unintentionally screen accurate; she's already considering an upgrade with chopsticks.
Ellie used double-stitch to make some of the astromech's details more pronounced, building up the six orange circles on the droid's base and then attaching them with a yarn needle. She says it took patience to get the circles symmetrical, identical, and spaced just right. "And the gray was tricky because each circle on BB-8 has a different gray pattern."
Some leftover scraps of black yarn was enough to give the droid the power of sight.
The whole project cost under $40. "There's not a whole lot of snazziness. Anyone with crocheting experience can do this, really."
When BeeBee wasn't cooperating, Ellie knew it was time to take a break and work on other things like cosplay ensembles or school projects, college applications, and studying for finals at Garfield High School in Seattle. Ellie agrees the place has a rather fantasy-world sounding name. "It does. It's not, though. It's a very small town."
Her droid wasn't fully formed until just a few weeks before she walked the stage at graduation in May. "But I told my friends what I was doing so they were always there to push me."
The finished piece weighs in at about 5 pounds, although all that squeezing and settling has caused her droid to lose a couple inches in height in the months since.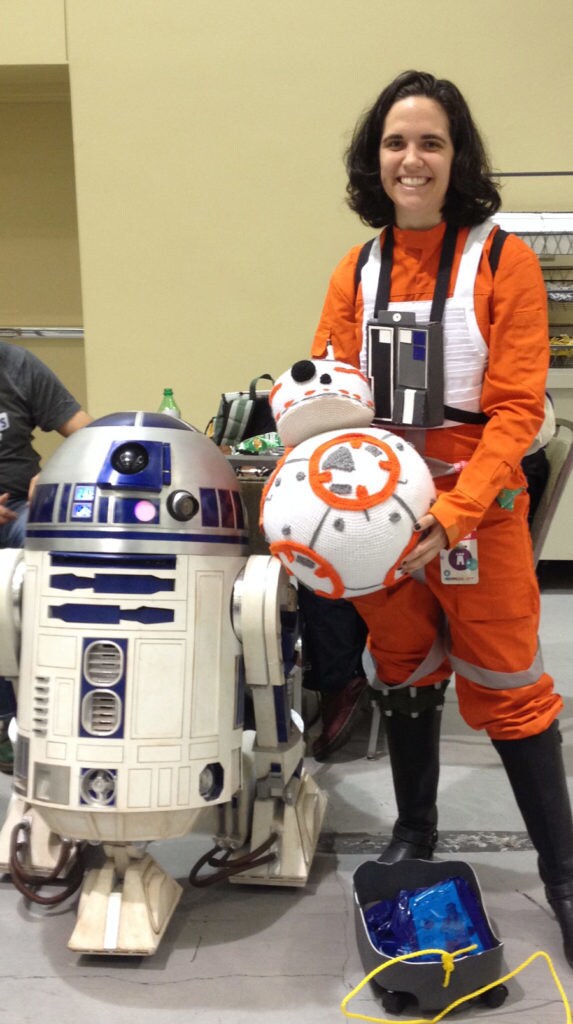 Now BB-8 holds court over a corner of her bedroom in Seattle where she's away from home studying band instrument repair at Renton Technical College. "And every time I look over at him, I smile."
She has taken the stuffed droid out, at the request of a friend's uncle who wanted to see the creation up close, "but I had some time to kill so I just sorta walked around downtown Seattle waiting to meet up with them."
Rolling into a comic book shop or just out on the sidewalk, the duo generated a lot of reaction, especially from excited young fans. "Of course I let them hug it, I let them take pictures with it," Ellie says. "And then I had some people who would come up to me and be like, 'What is that?'"
Perhaps next time she'll wear her Poe Dameron cosplay to help with some context clues. Cosplaying and loving Star Wars both run in her family. "I have pictures of my mom dressed up as Leia when she was like 6 for Halloween," Ellie says. "So for my older sister and I, growing up we watched Star Wars all the time."
Her sister preferred the dark side. "I have memories of my sister and I, I would be a Jedi and she would be Darth Vader and we'd fight in the living room."
Ellie still remembers the day the sisters were gifted two lightsabers. "When we got our toy lightsabers, it changed the game for us! I was 7, she was about 10. And then of course we've gotten to pass that on with our little sister who will be dressing up as Princess Leia this year for Halloween."
And Ellie loves donning her own cosplay to meet other younger fans just falling in love with the saga. During one event, while Ellie was dressed in her X-wing flightsuit, a tiny rebel of about 7 stopped and asked for a photo op. "And I think my heart melted. Golly gee was she adorable. Being able to make a positive impact with people is why I cosplay and why I make giant crocheted astromechs."
As for her droid building skills, Ellie is considering her next project.
"A lot of people asked me where I got it, which for me was really cool because they thought it was professional looking enough that I had bought it somewhere when I had actually made it," she says.
She say her BB-8 may one day have a BB-9E counterpart. Or a classic Artoo unit in first-class condition. "I also want to plan on doing a life-sized R2-D2...which will be a lot more complicated."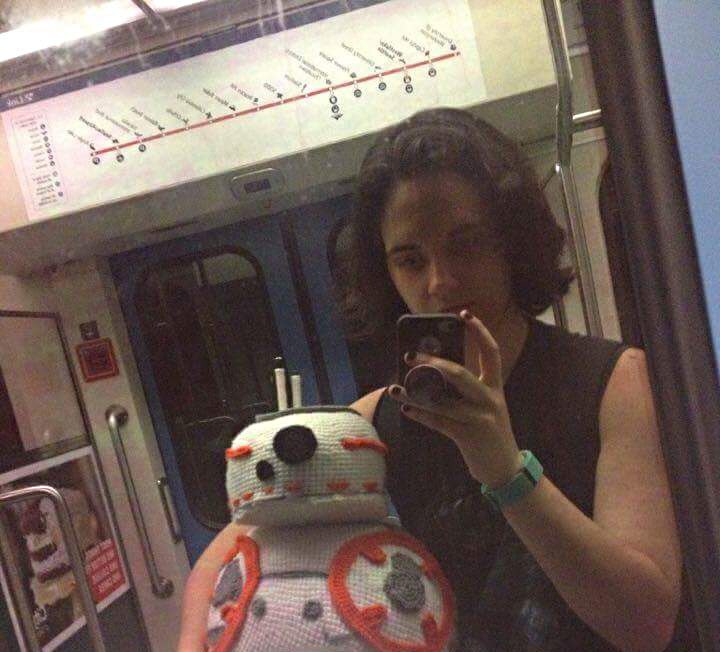 ---
The Most Impressive Fans Q&A
Who is your favorite Star Wars character?
Growing up it had to be Luke Skywalker, but Poe Dameron is slowly stealing my heart!
Which Star Wars film ranks highest on your list?
The Empire Strikes Back.
What's your first Star Wars memory?
Dressing up as a Jedi and "battling" my older sister who was dressed at Darth Vader.
Do you have a favorite scene?
The sunset on Tatooine in Episode IV, for the visual aesthetic and the music.
If you had to choose: join the rebels or live the Imperial life?
Rebels, hands down.
Kristin Baver is a writer and all-around sci-fi nerd who always has just one more question in an inexhaustible list of curiosities. Sometimes she blurts out "It's a trap!" even when it's not. Do you know a fan who's most impressive? Hop on Twitter and tell @KristinBaver all about them!