Ahmed Best's latest Star Wars character, wise Jedi teacher and host of the Star Wars Kids game show, is amusing children and adults alike.
Even before Star Wars: Jedi Temple Challenge debuted this summer, just the first glimpse of Ahmed Best in Jedi robes -- as host and Jedi Master Kelleran Beq -- was inspiring fan artists with his twinkling eyes and steady demeanor. On the Star Wars Kids game show, which released its season finale today, Master Beq is wise and encouraging, exactly the kind of Jedi you would expect to be leading a class of young Padawans on their quest to become Jedi Knights.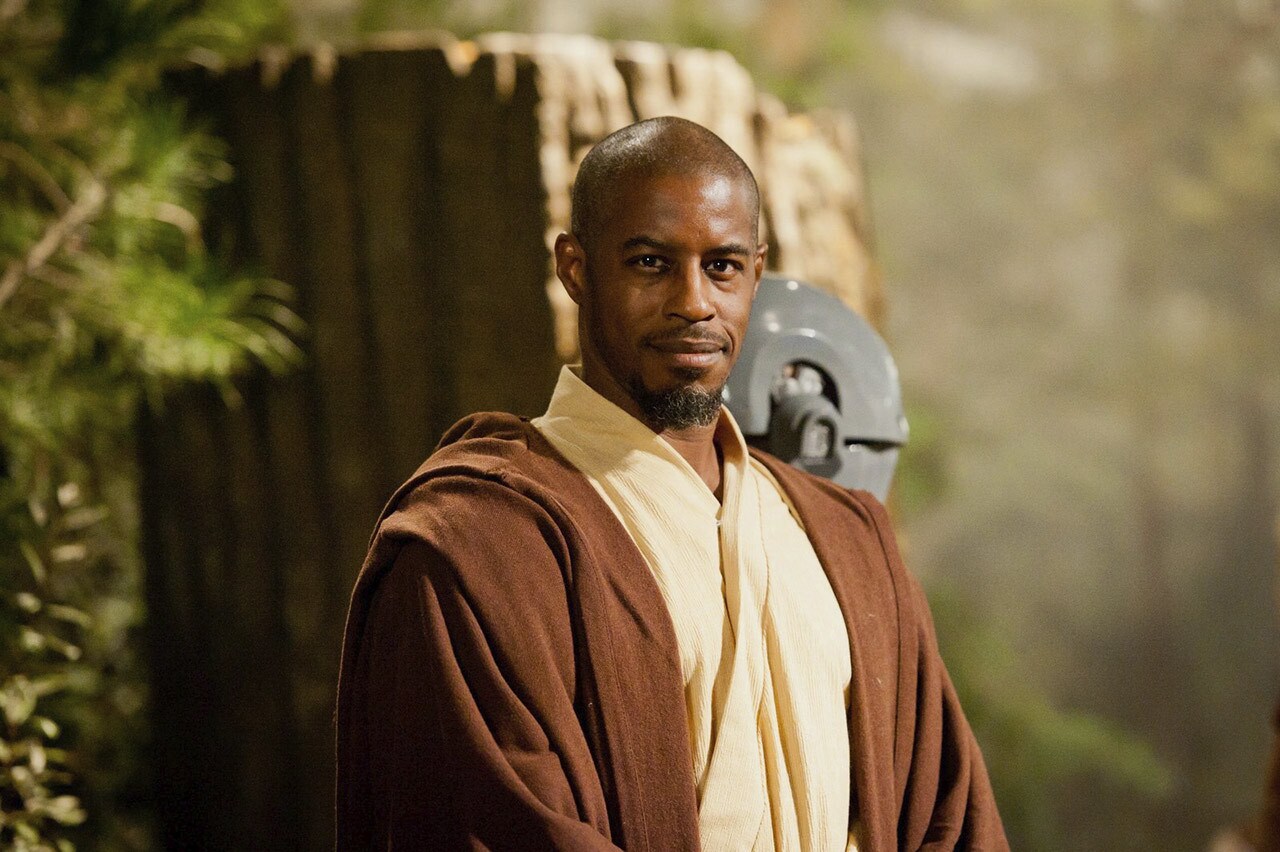 But it's not just for kids; adult fans have also embraced the charismatic Master Beq, with several fan artists creating their own impressive portraits of the character before the series had even premiered. "Fan art has always been a way to gain a deeper connection to Star Wars characters and stories," Best himself notes. "Star Wars fans are some of the most creative in all of fandom and the art that emerges from that creativity is a testament to that."
Embodying the new role and helping to create Master Beq was a dream come true as an artist, a producer, and "as a HUGE Star Wars fan," Best adds. "All the Kelleran Beq art proves how connected we all are as lovers of all things Star Wars. From the mosaics to the portraits to the comics, Kelleran is now a part of this universe we love so much and I couldn't be more grateful."
With a little guidance from Master Beq himself, here are a few of our favorites and the stories behind them.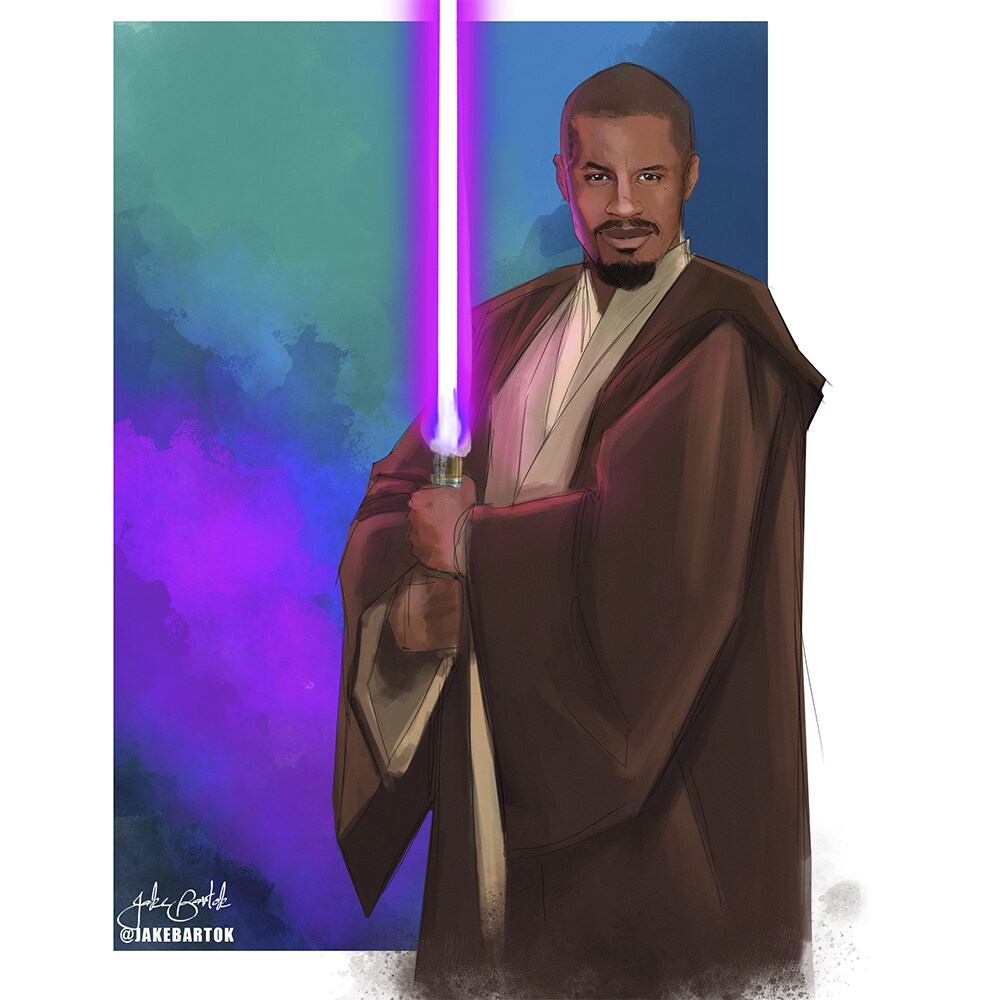 Jake Bartok, Australia
Like many artists, Jake Bartok has been drawing and illustrating since he was old enough to hold a pencil, and the concept artists behind the stunning visuals in the Star Wars prequels made him realize he wanted to pursue his passion as a career. "I think I've always been a Star Wars fan, but my earliest memory is being taken to the midnight premiere of The Phantom Menace in 1999," says Bartok, now a professional comic book illustrator. "From the second the music hit, I was hooked. And after being given The Art of Star Wars, Episode I – The Phantom Menace book, I was in awe of artists like Doug Chiang and Iain McCaig. I knew I wanted to be like them when I grew up!"
As a child, Bartok was also a fan of action-adventure kids game shows, so "seeing one set in the Star Wars universe immediately captured my imagination," he says of Jedi Temple Challenge. "And the character of Kelleran Beq seemed to encapsulate the best qualities of what a Jedi can be." A few days after the trailer dropped, Bartok found himself thinking of Master Beq and creating this piece during his usual warm-up routine for a day's work. When he shared his art, other fans took notice. "The fan response was fantastic," Bartok says. "Everyone seemed to share my enthusiasm for the show and for Ahmed Best's return to Star Wars." That included Best himself. "I was surprised and ecstatic when Ahmed liked and shared it. I remember waving my phone at my wife in excitement!"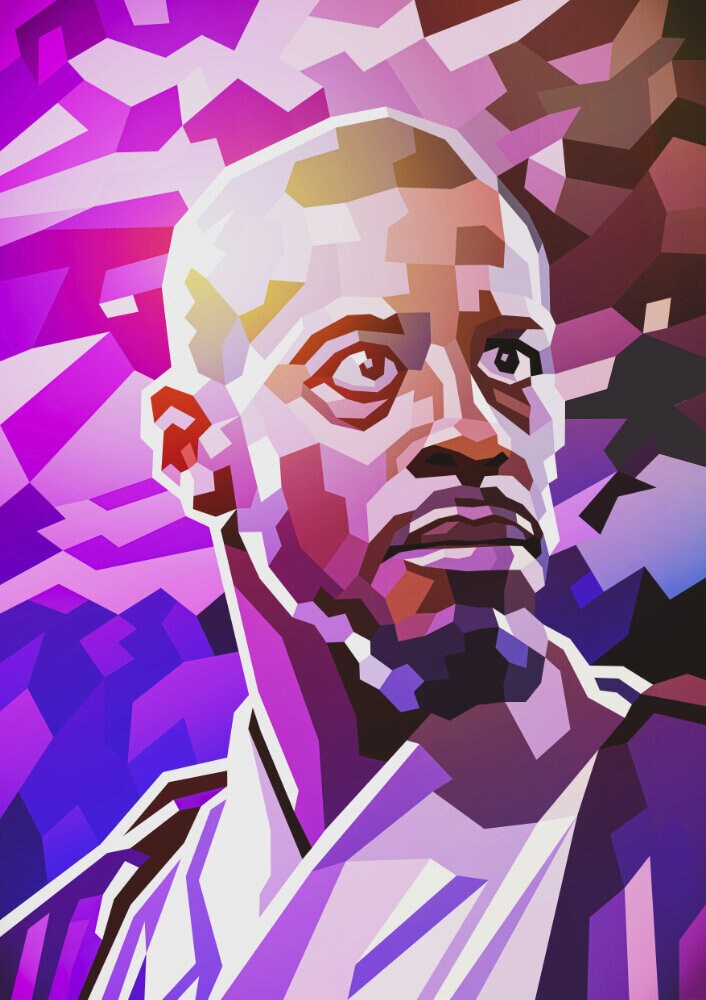 Liam Brazier, United Kingdom
Like Bartok, Liam Brazier also discovered Star Wars in the cinema and turned his passion for illustration into his career. "I am extremely lucky that my hobby has become my job," he says. "But because illustrating is something I love to do, my fandom often seeps in. The only thing I love more than drawing is drawing things I love."
Brazier has turned a variety of Star Wars characters into 2D works of art, with a modern flair that looks something like a stained glass window, in this case incorporating Beq's purple lightsaber hue for a bold color palette. "I was hugely enthused by the joy and pride from Ahmed Best and the others involved in the show running up to the release," Brazier says of his piece, which Best shared with fans and followers on Instagram to celebrate the show's premiere day. "It's an absolute pleasure when someone you've drawn appreciates it, so Ahmed reposting it on launch day was a complete honor," Brazier says. "It's wonderful to see him back in Star Wars and having such a great time with it. When Star Wars lets itself be fun it revels in it, and that very much comes across watching the final product."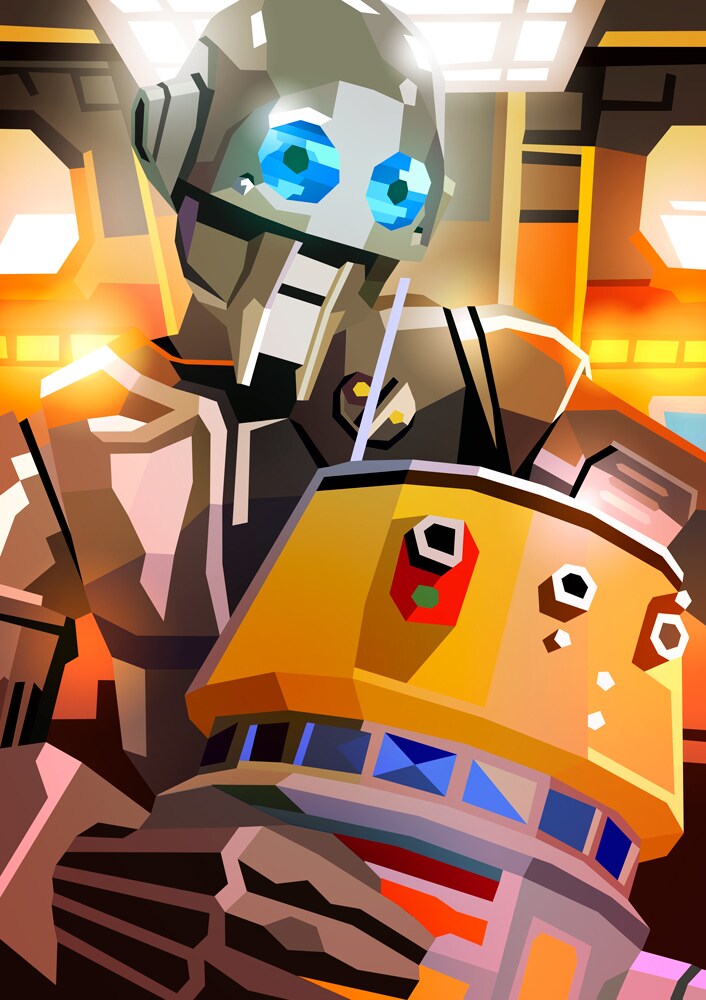 And Brazier isn't done yet. Earlier this week he shared another entry into his series, a portrait of Beq's two feisty droids, AD-3 and LX-R5. "Once the show started to air I just had to fill out the rest of the Athylia crew," Brazier says. "Kelleran and the droids have such great chemistry on screen it seemed wrong not to attempt to capture some of their character, too." But most importantly, he's looking forward to sharing the series with the children in his life. "My niece and nephew are nearing the perfect age to marathon the show and I can't wait to introduce it to them -- and see the inevitable leaps for meiloorun reenactments shortly after!"
Armand Bodnar, New York, USA
Armand Bodnar's understated sketchbook style still captures all the nuance of Master Beq overseeing the Jedi trials, the perfect subject for the longtime fan and artist. "It's not as elaborate or comprehensive as some of the other work I've done, but I was so charmed by the show and Ahmed Best's performance," Bodnar says. "I actually made the piece very quickly the same day the show premiered on YouTube….I really wanted to put together some kind of small offering."
Bodnar's love of Star Wars, and the prequels in particular, goes back to his childhood. "I have vivid memories of being at a relative's house and The Phantom Menace was playing on TV," Bodnar says, although around the same time he convinced his parents to rent A New Hope on VHS, so he's not sure which came first.
Now a professional artist, Master Beq holds a special place in Bodnar's heart because he's not just a great warrior -- he's also a patient teacher. "Every day I spend drawing is a day I can improve and learn," he says. Bodnar doesn't always create overt fan art, he says. "But I enjoy using it as a tribute to things I admire. It's fun to be able to throw up a piece of fanart as a flag that says 'I love and support this material.'"
And seeing Best, whose first performance in the galaxy was as Jar Jar Binks in The Phantom Menace, made his return as the lead in Jedi Temple Challenge feel even more special. "I was most excited and invested in seeing Ahmed Best return to the Star Wars universe," Bodnar says of his interest in the show.
Seeing Ahmed Best share the piece was just an added bonus. "I was most excited knowing that Best saw it, and liked it enough to share it. It was my small tribute to his work and I'm glad I was able to show him in even such a simple way that I appreciate what he's done."
And Bodnar will likely turn to the Jedi Master for inspiration on a future piece, maybe even unleashing his headcanon on the idea of Master Beq in the Clone Wars era. "One that I am particularly fond of is the idea of Beq during Order 66, defending his younglings charges from the clone army," Bodnar says, picturing Beq "standing like a monolith between those in his care and the forces of the new Empire."
We're pretty sure Best would love to see it! "To all of the artists out there, I say 'Keep it coming,'" Best tells StarWars.com. "The Sabered Hand is a character that is just beginning and your voice is valued in the continuation of his stories. Thank you for all your genius creativity. I'm so proud to represent something that we all enjoy giving life to."
Watch the final episode of Star Wars: Jedi Temple Challenge available on Star Wars Kids below, or binge the full first season now!

Associate Editor Kristin Baver is a writer, host of This Week! In Star Wars and The Star Wars Show Book Club, and all-around sci-fi nerd who always has just one more question in an inexhaustible list of curiosities. Sometimes she blurts out "It's a trap!" even when it's not. Do you know a fan who's most impressive? Hop on Twitter and tell @KristinBaver all about them.
Site tags: #StarWarsBlog