Inside the massive new expansion that brings The Mandalorian -- and much more -- to Minecraft's blocky world.
You needn't look further than the popularity of Minecraft's previous Star Wars packs to appreciate the enormous crossover appeal between the sci-fi saga and sandbox video game. Featuring avatar skins of favorite characters from the films, the packs offered an awesome opportunity for both gamers and fans of the galaxy far, far away to adventure as your favorite Star Wars character.
While the packs spawned many a cool Star Wars-inspired creation within the block-based world, they barely scratch the surface of what's to come. Revealed today as part of the Mando Mondays program, developers Mojang Studios and 4J Studios joined forces with Disney and Lucasfilm for the Minecraft Star Wars DLC, a fan-pleasing new package featuring not only dozens of new character skins, but also vehicles, creatures, locations, planets, and maybe even a mudhorn egg.
If that's not enough to jump your enthusiasm to lightspeed, consider all included content is coming from the original trilogy, as well as The Mandalorian. To get a better idea of what players can expect from one of the most exciting DLC mash-ups in the history of Minecraft, StarWars.com chatted with 4J Studios' Minecraft Marketplace partner and developer, David Keningale, and Lucasfilm Games senior producer Orion Kellogg.
StarWars.com: What was the primary inspiration behind bringing this ambitious new DLC to fans?
Orion Kellogg: When we got all of the creators together to brainstorm ideas, we knew "exploration" was at the heart of both the Minecraft and Star Wars fantasies. And as we started listing our must-have spots, it became immediately clear that one planet, or even one film, wasn't going to be enough to do this opportunity justice.
StarWars.com: Can you offer specifics on what sort of content is included?
David Keningale: The Minecraft Star Wars DLC mash-up provides an epic, pre-built Star Wars-themed world featuring iconic locations and diorama-style planets set in the timeline from A New Hope, The Empires Strikes Back, Return of the Jedi, and The Mandalorian series. It features HD skins and mobs [Note: "mobs" are monsters and creatures.] based on characters and creatures from the franchise, and fully Star Wars-themed UI and audio. It is also a construction kit for Minecraft players to create their own Star Wars worlds and re-enact their favorite scenes using the textures, characters, and all other elements of the DLC.
StarWars.com: Is it still very much a familiar Minecraft experience that existing players can dive right into?
Orion Kellogg: The game plays and acts like Minecraft, but feels like stepping into a galaxy far, far away…complete with loads of Star Wars blocks to build with and Imperial creeps to fight off. Not only that, the mash-up offers flyable starfighters and hyperspace fast-travel between multiple worlds for the very first time ever in Minecraft. The end result is a dizzying amount of content where you can adventure in locations from all three original trilogy films plus The Mandalorian. It's a seamless Minecraft experience where your wildest Star Wars fantasies can come true.
StarWars.com: The skin packs have been a big success, but is it safe to say this new DLC offers a more substantial experience?
Orion Kellogg: Yes, the big news here is that this isn't a skin pack. The Minecraft Star Wars DLC offers a whole galaxy to explore with every bit of functionality you'd expect from a full-featured Minecraft experience -- all-new building blocks, flyable ships, both Death Stars, and the presence of the Emperor, Jabba the Hutt, and the Child. You can choose to play in Survival mode where, naturally, the Empire will be out to stop intruders by night, or you can choose to play in Creative mode, where you'll have the building blocks to create your own Star Wars adventures using a very large library of all-new assets.
StarWars.com: Three movies and a series is a lot of ground to cover. Can you talk a bit about the size of the game and the detail packed into it?
David Keningale: This is by far one of the most exciting Minecraft DLC mash-ups ever created. The team built all the iconic Star Wars locations, including Tatooine, Hoth, Endor, Nevarro, and the Death Stars, and populated them with the creatures, vehicles, droids, and characters you would expect to see. We made sure to include as much as we could from the original trilogy and The Mandalorian series, and packed every planet with detail and movie moments. If you can think of a particular scene or location from this era of Star Wars, chances are we built it. You can take it further too, building and roleplaying your own scenes to build your own Star Wars adventure.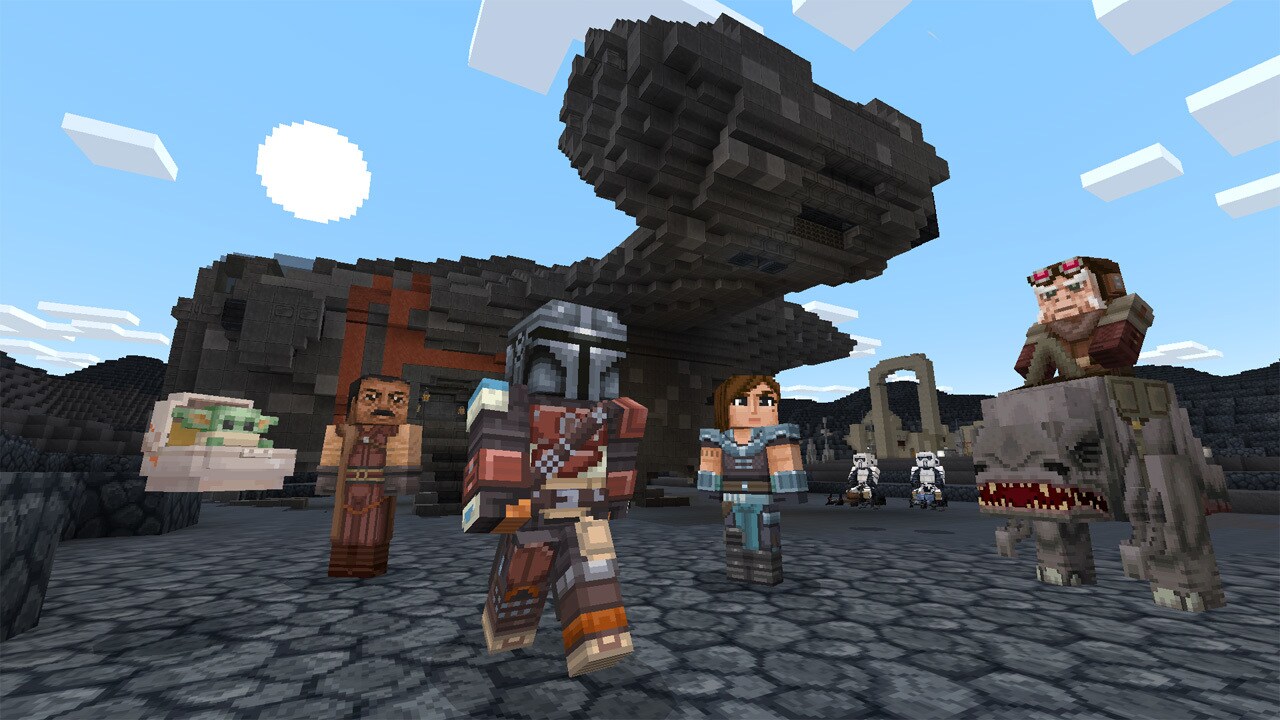 StarWars.com: It's got to be pretty exciting having the opportunity to include content from The Mandalorian. What can fans expect from this part of the DLC?
Orion Kellogg: We've all been fans of The Mandalorian from day one and this is one of the first times we've been able to explore these characters and environments at this level of detail in an interactive space. The music, obviously, really delivers every time it kicks in. And, naturally, it's a ton of fun to find the Child and figure out the tricks necessary to earn his trust as a companion. We knew we'd want to give players the Razor Crest, which you can use to fast-travel in hyperspace between Mandalorian locations, and we're hoping players have a fun time trying to discover the foundry where the Armorer crafts Din Djarin's beskar armor.
StarWars.com: Can you talk about any specific scenes or interactions from The Mandalorian that players will be able to revisit?
David Keningale You can ride a blurrg, help the Jawas find the mudhorn egg, and, of course, free the Child from the clutch of the Mercenaries!